At a Glance
Galilio AI, Magician, GitHub Copilot, Fronty, Uizard, Khroma, Adobe Sensei, and Picsart are the best AI tools to help UX designers automate and streamline their workflow. 
They help generate ideas, create better designs, improve collaboration with team members, automate repetitive tasks, and ultimately deliver higher-quality products to their clients.
This article briefly introduces each tool, along with top features and pricing plans to help you pick the best one for your needs.
Artificial intelligence (AI) has become an increasingly valuable asset in UX design in recent years. With the ability to automate time-consuming tasks, such as wireframing, prototyping, and user testing, AI tools can help streamline the workflow of designers.
AI tools have emerged as the most promising solutions for design inspiration and design ideas based on your preferences.
Thanks to these tools, designers spend less time developing the best solutions for digital products. Gone are the days when human designers had to sacrifice quality for speed, as results are pretty impressive even without losing quality.
We have compiled a list of the Eight Best AI Tools For UX Design in 2023 to help you create exceptional user experiences that exceed expectations. This article highlights their Key Features and Pricing Plans so you can choose the best one for your unique needs.
1. Magician – Best Design Automation Tool for Figma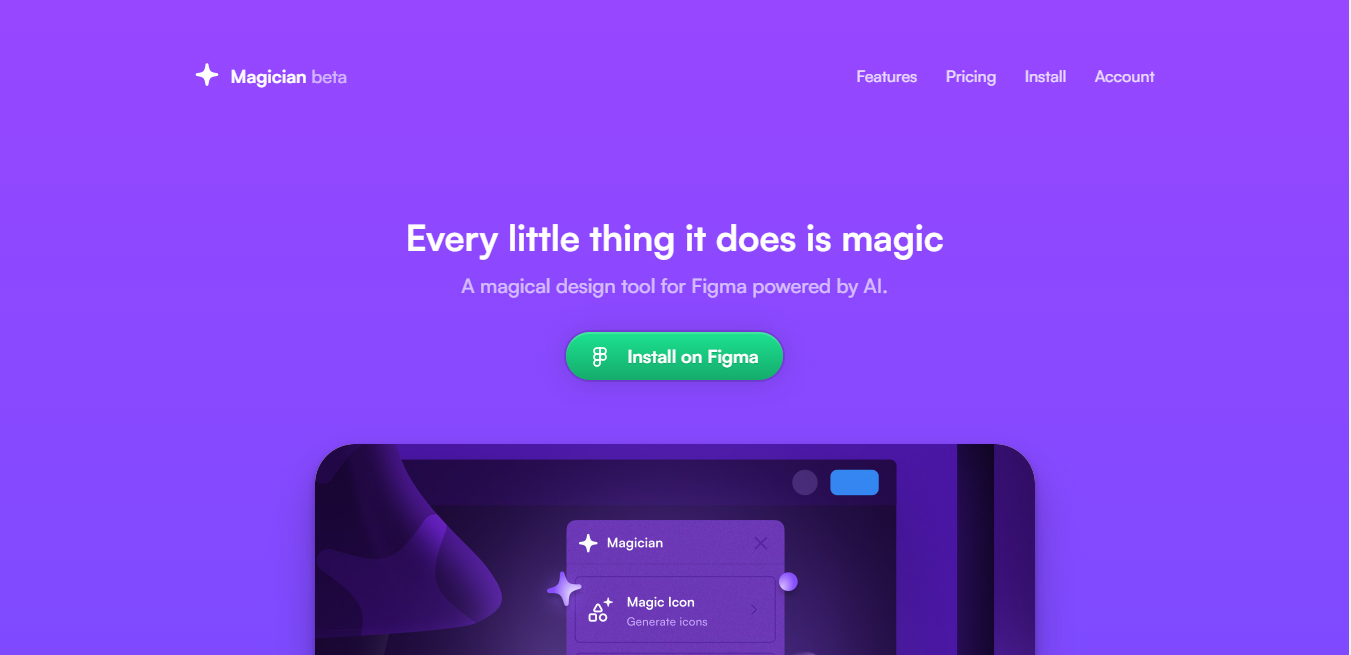 Magician is an AI-powered tool specifically built for Figma, a popular design tool. It incorporates the power of AI to provide UX designers with a range of tools that can aid in their web design process. 
Magician Top Features
Text to Icon
Copywriting
Magic Icon
1. Text to Icon
By Using AI, Magician can generate unique icons from the text. By inputting a word or phrase, designers can quickly generate an icon for their designs.
This feature can be particularly helpful for designers who need to create icons quickly and don't have the time to design them from scratch.
2. Copywriting
Every UX designer has to generate copy for their product or service to the target audience. Magicians can also generate marketing copy that can be used in various design elements.
3. Magic Icon
The Magic Icon feature lets graphic designers quickly create unique and customizable icons. The tool can generate an icon based on specific parameters the designer sets, such as colour, shape, and size.
Magician Pricing & Plans
1. Public Beta (21-Day Free Trial)
Features
It includes one license, unlimited use, early access, all magic spells, and all future updates.
Price
It costs $5/month and $49/year.
2. GitHub Copilot – Best Tool for Prototyping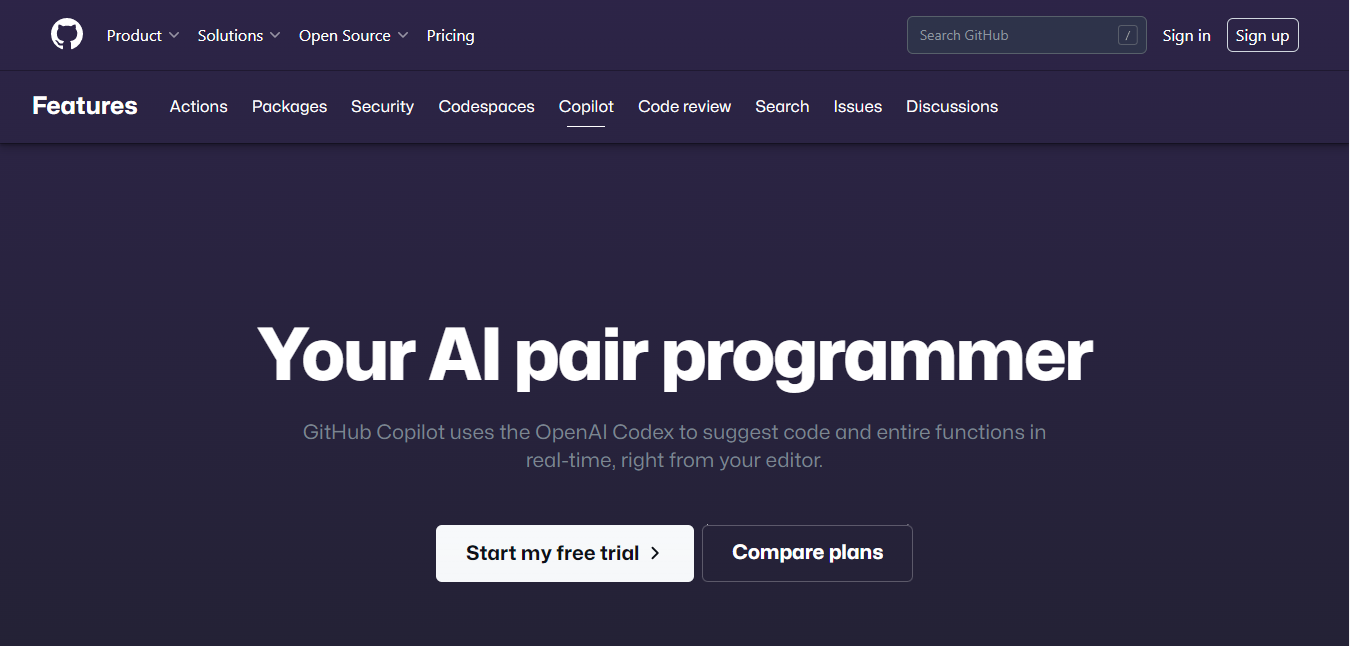 GitHub Copilot is an AI-powered code autocompletion tool developed by OpenAI in collaboration with GitHub.
It uses machine learning algorithms to suggest code snippets in real-time based on the code's context, which helps designers write code for various UI components.
GitHub Copilot Top Features For UX Designers
Instant Suggestions for UI Components
Quick Prototyping
Collaborative Coding
1. Instant Suggestions for UI Components
When designing user interfaces, UX designers often write code for UI components like buttons, forms, and menus.
GitHub Copilot can suggest code snippets for these components, allowing designers to save time and focus on other aspects of the design process.
2. Quick Prototyping
Prototyping is an essential part of the UX design process, and GitHub Copilot can help designers quickly create prototypes by suggesting code snippets for various interactions and animations.
This can help designers iterate faster and get feedback from stakeholders sooner.
3. Collaborative Coding
GitHub Copilot is integrated with GitHub, making it easy for UX designers to collaborate with other team members on code.
Designers can use Copilot to suggest code snippets, which can then be reviewed and improved upon by other team members. This helps ensure consistency and quality across the entire codebase.
GitHub Copilot Pricing & Plans
1. Free
Features
There are unlimited public/private repositories, 500 MB package storage, GitHub Codespaces access, and more.
2. Team
Features
It includes everything provided in the Free plan plus; 2GB package storage, protected branches, code owners, web-based support, and more.
Price
It costs $3.67/month/per user.
Enterprise
Features
It includes everything provided in the Team Plan, plus; 50GB package storage, enterprise-managed users, advanced auditing, premium support, and more.
Price
The GitHub sales team will provide custom pricing depending on your chosen features.
3. Fronty – Best Tool for Converting Image To HTML and CSS
Fronty allows users to convert images into HTML and CSS code. With AI tech, users can easily create websites without writing code. 
Fronty Top Features
AI-Powered Image to HTML CSS Converter
No-Code Editor
UI Design Solution for Websites
1. AI-Powered Image to HTML CSS Converter
The tool uses AI algorithms to analyze and interpret the uploaded images, automatically generating clean and well-organized HTML and CSS code.
2. No-Code Editor
It provides an online editor allowing users to edit their website's design and content without writing code or design skills.
This is especially useful for users unfamiliar with coding or simply wanting a quick and easy way to change their website.
3. UI Design Solution for Websites
An online editor provides users with a UI design solution to create complex websites like e-commerce sites, blogs, team member pages, etc.
Fronty Pricing & Plans
1. Freemium (Free)
Features
This plan includes up to 3 users, a free Subdomain, hosting 200Mb, front branding, and five pages.
2. Pro
Features
This plan includes up to 10 users, hosting 1 GB, a custom domain, no front brandings, and unlimited pages.
Price
It costs $4.52.
3. Advanced
Features
The plan includes up to 25 users, hosting 15 GB, a custom domain, no front branding, and unlimited pages.
Price
It costs $9/month.
4. Uizard – Best Tool For Rapid & Collaborative UX Designing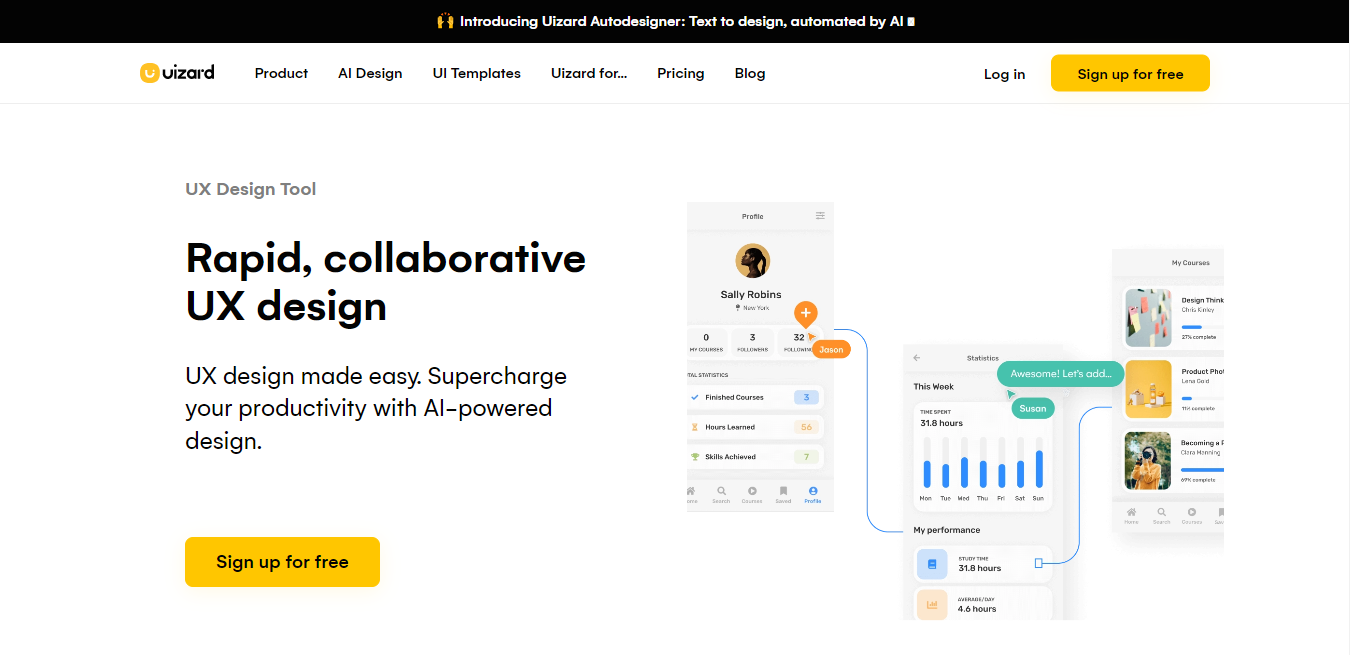 Uizard is an AI-powered UX design platform, and its great tools simplify the design process and create stunning user interfaces for websites and mobile applications.
AI design assistant can quickly upload wireframes, import UI screenshots, ideate collaboratively with your team, and iterate at lightning speed.
Uizard Top Features
Rapid, Collaborative UX Design
UX Design Made Easy
Screenshot to Mockup
UX Components & Templates
User Journey Refinement
1. Rapid, Collaborative UX Design
Collaborative design features enable you to work with your team in real-time, leave comments for feedback, and even share your project with external stakeholders.
2. UX Design Made Easy
The power of AI technology enables you to transform your design process, making it easier and more efficient for designers to create beautiful and functional interfaces.
3. Screenshot to Mockup
Its innovative technology can convert screenshots of your favorite apps into editable UX designs. You can tweak any screenshot and bring your product vision to life.
4. UX Components & Templates
Uizard provides a library of UX design templates with a range of themes, and user flows built-in. This feature allows web designers to expedite the design process and avoid starting from scratch.
5. User Journey Refinement
Uizard simplifies the process of perfecting user journeys by allowing you to add clickable user journeys to your UX prototypes. You can share previews of your designs with internal and external stakeholders before moving on to development.
Uizard Pricing & Plans
1. Free
Features
The Free Plan offers up to 3 projects, ten screens per project, ten pre-made templates, and five custom templates.
2. Pro
Features
There are up to 100 projects, unlimited screens, unlimited access to the full library of templates, up to 50 custom templates, unlimited screens, and priority support.
Price
It costs $12/month.
3. Business
Features
It has everything provided in the Pro Plus plan; unlimited website projects, unlimited custom templates, and 24/7 support.
Price
It costs $39/month and is billed yearly.
4. Enterprise
Features
It has everything from Business Plus; Design system setup, custom templates, and 24/7 premium support.
Price
The Uizard Sales Team provides custom pricing depending on your chosen features.  
5. Khroma – Best Tool For Creating Personalized Color Palettes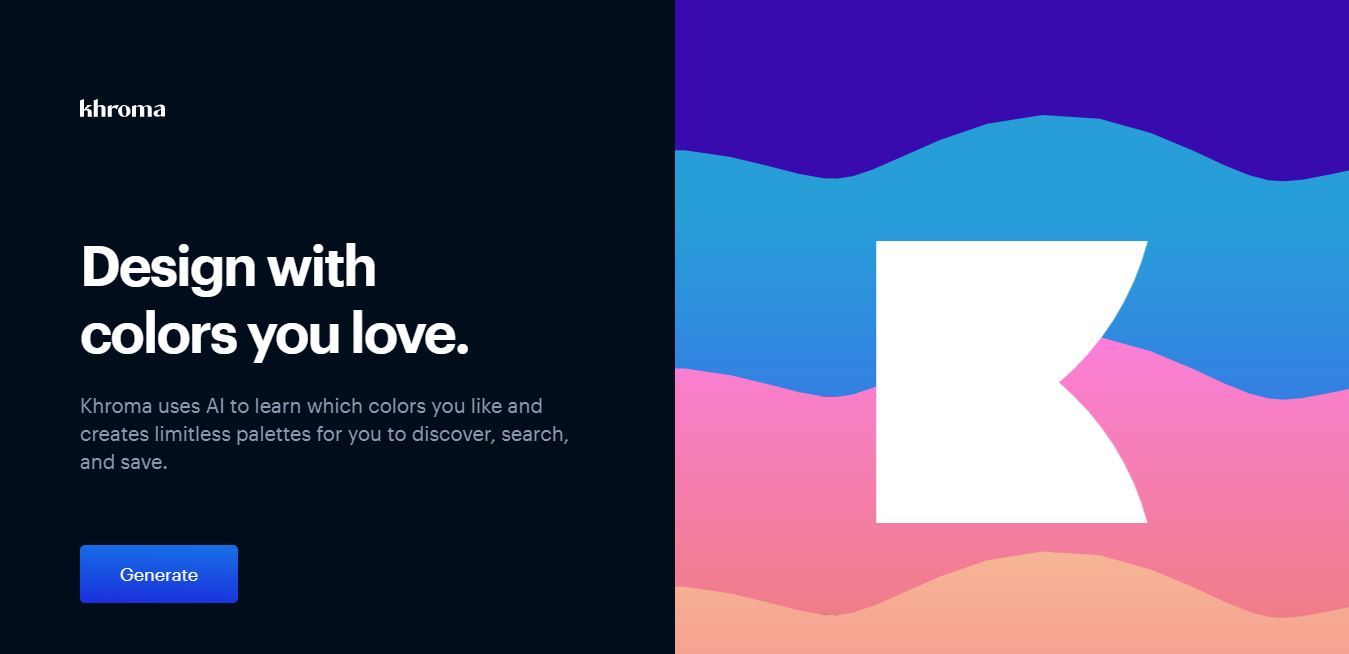 Khroma allows UX designers to create custom color palettes quickly and easily.
With Khroma, designers can discover, search, and save limitless color combinations that match their preferences and needs.
Khroma Top Features
Personalized Algorithm
Infinite Color Combinations
Search and Filter Options
1. Personalized Algorithm
Khroma uses a personalized algorithm that is powered by a neural network. By choosing a set of colors, you can train the algorithm to generate colors you like and block ones you don't.
2. Infinite Color Combinations
Its intuitive AI has learned from thousands of the most popular human-made color palettes across the internet to generate multiple color combinations.
UX designers can view these combinations as typography, gradient, palette, or custom image and explore new color combinations they may not have considered before.
3. Search and Filter Options
Khroma's search feature allows UX designers to search and filter the generator by hue, tint, value, color, hex, and RGB values to find the perfect color combinations for their projects quickly and easily.
Khorma Pricing & Plans
Khroma is a free tool that can be accessed from its website. There is no need to create an account or provide any personal information to use it.
6. Adobe Sensei – Best All-In-One Creative Solution For Designers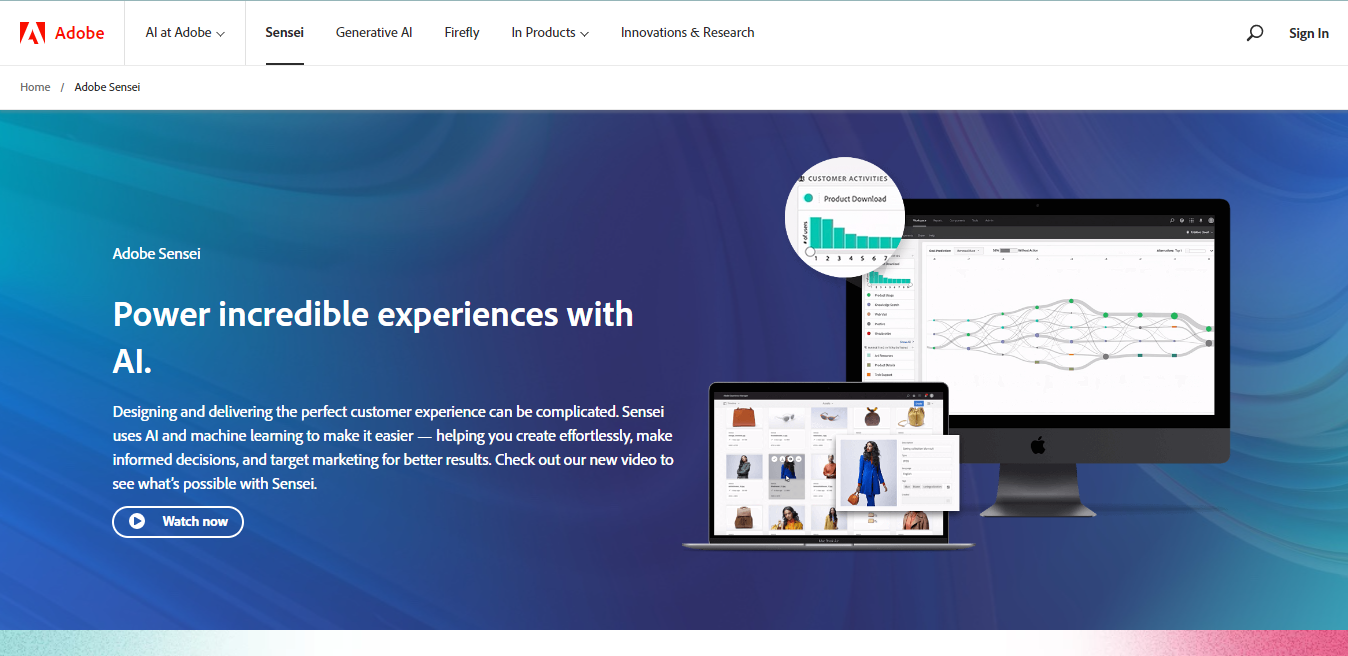 Adobe Sensei is developed by Adobe to make designing and delivering customer experiences easier and more efficient.
It empowers users to create effortlessly and make informed decisions, resulting in better marketing outcomes.
Adobe Sensei Top Features
Integrates with Other Adobe Tools
Powerful Designing & Intuitive Search Capabilities
Adobe Firefly
1. Integrates with Other Adobe Tools
It can integrate with other Adobe software, including Adobe Stock, Adobe Photoshop Lightroom, Adobe Premiere Rush, Adobe Photoshop, and Adobe InDesign.
2. Powerful Designing & Intuitive Search Capabilities
Adobe Sensei provides access to amazing effects and creative tools, allowing designers to access the right asset for the right moment.
3. Adobe Firefly
Firefly is a family of creative, generative AI models coming to Adobe products, enabling designers to unlock new levels of creativity and innovation.
Adobe Sensei Pricing & Plans
Adobe Sensei is not a standalone product and doesn't have a different pricing plan.
It is a technology platform integrated into various Adobe products, such as Adobe Photoshop, Adobe Illustrator, Adobe Premiere Pro, and Adobe InDesign.
You can visit the Adobe website for pricing details of all Adobe products. 
7. Picsart – Best Tool For Photo Editing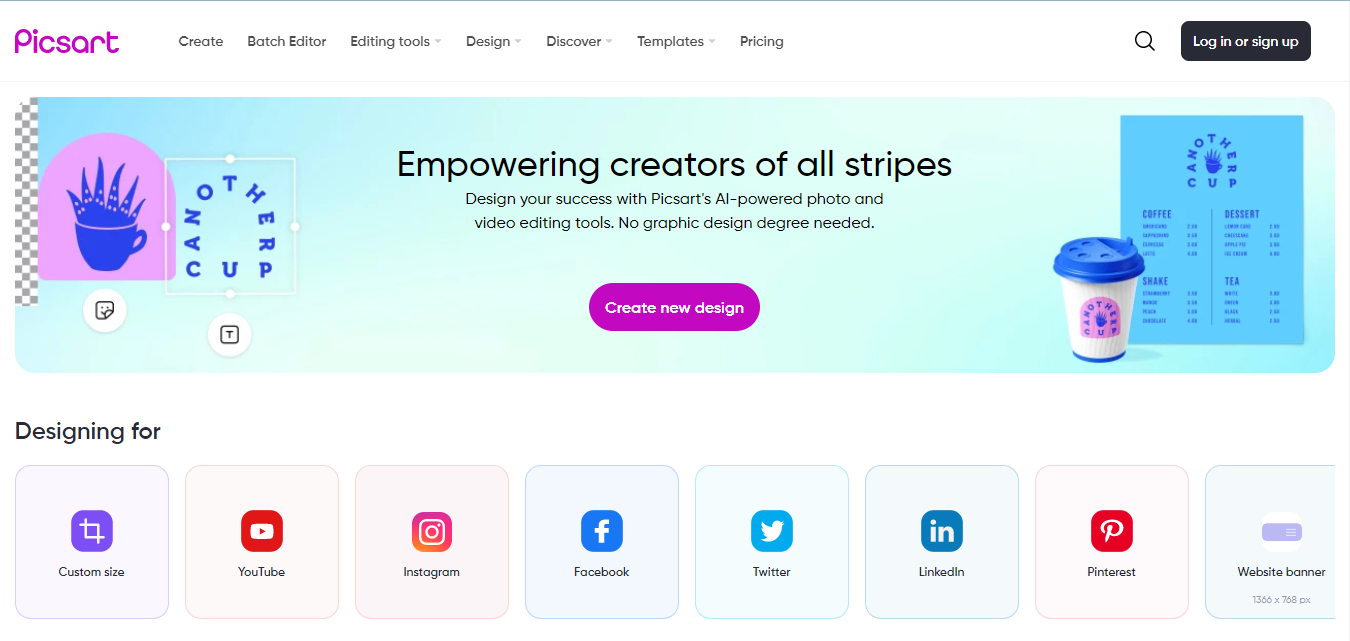 Picsart is an online photo editor that offers a wide range of AI features and tools to help users edit and enhance their photos and videos.
Its intuitive set of advanced tools utilizes neural networks trained on millions of images designed for beginners and professionals.
Picsart Top Features
AI Image Generator
AI Image Enhancement
Free Collage Make
Versatile Photo-Editing Tools
Efficient Batch Editor
1. AI Image Generator
With the Picsart AI Image Generator, you can easily turn your words into vibrant and dynamic graphics in seconds.
Type a detailed description of your vision and watch as it transforms into AI-generated art.
2. AI Image Enhancement
Picsart AI Enhance allows you to improve the quality of your images with just one click. Utilizing AI technology, it enhances edges and brings out details in your photos, giving them a professional look.
3. Free Collage Make
With Picsart's free online Collage Maker, you can combine your photos with creative layouts to design unique and captivating collages.
It is perfect for creating motivational vision boards, social media posts, and collages that let you tell a story with your images.
4. Versatile Photo-Editing Tools
Picsart provides a user-friendly drag-and-drop platform for image editing that offers a range of tools such as filters, text, stickers, and backgrounds, among others.
5. Efficient Batch Editor
Picsart's Batch Editor feature allows users to edit in bulk, eliminating repetitive editing tasks. 
Picsart Pricing & Plans
1. Free
Features
It offers powerful photo and video editing tools and thousands of free images and templates, and it is always free.
2. Picsart Gold
Features
There are thousands of templates, fonts, stickers, and tools; cross-platform access on both the mobile app and the web, Millions of high-res stock images for personal and commercial use; Background Removal with a click; animation maker; and No watermarks; ability to save your designs as JPG, PNG, or PDF.
Price
It costs $5/month.
3. Team
Features
It has everything offered in the Gold plan, along with Team management, full premium access for every team member, centralized billing and account administration, priority support, file sharing, and collaboration.
Price
It costs $7/month.
8. Galilio AI – Best Tool For Generating Illustrations and Images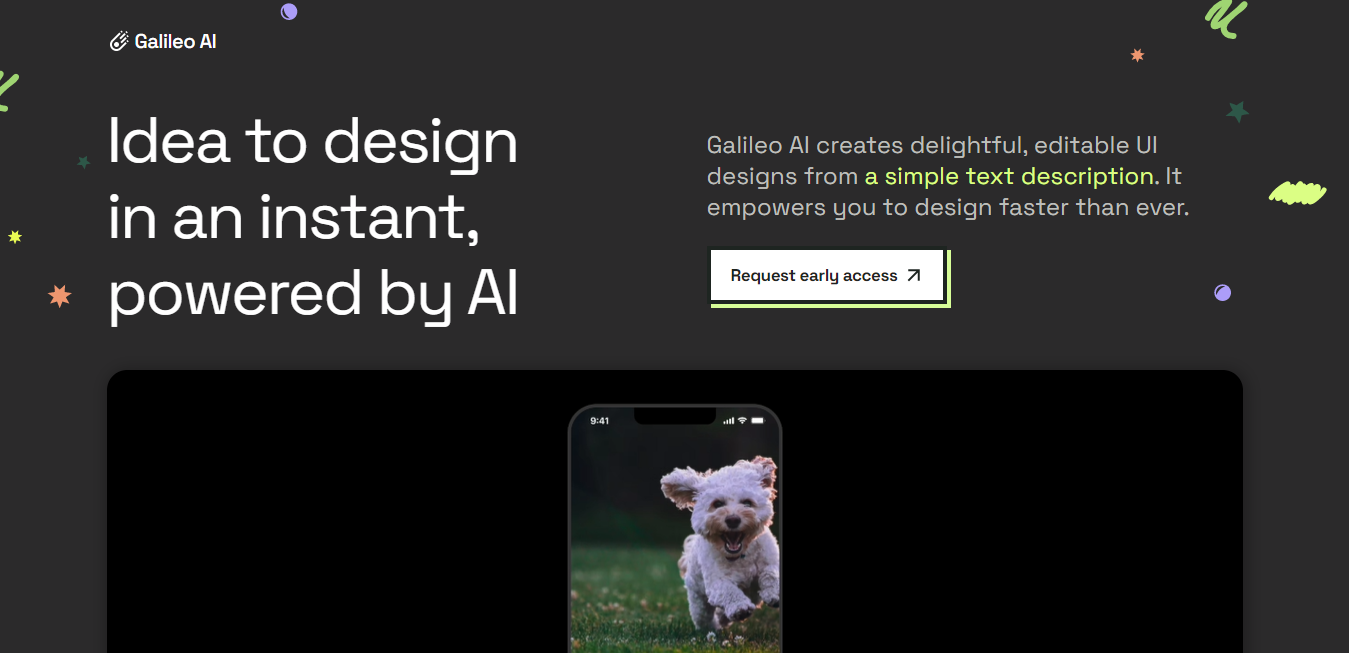 Galileo AI can quickly create complex user interfaces that meet your needs by analyzing thousands of top user experience designs.
Its advanced machine learning algorithms allow adding carefully curated AI-generated illustrations and images to your designs, ensuring that they stand out and reflect your unique vision and style.
 Galileo AI Top Features
Lightning-fast UI Generation
AI-Generated Illustrations and Images
More Time for Bigger Impact
1. Lightning-Fast UI Generation
You can generate a complex user interface in a flash with Galileo AI.
Its advanced technology learns from thousands of top designs, allowing it to quickly create unique UX designs that meet your exact specifications.
2. AI-Generated Illustrations and Images
Galileo AI offers a wide range of carefully curated illustrations and images that you can use to populate your designs and create icons, buttons, or other graphic designs.
3. More Time for Bigger Impact
By automating tedious tasks such as creating repetitive UI patterns and making small visual tweaks, Galileo AI empowers you to focus your efforts on landing a bigger impact.
This means you can streamline your tedious tasks and spend more time on the things that matter most.
Galileo Pricing & Plans
Galileo hasn't been launched yet, since developers are still working on it. However, you can sign up for free early access to the tool.