At a Glance
Jasper AI, Copy ai, Quillbot, Grammarly, AI Dungeon, Sudowrite, Hemingway, Novelize, ProWritingAid, Scrivener, Wordtune, and NovelAI are all AI-powered writing tools which offers unique functionality and can help writers of all genres improve their writing!
With these AI tools, writers can improve their writing and streamline their creative process, making it easier and more efficient to produce high-quality content!
Among these 12 tools, the majority are paid, but some also offer basic or free trial versions for users to try out their services with lesser functionality!
AI writing software tools use natural language processing (NLP) and machine learning algorithms to generate written content. These tools can be a great source of help for various tasks like content creation, summarization, and language translation.
Whether you're writing content for your business, emails, or for your novel, these AI content generators will go a long way in helping you complete your project.
Here is a list of the 12 best AI writing software tools available in the market to help you write and optimize content according to your specific needs.
Let's take a closer look at each and explore their writing key features, unique capabilities and benefits:
1. Jasper AI – Best for AI SEO Blogs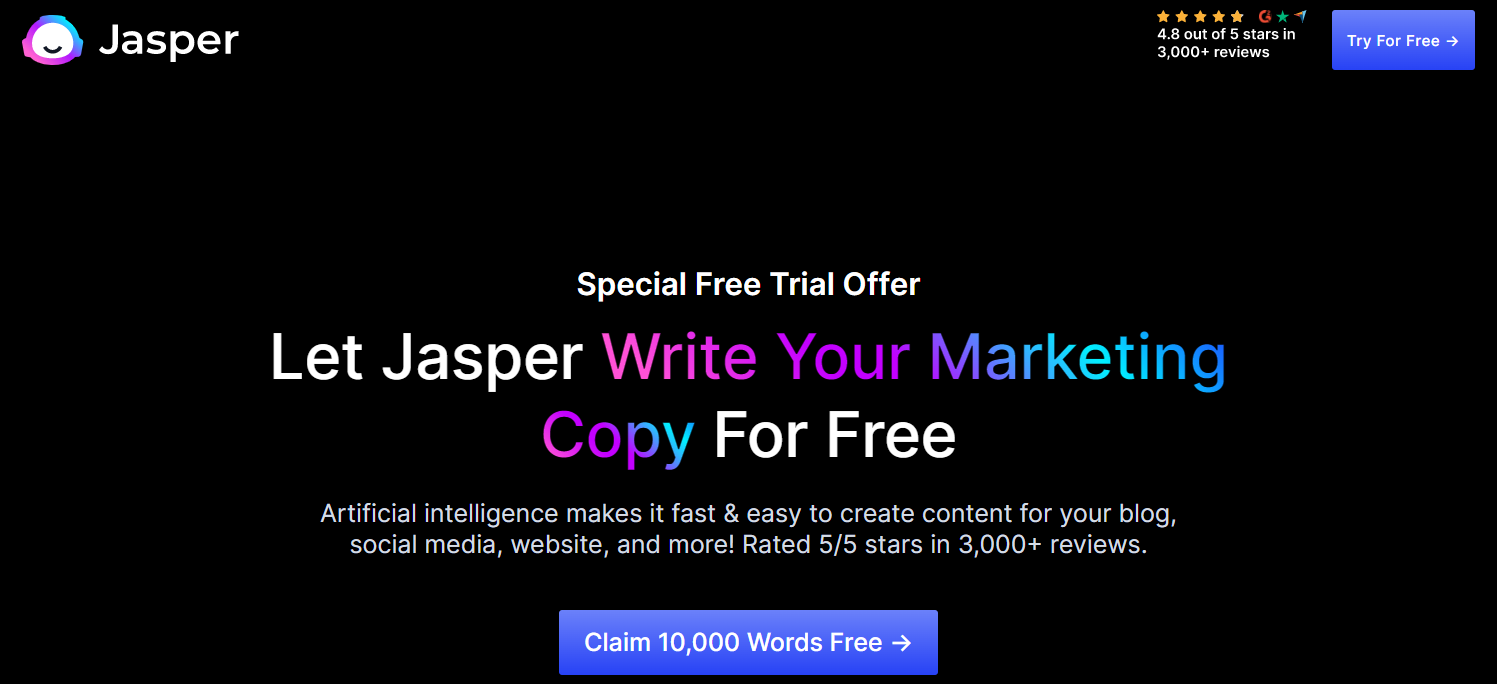 Jasper.ai uses natural language processing (NLP) and machine learning (ML) to help users write more efficiently and effectively. It aims to help businesses save time and increase efficiency by automating and streamlining the writing process.
It is one of the leading content generators, formerly known as Jarvis.ai. New users can take help from Jasper BootCamp to understand the way it works. Its AI model has read 10% of published content on the internet to mimic human language and generate eerily fluent content.
It can convert raw data into a written story automatically. The software depends on deep learning to create content that makes sense to human minds.
Jasper Key Features:
Jasper Long-Form Blog Editor
Plagiarism Checker
AI Chat Assistant
50+ Writing Templates
29+ Languages Support
Pre-built Recipe Workflows
1. Jasper Long-Form Blog Editor
This AI writer can generate a wide range of SEO blog articles in almost any niche. It asks you for a few hints like titles, headings, and a few sentences and generates keyword-rich content that ranks high in SERPs.
Moreover, It produces AI blogs and long-form content 5 times faster in its proprietary Jarvis BOSS mode. Its AI-powered tools give you valuable insights into the keywords and can help you to make your article highly optimized. This effective feature makes it special as compared to other tools in the market in terms of SEO content writing!
2. Plagiarism Free Content
Jasper is the best tool to check Plagiarism. Its plagiarism checker leverages the capabilities of Copyscape, a top-notch plagiarism detection system utilized by millions globally, to deliver its services.
It facilitates a hassle-free way to verify if any portion of the text in a document has been duplicated on the internet.
3. Jasper AI Chat Assistant
Interacting with AI used to be a challenge and seemed unapproachable, with a mechanical tone. However, with Jasper Chat, chatting with AI is now effortless and resembles human interaction.
The friendly AI chatbot is used to generate ideas, edit your work, or even add a touch of humour to your day.
4. Offers 50+ Templates & 25+ Languages
Jasper has been taught industry standards and successful models, enabling it to craft high-quality copy for more than 50+ templates, some of which include;
Text Summarizer
Paragraph Generator
Product Description
SEO _ Title and meta descriptions
Amazon descriptions
5. Jasper Recipes
Jasper's recipes are a collection of processes that aid users in producing a specific final output. Similar to Mad Libs, the user provides keywords or suggestions and Jasper transforms them into a piece of writing such as a blog post or article.
Additionally, users can craft their own unique recipes and share them with others in the community.
Jasper Pricing:
Boss Mode starts from $59/month and it includes; 50k words per month, 50+ AI templates, Google Docs style editor, Jasper Chat, Compose & command features, Long-form content generation, and Live chat support.
Business Mode costs $500/month, it includes more than 5 users, 700,000 words/month, Custom AI templates, Workspace admin features, Document sharing & permissions,  and personalized onboarding & training.
2. Copy ai – Best for Sales Copywriting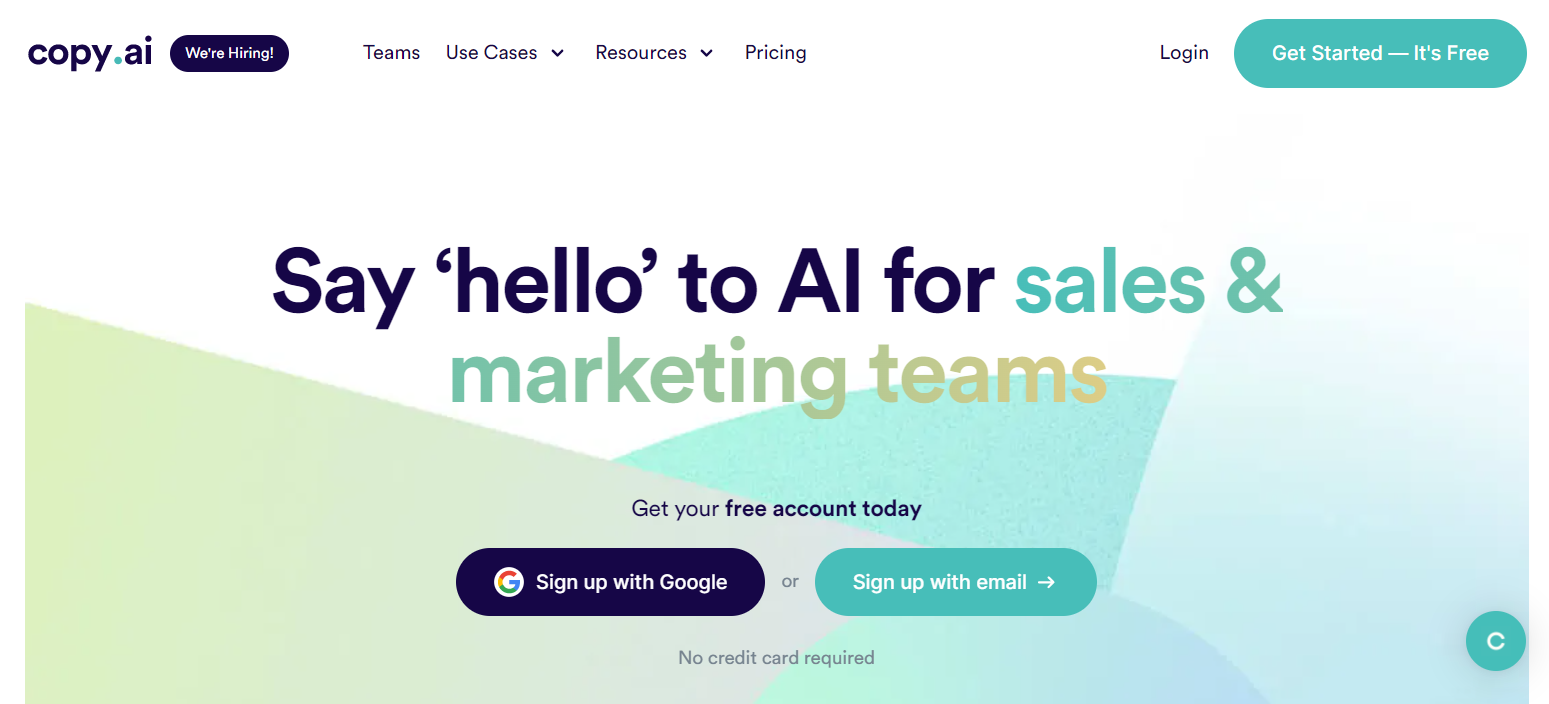 Released back in 2020 Copy.ai remains one of the best AI text generators. It is the best option if you are looking for AI copywriting tools. It uses advanced NLP algorithms to understand the intent and meaning behind users' requests. Users can select from various templates to help guide the content creation process. It ensures the final product meets their specific needs.
Copy ai Features & Benefits:
1. Copywriting Pro
First choice of email marketers, web copywriters, and content creators. Copy.ai helps you write:
Blog content
Digital ad copy
E-commerce copy
Sales copy
Social media content
Website copy
2. Multiple Category Templates
It also provides writing templates that are divided into 7 categories such as:
Business
Careers
HR
Marketing
Personal
Real Estate
Sales
3. Offers the Best Interface
This all-in-one software walks you through 4 steps whether you are writing a business email, social media content, or a product description. these 4 steps include:
Choose your writing project
Give Copy.ai a bit of context
Edit and Polish to your perfection
Publish!
4. Copy ai Tones Settings
One of the amazing features of the powerful AI software is its provision of tones while producing any content;
Friendly
Professional
Cold
5. Copy ai Extension
The other features that make Copy.ai stand out are
its extension
which allows work simultaneously with Gmail tools and Google Docs.
6. Plagiarism Checker
The other remarkable feature is its plagiarism checker. You don't have to use other software in this regard. But this is a paid feature.
Copy ai Pricing:
Its copywriting tools have a
free plan
. If you want to unlock all its features and go big you'll have to subscribe to the Pro plan which
costs $49/per month
.
3. Quillbot – Expert Paraphraser
Quillbot is a web-based tool that can be used by anyone who thinks his/her general writing needs improvement. It is the best software to write essays, articles, blog posts, and much more.
The software can be especially useful for students, business professionals, and content creators who want to write more effectively and efficiently. Quillbot's AI-powered natural language processing can help users to speed up their writing.
Quillbot Key Features:
1. Paraphrasing Tool
It is basically a paraphrasing tool. It can rephrase sentences, paragraphs, and entire documents to improve your writing style. It rewrites a given paragraph with new words.
It also gives you the freedom to select the degree of change in vocabulary. You can also summarize long-form content and also lengthen short paragraphs. It also helps you analyze text and provide grammar, style, and readability suggestions.
2. Multiple Speech Styles
It has multiple speech styles. It asks you to select a style and writes your content in a given style. These styles include standard, fluent, formal, simple, and creative.
3. AI-Assisted Idea Generator
Quillbot can generate new content based on a given topic. It helps users to come up with ideas for blog posts, articles, and more.
4. Templates and Snippets
The software includes pre-written templates and snippets that can be used to create common types of content like emails, blogs, and social media posts.
5. Built-In Thesaurus
AI writer has a built-in thesaurus that can help users to find the right words and phrases for different contexts in writing. This feature also makes it a great learning tool. Quillbot helps users to expand their vocabulary by providing synonyms and antonyms of a word.
6. Integrable
The platform can be integrated with other productivity tools such as email and calendar. It helps users stay organized and on top of their tasks. Additionally, Its plagiarism checker feature can detect any foul play in a given piece of content.
Quillbot Pricing:
Its premium version with all features unlocked costs only $9.95/month.
4. Grammarly – Advance AI Proofreader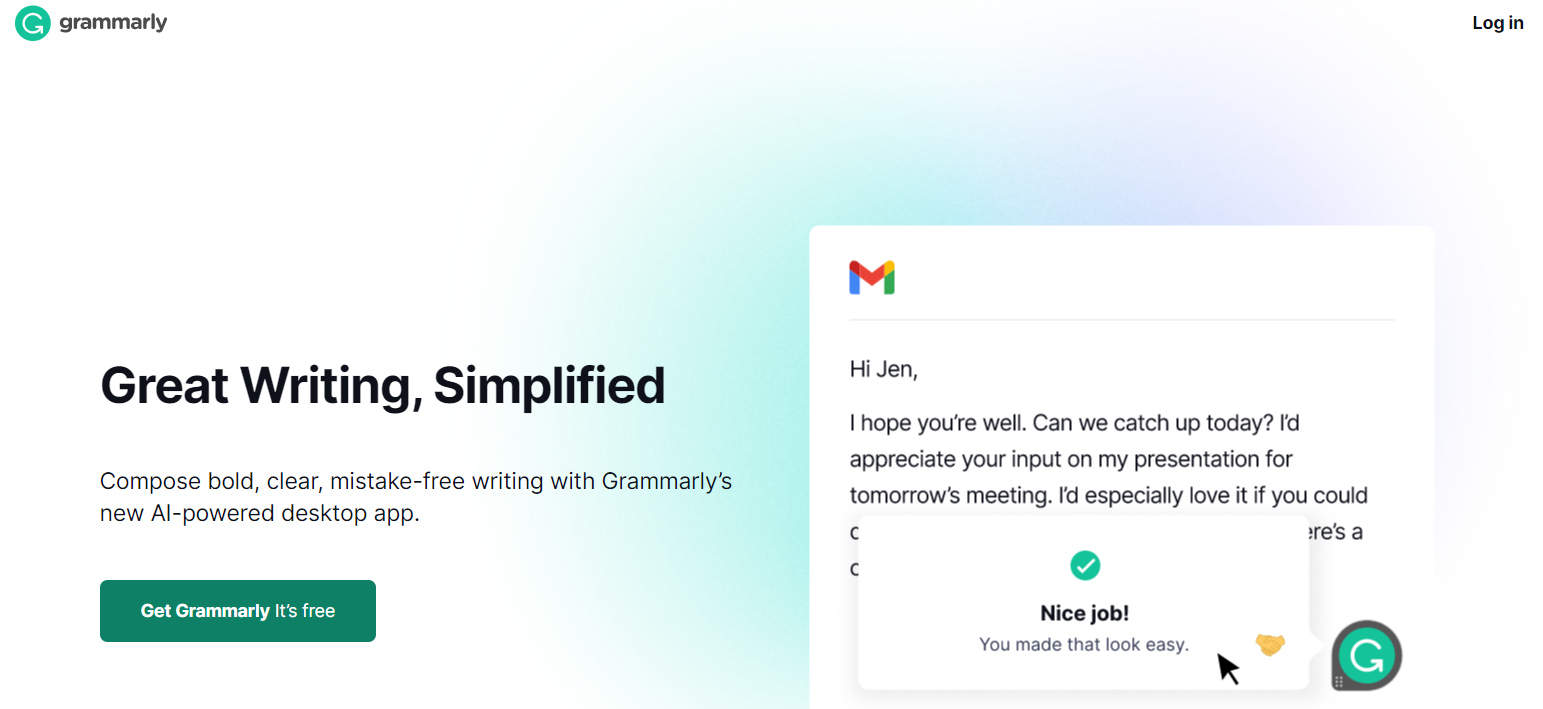 Grammarly is an app as well as an extension for any browser that assists in checking grammar, spelling, sentence structure, and plagiarism. Its writing features not only fix mistakes but also let you, your team, and your organization communicate with skill and confidence.
With its ability to integrate on a desktop across thousands of websites and applications, it is one of the most useful writing assistants in the market.
Grammarly Features & Benefits:
1. Top-Notch Grammar Checker
The core feature of Grammarly is its grammar checker. Fixing grammar errors and punctuation errors helps improve your writing. It provides real-time suggestions and guidelines to fix those errors.
Its premium version also provides context to the flagged grammatical errors and underlying rules by offering examples. This premium feature serves as a teacher that improves your writing skills.
2. Understands Variations & Subtle Nuances
Its dynamic spell-check tool covers variations of American English, British, Canadian, and Australian variations. It improves your readability score by proposing rewrites of complex and clunky sentences.
It also provides word count, character count, reading time, and speaking time. If you have set the targeted audience to general and informal, it identifies complex sentences by offering simpler suggestions.
Tone rewrites and style guide features offer you alternative suggestions that make your piece of writing sound more confident.
3. Plagiarism Checker
It is a powerful tool when checking plagiarism. It can compare a piece of writing to billions of web pages. This feature comes only in its paid version.
4. Integrable
Grammarly can be integrated with other productivity tools, such as email and calendar, to help users stay organized and on top of their tasks.
It can also be tailored to suit the specific needs of different industries and businesses, such as legal, marketing, and finance. Grammarly is available as a browser extension for Chrome, Safari, Firefox, and Edge. It is available as a mobile app for iOS and Android, which makes it easy for users to access its features and use it on the go.
Grammarly Pricing:
If you are a professional writer or want to use it for your organization, Grammarly's premium version has full-scale features that cost you $12 per month.
5. AI Dungeon – AI Fantasy Text Generator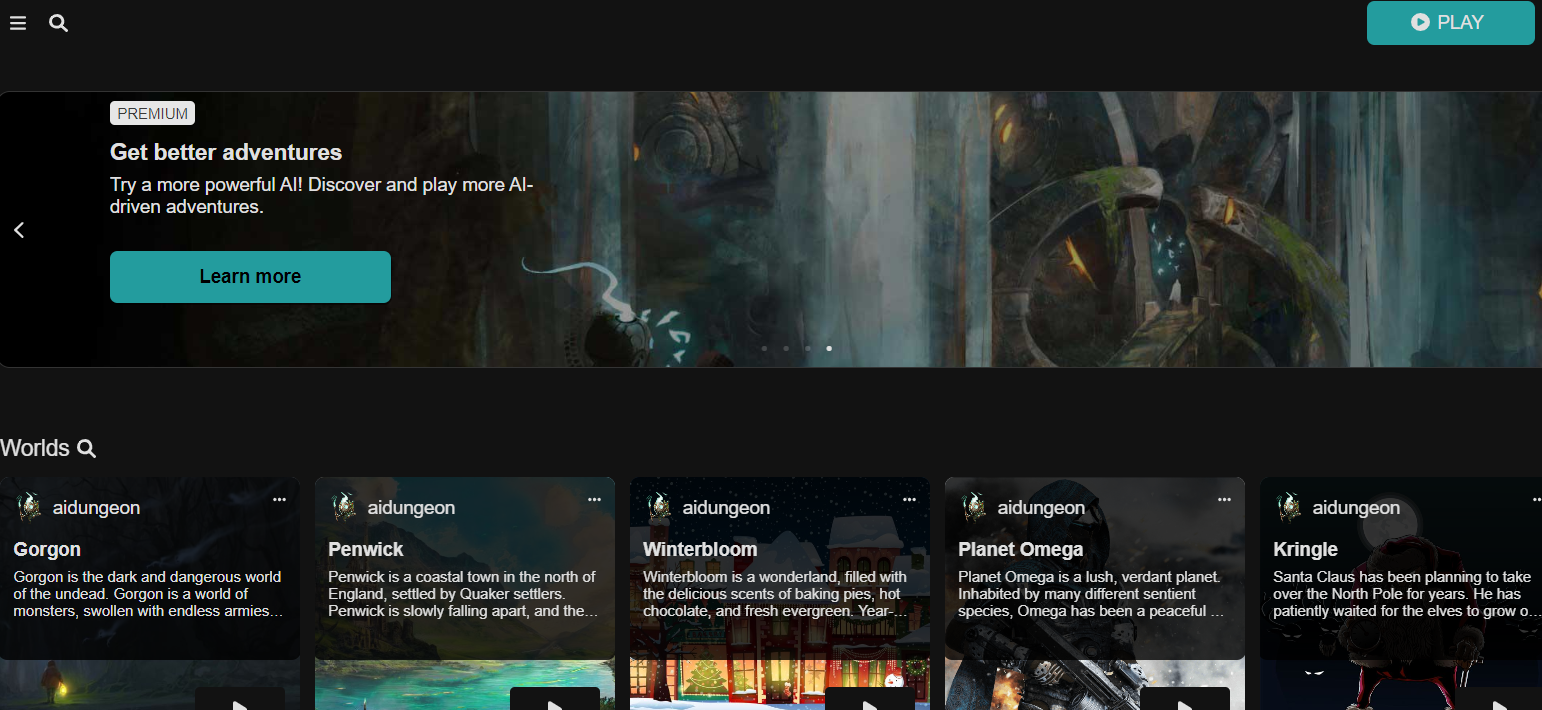 It was unbelievable a decade ago that an AI writing tool could write stories.
AI Dungeon
is a unique and innovative text adventure game that utilizes AI technology to generate unique and dynamic stories.
Its open-ended gameplay and natural language processing make the story feel more like a conversation. The endless possibilities it generates make it an exciting and immersive experience for players.
AI Dungeon Key Features:
1. Generates New Ideas
The software allows players to make their own choices and explore different paths and outcomes that lead to a unique and dynamic gaming experience.
The game uses NLP to understand and respond to player input and makes the story feel more like a conversation. It offers unique stories and characters each time it is played.
2. Genre Categorization
This AI writer could provide endless possibilities for players to explore. Players can choose from different settings such as fantasy, sci-fi, and post-apocalyptic to create their own unique stories.
3. Multiplayer Mode
AI tool also has a multiplayer mode that allows players to join or create a game and play with others. It is also able to generate stories in real-time, providing a more immersive experience for players. The software is available on the web, iOS, Android, and other platforms making it easily accessible to players.
AI Dungeon Pricing:
It has three versions  Adventurer, Hero, and Legend. Adventurer costs $9/month, Hero costs $14/month, and Legend with all unlocked features costs $29.99/month.
6. Sudowrite – Unique Storywriter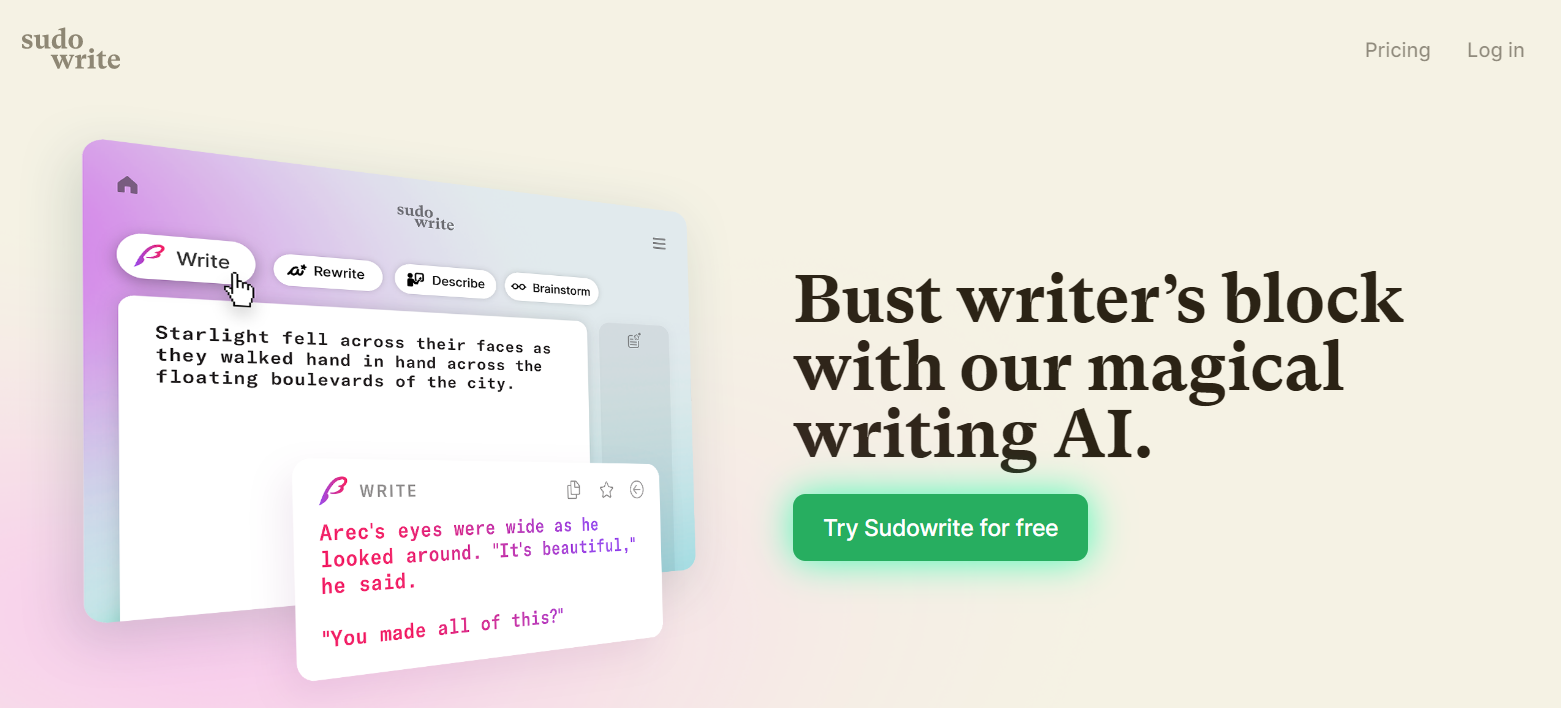 Sudowrite is unique among AI writing assistants due to its creation by writers and specialized writing tools favoured by fiction and non-fiction authors. Sudowrite is a web-based tool that can be used by anyone who wants to improve their writing.
It can be used to write essays, articles, and blog posts. The tool offers character design and even relationships between characters by providing the writer with concept ideas to pick and use in the narrative. Writer's block is a common issue for both amateur and professional writers when they find themselves stuck and unable to progress with their writing. AI writing tools like Sudowrite can help combat this by providing a secondary writing brain and a team of AI partners to assist in generating ideas and suggesting ways to advance the story.
Sudowrite Features & Benefits:
1. Helps Overcome Writer's Block
Sudowrite is content writing software that is basically built for fiction writers that help writers overcome writer's block through its amazing features such as;
Plot and story twists
Characters and characterization
Prose description
Starting points
Idea generation
The advantage of using Sudowrite is that you have access to both proven tools in the app and experimental features in the "Labs" section. Main app features include
Wormhole
Describe
Filter
Story Tools
In the Labs, you'll find
Expand
What If
Summarize
Tweetstory
Feedback
Brainstorm
2. Story Tools
"Story Tools" are further subcategorized into three options which simplify the choice of the tool during different stages of writing.
Twist
Characters
Poem
3. Fiction & Non-fiction Writing
Sudowrite is a valuable tool for fiction and nonfiction writing. It AI writer tools analyze the elements of your written work, such as voice, characters, and plot, and provide four alternative suggestions to continue writing.
4. Tones Enhance Creativity
The tool can be used as inspiration or to generate ideas, with the option to set the tone to Neutral or one of several other tones. The tool of "tone" is fast and versatile, making it a great resource for novelists.
Sudowrite provides the options of three tones Extraordinary, Ominous, and Funny to switch up the tone of your writing. While the default voice is typically suitable, using these tones can add a unique twist to your text. It's an opportunity for experimentation and creativity.
Sudowrite Pricing:
You can try Sudowrite for free. It professional plan costs $29/month.
 7. Hemingway – Best AI TextEditor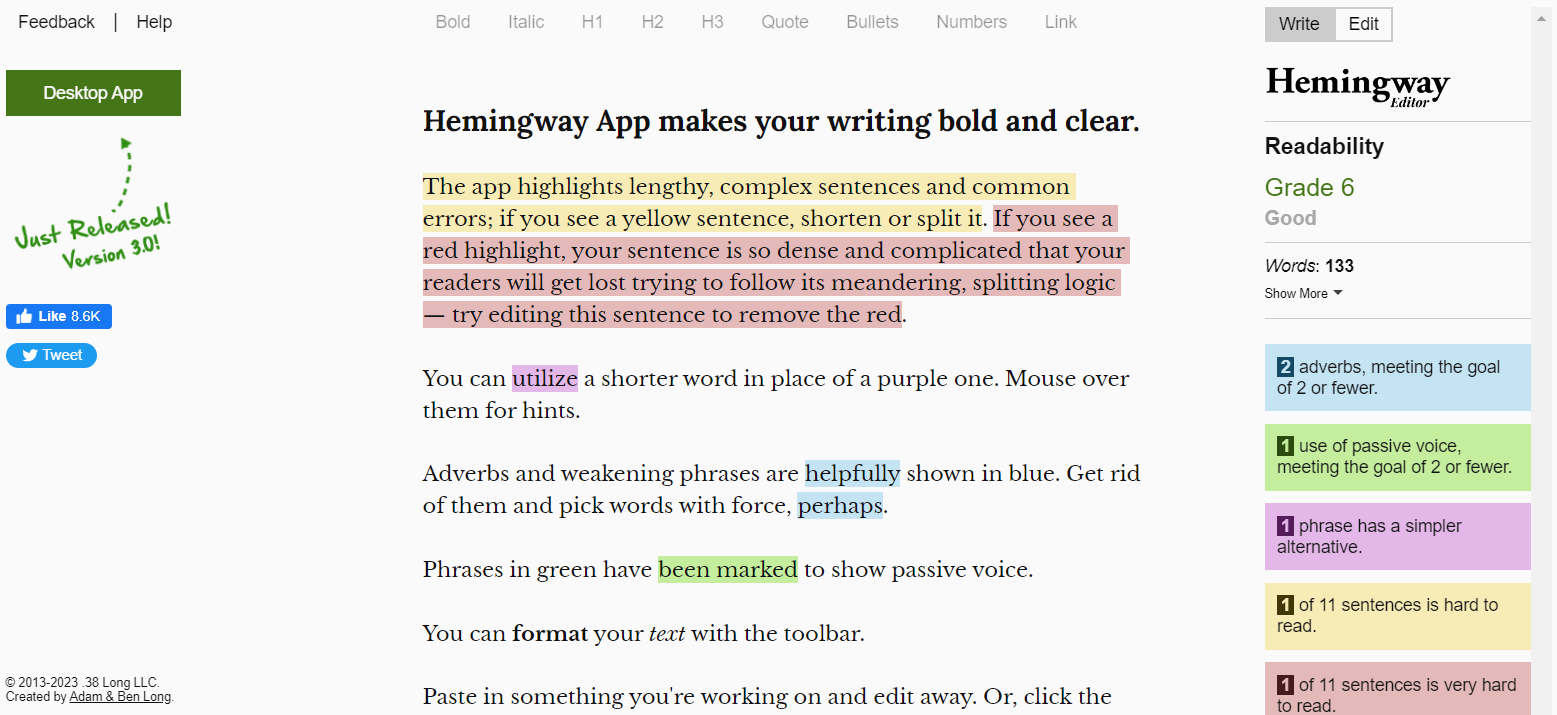 Hemingway is an AI writing assistant that can help users to write more clearly and effectively by simplifying complex language with its powerful editing features. It promotes the use of active voice, identifying adverbs, and analyzing sentence length. It can be used by anyone who wants to improve their writing skills.
Hemingway Features & Benefits:
1. Helps Fix Four Basic Writing Issues
AI Hemingway is a web-based tool that can be accessed from any device with an internet connection making it easy to use. Moreover, it's free to use, and its suggestions can help you to write more engaging and effective text. It is a desktop and cloud app that aims at fixing four fundamental writing issues:
1. Adverbs
2. Passive voice
3. Complex phrases and complicated words
4. Long sentences
2. Polishes and Finetunes General Writing
AI Hemingway detects when a sentence is written in passive voice and suggests changes to make it more active and engaging. The software also helps write grammatically correct sentences. It identifies adverbs and suggests alternatives that can make writing more powerful.
AI Hemingway can analyze sentence length and provide suggestions to make the writing more varied and engaging. Its AI system has a readability score feature. The lower your score is the more people can read it. 
3. Paragraph Style for Blog Posts
One of its features that's worth mentioning, but you won't need unless you run a blog, is "Paragraph Style". If you're writing a blog post, the Hemingway app lets you add heading tags and formatting (like bold and italics), so your final article is ready to post. If you're using the desktop app, you can even post the article straight from the Hemingway app itself to WordPress or Medium.
4. Integrable
Moreover, it is a web-based tool that can be accessed from any device with an internet connection. AI Hemingway can be integrated with other productivity tools, such as text editors and word processors, to make the writing process more efficient. The software can be tailored to suit the specific needs of different industries and businesses, such as legal, marketing, and finance.
Hemingway Pricing:
AI Hemingway is a free tool to use while its premium desktop version will cost you $19.99/month.
8. Novelize – Best Fiction Writer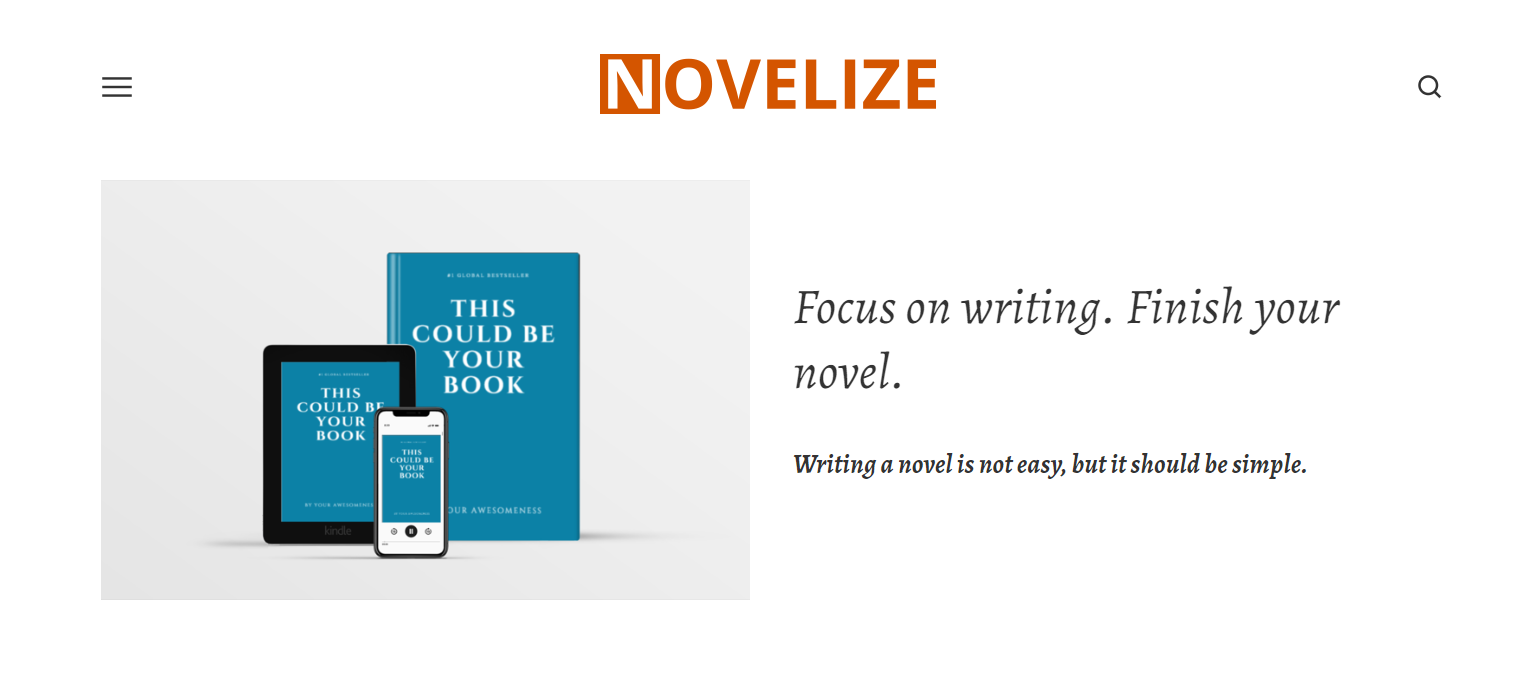 AI Novelize is one of the best novel writing software that uses AI to help users to write novels. It keeps you focused and organized while writing long content writing novels.
Novelize Features & Benefits:
1. Fiction Writing Assistant
It can generate plotlines and characters, and complete text. It can also generate dialogue between characters to help users write more realistic and engaging scenes. It's considered one of the most advanced AI story writers available with the ability to generate human-like fiction writing and content for your novel.
2. Accessible
Novelize gives you the freedom to access your work on any device with a browser and an internet connection. Novelize allows you to export your work as a word document. You can also download your outline and notebook contents anytime. With its notebook feature, it gets you rid of sticky notes to keep track of all the important information and keeps your focus on writing.
3. Prevents Distractions
The interface is designed to keep distractions to the minimum helping you write a novel and focus on the task at hand. It autosaves your work in the cloud to save your information and keep it secure while you write your novel
Novelize Pricing:
This AI content generation software is still developing and incorporating new features. Novelize offers a 17-day free trial while its premium version costs $9/month and $65/year.                                                                                                                                               
9. ProWritingAid – Readability Score Improver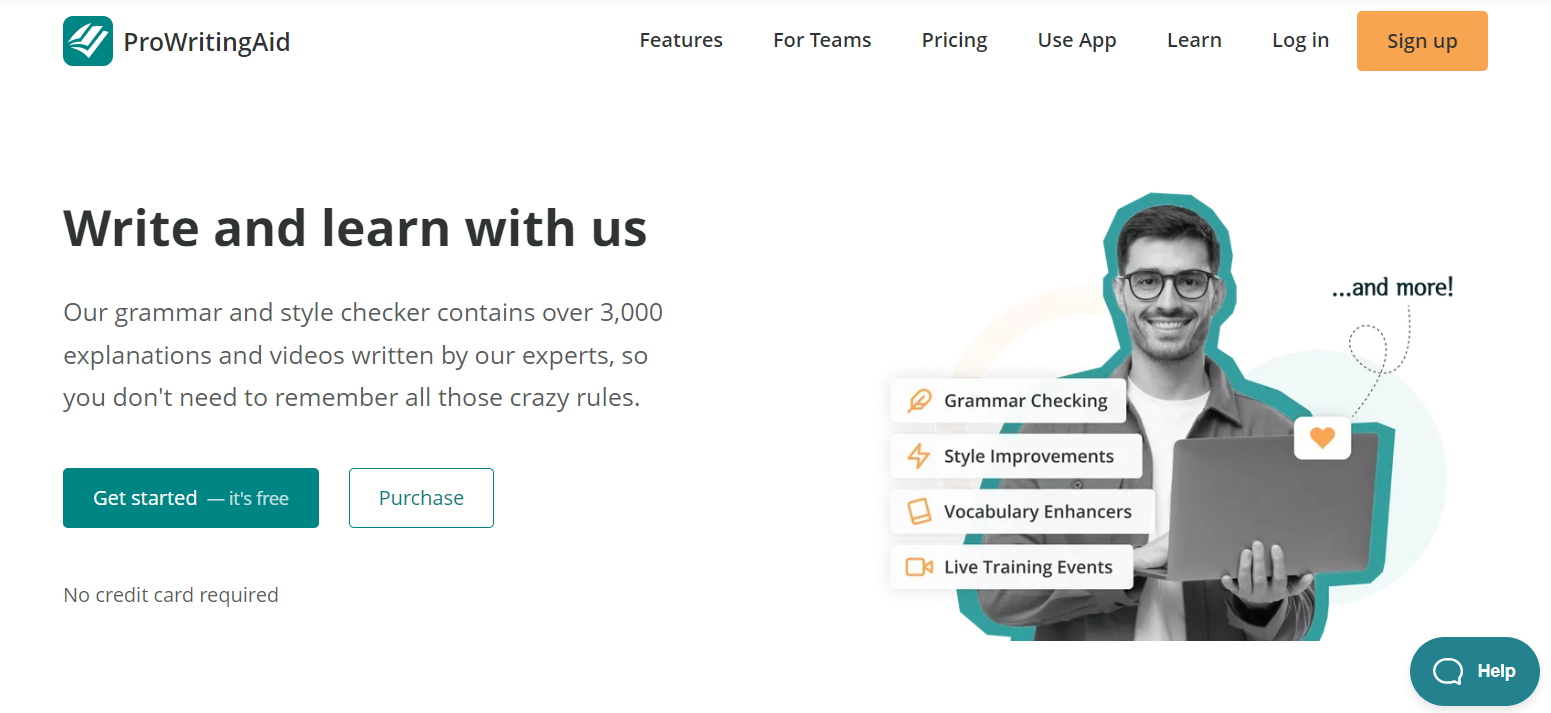 All-in-one ProWritingAid is a tool that is part editing tool, part grammar checker, and part writing coach, It provides an objective view of what's working and what's not in your text.
ProWritingAid Key Features:
1. Specialized Reports
It polishes your creative writing by identifying overused words and phrases. It also checks consistency in verb tense and detects passive voice. Specialized reports such as "cliché finder" and "overused words" reports help writers identify and eliminate overused phrases and words. While the "Sticking point" report shows where the writer tends to get stuck while writing like repeating the same phrase or using the same word too often.
2. Style Reports
The ProWritingAid Style Report is the most, in-depth report that covers writing principles beyond grammar. It identifies areas for improvement in readability (e.g. passive verbs, adverb use, repeated sentence starts, emotional tells).
The suggestions align with what a professional copyeditor would offer. Fixing these issues beforehand improves the focus of the copyeditor on more important elements like tone, leading to a better final product.
3. Integrable and Offers 24+ Languages
Compatible with multiple platforms and file formats like Microsoft Word, Google Docs, Scrivener, and more. It also offers a browser extension for Google Chrome. Its premium version also offers 24+ languages.
ProWritingAid Pricing:
The software offers a free version with some limitations in terms of the number of reports that can be generated. The premium version costs $10/month and offers access to additional features like 24+ languages and reports like the ability to analyze longer documents.
10. Scrivener – Best Screen AI Writer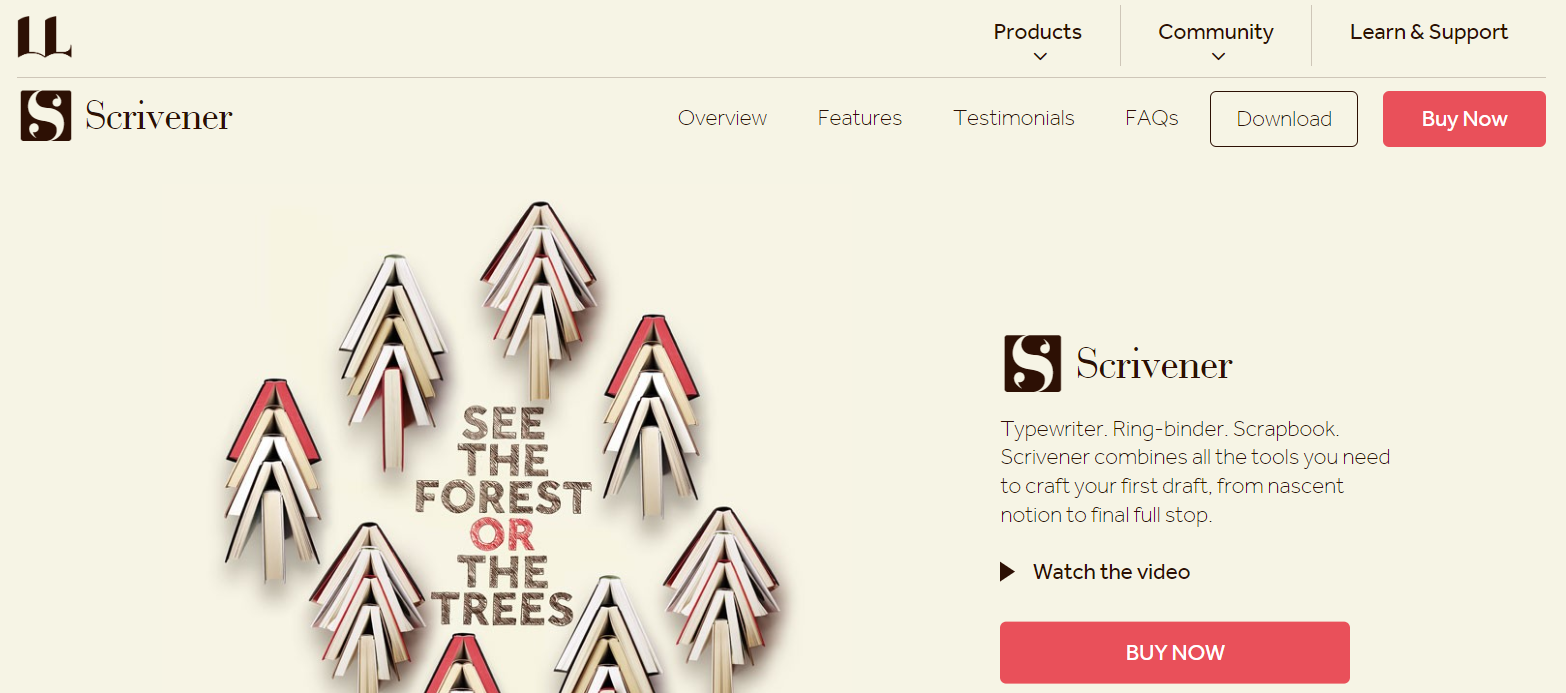 Scrivener is a writing software specifically designed for authors, screenwriters, and other professional writers. It provides a variety of tools and features to help writers organize their ideas and research. It helps to structure writing and ultimately produces finished and polished documents.
Scrivener Features & Benefits:
1. A Great Organizer
The platform offers a "binder" feature that allows writers to organize their research, notes, and drafts in a hierarchical structure. It makes it easy to access and reference specific information as needed.
It includes a "corkboard" view that allows writers to view and organize their notes and ideas as index cards. This feature makes it easy to rearrange and reorganize the structure of the document. Tools like the "Scratch Pad" allows writers to jot down ideas, thoughts, or snippets without worrying about formatting or organization.
It also offers a full-screen "composition mode" that blocks out all distractions, allowing writers to focus solely on the task of writing. The software allows you to split the screen, for example, you can have the research on one side and the text on the other.
2. Goes Beyond Text-Generation
Scrivener includes a built-in word-processing engine. This feature allows writers to format text, add images and multimedia, and create tables and charts as needed.
It offers a variety of export options. This feature has the ability to export to popular word processing formats like Microsoft Word, as well as e-book and HTML formats. It also includes an option to compile your work into a single document, which can be useful for creating a manuscript or submitting your work to an agent or publisher. Scrivener is compatible with Windows and Mac.       
Scrivener Pricing:
The software offers a 30-day free trial and a mobile version for iOS and Android. Its Educational version costs $50 and the Standard version costs $59.
11. Wordtune – Best Text Improver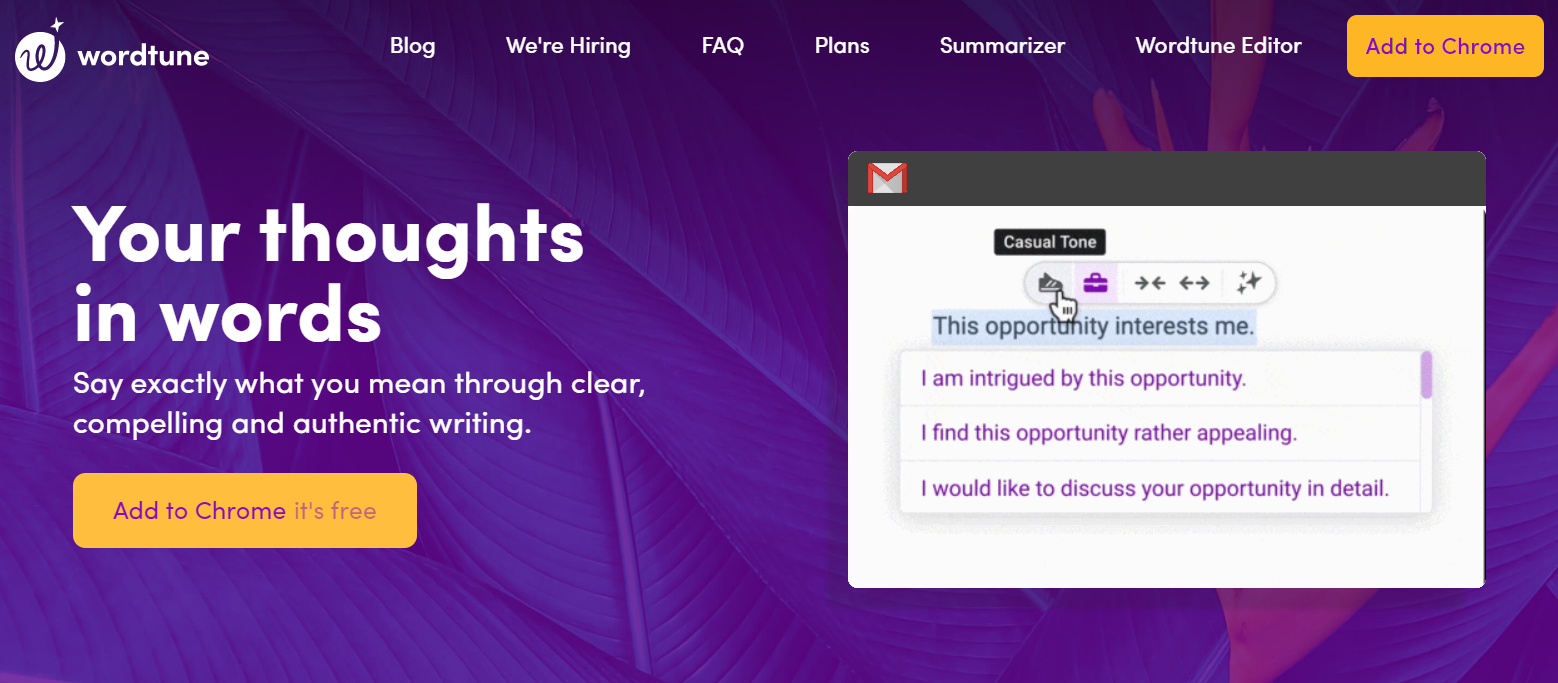 This amazing AI-based writing companion was built by AI21 Labs and founded by AI luminaries in 2018. It has come a long way since its founding. Wordtune was featured on Capterra's 2022 best productivity software shortlist. Its features go far beyond grammar and spelling fixes that make it stand apart from other AI tools on the market.
Wordtune Features & Benefits:
1. Summarizes Long Texts
One of its leading features is "Long Story Short" which summarizes long texts without losing their important message. It will save you a great amount of time and energy. The newest edition Wordtune Read allows you to quickly summarize documents.
2. More than Machine-Generated Text
AI writing toolset called Wordtune Spices enriches human writing rather than just replacing it with machine-generated text. It incorporates statistics, historical facts, and supporting examples to enhance the impact of your content and writing style.
3. Improves General Writing
It also enables you to rewrite sentences, words, and full paragraphs at a time. Its feature of smart synonyms allows you to receive a list of synonyms that more accurately fit your sentence and your intended meaning.
4. Creates Original Content
It not only checks plagiarism but also ensures that your content remains plagiarism free by rewording it and making it your own original content.
Integrable
It works wherever you write be it, MS Word, Docs, Linked, Overleaf, and Twitter.
Wordtune Pricing:
To enjoy the full features of Wordtune you have to go premium which costs $9.99/month and $119.88/year.
12. NovelAI – Best AI Storyteller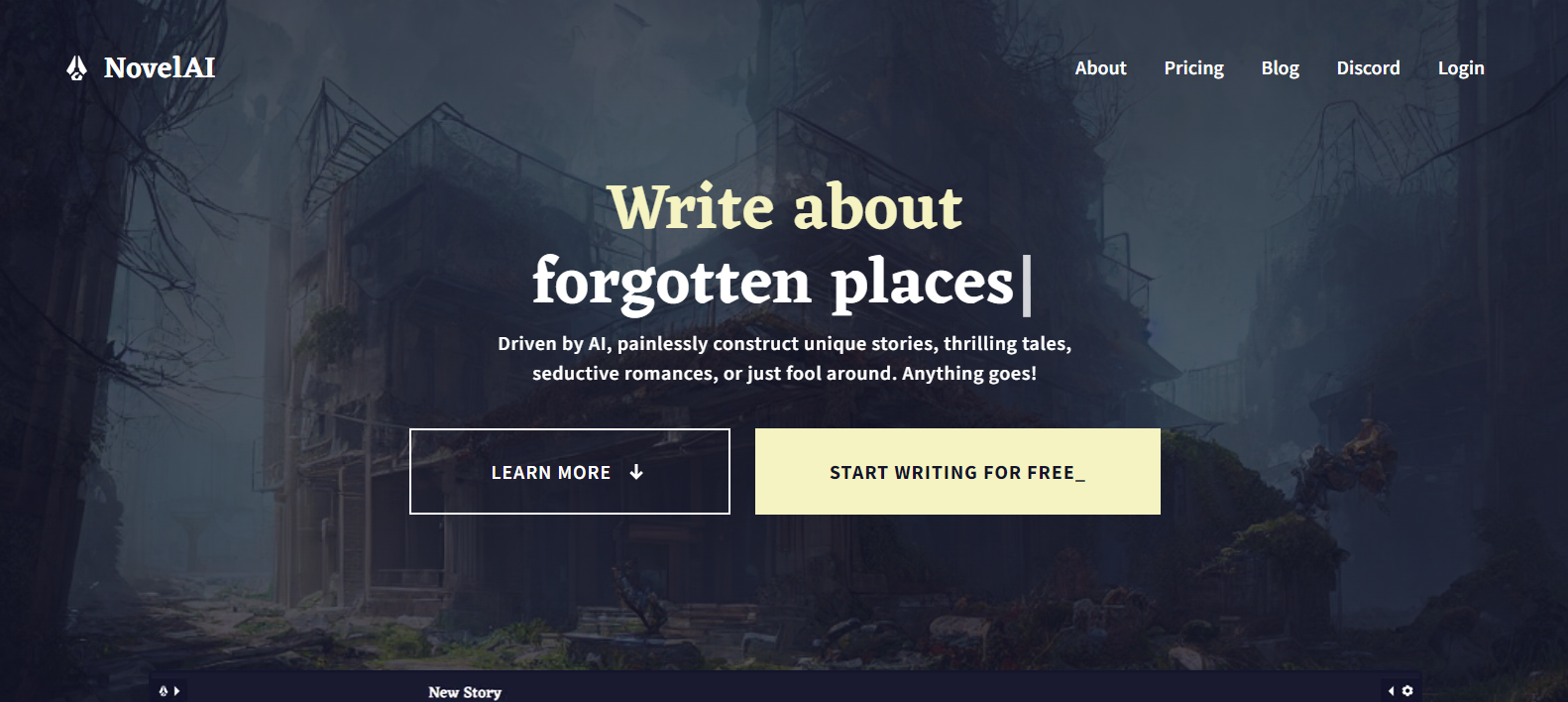 Through Artificial Intelligence algorithms, NovelAi creates eerily Human-like writing regardless of the user's ability to generate quality literature. It is a tool for artists to channel their imagination into writing.
The software provides extraordinary levels of freedom with its own AI models trained on real literature. It builds upon your viewpoint and style by providing ideas for your novel and the end product is astonishing.
NovelAI Features & Benefits:
1. Generates Literary Content
Its machine-learning algorithms understand the writer's intentions and preferences to generate unique story ideas and plotlines. The platform can generate story summaries, character descriptions, and plot twists based on a writer's input.
It also offers a feature that allows writers to input specific elements they want in their story, such as a specific setting, genre or character type. The platform will generate ideas based on that. It can also assist with character development, by providing suggestions for character motivations, personalities, and backstories. It is best for writers who want to write a novel.
2. Expert Fiction AI Writer
The software can help you generate multiple versions of a story, giving writers a variety of options to choose from. It offers a simple interface that allows writers to quickly generate new ideas and inspiration that makes it novel writing software.
3. Integrable with Other Software
The platform is also designed to be flexible and adaptable, so writers can use it for any genre of fiction, including fantasy, science fiction, and historical fiction.
4. Converts Imaginative Ideas Into Visual Art
The NovelAI Diffusion Anime image generator offers a unique and tailor-made experience. It brings your imaginative ideas to life, allowing you to turn your imaginative narratives into visual works of art.
NovelAI Pricing:
The platform offers a 10-day free trial and its premium version which includes all the elite features costs only $9.99/month.