At a Glance
This Article highlights the top 7 AI-driven SEO tools: SEMrush, Ahrefs, Moz Pro, Surfer SEO, Frase.io, Outranking.io and Serpstat!
Key features and pricing plan of each tool are discussed in detail to help you choose the most suitable option for your needs!
In today's competitive digital landscape, improving your search engine rankings is crucial for business success. This is where AI SEO tools come into play. By utilizing machine learning algorithms, these tools analyze and optimize your website's SEO strategy, providing insights to help you create the right content and keywords to improve search engine performance.
The benefits of using SEO tools are clear: they save time, automate repetitive tasks, and provide data-driven insights for efficient content management. This can lead to increased website traffic and revenue. However, with so many options available, choosing the right tool can be challenging.
To help guide your selection, consider factors such as compatibility with your web platform and CMS, specific features, user-friendly interface, integration with other platforms, pricing plan, customer support, and available resources. It's also important to try the free trial to evaluate if the tool meets your SEO goals and objectives before finalizing your decision.
In this article, we will highlight the top 7 AI-powered SEO tools available on the market. By going through the key features of these SEO software tools and understanding their pricing plans, you can choose the most suitable tool that meets your requirements to enhance your website's SERP rankings.
1. SEMrush – All In One Marketing Tool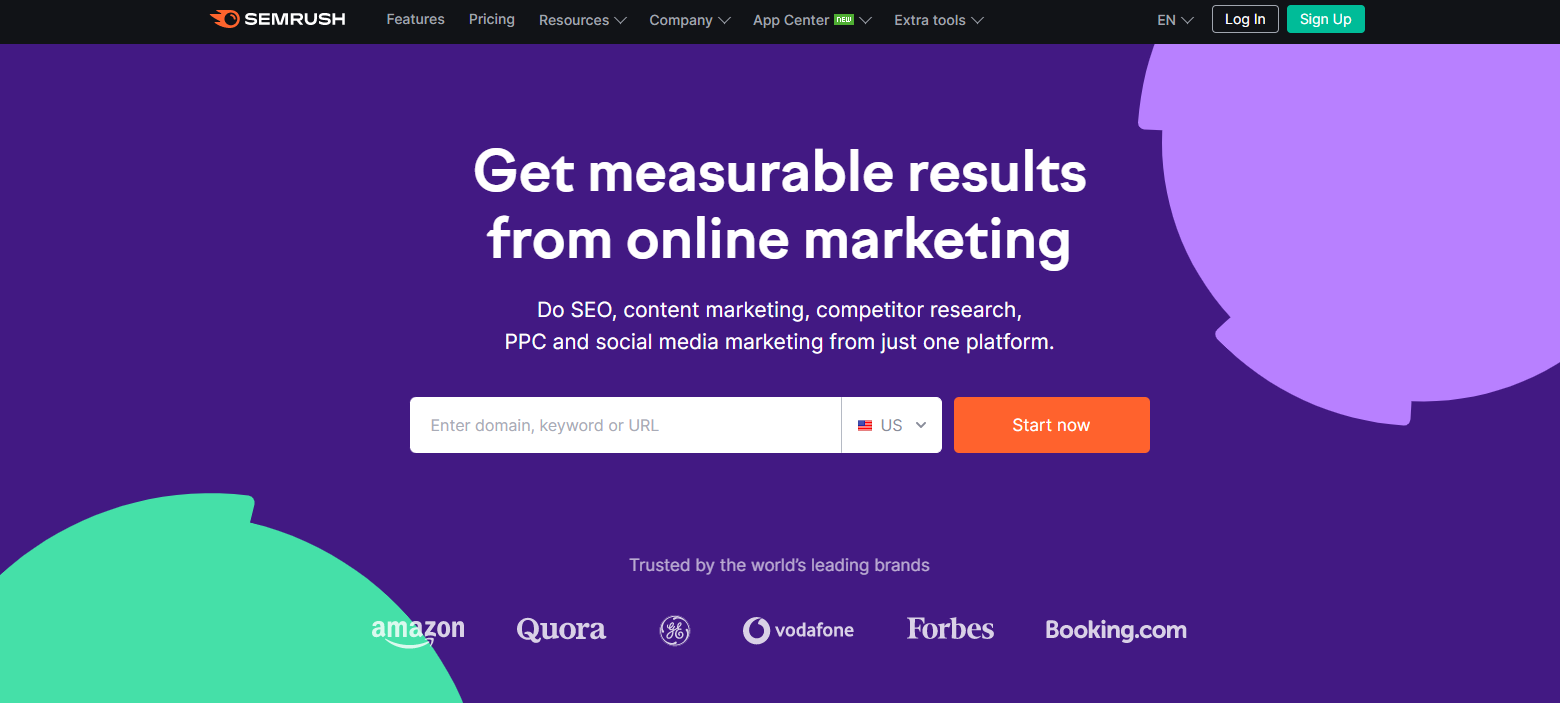 SEMrush is a powerful and versatile tool that uses AI to provide data-driven insights for SEO strategy. Its features include keyword research, competitive analysis, and on-page optimization recommendations, all of which work together to improve online visibility and increase website traffic.
Additionally, SEMrush offers valuable marketing insights to enhance your overall strategy, including SEO, PPC, and SMM services, as well as PR, content marketing, and campaign management tools.
SEMrush Key Features:
While SEMrush offers a wide range of features, this article will focus specifically on its core SEO functionalities which include but are not limited to:
1. SEO Dashboard
The user-friendly dashboard provides condensed reports regarding Organic research, Position Tracking, Traffic Analytics, Site Audit, Backlink Analytics, Backlink Audit, and On-Page SEO Checker. This valuable information identifies the missing fields of your SEO strategy and your competitor's weaknesses you can exploit.
2. Competitive Research Tools
Semrush's competitive AI research tools allow you to identify your top competitors, the keywords that attract organic traffic, and their weaknesses. The tool provides reports on Domain Overview, Traffic Analytics, Organic Research, Keyword Gap, and Backlink Gap. These reports provide insights into keyword gaps between you and your competitors, highlighting areas where you should focus.
3. Keyword Research Tools
The next step after competitive research is a detailed analysis of suitable, less competitive, popular keywords for the right SEO campaign. The Keyword Research workflow includes reports and tools such as Keyword Overview, Keyword Magic Tool, and Organic Traffic Insights. It is the best SEO tool that lets you know the best keywords to increase organic traffic.
4. Link Building Tools
Semrush provides tools for researching competitors' backlinks and building your links through email outreach. The Link Building workflow includes reports and tools such as Backlink Analytics, Backlink Audit, and the Link Building Tool. These tools help build beneficial links that reach the right audience for increased conversions.
5. Rank Tracking Tools
To track the progress of your SEO work, you need to set up rank tracking. For rank tracking, Semrush provides tools named Position Tracking and Sensor. In addition, it offers daily rankings which identify the best keywords to increase your SEO. These tools update daily and provide a true picture of your website's progress in SEO.
6. On-Page & Technical SEO Tools
You must focus on On-Page and Technical SEO to improve your website visibility. Semrush SEO tools that help you undertake this technical task are Site Audit and SEO Content Template. In addition, on-Page SEO Checker, Listing Management, and Log File Analyzer are great tools.
Semrush Pricing Plan:
Semrush Pro costs $119.95/month. The pro version is for newbies and small teams.
Semrush Guru costs $229.95/month. The Guru version is for agencies and businesses. It allows 15 projects, 1500 keywords to track, and 30,000 results per report.
Semrush business costs $449.95/month. It allows 40 projects, 5000 keywords to track, and 50,000 results per report.
2. Ahrefs – All In One SEO Tool
Ahrefs is a comprehensive SEO tool that utilizes AI to enhance website visibility and drive marketing success. With its large database and intuitive interface, Ahrefs enables users to analyze backlinks, perform keyword research, conduct content analysis, and conduct site audits to optimize their overall SEO strategy.
The tool boasts a massive backlink index that updates every 15 minutes and crawls 8 billion pages daily, providing users with accurate and up-to-date insights. Additionally, Ahrefs provides valuable data to help users measure and improve their website's SEO performance.
Ahrefs Key Features:
1. SEO Dashboard
Ahrefs has a user-friendly dashboard that displays all your SEO projects and tracks their performance. It tracks important SEO metrics and informs you of any changes. You can check a Health Score, Domain Rating, Referring Domains and Backlinks, Organic Traffic, and Keywords from the dashboard to get an overview of SEO health. It can track an unlimited number of verified projects and integrates with Google Search Console data.
2. Site Explorer
Ahrefs Site Explorer combines 3 SEO tools in one interface to improve tracking efficiency. It includes an Organic Traffic Researcher for competitor keyword insights, a Backlink Checker to assess backlink quality, and Paid Traffic Research updates.
3. Keyword Explorer
Ahref's Keyword Explorer finds thousands of keyword ideas and calculates traffic potential. It stands out with its powerful Keyword Explorer that provides keyword ideas for ten search engines (e.g., YouTube, Amazon, Bing) and estimates search query popularity.
4. SEO Site Audit
Ahrefs crawls website pages and provides an SEO health score. It displays key data in charts, flags SEO issues, and gives correction recommendations. In addition, it checks for over 100 pre-defined SEO issues or allows for custom exploration with technical SEO skills.
5. Rank Tracker
Its Rank Tracker's interactive graphs help you track the progress of your SEO efforts. It provides visibility, average position, traffic, and position distribution of your website. In addition, it tracks your website ranks in SERP features which is highly beneficial for your website SEO.
6. Content Explorer
Its powerful content explorer discovers 40 million new pages and updates metrics for 400 million pages every 24 hours. As a result, you can discover top-performing content in your niche and find thousands of link prospects that give you proven ideas to generate AI content that improves your SEO strategy.
Ahref Pricing Plan:
The lite version for small businesses and hobby projects costs $99/month. The Standard plan costs $199/month and is perfect for freelance SEOs and marketing consultants.
3. Moz Pro – Complete SEO Solution

Moz Pro is a top-tier SEO tool that provides users with valuable insights to enhance their website's search engine ranking, increase traffic, and drive tangible results. As a leading player in the SEO industry, Moz Pro offers a suite of powerful features that enable users to conduct keyword research, analyze site performance, track search rankings, and more.
With its user-friendly interface and cutting-edge technology, Moz Pro is a go-to solution for businesses looking to optimize their SEO strategy and achieve success online
Moz Pro Key Features:
1. Keyword Research
Knowing which keywords and questions they use is important to understand customer search behaviour. Mozpro's Keyword tool helps optimize content by targeting keywords with volume and difficulty metrics. In addition, it tracks keywords for regular monitoring and adjustment.
2. Rank Tracking
Accurate keyword ranking tracking is crucial to assess SEO effectiveness. Moz Pro allows you to monitor your own and competitor rankings. Its Rank Tracking tool provides insight into local and national search results. In addition, the Search Visibility score gives a comprehensive view of keyword rankings.
3. Site Crawl
Moz Pro's Site Crawler thoroughly examines your website to identify and resolve negative factors that can be difficult to detect. It searches for problems that prevent search engines from crawling your site and provides alerts for a quick resolution.
4. Content Optimization
Moz Pro optimizes your chances of ranking by analyzing your page content and providing improvement suggestions. Focus on priority areas with recommendations for optimizing pages and get content production guidance with tailored recommendations based on ranking keywords.
5. Link Research
Moz Pro helps discover new links and maximizes existing ones for successful SEO. Build trust with proprietary metrics like Page Authority, Domain Authority, and Spam Score. Stay ahead of the competition by discovering their link sources.
6. Analytics & Reporting
Create compelling reports by customizing PDFs with annotated, drag-and-drop modules. Reduce workload by scheduling recurring reports automatically sent to clients and stakeholders.
Moz Pro Pricing:
The Standard version costs $99/month. Medium costs $79/month. Its Large version costs $299/month and its premium version costs $599/month.
4. Surfer SEO – Advance Content Editor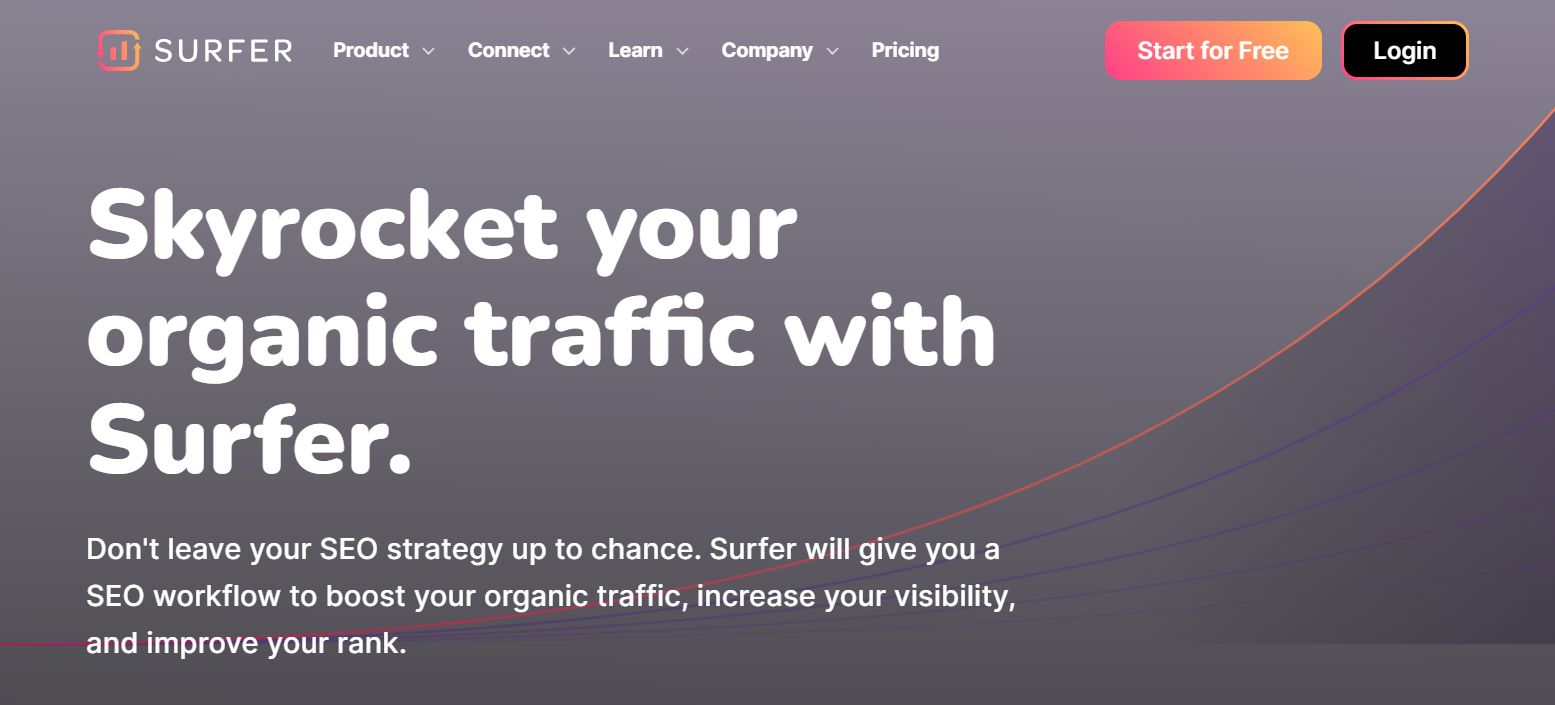 Surfer SEO is an AI-powered content optimization tool that empowers content writers, managers, and agencies to streamline their SEO efforts and maximize profitability.
With its user-friendly interface and advanced NLP (Natural Langauge Processing) algorithms, Surfer SEO provides powerful features to optimize your content, including keyword research, content analysis, and on-page optimization recommendations. It also offers real-time data-driven insights to help you stay ahead of the competition and improve your SEO strategy.
Surfer SEO Key Features:
1. Content Editor
The Surfer Content Editor empowers you with the capability to establish standards for your writers by incorporating all necessary details, including keywords, subjects, and preferred word count.
2. SEO Audit
It audits a web page and compares it with competitor pages quickly and easily. It enables you to evaluate the following factors:
3. Content Structure
Analyzing top pages keeps you updated on your overall health of content. It identifies content length, partial keywords density in headings, keyword stuffing, and other shortcomings causing poor user experience. It also provides suggestions even after you have published your content.
4. Organic Competitors
It brings up the top-performing pages that share the same search intent as you do. As a result, it will boost your organic search traffic, which improves your website's SEO.
5. Internal Links
It gives you precise information regarding relevant pages on your website and reports the reported pages that require internal linking.
6. Precise Keywords
It helps you get better rankings by identifying crucial keywords your content lacks. It also includes how often you should consist of popular phrases and NLP entities.
7. SERP Analyzer
The SERP Analyzer is a tool for comparing top-ranked pages on Google SERPs based on ranking factors, with the ability to export data for custom SEO reports. In addition, it enhances the value of Surfer SEO through on-page competitor analysis and auditing.
8. Backlink Tool
Surfer SEO provides a list of frequently linked domains for your top 20 competitors and a "Common Backlinks" tab displaying potential link prospects for your website. In addition, it helps improve your link-building strategy by connecting you with influential domains.
9. Surfer Grow Flow
Grow Flow is an AI-powered growth management platform for SEO, providing data-driven insights on critical SEO categories (content creation, internal linking, backlinking, keywords) through Google Search Console links every week.
Surfer SEO Pricing:
Its basic plan costs $49/month, the Pro plan is for $99/month, and the business plan comes at $199/month.
5. Frase.io – Expert Content Optimizer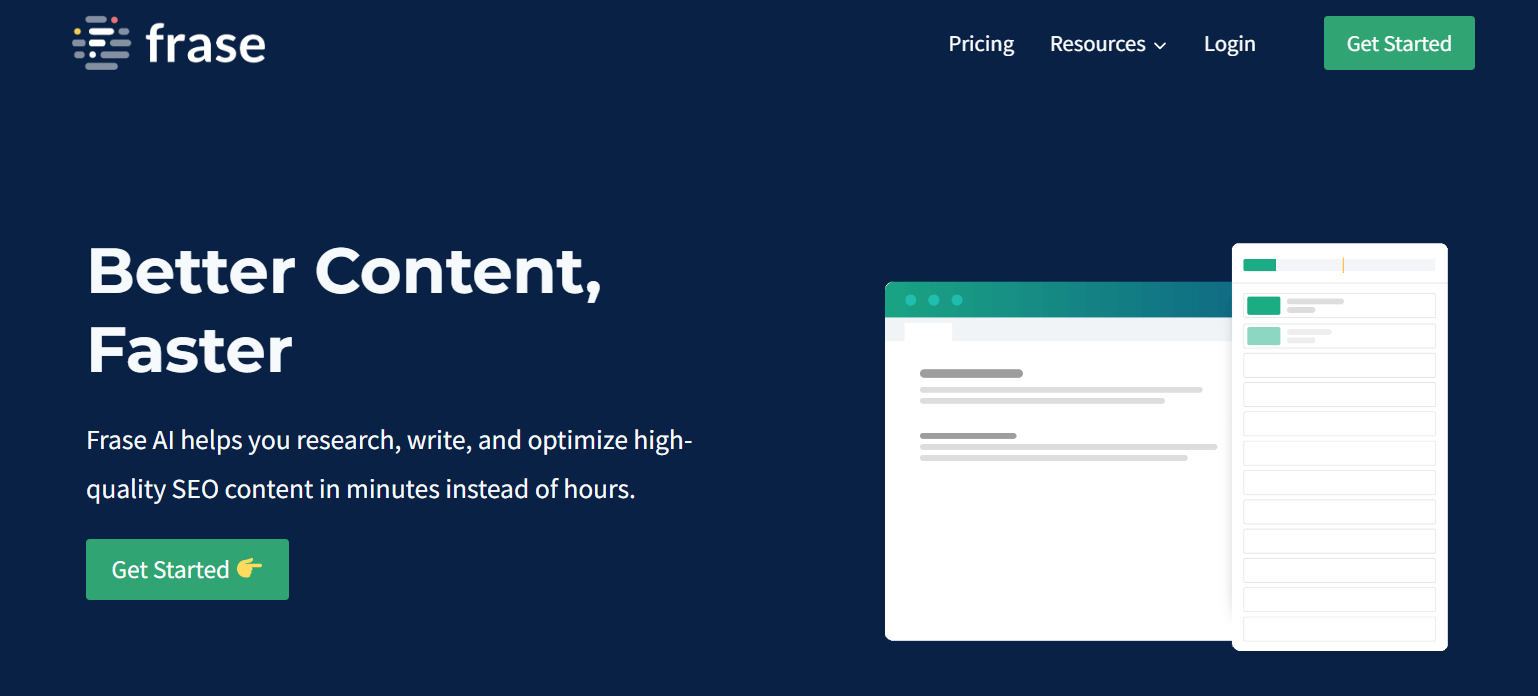 Frase.io is a powerful SEO tool to increase your website's visibility ranking on search engines. Its AI writer saves you a lot of time and effort in writing SEO-friendly content that search engines love.
Frase io Key Features:
1. SEO Alerting
Provides instant notifications to inform users of crucial problems or modifications that could negatively impact SEO activities through its content optimization tools.
2. SEO Auditing
Assesses the comprehensive SEO well-being of a website and suggests steps to address potential problems or enhance content.
3. SEO Change Tracking
Keeps a complete log of modifications to a website's content or structure and offers access to past snapshots or backups.
4. Technical SEO
Furnishes an SEO web crawler that continuously tracks and detects technical faults within a website.
5. Keyword Research
Recommends relevant keywords for a specific search term and presents metrics such as keyword volume, difficulty, and competition.
6. SERP Rank Tracking
Monitors the organic ranking for specified keywords and provides reports on current and historical metrics such as average position, visibility, the share of voice, and traffic.
7. Localization
Furnishes keyword ranking information based on geographical location and device type.
8. Data Visualization
It visually represents rankings and important metrics through charts and graphs.
Frase Pricing:
Its Solo plan costs $14.99/month, the Basic plan costs $44.99/month, and the Team plan costs $114/month.
6. Outranking.io – Topical Map Master
Outranking is an AI-based platform for content intelligence and strategy that boosts traffic to your content. It seamlessly integrates data-driven planning, creation, and optimization of SEO-optimized content for improved rankings.
Its SEO strategy utilizes data and AI-driven guidance to formulate a comprehensive SEO content plan. As a result, you can easily attain a commanding position in your area of expertise.
Outranking io Key Features:
1. Topic Clustering Automation
This feature helps you find semantic terms and related keywords to identify user intentions and places to build an organic performance. As a result, you can reach your audience in less time with little effort.
2. Authority Gap
Identifies the lacking areas of your content strategy. It provides an accurate picture by pinpointing the areas needing higher ROI attention.
3. AI-Powered Keyword Strategy
It helps you identify keywords that need to be targeted to improve content ROI and reduce ad spend.
4. SEO Prioritization
It accurately prioritizes new content opportunities and optimizes the existing content to attract qualified traffic to your website.
5. SEO Content Briefs
It provides AI-generated titles, descriptions, and outlines, enabling you to write content that attracts the highest organic ranking.
6. SEO Outlines
It provides you with the most in-depth outlines with the right keywords and topics.
7. AI-First Drafts
It saves you lots of effort and time by automating SEO-optimized first drafts that get you ahead of your competitors.
8. Automatic Templates
You can create recipe posts, product pages, webinar pages, translations, and e-commerce pages with AI-generated templates and snippets.
Outranking.io Pricing:
Its Solo plan is for $79/month, the Pro plan is for $149/month, and the Company plan is for $219/month.
7. Serpstat – Competitor Analyzer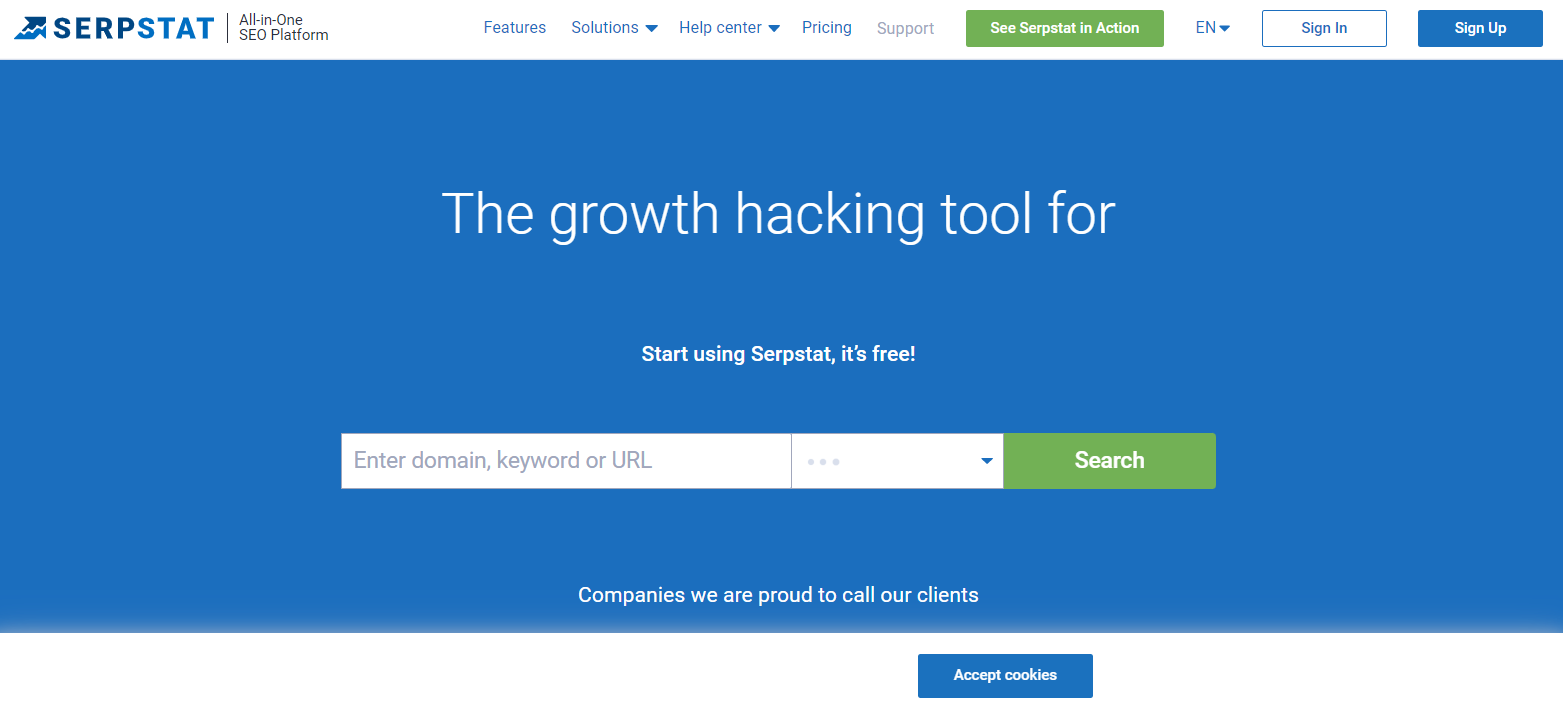 Serpstat – An AI-powered SEO tool for SEO writers, marketing experts, and digital agencies that conducts site analysis analyzes competitors, and generates content that ranks high on search engines.
Serpstat Key Features:
1. Keyword Research
Its AI SEO tools can help you collect the best keywords from the biggest database. This keyword collection and analysis is based on regional search results and competitor sites in your niche. These keywords help you create content that improves your SEO campaign.
2. Keyword Trends
Its AI-powered tools keep updated reports to keep you abreast of the most popular searches for the selected region. These reports enable you to optimize your content accordingly.
3. Rank Tracking
Serpstat keeps checking global and local paid search results of a domain and its competitors. So you can track your website ranking worldwide and find the best content outlines by rating and reviewing the best AI content online.
4. Content Analysis
Its AI writing tool helps you with article generation, grammar and spelling, paraphrasing, and description generation. In addition, you can create high-quality content faster with artificial intelligence SEO tools.
5. Backlink Analysis
Its top AI SEO tools specialize in backlinks, anchors, link donors, and identifying malicious links to improve your SEO performance.
6. Competitor Analysis
Its competitor analysis feature allows you to find relevant online competitors to collect and analyze their most popular pages. Then, it makes SEO recommendations for any piece of content. Also, you can explore what keywords will work best for your website.
Serpstat Pricing:
Its Lite version costs $55/month, the Standard costs $119/month, and Enterprise costs $399/month.