At a Glance
Quickchat AI is a technology to build AI assistants that talk just like a human and allows users to build their own multilingual AI assistants powered by ChatGPT.
Quickchat is a fully conversational AI Chatbot powered by OpenAI's GPT, a 175 billion parameters language model.
Its user-friendly interface, multilingual support, integration flexibility, human-like interactions, and automated human handoff make it a powerful tool for businesses seeking to enhance their customer interactions.
Quickchat AI is an advanced conversational AI engine designed to create human-like interactions and provide accurate, instant responses to customer queries.
It leverages GPT models, including OpenAI's ChatGPT, to power multilingual AI assistants.
Quickchat AI is particularly versatile, catering to various industries such as customer support, knowledge sharing, and HR.
Keep on reading to learn more about Quickchat features, pricing plans, pros & cons, and comparison with alternatives.
We have also included Quickchat review to help you find the best AI tool to automate live chat conversations and enhance your business's customer experience.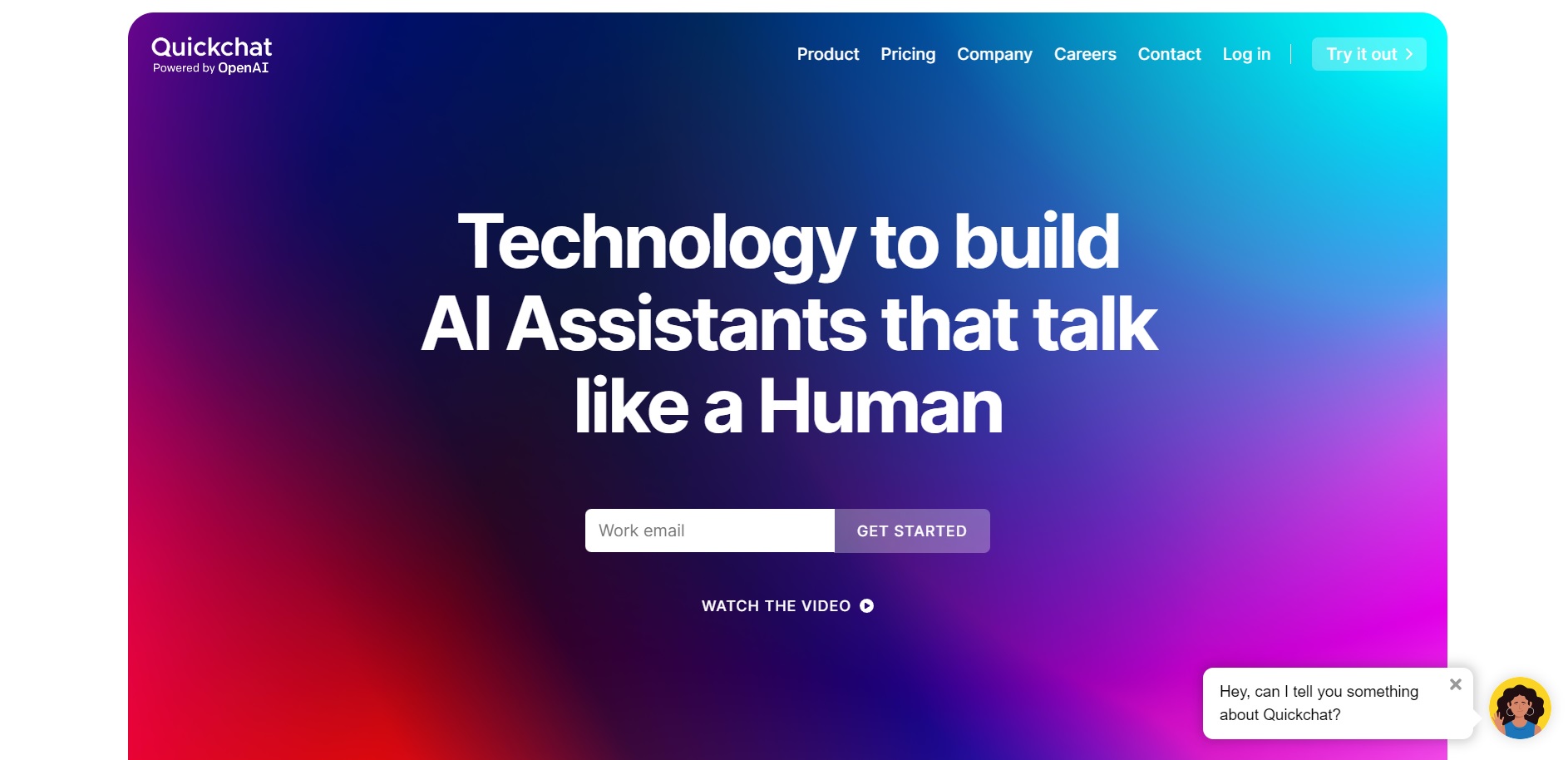 Quickchat AI Key Features
| Feature | Description |
| --- | --- |
| No-Code | Quickchat AI tool doesn't require technical skills or coding knowledge. Users can start with a generic AI assistant that talks like a human and customize it according to their needs. |
| Multilingual | A single knowledge base in English can be used to create an AI assistant that converses in various languages. |
| AI Personality | Users can control conversation style, vocabulary, and flow to align with their branding and product identity. |
| Easy to Build | Creating an AI assistant is straightforward. Upload a knowledge base to the Quickchat dashboard to start the process. |
| Learns From You | The AI assistant learns from uploaded content, FAQs, and product descriptions and can connect to internal APIs or databases. |
| Connects to Existing Software | Users can integrate Quickchat AI into various apps, live chat softwares, and even connect to proprietary applications. |
| Quickchat Integrations | The AI assistant is compatible with popular messaging apps and software, providing seamless customer engagement. |
| AI Personality Options | Businesses can choose from various AI personalities, like humorous, professional, adventurous, and more. |
| User-Driven Handoff | The AI recognizes when a human agent is needed, and you can pause the AI chatbot and hand over the conversation to a customer support staff. |
| Add AI Assistant to Channels | Quickchat Web Widget can be added to websites and social channels such as Facebook Messenger and WhatsApp. |
| Quickchat API | Users can connect Quickchat to their software or website using Quickchat API. |
Quickchat Pricing Plans
Quickchat offers a 7-day free trial and two paid plans.
1. Lite
Features
It includes 1,000 free AI-generated messages per month ($0,035 per message afterward), access to Quickchat no-code web AI builder (No training or support needed), Integrations via web widget, public link or social media connections, unlimited edits of the knowledge base, unlimited AI retraining, and add-ons; remove branding, human handoff, multilingual, translation glossary, and API access.
Price
It costs $99/month.
2. Custom
Features
It includes a tailor-made machine learning solution for your business, custom features, unique AI personality, conversation style, integrations, dedicated implementation assistant, API access and custom integrations, ongoing maintenance, and 24/7 customer support via email, Slack, Zoom, and phone, security and compliance, white-label license, and a custom SLA.
Price
Custom pricing.
Quickchat AI Pros & Cons
PROS
QuickChat AI provides instant and accurate responses to customer inquiries, leading to efficient customer support.
QuickChat AI engages in human-like conversations, creating a personalized customer experience.
QuickChat AI is available round-the-clock, providing customers with assistance at any time.
QuickChat AI offers support in multiple languages, enhancing its global usability.
QuickChat AI streamlines customer support, reducing the need for customers to wait for a response and enhancing overall satisfaction.
CONS
Some businesses may find the customization options in QuickChat limited to their specific needs.
While QuickChat integrates with popular messaging platforms, it may have limitations for businesses using other platforms.
The effectiveness of QuickChat relies on AI algorithms, which may not always provide accurate or appropriate responses, potentially leading to negative customer experiences.
While QuickChat can have text-based conversations, there's currently a limitation regarding sharing images.
Users may need to adjust chat windows to fit their website design properly.
QuickChat AI Comparison With Alternatives
Features
Quickchat AI
Landbot.io
SendPulse
Collect.chat
ChatBot
Chatbot Building
Multilingual AI Assistant powered by GPT models
No-Code Chatbot Builder
Multichannel Marketing & Sales Tools
Human-Friendly Website Chatbots
All-in-One Platform to Build and Launch Conversational Chatbots without Coding
Technical Proficiency
No technical skills required
No coding skills needed
Suitable for Various Business Needs
No coding or credit card needed
No coding required. No credit card required.
Integration Flexibility
Quickchat Web Widget, API Integration
Website Chatbot, WhatsApp Automation, API & SDK
Email Marketing, SMS, Chatbots, Web Push, Landing Pages, CRM
Integrates with hundreds of apps like Salesforce, Mailchimp, Slack, etc.
Connect ChatBot with Multiple Platforms
Multilingual Capability
Yes
Yes
Yes
Yes
Yes
Human Interaction
Automated handoff to human agents
Manual handoff to human agents
Automate and Streamline Sales and Marketing
Constant Availability for Customer Engagement
Build, Test, Refine with Visual Builder
Personalization Control
Customize AI personality, style
Flexible chatbot design
Create Personalized Email Campaigns
Collect Data 24×7 for Increased Conversions
Team Collaboration, Engage Visitors
Knowledge Base Usage
Upload custom knowledge base
Utilize ready-to-use templates
Segment and Target Your Audience
Higher Conversions with Interactive Experience
Templates for Quick Setup
Customer Support
Enhances customer support
Simplifies customer support processes
Enhance Customer Satisfaction
Save on Acquisition Costs
Power Up Marketing, Supercharge Sales
Lead Generation
Can generate valuable leads
Optimizes lead capture for marketing
Streamline Sales and Marketing Processes
Delight Visitors with Consistent Experience
Generate and Qualify Leads Automatically
Operational Efficiency
Reduces support workload
Improves operational efficiency
Stay on Target with Customer Insights
Automate Repetitive Tasks. Optimize and Analyze Campaigns
Shorten Sales Cycle, Convert with Ease
Integrations
Integrates with messaging apps, live chat software, APIs
Integrations with popular software platforms and APIs
Automate Repetitive Tasks Optimize and Analyze Campaigns
Integrate with Other Apps without Coding
Integrate with Multiple Communication Channels
Diverse Use Cases
HR communication, loan applications, production assistance, etc.
Lead generation, customer engagement, customer support, operational efficiency,
Creative Tools for Hassle-Free Creation Stay Connected with Customers
Generate More Leads with Interactive Chats
Engage, Nurture, Qualify, Convert
Pricing
Lite: $99/AI bot/month

Enterprise: Custom

Sandbox: Free Forever

Starter: €30/month

Up to 500 Subscribers: Free

Standard: Starting at $6.40/month

Free, Lite: $24/month, Standard: $49/month

Plus: $99/month

Fixed-Price Plans with Annual Billing

Starter: $52/month, Team: $142/month

Business: $424/month, Enterprise
Quickchat AI Vs Landbot.io
Landbot — #1 Quickchat AI Alternative 🆚
Let's cut to the chase, Landbot is the #1 alternative to Quickchat AI.
Landbot has all the essential and advanced AI assistant features compared to Quickchat AI.
(Unlimited — Customization, Integration, Automation, Conversations, Community) 🔥
QuickChat AI and Landbot.io are both robust platforms for creating and deploying chatbots.
QuickChat AI specializes in AI-driven customer support, focusing on efficiency and speed.
On the other hand, Landbot.io offers versatile and highly customizable solutions suitable for a wide range of business needs, including marketing, sales, and support.
The choice between the two depends on your specific requirements, budget, and preference for customization.
Here is a brief comparison between Quickchat AI and Landbot.
1. Coding Requirement
Both platforms do not require coding, making it accessible to users without technical expertise.
2. Customizability
QuickChat AI: Provides some customization options, though it may have limitations for specific business needs.
Landbot.io Stands out for its highly customizable platform, offering extensive options to tailor chatbot behavior and appearance.
3. Integration
Both AI assistant tools can integrate with websites, WhatsApp, Facebook, Messenger, Slack, and more with their APIs, providing a broader range of integration options.
4. Automation
QuickChat AI: Focuses on AI-driven automation for customer support and engagement.
Landbot.io: Offers automation capabilities for various use cases, including sales, marketing, and support.
5. Conversational Experience
QuickChat AI: Aims to deliver human-like conversations for enhanced customer interaction.
Landbot.io: Empowers interactive and engaging chatbot interactions, fostering positive user experiences.
6. Multi-Language Support
Both platforms offer multi-language support, catering to global audiences and non-English speakers.
7. User Interface
QuickChat AI and Landbot.io have intuitive and user-friendly interfaces, allowing users to easily design their chatbots.
8. Lead Generation
Both platforms can lead generation through automated conversations, capturing potential customer information.
9. Customer Feedback
Both platforms enable user feedback collection and incorporate it into conversations, enhancing user experiences.
10. Image Sharing
QuickChat AI: Limited to text-based conversations and does not support image sharing.
Landbot.io: Offers features to share images and multimedia content, enhancing communication.
11. Analytics and Insights
Both platforms offer data insights and analytics to monitor chatbot performance, aiding continuous improvement.
12. Template Library
QuickChat AI: Provides templates for common use cases, streamlining chatbot creation.
Landbot.io: Offers a range of ready-to-use templates for building chatbots across various industries.
13. Scalability
Both platforms are scalable, accommodating businesses of varying sizes, from small startups to large enterprises.
14. Pricing
QuickChat AI: Offers two plans – Lite ($99/bot/month) and Enterprise (Custom).
Landbot.io: Offers multiple plans starting from Sandbox (Free), Starter (€30/month), PRO (€80/month), and BUSINESS (Custom).
Quickchat Review
The basic function of Quickchat is its no-code solution and powerful integrations, empowering companies to build conversational AI interfaces and connect them to any website, product, online application, game, or smart device.
Having had the opportunity to explore and implement Quickchat AI, I am truly impressed by its capabilities, flexibility, and impact on customer engagement.
1. Ease of Implementation
One of the standout features of Quickchat AI is its accessibility.
As someone without extensive technical expertise, I was initially concerned about integrating a fully conversational AI solution into our platform.
However, Quickchat AI's no-code approach eased my worries.
The ability to start with a pre-configured AI Assistant and gradually customize it according to our unique requirements was a breath of fresh air.
The platform's intuitive dashboard allowed me to upload our company's knowledge base effortlessly, and I was amazed to witness the AI's rapid learning and adaptability.
2. Multilingual Support
Another invaluable feature of Quickchat is that it enables businesses to build virtual multilingual assistants that can talk in any language.
Many businesses' customer base spans various regions and languages, and multilingual support is critical to their operations.
Quickchat AI excels in this regard.
With just one knowledge base written in English, you can create a multilingual AI that can talk like humans in different languages.
3. Internal Knowledge Base
In Quickchat AI, the custom knowledge base is a personalized repository of information specific to your organization, products, and services.
When you upload your custom knowledge base, it serves as a repository to train the AI Assistant, enabling it to offer accurate responses to customer queries.
During the AI Assistant's setup, the chatbot needs access to information about your products.
You can also connect Quickchat to your internal API, database, or any other data structure to automate more complex processes using AI.
This information collection empowers the AI to comprehend your business, providing contextually accurate answers to customer inquiries.
Using this knowledge, the AI enhances its proficiency over time, continuously learning from interactions and refining responses.
It can also hand the conversation to one of your human agents if it does not find an answer searching through the internal knowledge base.
4. Automated Human Handoff
Quickchat AI's automated human handoff feature is a game-changer.
The AI seamlessly identifies scenarios requiring human intervention and smoothly transfers the conversation to your human agents.
This feature mitigates the risk of customers feeling stranded or frustrated, and your human agents can answer personally when complex issues arise.
5. Seamless Integrations
Quickchat AI's ability to seamlessly integrate with various messaging apps and live chat software is remarkable.
You can unify customer interactions into a single, efficient platform by embedding the Quickchat Web Widget into a website and connecting it to your existing communication channels.
6. Human-Like Interaction
One of the standout qualities of Quickchat AI is its capability to simulate human-like interactions.
Customers often engage in conversations without realizing they are interacting with an AI.
The AI's ability to adapt its conversation style, flow, and vocabulary to match your brand's tone and identity is impressive.
You can even explore different AI personalities to provide a more engaging and memorable user experience, improving customer satisfaction.
7. Continuous Learning
Quickchat offers learning capabilities instrumental in refining your customer interactions over time.
The AI learns from human agents' interventions by analyzing customer interactions and feedback.
This iterative learning process ensures that your AI Assistant is always up-to-date and aligned with your customers' needs.
8. Quickchat AI Use Cases
Quickchat AI's versatile capabilities offer solutions across diverse industries and customer interaction scenarios, reshaping how businesses engage with their customers and users. The following are the different use cases:
Customer Support Enhancement
Knowledge Sharing and Self-Service
HR Department Streamlining
Streamlined Loan Application Process
Expert Production Assistance
Personalized Product Recommendations
Interactive Educational Support
Enhanced Travel Planning
Real Estate Guidance
Health and Wellness Support
Event Registration Assistance
Technical Troubleshooting
Financial Guidance and Budgeting
Restaurant Reservation Assistance
Sales and Lead Generation
Conclusion:
In my experience, using Quickchat AI has significantly transformed our customer engagement and support strategies.
Its user-friendly interface, multilingual support, integration flexibility, human-like interactions, and automated human handoff make it a powerful tool for businesses seeking to enhance customer interactions.
Quickchat AI saves time and resources and elevates the overall quality of customer engagement.
It's a testament to the remarkable progress that AI has made in replicating human interactions, and I'm excited to see how Quickchat AI continues to shape the future of customer interactions.