At a Glance
Synthesia, Adobe Premiere Pro, Final Cut Pro X, Flexclip, Blender, Elai.io, and Filmora are the best tools for video editing, which are user-friendly and don't require special skills to edit videos.
These tools offer a variety of tools to edit videos in one place for social media, marketing, education, and personal use.
These AI tools offer simple AI video editing without compromising functionality.
Videos are one of the most effective mediums to convey a compelling message that a thousand words with valid arguments cannot match.
The rise of broadcasting media has led to the emergence of video-making and editing as powerful tools for different industries over the past fifty years.
With the advancement of technology, video editing tools have become more accessible, enabling individuals and businesses to create high-quality videos.
Traditional video editing can be a challenging skill to master for novices. However, AI-driven video editing tools leverage machine learning AI algorithms to automate certain editing aspects that make video creation quick.
Here are the Top 7 AI Video Editing Tools that are easy to use for creating compelling video content for social media, marketing, education, and personal use.
1. Sythesia – Best AI Tool for Avatar-Based Video Editing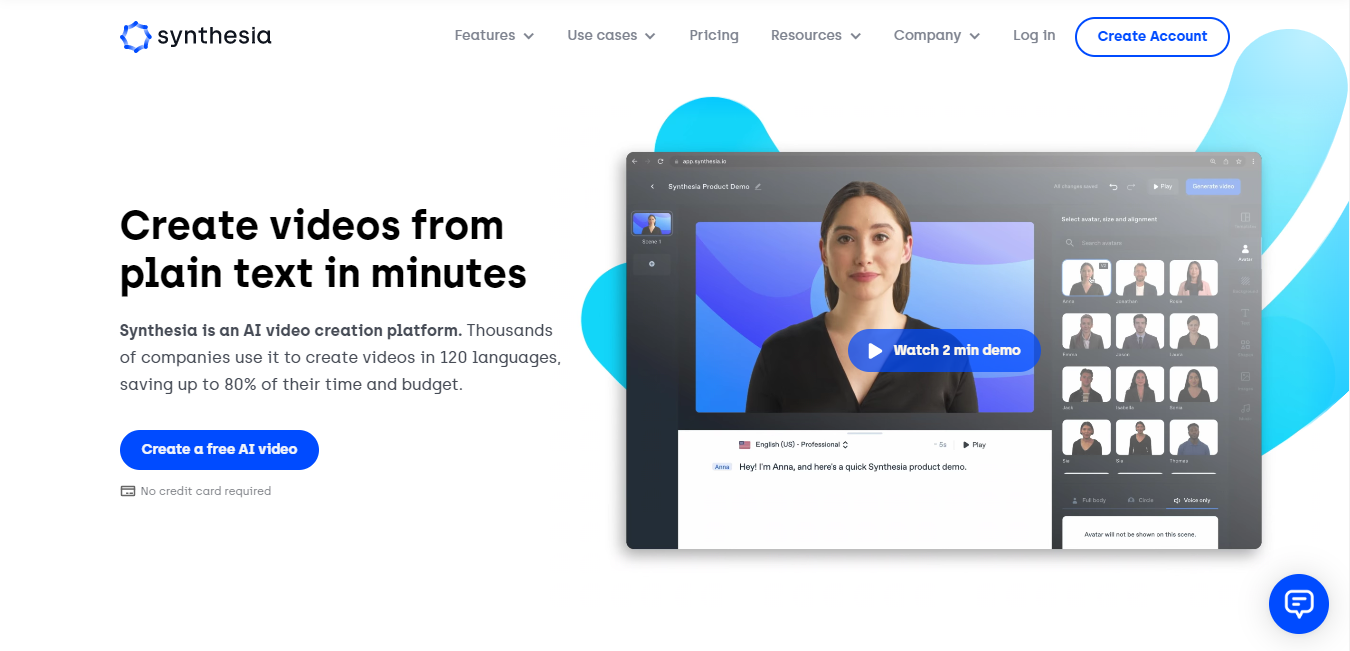 Synthesia is an innovative video generator that utilizes AI to convert plain text into high-quality videos within minutes. It empowers users to efficiently create engaging videos that resonate with audiences.
It has use cases, including training, explainer, promo, and product marketing videos.
Synthesia supports 120 languages, allowing businesses to reduce time and budget by up to 80%.
Synthesia Top Features
AI Avatars
AI Voices and Languages
Editable Video Templates
Text-to-video Creation
1. AI Avatars
AI Avatar is an editing tool that can help users to create videos at scale by providing access to 100+ avatars, each representing different ethnicities, ages, and styles.
2. AI Voices and Languages
Its AI-powered tools offer a diverse selection of AI voices that are constantly updated and improved.
Users have access to the latest and most realistic male and female voices.
3. Editable Video Templates
Platform provides users with a quick and easy way to create business videos using customizable templates.
Whether it's for training, sales, how-to, professional, business, pitch decks, reports, simple, HR, and many more.
4. Text-to-Video Creation
Powered by AI, the video editor allows text-to-video creation and editing features.
Users can quickly transform text-based content like PDFs, emails, or presentations into professional videos.
Synthesia Pricing & Plans
1. Personal Plan
Features:
10 video credits/month, 120+ Languages, 65+ built-in avatars, 55+ templates, Custom backgrounds, background music, and more.
Price:
It costs $30/month, which is billed annually.
2. Corporate Plan
Features:
It includes all features in the Personal plan plus, Up to 50 slides per video, 25+ Premium built-in avatars, Exclusive custom avatars, Premium Shutterstock assets, and more.
Price:
You can contact the Synthesia sales team for a quote for this plan.
2. Adobe Premiere Pro – Best AI Tool for Timeline-Based Video Editing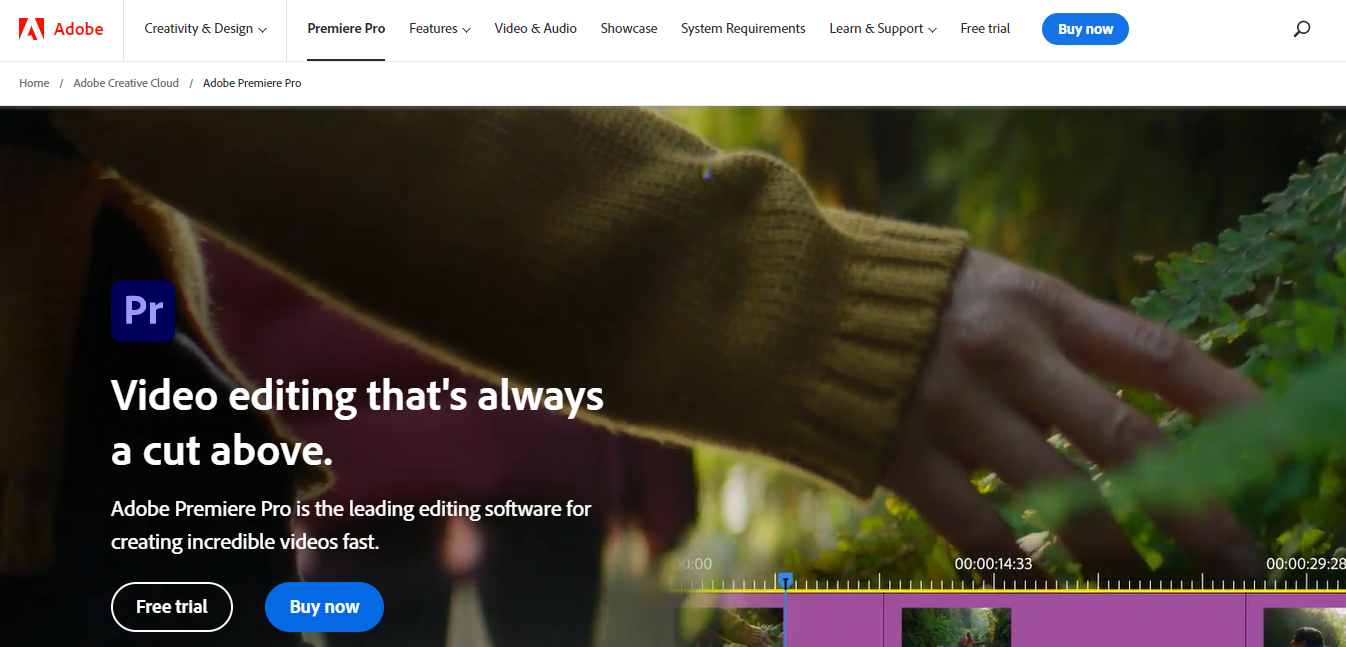 Adobe Premiere Pro is one of the most powerful video editing software applications developed by Adobe Inc.
It is a professional-level and quality video editing tool that offers a range of features such as timeline-based editing, color correction, motion graphics, and audio mixing.
Premiere Pro is part of Adobe Creative Cloud, a suite of software applications used by professionals in the creative industry. It is used for editing various video content, from feature films and TV shows to social media videos and YouTube content.
Adobe Premiere Pro Top Features
Timeline-based Editing
Color Correction and Grading
Audio Editing
Motion Graphics
Export Options
1. Timeline-Based Editing
A timeline-based editing system allows users to drag and drop video clips, audio files, and other media assets onto a timeline.
This makes it an easy video editing process for users.
2. Color Correction and Grading
It offers a range of colour correction tools, including colour wheels, curves, and LUTs, making it easy to adjust the colour and tone of your footage.
3. Audio Editing
The software has advanced audio editing capabilities, including audio mixing and ducking, noise reduction, and audio restoration tools.
4. Motion Graphics
Premiere Pro supports motion graphics templates that allow users to create animated titles, lower thirds, and other graphics that can be easily added to videos.
5. Export Options
You can export video files to various formats, upload directly to social media platforms, and export to different video resolutions and frame rates.
Adobe Premiere Pro Pricing & Plans
Features:
It has a 7-day free trial, and features include Adobe Express on mobile and web, Step-by-step tutorials, 100GB of cloud storage, Adobe Portfolio, and Adobe Fonts.
Price:
It costs US$20.99/month.
3. Final Cut Pro X – Best AI Tool for Video Editing For Macbook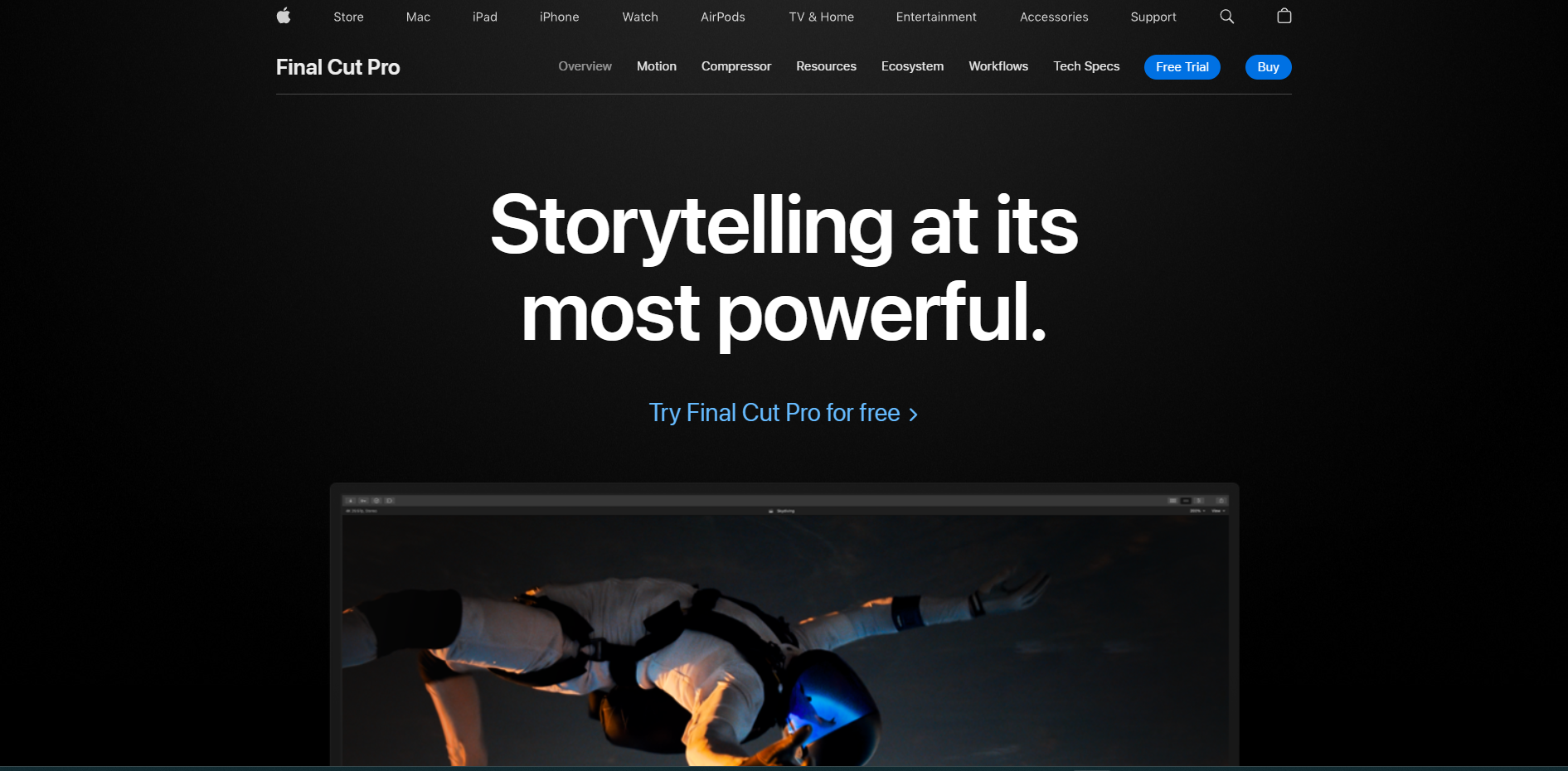 Final Cut Pro X is a great AI video editor developed by Apple Inc. and exclusively available on Mac computers.
It is widely used by filmmakers, video editors, and other creative professionals for editing various video content.
It is part of Apple's suite of professional applications called Final Cut Studio, including Motion and Compressor.
Final Cut Pro X Top Features
Object Tracker
Duplicate Detection
Multicam
Colour Grading
1. Object Tracker
Final Cut Pro X's Object Tracker feature allows for adding dynamic text or colour correction to moving footage with powerful machine learning.
It analyzes the target's motion and matches its movement, and the tracking data can be applied to other text and graphics.
2. Duplicate Detection
The new Duplicate Detection feature in Final Cut Pro allows users to quickly identify duplicate audio or video clips in their project. It makes it easier to manage and navigate between them using keyboard shortcuts.
3. Multicam
The Multicam feature allows for automatic syncing of up to 64 angles of video with advanced editing capabilities and an angle viewer.
4. Color Grading
Its advanced colour grading tools allow precise adjustments using colour wheels, curves, and LUTs with support for HDR(high dynamic range) to create stunning videos.
Final Cut Pro X Pricing & Plans
It costs a one-time fee of $399.99 for use on a single Mac, with free updates.
4. Flexclip – The best Online AI Tool for Editing and Creating Videos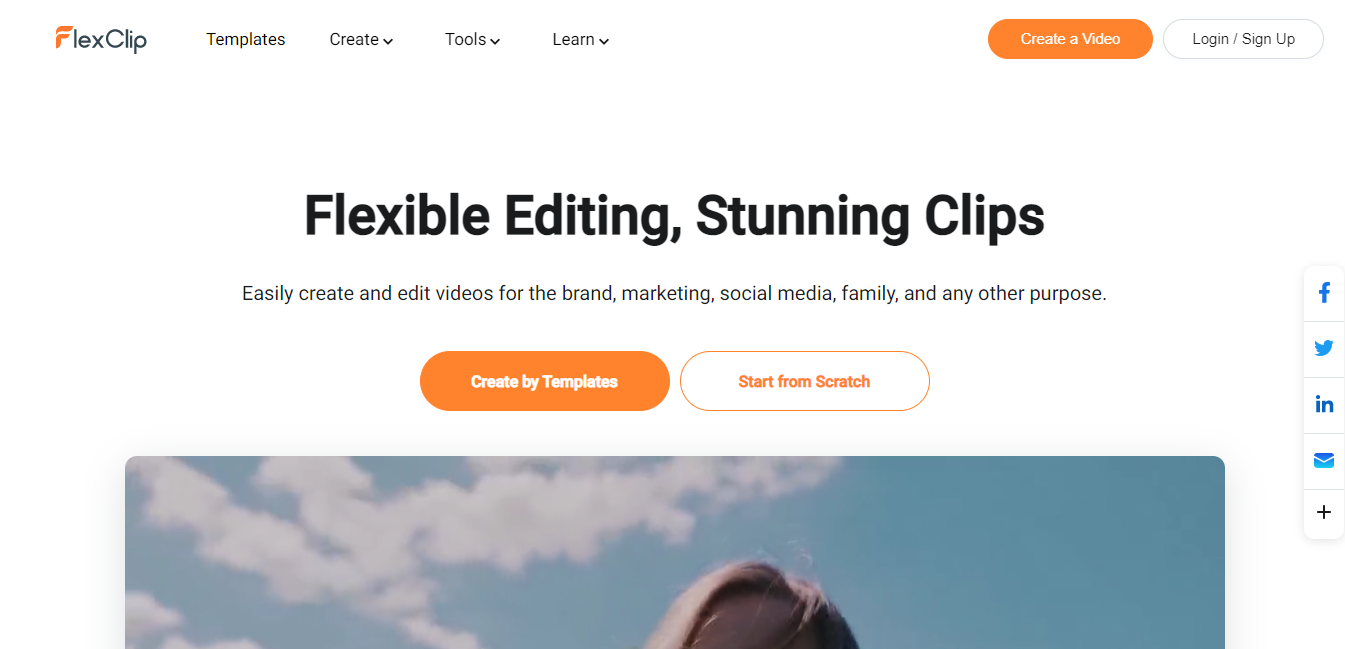 FlexClip is an online video creator and editor that allows users to create and edit videos for various purposes. It offers simple AI video editing without compromising functionality.
It has many templates, stock media, and editing tools for creating amazing videos without advanced editing skills. The platform is available in free and paid versions with different features and video export options.
Top Features
Templates
Slideshows
Versatile Video Editing
1. Templates
FlexClip offers thousands of pre-designed video templates in various categories such as corporate, promo, education, sports, real estate, and more.
It has templates for specific purposes, such as intros, outros, slideshows, and birthday videos, making it easy for users to find a template that suits their needs.
2. Slideshow
FlexClip's slideshow feature offers 200+ preset transitions, including Fade, Zoom, Wipe, Page Curl, and Colorful Overlays.
You can blend photos together smoothly and create engaging slideshows.
3. Versatile Video Editing
FlexClip offers various video editing tools such as adding logos, music, text, watermark, compressing, converting, filtering, muting, recording screens, trimming, adjusting brightness, and merging videos.
FlexClip Pricing & Plans
1. Free:
It has limited features and up to 12 projects.
2. Basic:
The basic plan costs $5.99/monthly and $71.88/annually, with unlimited features and up to 50 projects.
3. Plus:
Plus plan costs $9.99/monthly and $119.88/annually, with unlimited features and up to 200 projects.
4. Business:
The business plan costs $19.99/monthly and $239.88/annually with unlimited features, up to 1000 projects, and commercial use rights.
5. Blender – Best AI Tool for Creating 3D Videos
Blender is an open-source 3D creation best AI video maker for making animated films, visual effects, video games, demo videos, and 3D printed models.
It features a wide range of tools for modelling, sculpting, animating, rendering, video editing, and more, making it a versatile tool for various creative projects.
Blender Top Features
Rendering
Video Editing
Seamless Sculpting
Animation
Story Art, drawing 2D in 3D
Simulations
1. Rendering:
Blender has a powerful unbiased rendering engine for ultra-realistic rendering.
2. Video Editing:
Its built-in video sequence editor allows basic and complex video editing tasks such as masking and colour grading.
3. Seamless Sculpting:
Blender provides digital sculpting tools for character and environment design.
4. Animation:
It enables simple to complex animations, including walk-cycles for still characters.
5. Story Art, drawing 2D in 3D:
Blender allows drawing directly in a 3D viewport with layers, colors, and sculpting brush strokes.
6. Simulations:
It offers simulations for crumbling buildings, rain, fire, smoke, fluid, cloth, and destruction.
Blender Pricing & Plans
Blender is an open-source tool for everyone.
6. Elai.io – Best AI Tool for Creating Videos From Text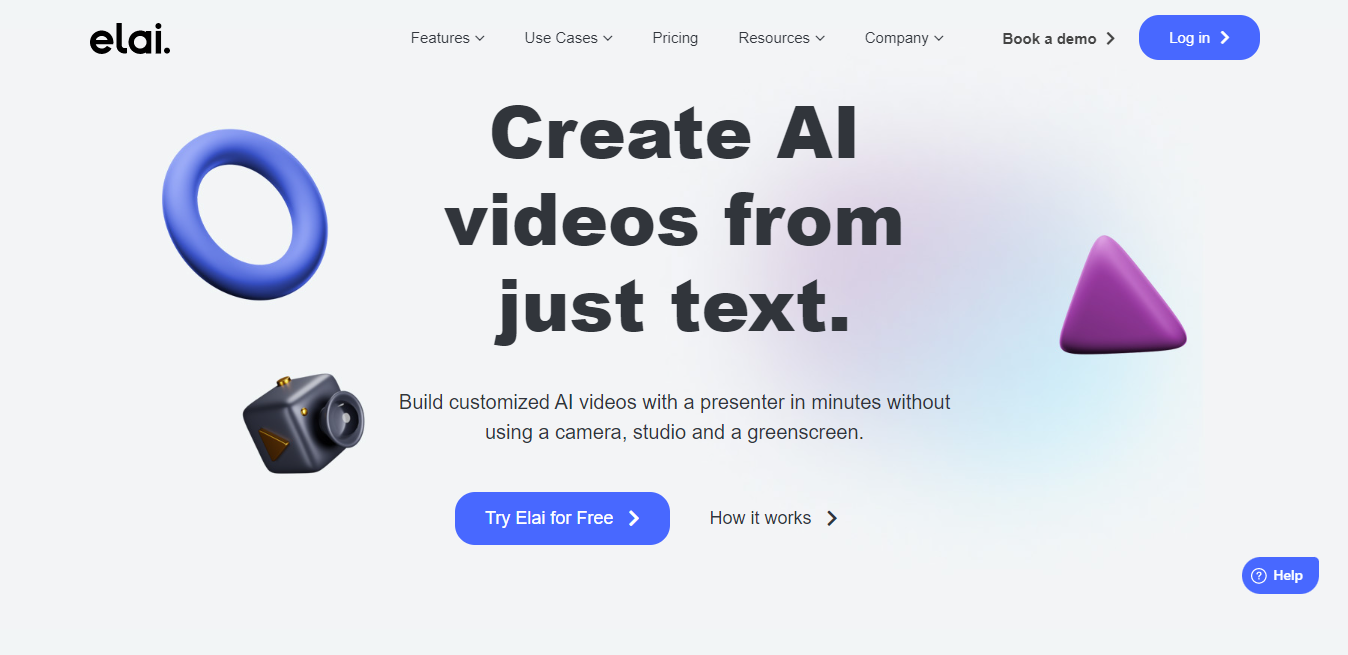 Elai.io is an AI-powered video editor software tool that enables users to generate professional-quality videos from the text.
With a user-friendly interface and a digital avatar library, users can create engaging videos in over 65 languages.
Elai.io also allows users to upload custom elements like images, videos, fonts and sounds to their videos and even request their custom avatars. You can create blog post videos and increase organic traffic with Elai.io.
Elai.io Top Features
Video Marketing
Text-to-video
Localization
AI Avatars
1. Video Marketing:
Generate professional AI videos easily to take your business to the next level. Engage your audience with attention-grabbing videos created just from text to enhance your blogging SEO
2. Text-to-Video:
Create videos from text with a user-friendly interface and avatars to increase organic traffic with AI videos.
3. Localization:
Localization is made easy with support for 65+ languages to create videos that suit your audience.
4. AI Avatars:
Access a digital avatar library and include AI-powered avatars in your videos to make your audience curious.
Request your custom avatar and get an AI-powered copy of yourself to bring your creative ideas to life.
Elai.io Pricing & Plans
1. Free Plan:
Features:
It features 1 minute free credit, text-to-video, automated translations, access to 25+ avatars
2. Basic Plan:
Features:
It has 15 video minutes/month, text-to-video, automated translations, access to 25+ avatars, API
Price:
It costs $29/month.
3. Advanced Plan:
Features:
It offers 50 video minutes/month, all basic features, premium voices, custom music upload, Ultra HD 4k video avatars
Price:
It costs $99/month.
4. Corporate Plan:
Features:
It offers a custom setup, all advanced features, a dedicated account manager, and unlimited users.
Price:
You can contact the Elai sales team for a quote, choose your desired features, and get a custom price.
7. Filmora – Best AI Tool for Video Editing With Most Features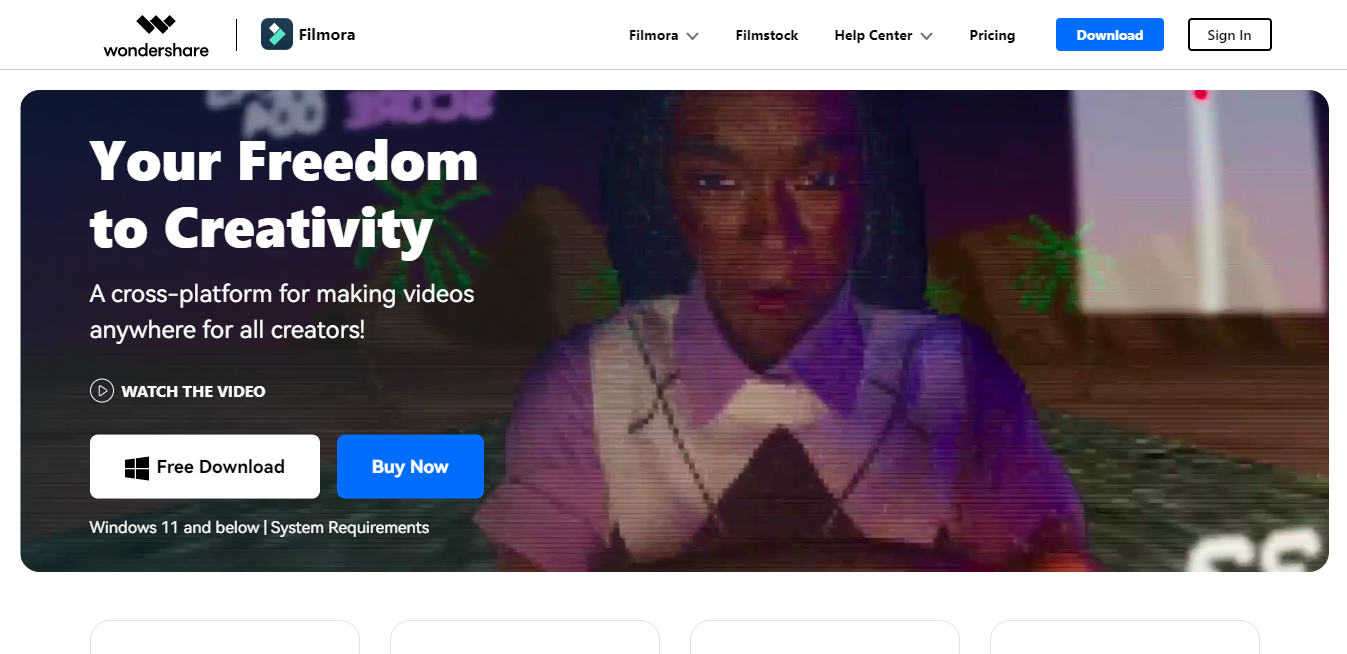 Filmora is one of the best AI video generators for Windows and Mac that allows users to easily create impressive and captivating videos with its built-in editing tools.
It offers a range of powerful yet easy-to-use AI video editing tools and effects. These AI-powered video editing tools include green screen, keyframe, auto beat sync, and 10+ million built-in free stock videos to make your video more attractive.
Filmora supports many file formats, including Apple ProRes, MPEG-2, MPEG-4, AVCHD, and native camera formats like Canon and Sony RAW.
Filmora Top Features
AI-Powered Video and Audio Editing Tools
Built-In Editing Features
Instant Mode and Preset Templates
Auto Beat Sync
Green Screen and Keyframe
10+ Million Built-In Free Stock Media
Wide Range of File Formats Supported
1. AI-Powered Video and Audio Editing Tools
AI Audio Stretch: Make any song fit the length of your video clip seamlessly.
AI Smart Cutout: Remove imperfections and unwanted elements from your videos precisely.
AI Audio Denoise: Eliminate unwanted background noise from your audio recordings easily.
AI Auto Reframe: Resize multiple videos quickly and efficiently without any editing skills.
AI Silence Detection: Cut out pauses and easily create a non-stop highlight reel.
2. Built-In Editing Features
It offers a variety of automated video editing tools, including trimming, cutting, splitting, merging, and color correction.
3. Instant Mode and Preset Templates
There are instant modes and preset templates to help you create a video in just a few simple steps.
4. Auto Beat Sync
Filmora's auto beat sync feature automatically synchronizes your video clips with the background music.
5. Green Screen and Keyframe
It supports green screen and keyframe functionality, allowing you to create professional-looking videos.
6. 10+ Million Built-In Free Stock Media
It offers a vast library of built-in free stock media, including music tracks, sound effects, and video footage.
7. Wide Range of File Formats Supported
The platform supports many file formats, including Apple ProRes, MPEG-2, MPEG-4, AVCHD, and many more.
Filmora Pricing & Plans
1. Free Trial:
A limited-time trial with basic features and a watermark on exported videos.
2. Individual Subscription:
With access to all features, free updates, and no watermark, the subscription starts at $39.99/year.
3. Bundle Subscription:
Access to tools like Filmstock, effects, and templates, the pricing for a bundle subscription starts at $99.87/year.
4. Lifetime Plan:
Lifetime access to all features. The pricing for the lifetime plan starts at $69.99.