At a Glance
AdEspresso, Revealbot, Canva, Zalster, and textcortex are the best AI tools that can be used to optimize Facebook ads and improve ad targeting, performance, and ROI.
AI Tools that automate Facebook ads benefit businesses by saving time and money, improving targeting and performance, consistency and scalability, and better insights and reporting.
The article is a valuable resource for marketers looking to leverage the power of AI to streamline and improve their Facebook advertising efforts.
Facebook is one of the most lucrative platforms for business advertising, especially with the popularity of Facebook Shops after Covid.
There are over 80 million business pages on Facebook, and over 160 million businesses use Facebook to interact with their customers.
Facebook has high engagement rates, with 15% of its users shopping on the platform. Over 70% of Facebook users view local business pages at least once a week. A typical Facebook page post can organically reach up to 5.2% of its audience.
This makes it an ideal platform for local businesses to connect with customers.
Optimizing ad delivery based on user behavior is crucial in improving the effectiveness of digital advertising campaigns.
Several AI automation tools enable businesses to reach the right audience at the right time and maximize their return on investment.
This article lists the 10 best AI tools to automate Facebook ad campaigns that businesses can leverage to reach their target audience and drive sales.
1. Revealbot – Best AI Tool to Automate Facebook Marketing Strategies
Revealbot is a great Facebook ads automation tool, enabling you to achieve faster results.
It helps you automate your Facebook-marketing strategies and management to boost ROI.
It supports various platforms, including Facebook Ads, Google Ads, Snapchat Ads, and TikTok Ads.
Revealbot also integrates with Google Sheets, Google Analytics, and Slack.
Revealbot Key Features & Benefits
Reduces Facebook Ads Cost
Rule Builder
Reports
Analyze Your Ads
Group Creatives
Match By Post IDs
1. Reduces Facebook Ads Cost
It automatically pauses underperforming ads and increases the budget of high-performing campaigns.
Its functions permit more flexibility than Facebook. For example, Revealbot allows rules to run every 15 minutes instead of the 30 minutes Facebook allows.
2. Rule Builder
Revealbot allows you to create customized automation aligned with your objectives.
You can select from a vast selection of pre-determined metrics or establish your own.
With its automated rule builder, you can control bidding processes and budgets by pausing and restarting ads.
3. Reports
You can customize scheduled reports to share daily updates with your team and showcase your achievements to clients and stakeholders.
4. Analyze Your Ads
With Revealbot, you can effortlessly discover and categorize matching creatives across all your campaigns and ad accounts.
Another useful graph feature allows you to see the correlation between ad spend and click-through rate to determine the effectiveness of your ad scaling.
5. Group Creatives
By assigning tags and applying naming filters to your ads, you can group them into assets and examine their effectiveness across various stages of the funnel, placements, landing pages, and other parameters.
With this approach, you can easily analyze the performance of your ads and optimize your strategy accordingly.
6. Match By Post IDs
You can maximize the potential of your successful ads by reusing them and merging creatives with identical IDs across multiple posts.
This allows you to compare the revenue generated by each post and identify the most effective one.
Revealbot Pricing & Plans
1. Pro
Features:
The pro plan offers 14 days free trial. The features in this plan include Rules, Strategies, Reports, Top Creatives & Top Audiences, Post Boosting, Bulk Creation, Custom Metrics & Timeframes, and Custom Audiences.
Price:
This plan costs $99/per month.
2. Enterprise
Features:
It has all features provided in the pro plan, plus Onboarding help, Tech setup help, and Premium support.
Pricing:
You can contact Revealbot Sales Team for a quote for the Enterprise plan.
2. Zalster – Best AI Tool to Automate Facebook ads for E-commerce Businesses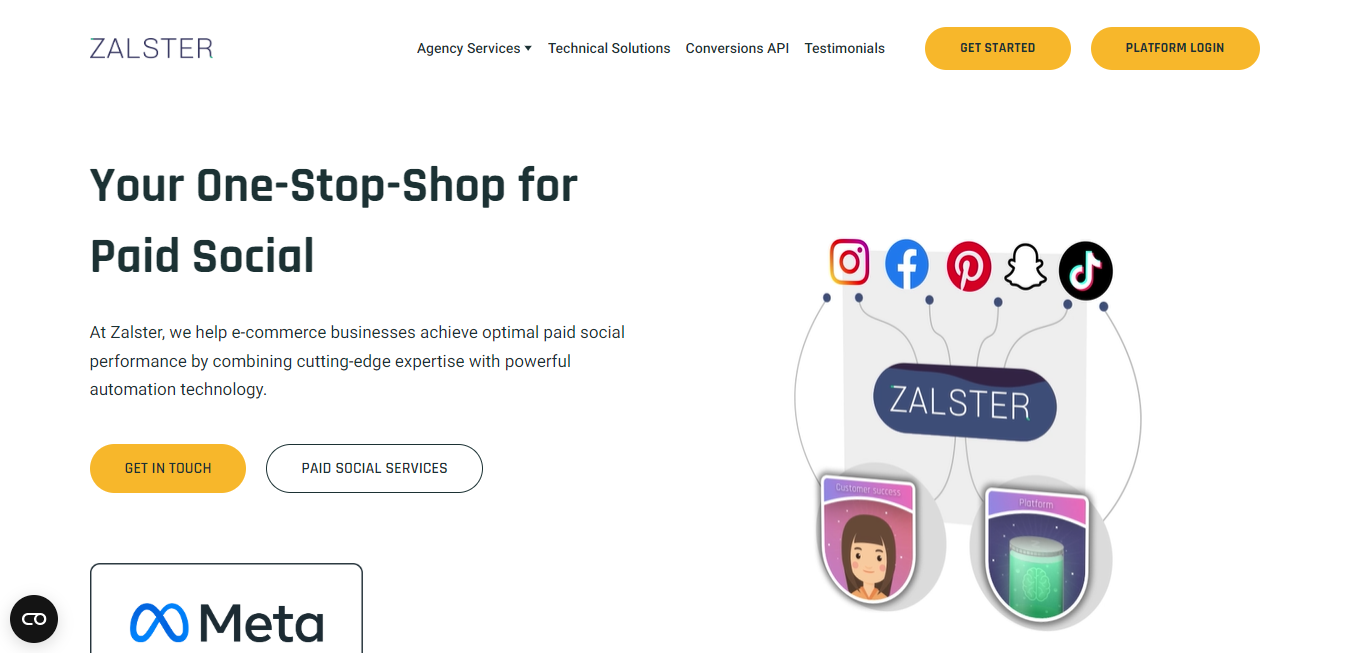 Zalster assists e-commerce businesses in achieving top-performing paid social campaigns by combining advanced expertise with powerful automation technology.
It uses artificial intelligence to optimize bids, budgets and targeting for digital ads on numerous platforms.
Zalster's AI algorithms constantly analyze and adjust bids and budgets in real-time to ensure that ad campaigns receive the best possible return on investment (ROI).
Zalster Key Features
Automation Ad Tech
Revitalizes Paid Social Performance
Split Testing
1. Automated Ad Tech
Using an innovative pricing model, Zalster ensures the cost is 5% of the total Facebook ad spend every month.
It automates manual tasks such as budget allocation and bidding, saving time and improving outcomes over time.
2. Revitalizes Paid Social Performance
Zalster's tailored account strategies make sure that Facebook ads are optimized.
It combines advanced automation technology with expertise and extensive experience to enhance the progress of ad campaigns in a sustainable and future-proof manner.
3. Split Testing
Zalster makes it simple to conduct split tests for manual bidding and conversion events.
By running split tests on various ad sets, you can identify the variant that offers the lowest cost per acquisition before you start scaling.
Zalster Pricing & Plans
You can contact the Zalster Sales Team for pricing details.
3. Canva – Best AI Tool for Designing and Automating Facebook Ads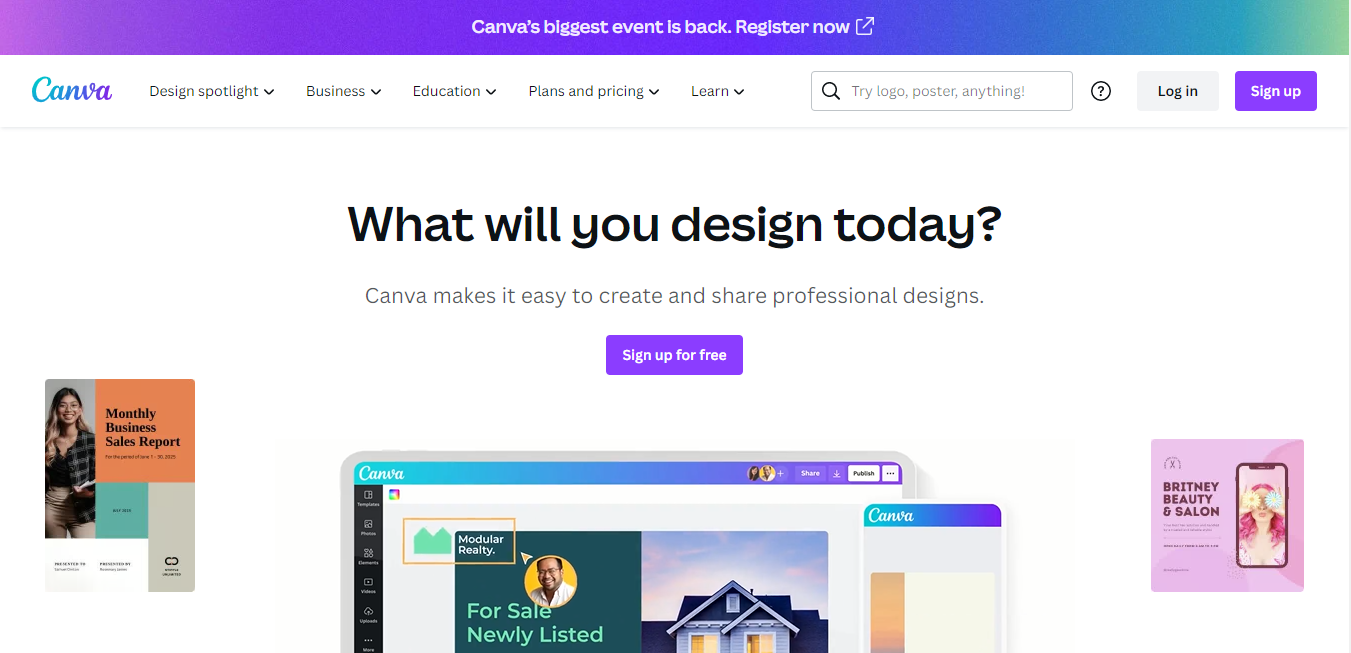 Canva is a popular designing tool to automate your Facebook ads by utilizing intuitive controls such as drag-and-drop.
This makes adding, removing, and editing elements on the canvas easy, resulting in a relaxed, hassle-free, and time-efficient design process.
With Canva, users have complete control over the entire design and publishing process, allowing them to determine precisely how their ad campaigns and banners will look.
Canva Key Features & Benefits
No Technical Skill Needed
Extensive Image Library
AI-Enabled Search Engine
1. No Technical Skill is Needed
Canva offers powerful tools for creating visually appealing customizable advertising setups, unlike the limited customization options available in Facebook page grids and object distribution features.
This provides even the basic user with the tools to create visual setups for their advertising without relying on preset templates.
2. Extensive Image Library
Canva offers a crucial feature of a wide range of photos, with access to over 1 million images.
3. AI-Enabled Search Engine
Users can find the right pictures and backgrounds through an AI-enabled search engine.
In addition, users can upload their graphics or use images from their Facebook account, which expands their design options.
Canva Pricing & Plans
1. Canva Free
Features:
It is for anyone wanting to design anything. The free plan offers thousands of free templates, a drag-and-drop editor, professional styles, stunning charts, and many more.
2. Canva Pro
Features:
This plan has a free trial for a month. It includes everything Canva Free has, plus 100+ million premium stock photos, videos, audio, and graphics, 610,000+ premium and free templates with new designs daily, and many more.
Pricing:
Canva Pro costs $54.99 per year for one person.
4. AdEspresso – Best AI Tool for Automating and Optimizing Facebook Ads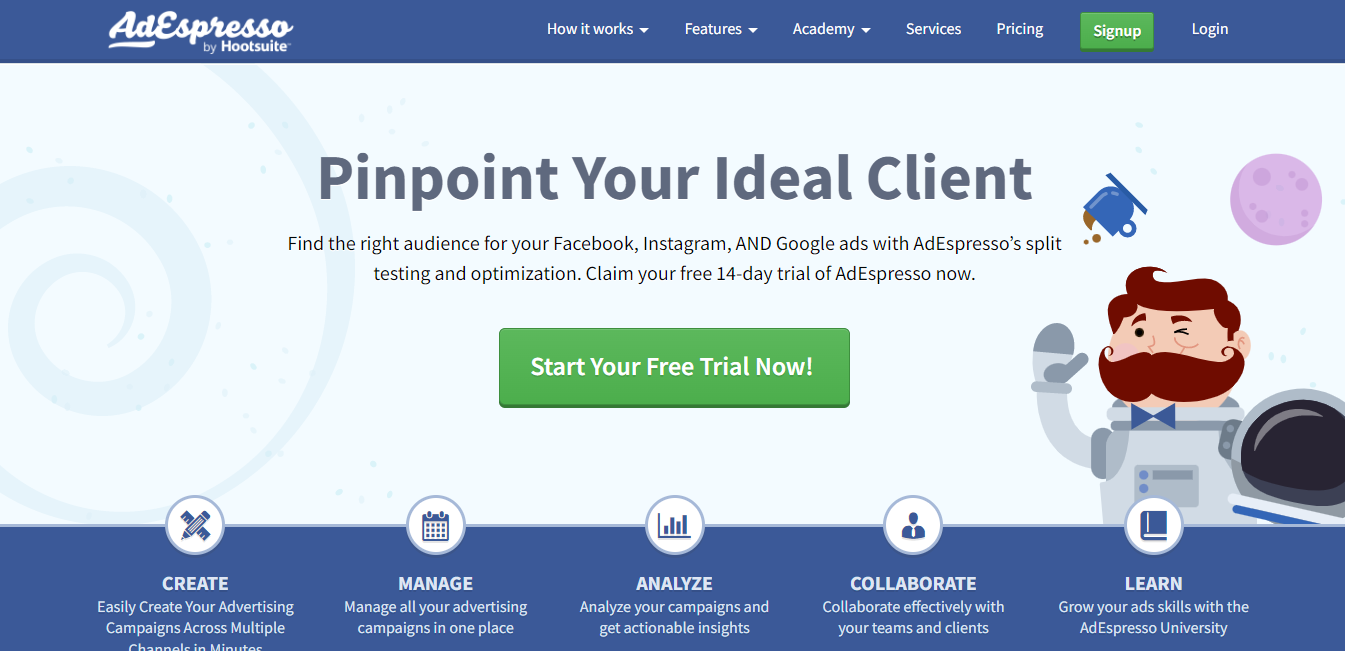 Adespresso is a testing and optimization AI platform that can help run Facebook and Instagram campaigns with its automated tools.
It offers tools that can help create all your marketing campaigns with built-in analysis features in one single platform.
AdEspresso Key Features
Advanced Split Testing Test Functionality
AD Campaign Analysis
Dynamic Ads
Efficiency And Collaboration
1. Advanced Split Test Functionality
Grid Composer is a tool that helps you create personalized campaigns for your buyer personas.
With this tool, you run multiple variations of an ad to promote more businesses on a larger scale with less effort.
2. AD Campaign Analysis
AdEspresso is a tool that helps users quickly analyze their advertising campaigns.
With AdEspresso, users can view relevant metrics and dive into specific data for individual ads or campaigns, all before they finish their morning coffee.
3. Dynamic Ads
Dynamic ads allow you to deliver different ads and create these campaigns quickly.
Once set up, your campaign will continue to work for you, ensuring you're targeting the right person with the right product at the right time.
4. Efficiency And Collaboration
AdEspresso allows users to request approval from anyone for their campaigns, even if they don't have an AdEspresso account.
Users can send an email or direct link to the campaign settings for review and approval, making it easy to collaborate and get feedback.
AdEspresso Pricing & Plans
1. Starter
Features:
The Starter plan has a 14-day free trial. With this plan, users can access AdEspresso's essential features, including the ability to create campaigns on Google Ads, Facebook, and Instagram. The plan also offers unlimited ad accounts and a $1,000/month spend limit.
Price:
The AdEspresso Starter plan costs $49 /per month.
2. Plus
Features:
The Plus plan has a 14-day free trial as well. With the Plus plan, users can access everything in the Starter plan, cross-campaign customized performance triggers, Facebook & Instagram multi-page bulk creation, campaign approval, onboarding management, and up to 15 seats for their team.
Users can also provide view-only access to certain team members and clients and have access to white-label reports and collaboration tools.
Price:
The Plus plan costs $99/per month.
3. Enterprise(14 day free trial available)
Features:
This plan, too, has a 14-day free trial. The Enterprise plan offers everything in the Plus plan and a dedicated Facebook and Google Ads Marketing Consultant, starting from 1 hour of live training and strategy planning per month, unlimited seats, mandatory campaign approval, API access, and Salesforce contacts sync. The plan is designed for large-scale businesses with a high monthly ad spend.
Pricing:
The price for this plan starts from $259/ per month.
5. Textcortex – Best AI Tool for Generating and Automating Compelling Facebook Ad Copies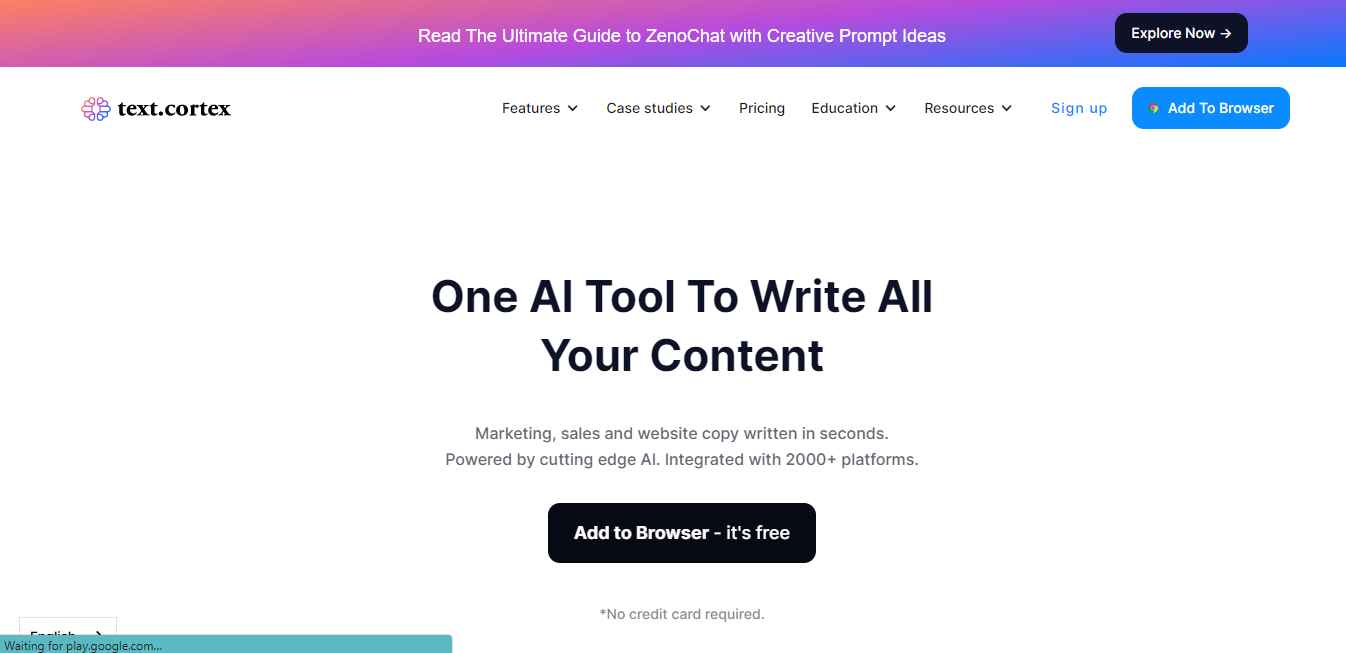 Textcortex is a Facebook Ad copy generator that quickly produces unique and compelling ad copies with its AI writing that drives conversions for your Facebook Ads campaigns.
Utilizing its automation tools which will help you save time and money when running Facebook ads allowing you to focus on crafting successful marketing campaigns that yield results
Textcortex Key Features
Ad Generator
Workflow Automation With AI
Enhanced Narrative Creation
Text-to-Speech AI Tool for Easy Accessibility:
1. Ad Generator
TextCortex AI's Facebook Ads generator enables you to create engaging and high-converting copies for your campaigns quickly and easily.
Input your product and target audience information, select the components of your Facebook ads, and choose the best copy for your ads. Save time and achieve better results with TextCortex AI.
2. Workflow Automation with AI
Automate up to 70% of your workflow to save time and increase productivity.
Also, eliminate the need for manual tasks and repetitive processes Hassle-free automation without complex infrastructure.
3. Enhanced Narrative Creation
You can create compelling stories with AI-powered tools. Eliminate the need for extensive research and planning by simplifying the writing process.
4. Text-to-Speech AI Tool for Easy Accessibility
TextCortex platform offers a powerful and accessible Text-to-Speech AI tool that lets you enjoy reading without having to read.
TextCortex Pricing & Plans
1. Free Plan
Features:
Use of core features on a daily limit, ten creations per day at $0, Including ZenoChat feature, rewriting & rephrasing, extending your text, and email writing.
2. PRO
Features:
It is ideal for individuals and businesses who create content regularly, includes FREE features plus creation and translation in 25+ languages, a summarizer, tone changer, and 5+ more features.
Price:
This plan costs $19.99/month.
3. BUSINESS
Features:
It is popular for power users who work with content daily, Includes PRO features plus Creator Suite, Zeno Mode, WebApp AI text editor, and 12+ more features.
Price:
The Business plan costs $49.99/month.
The Benefits of Ad Automation Tools For Facebook
Facebook's ad automation provides a limited degree of personalization and optimization. You can't go beyond the limit of six provided by Facebook's Automated Ads service.
However, several automation tools use artificial intelligence to optimize ad campaigns on Facebook for greater ROI and conversions.
These tools empower marketers to focus on strategies, identify their target audience, and create new ad creatives.
The following are some benefits of Facebook ad automation tools:
1. Saving Time and Money
Automating your Facebook ads can save advertisers money and time, allowing them to focus on other important aspects of their business.
In addition, creating automated ad campaigns on Facebook leads to decreased ad spending by managing scaling and optimization.
2. Improved Targeting and Performance
Automation tools can analyze data and optimize multiple ad campaigns to improve targeting and performance.
They use artificial intelligence algorithms to identify which ad campaigns are converting, segment audience, and bidding strategies, which can result in higher conversion rates and lower costs.
These tools use AI to predict which ad campaigns are not working and automatically replace your ads with new ads.
3. Consistency and Scalability
By utilizing AI-based ad automation on Facebook, advertisers can ensure that their ads are consistent and scalable across different platforms and campaigns.
In addition, they can create templates and rules that can be applied automatically to different ad sets, saving time and reducing the risk of human error.
4. Better Insights and Reporting
Automation tools can provide advertisers with better insights into the performance of their campaigns when launching ads.
They can generate detailed reports on which you can see metrics such as ad spending, engagement, and conversion rates.
It helps advertisers make data-driven decisions, like cutting off a decaying ad in future campaigns.
5. Cost-Effective
Automation tools can help advertisers get the most out of their ad spend by reducing wasted ads on ineffective campaigns or ads.
In addition, by optimizing targeting and bidding strategies, automation tools can help advertisers get more value from their ad budget.