At a Glance
Transkriptor, Beey, Speak, Sonix, and Scribe are the Five Best AI tools for Transcription in 2023 that will help you accurately automate transcription.
This article gives an honest appraisal of each tool along with their top features and pricing plans and enable you to choose the best AI tool that meets your professional requirements.
AI transcription tools streamline the transcription process and can achieve incredible efficiency and accuracy when transcribing audio or video content.
Some tools offer advanced features, such as speaker identification and time-stamping, while others may only work with video or audio files in certain formats.
This article will explore the Five Best AI Transcription Tools in 2023 and provide insights on what to consider when choosing the right tool for transcription tasks.
1. Transkriptor – For Converting Audio To Text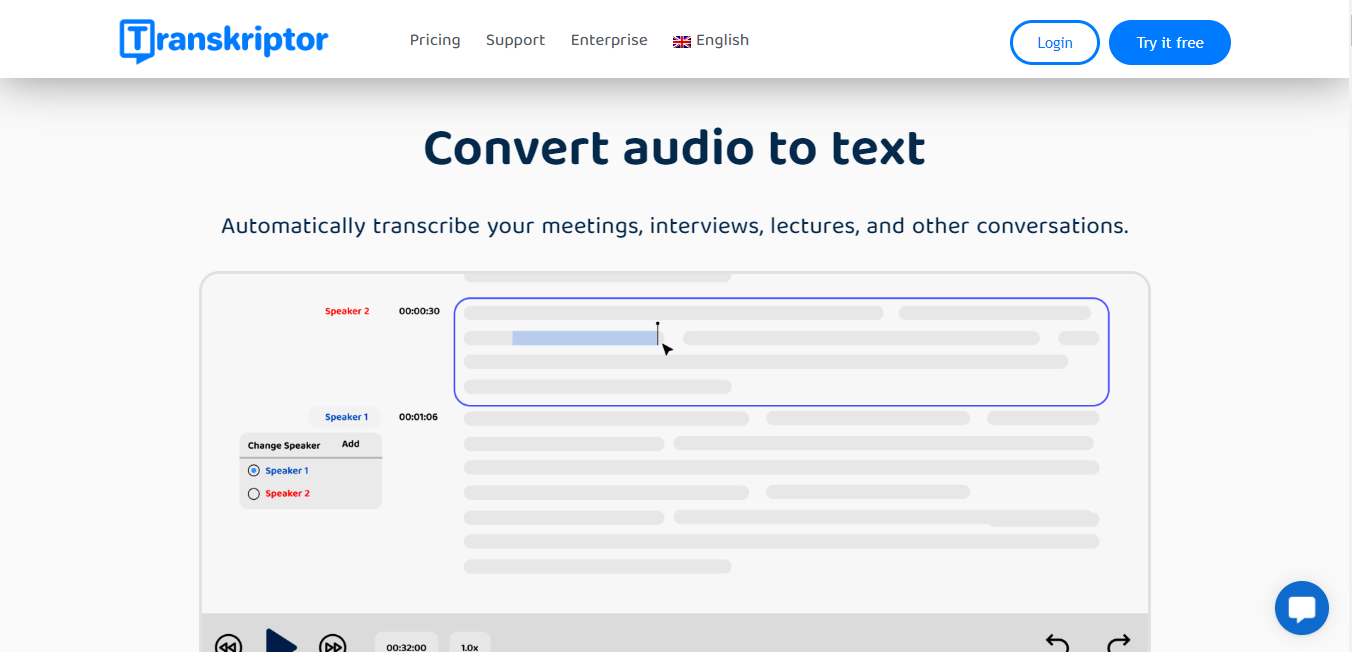 Transkriptor is an online transcription tool that automatically transcribes audio and video files of your meetings, interviews, lectures, and other conversations to text.
Transcriptor Top Features
Rich Export Options
Transcription From Link
Edit With Slow Motion
Sharing Transcript Files
Collaboration On Files
Multiple Speakers Recognition
1. Rich Export Options
AI transcription tool allows you to export your transcribed files in various formats, including plain text, subtitle file (SRT), Word, or plain text.
2. Transcription From Link
Its automated transcription service lets you transcribe any audio or video file from the internet, including platforms like YouTube, Google Drive, and OneDrive.
You can simply copy and paste the page link to Transkriptor to start transcription of video and audio files.
3. Edit with Slow Motion
Transkriptor's rich text editor allows you to correct minor mistakes and change speaker names by listening to the audio in slow motion, making editing more accurate and efficient.
4. Sharing Transcript Files
You can share any of your transcriptions with your team with one click. This feature makes collaboration easy and streamlined.
5. Collaboration on Files
Transkriptor allows you to collaborate on files with your team, edit permissions, organize files and folders, and make transcription a collaborative effort.
6. Multiple Speakers Recognition
The software uses artificial intelligence to detect and separate different speakers in a file, making attributing dialogue to the correct speaker easier.
This feature is useful for transcribing group discussions, interviews, and meetings.
Transkriptor Pricing & Plans
Transkriptor offers a Free Trial on sign-up for all three plans.
Each plan includes the following features, and you are charged for hourly usage.
Basic Features In All Plans
Transcribe Google Drive, Onedrive, and Dropbox Files, Youtube Videos, and Prerecorded Files. Record and Transcribe Live & Translate in 100+ Languages, Export as TXT, SRT, Word, or Plain Text, Automatic Bot that Joins Your Zoom, Google Meet, and Microsoft Teams meetings, and Create Subtitles from Video.
1. For Individuals
1. Lite
Usage: 5 hours/month
Price: $9/Month.
2. Standard
Usage: 20 hours/month.
Price: $14/Month.
3. Premium
Usage: 40 hours/month.
Price: $24/Month.
2. For Small Teams
Usage: 50 Hours/month/member.
Price: $50/month
3. For Enterprises
Exclusive Features
Custom Integrations, API Access, Custom Domain, Usage, or Seat Based Pricing.
Price
You can contact the Transkriptor sales team for a quote and pricing inquiries.
2. Beey – Best AI Tools for Subtitles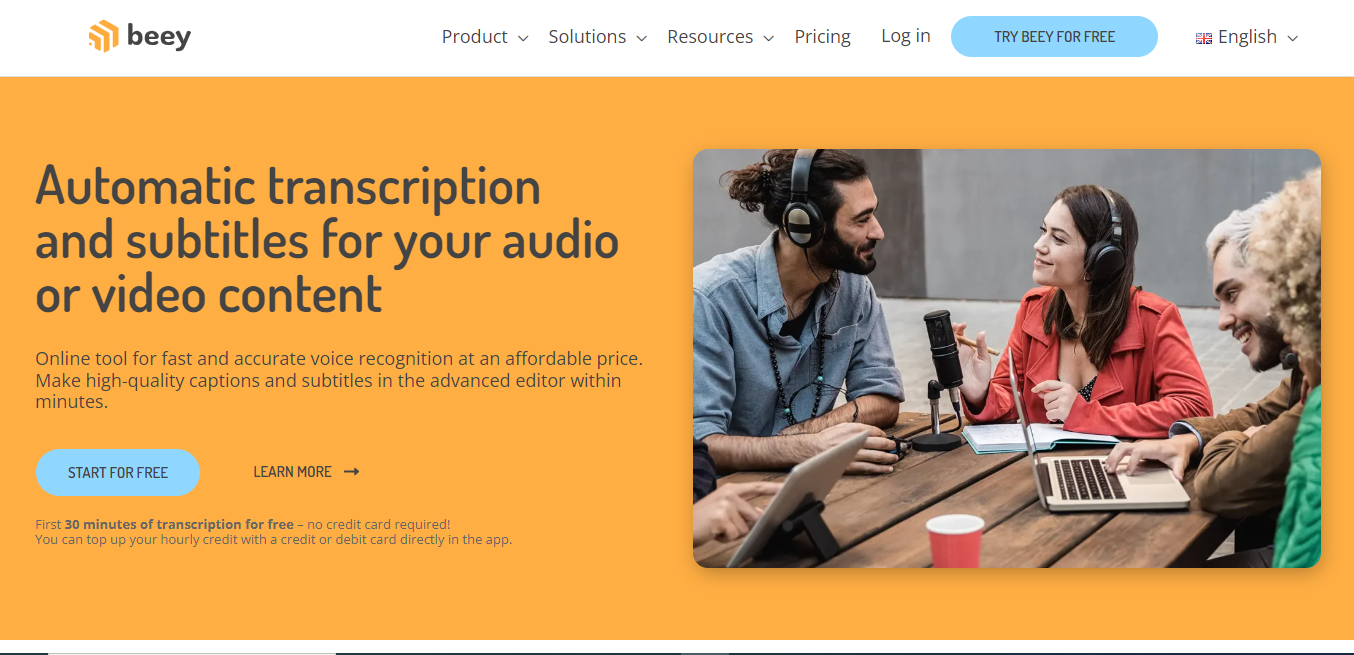 Beey utilizes advanced speech recognition to put automatic transcription and subtitles for your audio or video content.
It is a fast and accurate online voice recognition tool to convert video and audio recordings into written text.
Beey Top Features
Converting Audio And Video To Text
Captions & Subtitles 
Translations Subtitles
AI Voice Recognition
1. Converting Audio And Video To Text
The software can transcribe 30 minutes of audio or video files to text, including podcasts, interviews, lectures, meetings, and online videos, in just three to four minutes.
2. Captions & Subtitles
Beey offers a professional subtitle mode for creating high-quality captions and subtitles.
3. Translation Subtitles
The built-in automatic translation tool helps improve video accessibility in 20 different languages.
The platform provides more than 90% accuracy for most English, German, and Czech recordings.
4. AI Voice Recognition
It is also a speech recognition software with an AI voice assistant that helps transcribe spoken words into written text, even in a group conversation.
Beey Pricing & Plans
1. Standard
Features
It has all basic functions like editing, captions, Subtitles, and Extensions plus; Cloud technology, Multiple file upload, Mobile version support, and Cloud technology.
Price
It costs $8.22/ hour of transcription.
2. Enterprise
Features
It includes everything in the Basic plan and has On-premise technology, API integration, and Batch file transcription.
Price
You can contact the Beey sales team for a quote and pricing inquiries.
3. Speak – Best AI Tool for Transcription and Actionable Insights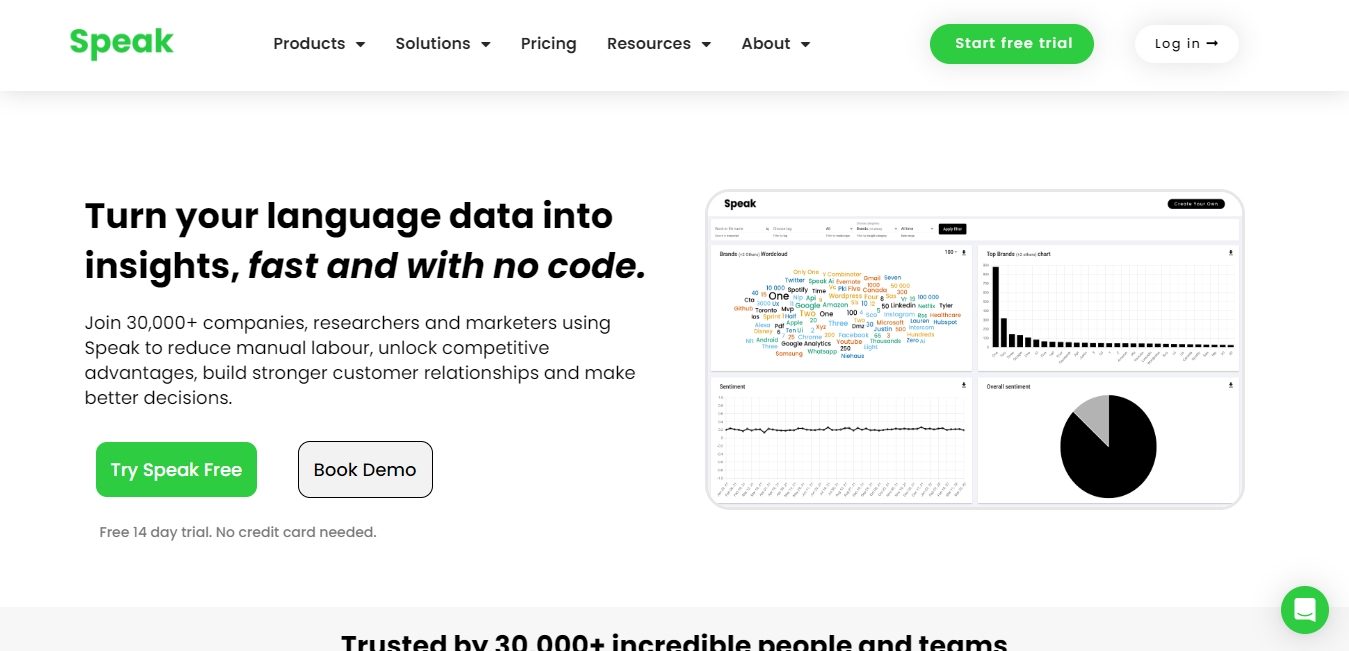 Speak is an AI-powered transcription software that provides accurate transcription with advanced keyword and topic insights.
Apart from transcription solutions, it also offers an amazing suite of tools like no-code recording and an analysis engine that help you identify actionable, competitive insights in your data.
Speak Top Features
Automated Transcription
Speak Magic AI Text Prompts
Record in the App or Upload Files
Fast Turnaround
Transcript Editor
Shareable Library
1. Automated Transcription
Speak AI uses advanced artificial intelligence to provide accurate, automated audio or video data transcription within minutes.
2. Speak Magic AI Text Prompts
This feature enables users to apply AI text prompts such as SWOT analysis, create bullet point lists, identify key issues, and answer questions to any audio, video, or text file in their Speak account.
3. Record in the App or Upload Files
You can use built-in recorders or capture recordings from anywhere with custom embeddable audio and video recorders
4. Fast Turnaround
Speak provides fast turnaround times, with transcripts returned in as little as 10 minutes, depending on audio or video file length.
5. Transcript Editor
The transcript editor allows accurate AI transcription and makes any necessary edits.
6. Shareable Library
Speak AI allows users to store all transcripts, media, and insights in a shareable library, creating a central hub for all their sales calls, interviews, team meetings, or personal notes.
Speak Pricing & Plans
Speak offers 14-day Free Trial on all three plans.
1. Starter
Features
It includes 1 User access, transcription, and analysis of all popular media file formats, embedded recorders, audio or video recordings directly in Speak, transcript editor, and export options.
Price
It costs $10/month (Pay as you go).
2. Premium
Features
It has everything included in the Starter plan plus; 5 users, advanced export options, custom categories & insights, and bulk editing.
Price
It costs $585/month.
3. Custom
Features
It has everything included in the Premium plan, and you can pick only the features you need, unlimited hours, and unlimited users.
Price
You can contact Speak sales team for a quote and pricing inquiries.
4. Sonix – Best AI Tool for Searchable And Editable Transcript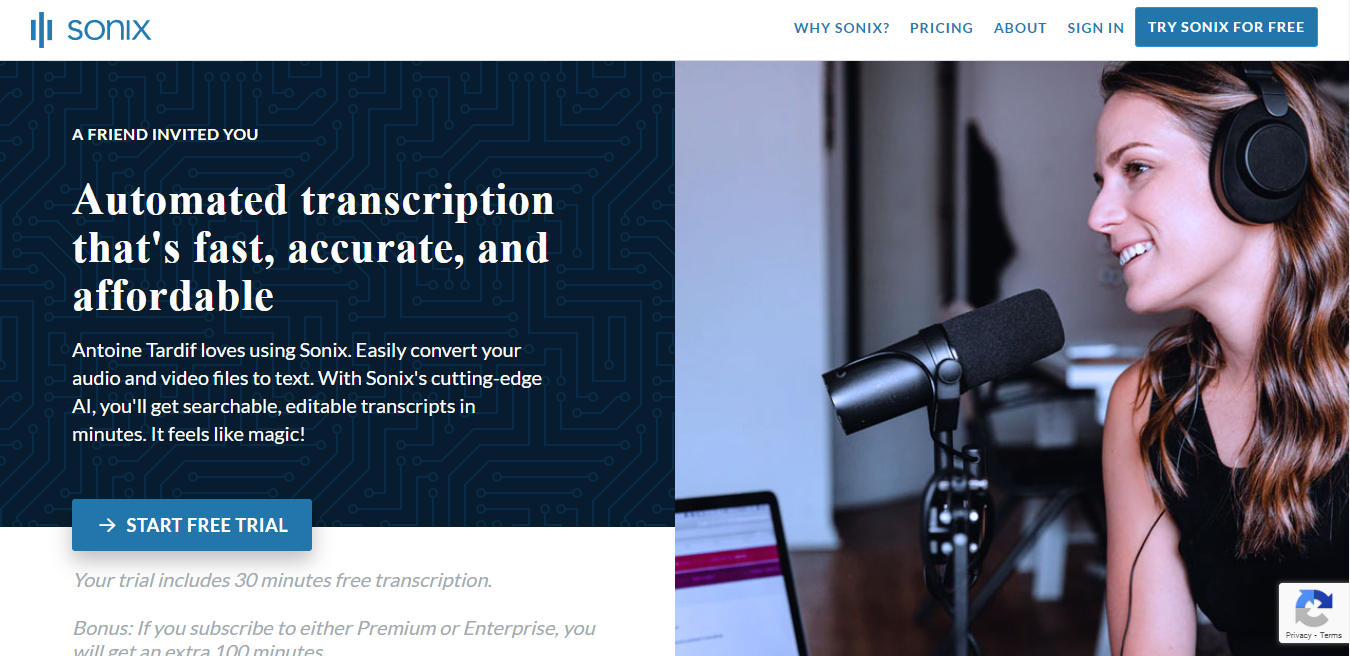 Sonix can convert speech-to-text accurately in 38+ languages. In addition, its in-browser editor allows you to search, play, edit, organize, and share your transcripts.
It accurately converts audio and video files into searchable, editable transcripts.
Sonix Top Features
Automated Transcription Process
Multiple File Formats Supported
Easy-To-Use Interface
Accurate Transcriptions
Polishing Tools
1. Automated Transcription Process
With Sonix, you don't need to spend hours transcribing your audio or video files manually.
Simply upload your files, and Sonix's AI technology will transcribe them in minutes.
2. Multiple File Formats Supported
Sonix supports various file formats, including MP3, WAV, MOV, AVI, and MP4, making it easy to transcribe any media file.
3. Easy-To-Use Interface
Sonix's user-friendly interface makes it easy to upload, transcribe, and edit files.
4. Accurate Transcriptions
Sonix uses advanced AI and machine learning to ensure the accuracy of the transcriptions, reducing the need for manual editing.
5. Polishing Tools
While Sonix provides accurate transcriptions from video and audio clips, there may still be some errors that need to be corrected.
With Sonix's powerful edit, correcting and polishing your transcripts are easy.
Sonix Pricing & Plans
Sonix offers three plans and a free trial for each of the plans;
1. Free Trial
Features
It provides 30 minutes of Free transcription.
2. Standard
Features
It has an in-browser transcript editor, allows transcription in 38+ languages, Import SRT or existing transcript, Text exports (MS Word, DOCX, TXT, PDF), In-browser translation editor,  10 GB storage (90 days), Shareable transcript links, and more.
Price
It costs $10/hour (pay as you go).
3. Premium
Features
It has everything included in the Standard plan plus; Multi-user access, multitrack uploads, side-by-side translation compare, multi-language subtitle creator, 50 GB storage, chat support, and more.
Price
It costs $5/hour plus $22 per user/month.
4. Enterprise
Features
It includes everything in the Premium plan plus; 100 GB storage, entity detection, topic detection, auto-detect keywords and phrases, password policy enforcement, phone support (business hours), advanced user training, and more.
Price
You can contact the Sonix sales team for a quote and pricing inquiries.
5. Scribe – Best AI Tool With Human Verified Transcription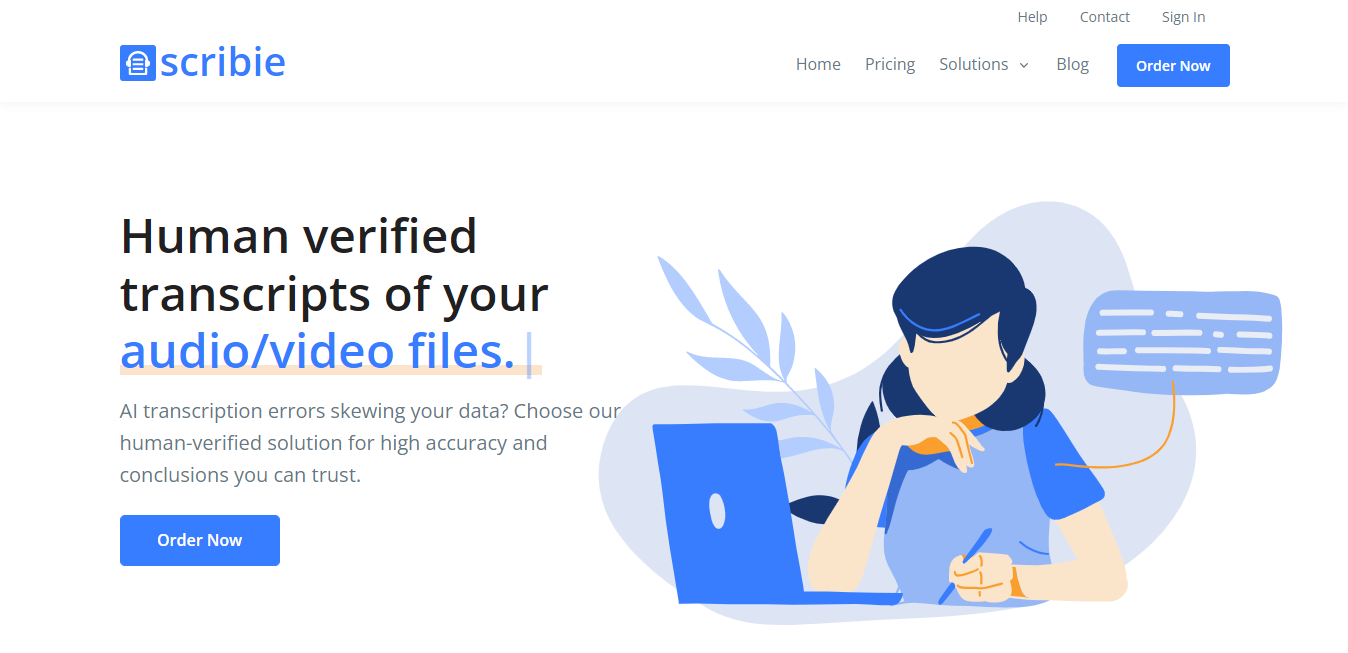 The Scribe uses a combination of AI and human transcription to achieve high accuracy.
While AI technology is used for the initial transcription process, human transcribers review and proofread the output to ensure a 100% accurate transcript.
Scribe Top Features
Accuracy
Online Editor
Add-ons
Human Transcription Process
1. Accuracy
The Scribe claims 100% achieved through a four-step transcription process.
2. Online Editor:
The online editor allows for quick verification and editing of transcripts.
3. Add-Ons:
The Scribe offers SRT/VTT files, strict verbatim transcripts, audio time coding, BITC, start/end time, and other add-ons.
4. Human Transcription Process:
The four-step process includes transcribing, reviewing, proofreading, and quality checking to ensure consistent and accurate results.
Scribe Pricing & Plans
Scribe's pricing is based on a per-minute charge.
Features
Audio time coding, Speaker tracking, Word document, SRT/VTT subtitle file,
Price:
It costs $0.80/minute.
You have to pay additional charges of $.50/minute for Strict verbatim, Noisy/accented audio, and Burnt-in time coding (BITC).