At a Glance
Descript, Alitu, Podcastle.ai, Auphonic, and Chatgpt are the five best AI podcasting tools in 2023 to assist podcast processes like scripting, recording, marketing, and promotion, and making your cover art or podcast logo.
These AI tools can help automate various aspects of podcast production, such as editing, transcription, and even generating show notes or episode summaries.
AI tools are valuable assets for podcasting in various ways.
They can transcribe your podcast episodes automatically, save time and effort, improve sound quality, create content, and suggest topics.
AI tools also analyze audience behaviour and feedback to help tailor your podcast content to meet their needs and interests.
This article highlights the Five Best AI Tools for Podcasting in 2023, along with their unique features and pricing plans so you can choose the best one for your needs.
1. Descript – Best All-In-One AI Tool For Podcasts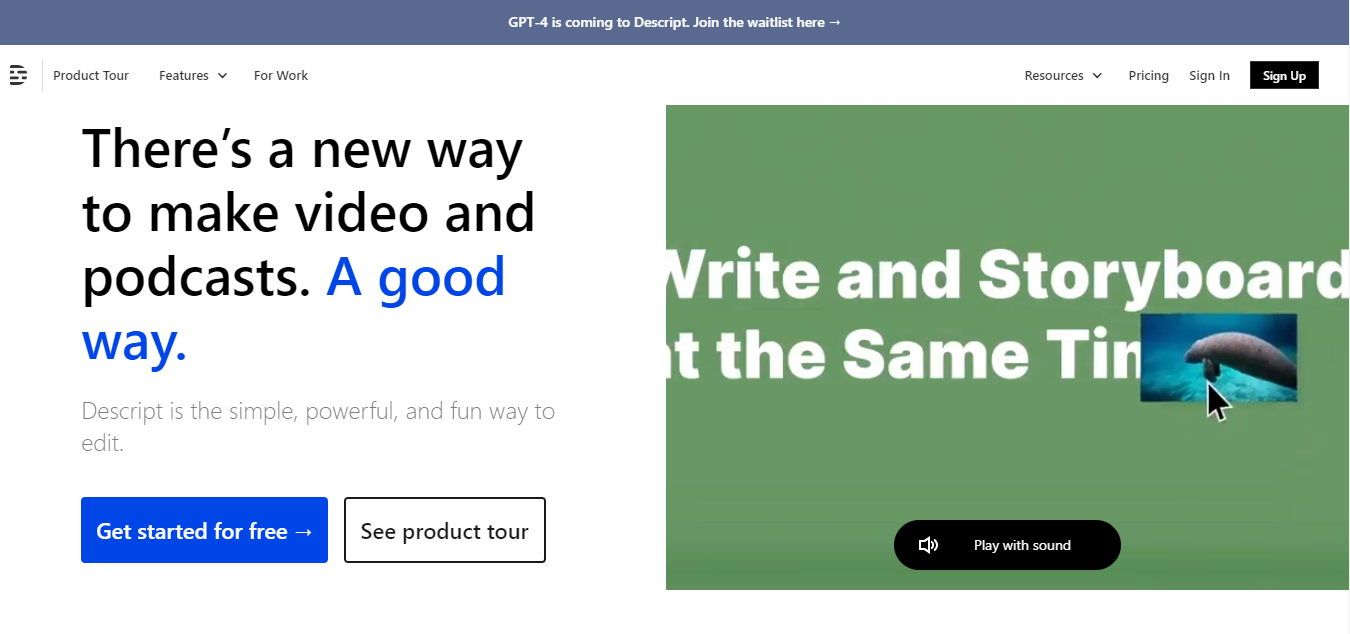 Descript is an all-in-one AI podcast tool that uses AI to write, record, transcribe, edit, collaborate, and share videos and podcasts.
It offers video editing, multitrack audio editing, screen recording, industry-leading transcription accuracy and speed, clip creation, scriptwriting, and AI voices.
Descript also enables you to repurpose content as clips using templates and subtitles and create their own ultra-realistic presets of text-to-speech voice clones or select from stock voices to generate new dialogues.
Descript Top Features 
Multitrack recording And Transcription
Editing
Mixing
Exporting
Studio Sound
1. Multitrack Recording And Transcription
It lets users simultaneously record unlimited tracks, including intro, outro, and music effects.
The tracks are transcribed separately and combined into a single transcript with dynamically inserted speaker labels.
2. Editing
Descript's non-destructive editing software preserves the source files when deleting or editing clips.
Users can also use sequences to create groups of tracks that behave and appear as a single clip.
3. Mixing
Descript's mixing feature allows podcasters to create seamless transitions between clips, volume automation, and a full suite of audio effects to make post-production easier.
4. Exporting
its exporting feature includes batch export of multiple audio or video files to a folder on your hard drive.
Additionally, timeline export preserves all tracks, clips, and fades when exporting to other editors like Pro Tools, Premiere, and Final Cut Pro.
Users can also encode their podcast metadata, including the podcast show notes, episode descriptions, titles, and artwork.
5. Studio Sound
The Studio Sound feature offers various algorithms to remove background noise and enhance speech from audio files, producing a studio-quality sound with one click.
It can be used with any microphone or recording environment and includes audio restoration to remove imperfections like stutters, "umms," and other sounds.
Descript Pricing & Plans
1. Free
Features
Free Plan offers 720p Video export resolution, 1-hour transcription/month, filler word removal, 1000 words vocabulary, and more.
2. Creator
Features
The Creator Plan offers 4k Video export resolution, 10-hour transcription/month, Up to 60-minute Studio Sound File, and a Stock Library.
Price
It costs $12/month.
3. Pro
Features
The Pro Plan offers 4k Video export resolution, 30-hour transcription/per month, unlimited studio sound files, and unlimited access to the stock library.
Price
It costs $24/month.
4. Enterprise
Features
The Enterprise Plan has everything in Pro, plus; There is a dedicated account representative, Single sign-on (SSO), Overdub Enterprise, Descript Service Agreement, and more.
Price
The Descript sales team will provide custom prices depending on your chosen features.
2. Alitu – Best AI Tool For A Simplified Podcasting Workflow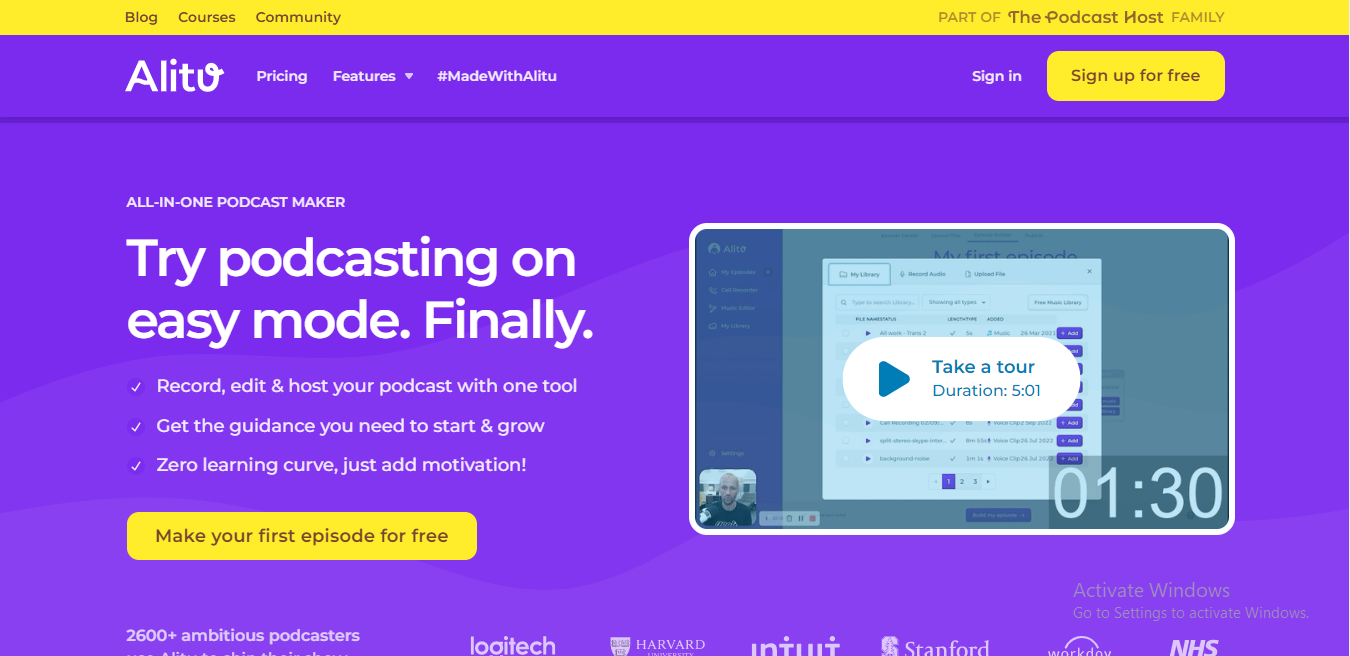 Alitu allows you to record podcast episodes with guests or co-hosts, enhance the audio quality, edit the content, generate transcripts, and publish episodes from a single platform.
Alitu Top Features
Podcast Recording Tool
Podcast Editing Tool
AI-powered Audio Cleanup
Easy Podcast Publishing
Podcast Transcriptions
1. Podcast Recording Tool
You can record directly into Alitu from your browser and invite ten guests with a link. It also allows text chat for easy backroom communication.
2. Podcast Editing Tool
AI editing features automate boring bits like bitrates and LUFS and enjoy smooth transitions and drag-and-drop tools.
3. AI-Powered Audio Cleanup
Alitu offers AI-powered tools for audio cleanup and removes annoying noises like background hums, traffic, dogs, and planes.
4. Easy Podcast Publishing
You can publish your episodes in a single click without leaving the app. You can upload your audio everywhere, including Apple Podcasts and Spotify.
5. Podcast Transcriptions
It provides fast, accurate automated transcriptions of full episodes of podcast audio with near-human level accuracy with optional profanity censorship.
It allows you to easily create captions for social media posts and audiograms based on text.
Alitu Pricing & Plans
A 7-day Free Trial
Alitu offers a 7-day free trial before charging a single pricing tier. After that, you can cancel your subscription within thirty days and get a refund if you decide to leave.
All-In-One Podcast Maker
Features
There is unlimited Audio Recording, AI audio cleanup, unlimited audio editing, free hosting of up to 1k downloads p/m, AI-generated transcripts, and a royalty-free music library.
Price
It costs $38/ month.
3. Podcastle.ai – Best AI Tool For Broadcast Storytelling
Podcastle.ai is a web-based platform that provides a one-stop shop to broadcast storytelling.
It offers studio-quality recording, editing, and seamless exporting for podcasters using AI technology to create better audio content.
Podcastle.ai Top Features
Studio-quality recording from anywhere
Audio Editor
Magic Dust
Revoicing
Text to Speech
Silence remover
1. Studio-Quality Recording from Anywhere
Podcastle allows users to record high-quality audio and video from anywhere using their web browser or iOS app.
2. Audio Editor
Podcastle's Audio Editor is a digital audio workstation that allows you to edit, create, and enhance your audio content.
Users can change the speed of any audio file, trim all their audio files with just a few clicks, and remove background noise with just one click.
3. Magic Dust
This feature helps create audio sound flawless by removing background noise and optimizing audio levels across all the tracks with a single click.
4. Revoicing
Podcastle's Revoice feature brings generative AI technology to AI voice generation.
It allows users to automate their workflow by allowing Revoice to handle repetitive tasks like repurposing, podcast intros to ad segments, and voiceovers to entire episodes.
5. Text to Speech
This feature allows users to convert text to speech using a high-quality, ultra-realistic stock of different voices.
This feature allows users to edit audio like a Google doc or even turn their text into a podcast.
6. Silence Remover
With a single click, Podcastle automatically removes all silent segments and long pauses in users' audio tracks to make their podcast flow smoother than ever.
Podcastle.ai Pricing & Plans
1. Basic
Features
The Basic Plan offers unlimited hours of audio recording, 3 hours of video recording, 1-hour speech-to-text conversion, and text-to-speech 10K characters.
2. Storyteller
Features
This plan offers unlimited audio, 8 hours of video recording, 10 hours of speech-to-text conversion, and text-to-speech 400K characters.
Price
It costs $11/month, and is billed yearly.
3. Pro
Features
There is an unlimited audio recording, 20 hours of video recording, 25 hours of speech-to-text conversion, and text-to-speech 1M characters.
Price
It costs$23.99/month, billed yearly.
4. Auphonic – A Web Service For Automated Audio Post-Production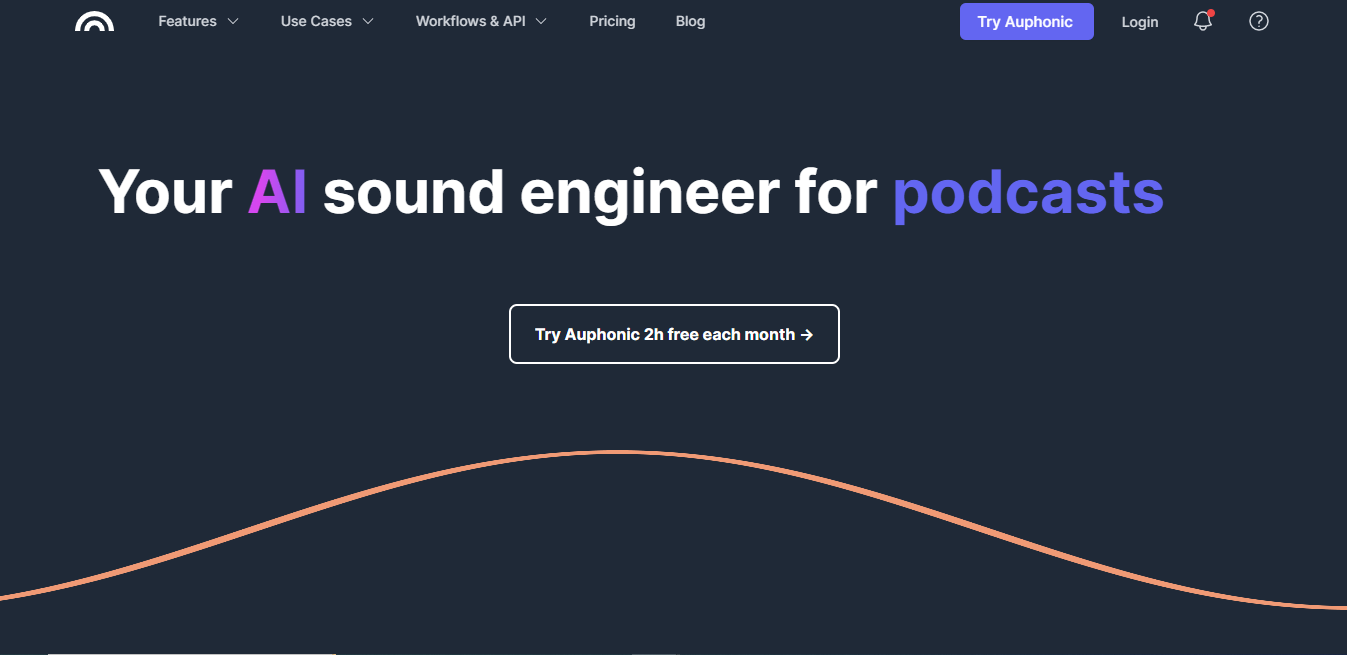 Auphonic is an audio post-production tool that uses artificial intelligence to help podcasters improve their audio quality, reduce unwanted noises, and create a better listening experience for their audience.
With Auphonic, you can make your podcast professionally and with polished sound, making it easier to attract more listeners and grow their monthly downloads.
Auphonic Top Features
Crystal-clear audio
Multitrack Algorithms
Speech Recognition
Encoding, Metadata & Chapters
Video Support & Audiograms
1. Crystal-Clear Audio
Auphonic's advanced AI denoising algorithms help eliminate any ambient sounds from audio to get a clean speech file or remove static background noises while keeping important sounds intact.
2. Multitrack Algorithms
Auphonic leverages multiple input audio files to produce a balanced, high-quality final mixdown.
The algorithm processes individual and combined tracks, including speech tracks from multiple microphones, music tracks, and remote speakers via phone or Skype.
3. Speech Recognition
It uses multilingual speech-to-text with a sharable transcript editor, using their customized Whisper model or external engines to make audio searchable and accessible.
4. Encoding, Metadata & Chapters
Auphonic can produce enhanced podcasts with chapters in all output formats, supporting all common audio and video file formats, customized encoding settings, mapping metadata tags to multiple output files, and exporting them to platforms such as Soundcloud, YouTube, and Spreaker.
5. Video Support & Audiograms
It can process videos and generate sharable audiogram waveform videos from audio files. This allows podcasters to expand their reach by generating videos from audio files, including a dynamically generated waveform, cover image, or chapter images as the background.
Auphonic Pricing & Plan
Auphonic has three pricing plans that are based on hourly charges;
1. Free
You can use Auphonic with full features, including AI-based audio algorithms, for two monthly hours.
2. Yearly Recurring Credits
You will be charged $11 for nine h/month, $24 for 21 h/month, $49 for 45 h/month, and $99 for 100 h/month.
3. One-Time Credits
You will be charged $12 for 5h($2.4/h), $22 for 10h($2.2/h), $50 for 25h($2.0/h), $88 for 50h($1.76/h), and $150 for 100h($1.5/h).
5. ChatGpt – For AI Conversation To Answer Follow-up Questions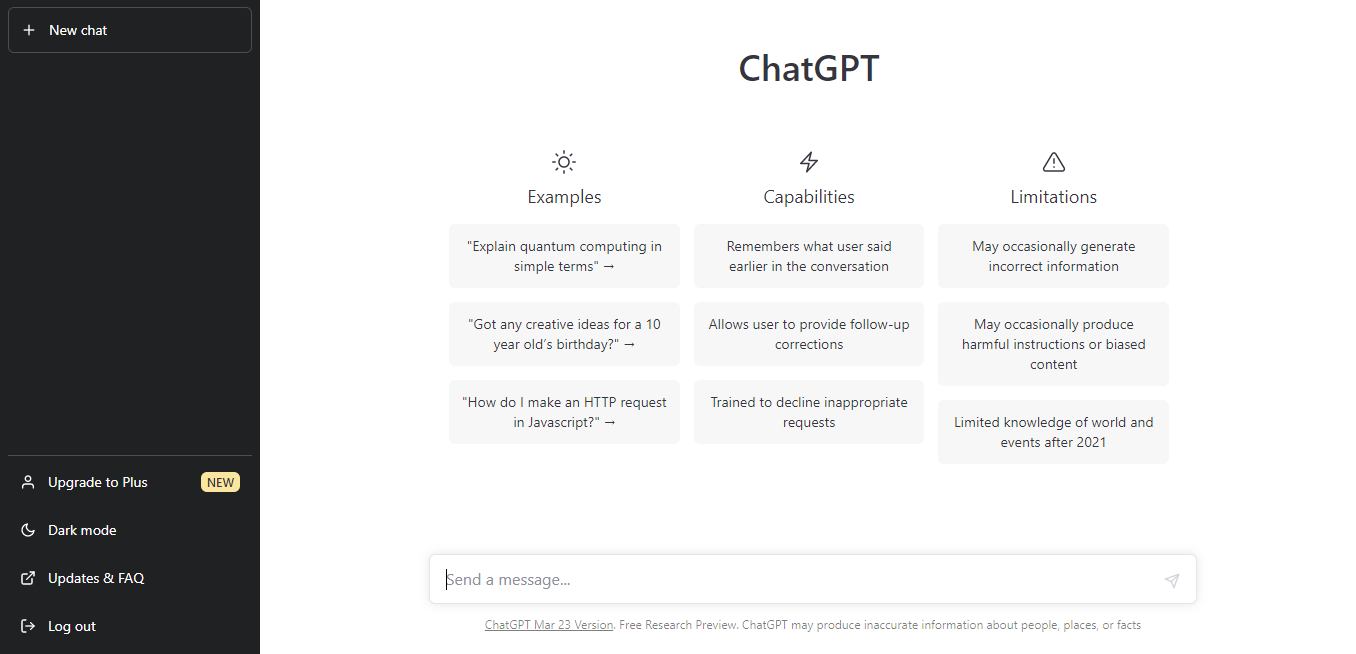 As a language model, a tool like ChatGpt might be worth trying. It can be a valuable resource for podcasters looking to streamline their content creation process and connect with their audience more meaningfully.
ChatGpt Top Features
Content Generation
Research
Text Summarization
Sentiment Analysis
1. Content Generation
As a language model, using ChatGPT can generate text in response to prompts.
This feature can be useful for podcasters looking to create better content and help them develop ideas for interview questions.
2. Research:
ChatGPT can assist podcasters in researching a topic by providing information and insights on a particular subject.
This can assist podcasters in saving time on research and focusing more on creating quality content for their audience.
3. Text Summarization:
ChatGPT can summarize long pieces of text into shorter, more concise versions.
This feature can be helpful for podcasters who want to provide listeners with a brief overview of an episode's content or highlight key points.
4. Sentiment Analysis:
ChatGPT can analyze the sentiment of a piece of text, determining whether it is positive, negative, or neutral.
This feature can be useful for podcasters who want to understand how their audience receives their content and adjust their approach accordingly.
Chatgpt Pricing Plan
OpenAI offers two plans;
1. Free Access
ChatGpt offers free access to its users. However, it has limitations like slow response time and unavailability during peak times.
2. ChatGpt Plus
Features
There is general access to ChatGPT, even during peak times. This plan also offers faster response times and priority access to new features and improvements.
Price
It costs $20/month.