At a Glance
Quizlet, Edpuzzle, Squirrel AI, Nearpod, Turnitin,  Gradescope, and Knewton's Alta are the best AI tools for teachers in 2023 that help teachers perform tedious everyday duties and enable them with valuable insights and analytics to improve their teaching practices.
The powerful capabilities of AI tools create personalized learning experiences, optimize curriculum planning, and improve student assessment by providing information to teachers.
The education sector is witnessing a significant shift towards learner-centred education with the widespread adoption of AI tools.
These tools empower teachers with more engaging and effective learning environments while freeing up time for professional learning and attending to individual student needs.
Without AI technology, it would be challenging for teachers to create personalized learning that caters to the unique student needs of each learner.
Here are the top 7 AI Tools for teachers in 2023 that will improve their teaching practices and support their student's learning journey providing them with valuable insights and analytics.
1. Quizlet – Best AI Tools for Flashcard Studying
Quizlet is a highly popular online AI platform with extensive study materials that helps students and teachers worldwide.
It includes a vast library of flashcards, quizzes, games, and study guides covering math, science, history, etc.
The platform allows teachers to create and access various study tools to enhance their students' learning experience.
Quizlet Top Features
Interactive Quizlet Live
Formative Assessment
"Be The Change"
1. Interactive Quizlet Live
Quizlet Live is a customizable and interactive classroom learning game. It reinforces vocabulary and concepts through competitive quizzes.
It increases student engagement and can make lesson reviews more effective for teachers.
2. Formative Assessment
Checkpoint is a Quizlet-based formative assessment feature. It helps teachers assess academic progress and gain insights for future instruction.
3. "Be The Change."
"Be The Change" is a feature that offers educational resources to support teachers and students in exploring historical and current social issues.
Quizlet Pricing & Plans
Quizlet offers one plan with a 30-day free trial, which charges $35.99 yearly.
2. Edpuzzle – Best AI Tool for Video Lessons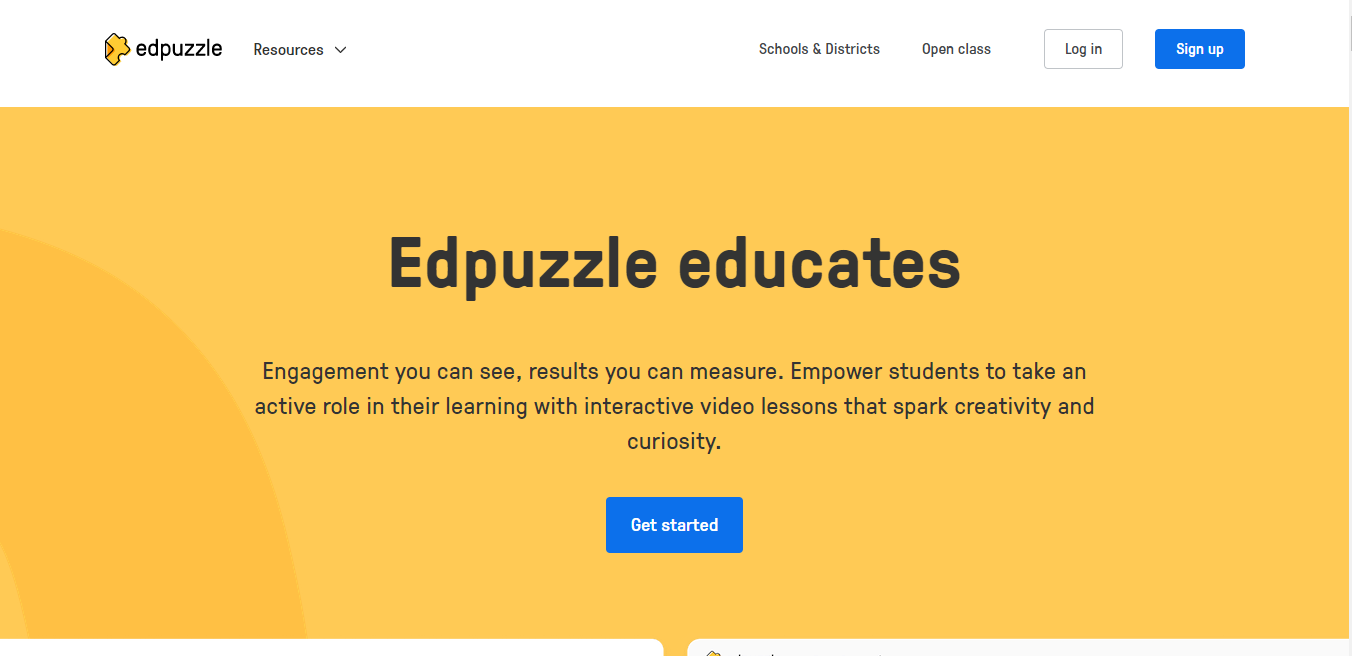 Edpuzzle is an interactive learning platform that aims to engage, excite, and educate students. It offers video lessons that empower students to become active learners and foster creativity and curiosity.
In addition, the AI education tool allows educators to embed questions in the video content, which increases engagement and encourages critical thinking.
Edpuzzle Top Features
Interactive Quizzing
Data Analytics
Edpuzzle Originals
1. Interactive Quizzing
Edpuzzle provides an interactive quizzing feature that ensures a learner-centred approach. It prevents skipping and offers instant feedback on student responses.
2. Data Analytics
Edpuzzle has a powerful data analytics feature that helps differentiate teaching by providing instant insights and making grading effortless for educators.
3. Edpuzzle Originals
Access a wide range of ready-to-go, standards-aligned lessons created by expert teachers to help you save time and ensure high-quality teaching.
Edpuzzle Pricing & Plans
1. Basic (Free)
Feature:
It offers storage space for 20 video lessons.
2. Pro Teacher
Features:
This plan offers unlimited storage space for video lessons, Unlimited Edpuzzle Originals, Unlimited screen recording, Unlimited student projects, and Priority customer support.
Price:
The Pro Teacher plan costs $13.50/month.
3. Custom (For Schools & Districts)
Features:
It offers a collaborative channel, Dedicated support for onboarding, implementation, and LMS integrations, a Curriculum specialist role, Custom professional development and training options, and Access to school and district-wide usage reports.
Price:
You can contact the Edpuzzle sales team to get a quote and choose your desired features.
3. Squirrel AI – Best AI Tool For K-12 After-School Tutoring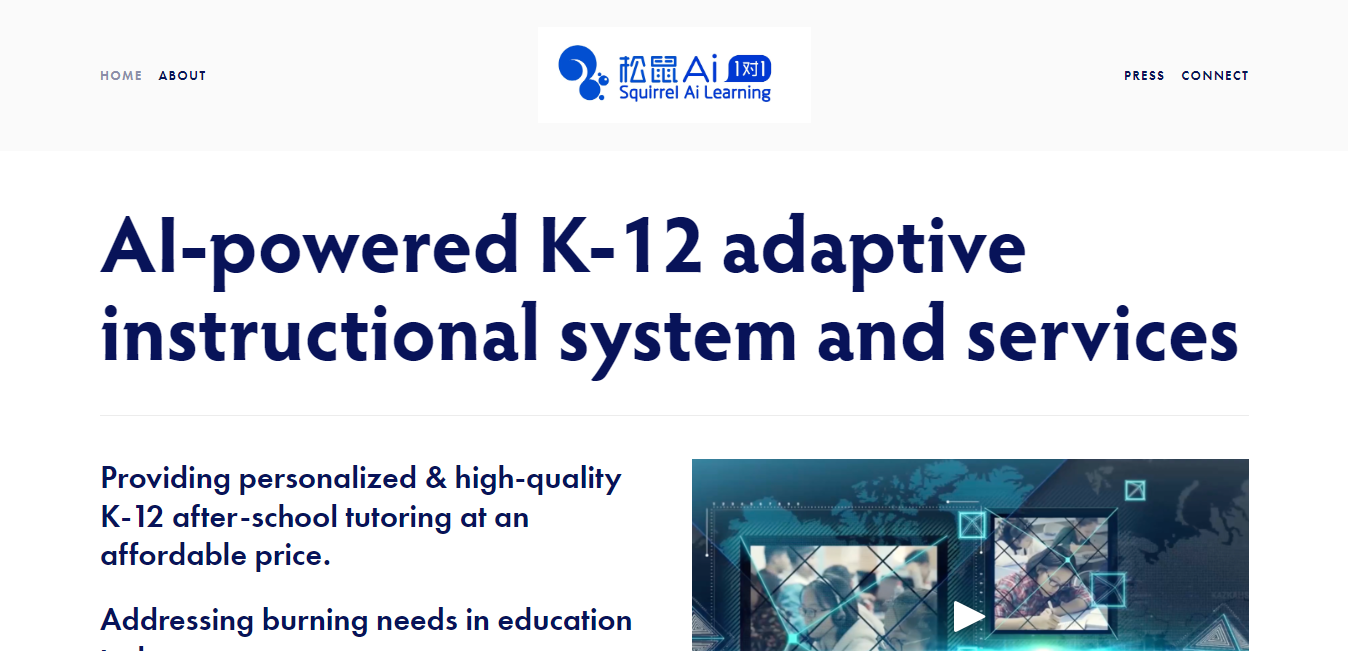 Squirrel AI offers affordable personalized K-12 after-school tutoring. This great AI tool addresses the lack of personalized attention and unequal distribution of educational opportunities in traditional classrooms.
Their learning technology can respond to students' interactions in real-time by providing individualized support powered by computer learning.
Squirrel AI Top Features
One-On-One Tutoring
Custom-Built Courseware
Research-Based Collaboration
1. One-On-One Tutoring
Squirrel AI Learning provides personalized and one-on-one tutoring to students using its AI-driven adaptive learning engine, which has proven to improve student efficacy and engagement.
2. Custom-Built Courseware
The platform offers high-quality after-school courses in various subjects, including Math, English, Physics, and Chemistry, with custom-built courseware.
3. Research-Based Collaboration
Squirrel Ai Learning has a strong research and development team that collaborates with leading institutions, such as Carnegie Mellon University and UC Berkeley, to improve its learning science and algorithm research for international product development.
Squirrel AI Pricing & Plans
You can contact the sales team for a quote.
4. Nearpod – Best AI Tools for Interactive Lessons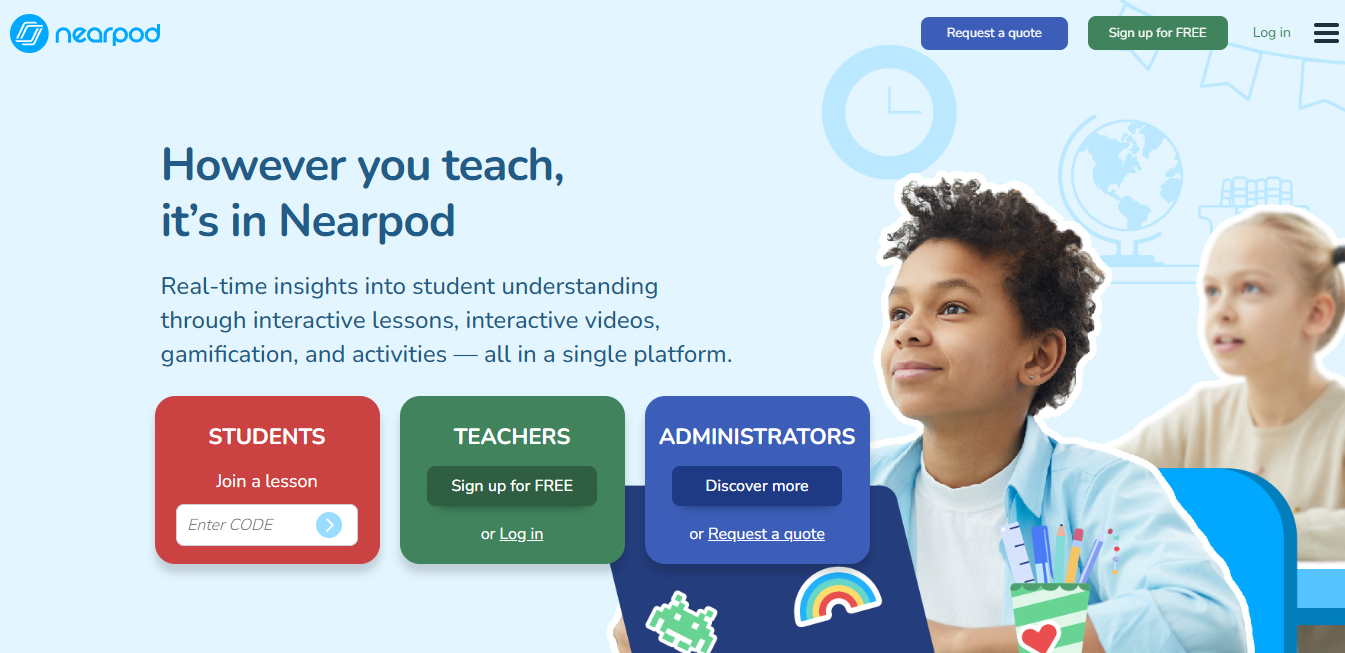 Nearpod is an all-in-one platform for teachers that provides real-time insights into student understanding with interactive lessons, videos, games, and activities.
It aims to simplify teaching by offering interactive tools, resources, and content.
Nearpod Top Features
Real-Time Insights
Flexible Instruction
Interactive Engagement & Assessment
1. Real-Time Insights
Nearpod offers real-time insights into student understanding through 20+ formative assessments and dynamic media features to improve student outcomes.
2. Flexible Instruction
It allows teachers to adapt instruction or address misconceptions on-the-fly and differentiate, enrich, or provide extra support to meet students' needs from wherever they are learning.
3. Interactive Engagement & Assessment
Nearpod offers interactive slides and videos that can be customized and used to check for understanding, gather data, and align with standards.
In addition, teachers can choose from thousands of ready-to-teach, customizable, standards-aligned lessons from teachers' favorite brands.
Nearpod Pricing & Plans
You will have to contact the sales team for a quote.
5. Turnitin –  Best AI Tool to Check Plagiarism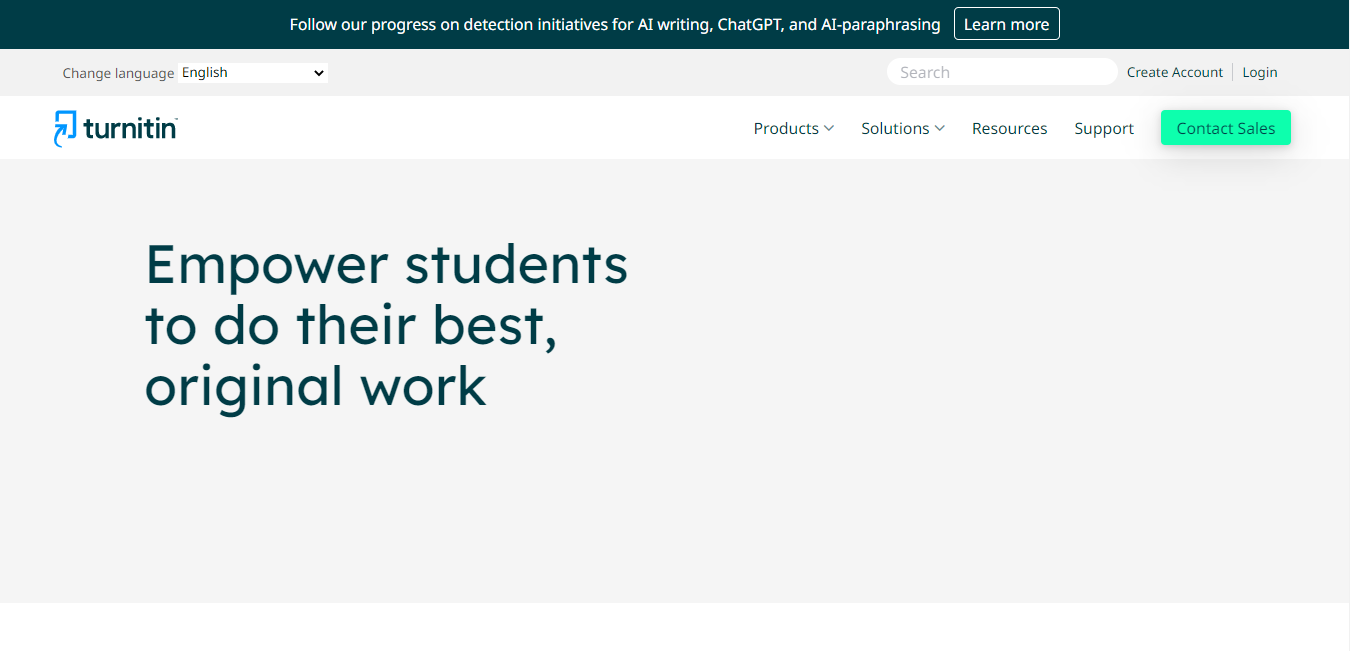 Turnitin is an online platform that offers plagiarism prevention services for educators worldwide.
It helps to make academic integrity a part of the workflow with color coding, filters, and source comparison for easy interpretation.
Turnitin also provides data insights to show deliberate text manipulation and compares against the industry-leading content database for comprehensive results.
Turnitin Top Features
Text Spinning & Contract Cheating
Risk Insights
Promotes Academic Originality
1. Text Spinning & Contract Cheating:
Turnitin offers more than just similarity checking, with Turnitin Originality protecting institutions from new and emerging trends in misconduct like text spinning and contract cheating.
2. Risk Insights
Turnitin empowers educators with insights to identify risks, conduct cohort analysis, and provide clear and actionable data points for every submission.
3. Promotes Academic Originality
Turnitin helps guide students to higher-quality academic writing by offering tools like a citation assistant, text similarity and grammar checking, and Turnitin Draft Coach.
Turnitin Pricing & Plans
You can contact the sales team for a quote and pricing inquiries.
6. Gradescope – Best AI Tool For Grading Your Assessments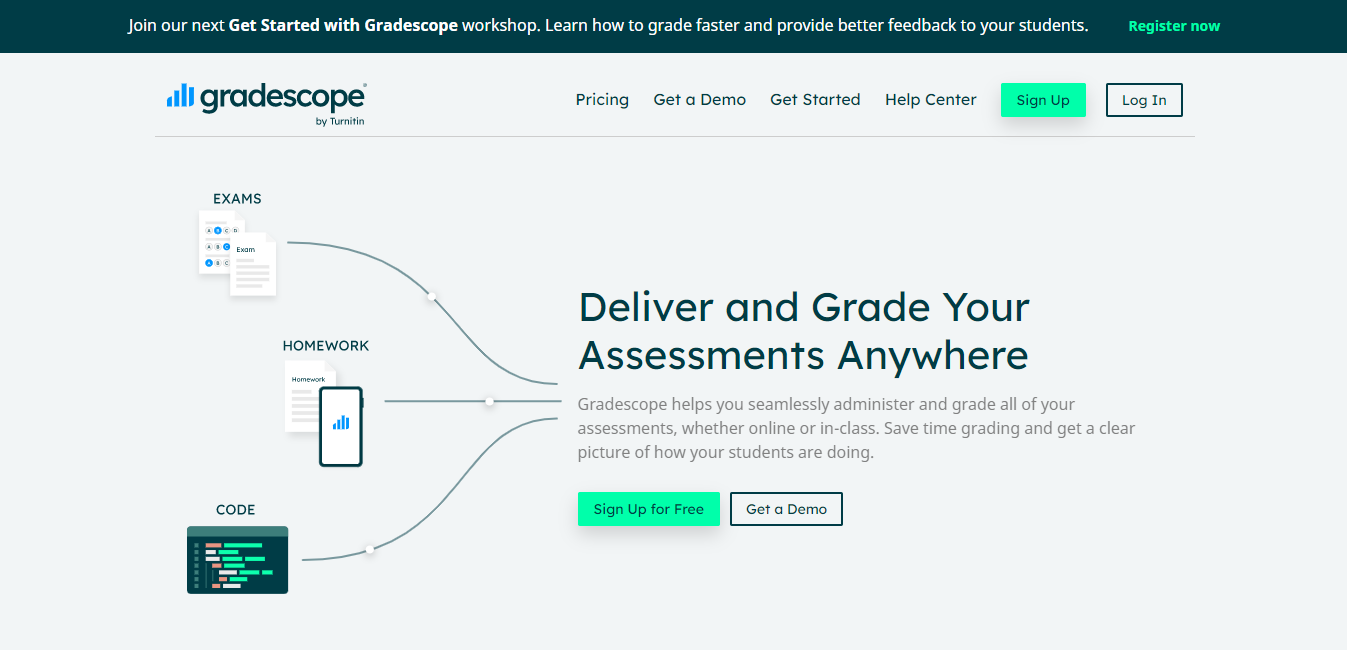 Gradescope is an online grading platform that allows educators to streamline and automate their grading process for assignments, quizzes, exams, and other assessments.
In addition, the platform allows educators to grade online assignments and provide feedback.
Gradescope is used in various educational institutions, including K-12 and higher education.
The teachers may cater to the individual needs of each student and let the platform's artificial intelligence tools do the tedious tasks like planning and grading.
Gradescope Top Features
Quick & Flexible Grading
Valuable Insights
Feedback
AI-Assisted Groupings
1. Quick & Flexible grading
The grading system is quick and flexible, allowing detailed feedback to be applied with just one click. In addition, rubric changes can be made and used to previously graded work.
2. Valuable Insights
It delivers valuable insight into students' learning habits and areas that need attention.
3. Feedback
Feedback is delivered instantly, and graded assignments can be returned with a single click (optional).
In addition, Regrade requests can be handled online, freeing up office hours for instructors.
4. AI-Assisted Groupings
Answer groups can be graded together, and for certain question types, Gradescope AI will automatically form groups for instructors to review.
Gradescope Pricing & Plans
Gradescope provides three plans and for pricing inquiries, you have to contact the sales team.
1. Basic
Features:
It includes collaborative grading, unlimited course staff, a student mobile app, assignment statistics, regrade requests, full grade export, and late submissions.
2. Complete
Features:
It includes everything in the Basic plan plus: AI-assisted answer groupings, anonymous grading, programming assignments, and more.
3. Institutional
Features:
It has everything in the Complete Plan plus: LMS integration, Administrator dashboard, and dedicated onboarding and training.
7. Knewton Alta – Best AI Tool for Personalized Learning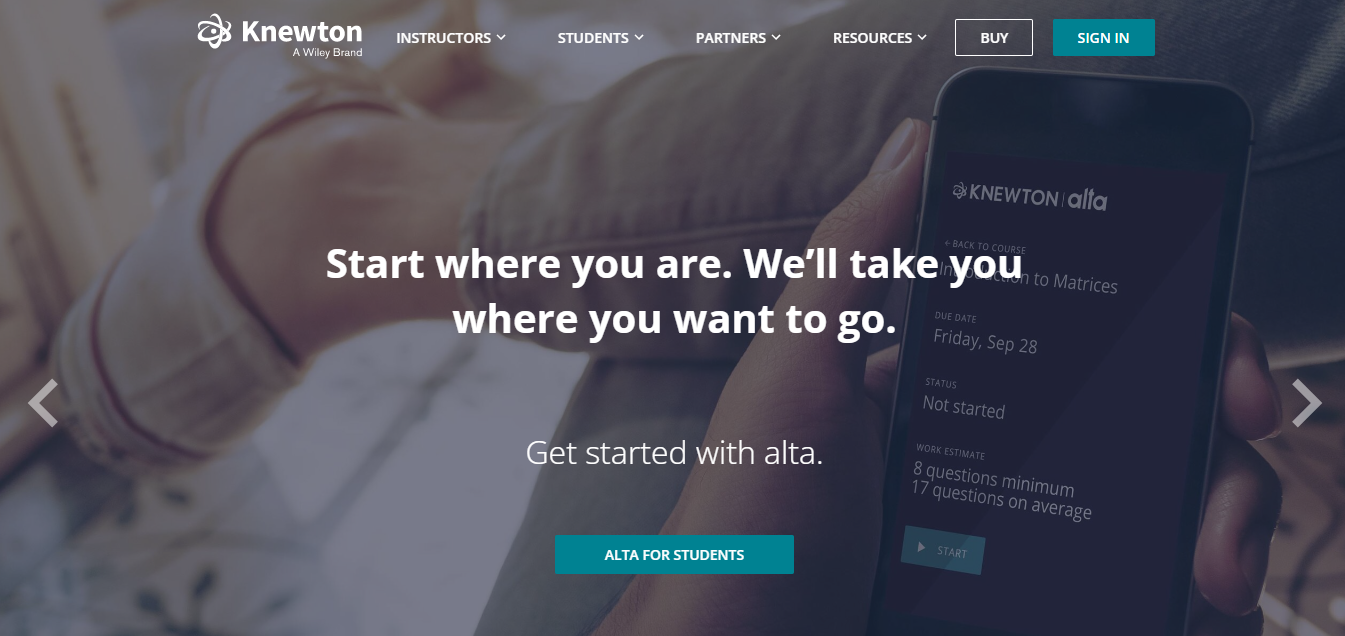 Knewton Alta is adaptive courseware that provides students with personalized learning experiences based on performance.
It monitors students' mastery continuously and adapts in real-time to maximize their learning outcomes.
Knewton Alta Key Features
Mastery-Based Learning Experience
Three Lines of Defense
Powerful Analytics
Personalized Learning Experiences
Promote Growth Mindset
1. Mastery-Based Learning Experience:
Knewton Alta's mastery-based learning experience is personalized based on student performance and adapts in real-time to ensure that students can retain, recall, and apply knowledge in the future.
2. Three Lines of Defense:
Knewton Alta ensures student success with three lines of defense, continuously monitoring students' mastery and, recognizing their knowledge gaps immediately, delivering precisely what they need when needed.
3. Powerful Analytics:
Its instructor dashboards provide meaningful data that's actionable, easy to review, and easy to navigate. Predictive analytics provides transparency into students' preparedness before an exam and offers insight into how the work students complete in Knewton Alta prepares them for and correlates to assessment.
4. Personalized Learning Experiences:
Educators can create and customize adaptive assignments with the flexibility to meet the needs of their course and provide an optimal learning environment for their students.
5. Promote a Growth Mindset:
The data science behind Knewton Alta's technology is designed to ensure students can retain, recall, and apply knowledge in the future, promoting a growth mindset and learning that lasts.
Knewton Alta Pricing & Plans
1. Monthly Plan:
It costs $9.95 (+tax) per month.
2. Single-Term Access:
pay per course by the term $39.95 (+tax)
3. AltaPass:
pay for multiple terms and courses in a domain $79.95 (+tax) AltaPass
Conclusion
AI education tools on the market have the potential to significantly enhance the teaching experience for educators.
Their powerful capabilities create personalized learning experiences, optimize curriculum planning, and improve student assessment by providing information to teachers.
In addition, AI-powered new tools such as virtual tutors, chatbots, intelligent grading systems, and speech recognition software can help teachers save time, increase student engagement, and efficiently identify learning gaps.