At a Glance
Cognii, Ivy Chatbot, Slidesai.io, Century Tech, AI Queirum, Gradescope, Dragon Speech Recognition, Carnegie Learning, and Albert.io are the best educational technology companies and AI platforms to tailor the learning process to student's requirements. 
These AI learning tools provide interactive and personalized support to students, enhancing their learning experience and providing real-time feedback.
They help students to improve their language skills, provide better feedback on assignments, identify weak areas, and prepare for exams, ultimately improving their academic performance.
As technology continues to advance quickly in the education sector, there is great potential for AI to revolutionize the way students learn and interact with course materials, making it increasingly difficult to imagine a future without AI technology in the classroom.
Furthermore, using amazing AI tools allow students to create immersive virtual learning environments where they can spend more time being productive and creative and learn anything in their problem-solving and critical thinking approach.
Today, various AI education tools are on the market, including intelligent tutoring systems (ITS), chatbots, and Adaptive Learning Platforms. There are also virtual assistants and automated essay scoring.
Now, Let's have a look at the 9 Best AI Tools for Students in 2023 that will assist them in learning better over time.
1. Cognii – Best AI Tool for Adoptive Learning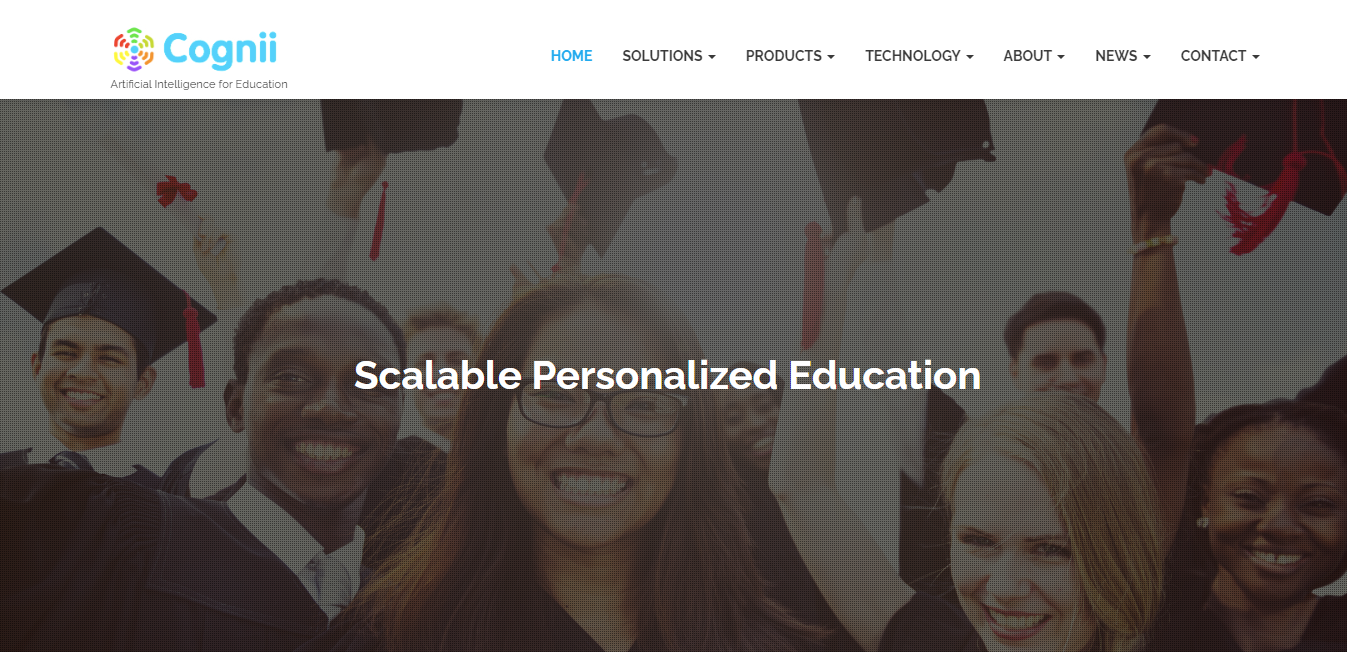 Cognii is an AI-based adaptive learning technology company that provides learning and assessment solutions for teaching and learning processes in educational institutions.
It specializes in developing conversational technology to help students learn faster. It engages students in natural language conversations, provides feedback, and offers personalized tutoring and assessments.
Cognii's AI virtual technology is used in various educational contexts, including K-12, higher education, and corporate training. The company's goal is to enhance the quality of education by providing personalized and interactive learning experiences helping students achieve their full potential.
Cognii Top Features
Virtual Assistant
Assessment Engine
Analytics
Integration
1. Virtual Assistant
One of Cognii's key AI tools is its virtual learning assistant provides personalized tutoring conversations, instant scoring, and feedback on written answers to open-response questions.
2. Assessment Engine
The assessment engine uses AI to accurately assess short-written answers.
3. Analytics
It offers real-time analysis of learning to educators, using high-resolution data to personalize and intervene as needed.
4. Integration
Cognii products can easily be integrated into existing digital platforms and products, including LMSes, through LTI.
Cognii Pricing & Plans
You can contact the Cognii customer support team for pricing inquiries.
2. Ivy Chatbot – Best Education Chatbot With a Higher IQ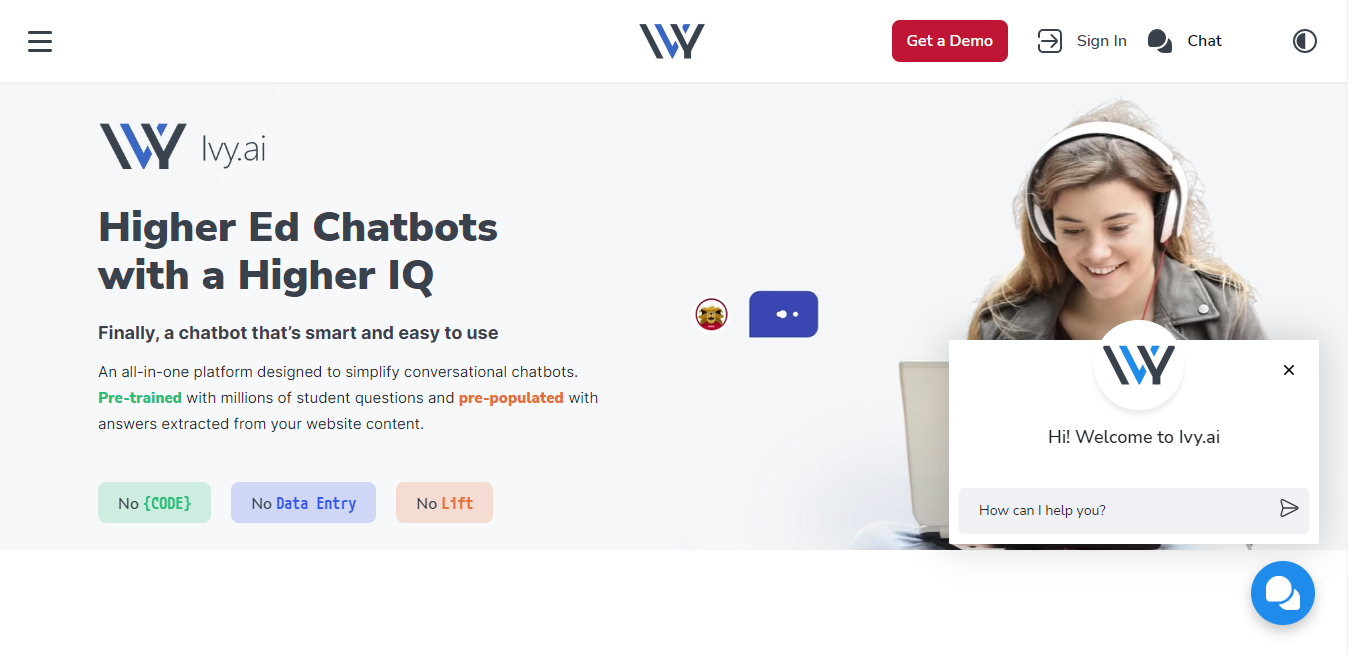 Ivy Chatbot is a conversational chatbot platform designed to assist students. It is a smart and easy-to-use platform that does not require any coding or data entry.
The platform is pre-trained with millions of student questions and is pre-populated with answers extracted from website content.
The conversational AI platform streamlines communication and reduces workload by providing instant, accurate information to students.
Ivy Chatbot Top Features
Information and Reminders
To-Do List
Time Management
1. Information and Reminders
It provides much-needed information to students about loans, scholarships, and fee structures. Ivy Chatbot also sends reminders to students about upcoming deadlines, assignments, and exams.
2. To-Do List
It helps students learn faster, manage tasks with a to-do list, and track progress.
3. Time Management
It also helps time management with suggestions for study schedules and routines.
Ivy Chatbot Pricing & Plans
You can get a quote by contacting Ivy.ai Sales Team.
3. Slidesai.io – Best AI Tools for Slides and Presentation
Presentation and slides are the cornerstones of learning and education. Students can benefit from SlidesaI.io, a web-based application that allows users to create professional presentation slides quickly and easily using artificial intelligence (AI).
The platform utilizes natural language processing (NLP) and machine learning algorithms to analyze and extract key points from any text user enters. It then automatically generates an outline and content for the presentation.
Slidesai.io Top Features
Quick and Easy Text Input
Customizable Design
Automatic Content Generation
Preview and Final Adjustments
1. Quick and Easy Text Input:
Users can type their text directly into the text box or copy and paste it from any source.
2. Customizable Design:
Users can choose from pre-designed colour and font presets or creates their own custom look to give their presentation a unique and professional feel.
3. Automatic Content Generation:
SlidesAI.io uses AI algorithms to analyze the text and automatically generate an outline and presentation content, saving users hours of time and effort.
4. Preview and Final Adjustments:
Users can preview their presentation and make any final adjustments before saving and exporting their slides in various file formats.
Slidesai.io Pricing & Plans
1. Basic
Features:
This plan is ideal for getting started. It offers three monthly presentations and 2500 character input per presentation.
Price:
The Basic plan is free.
2. Pro
Features:
The Pro plan is perfect for students and teachers alike. It offers ten monthly presentations, 6000 character input per presentation, and Document upload.
Price:
It costs US$10.00 per month.
3. Premium
Features:
The Premium plan is for business and marketing professionals. It offers unlimited presentations and 12000 characters of input per presentation.
Price:
The Premium plan costs US$20.00 per month.
4. AI Queirum – Best AI Tool for Learning STEM Subjects 

Queirum is an educational technology company that leverages AI to offer personalized, interactive learning experiences in science, technology, engineering, and mathematics (STEM) subjects.
Their platform, AI Queirum, provides students with targeted support and feedback to help them master difficult concepts and succeed in their courses.
AI Queirum Top Features
Interactive Simulations
Predictive Analytics
Real-Time Feedback
1. Interactive simulations
The platform uses interactive simulations and gamification to engage students and help them develop critical thinking skills.
2. Predictive analytics
It uses predictive analytics to identify students at risk of falling behind, and Queirum's AI also provides them with targeted support to keep them on track.
3. Real-time feedback
Students receive on-the-spot feedback on progress, strengths, and areas for improvement, allowing them to adjust their learning strategies accordingly.
AI Queirum Pricing & Plans
You can contact the Sales team for any pricing inquiries.
5. Century Tech – Best AI Tool for Improving CAT Scores
Century Tech is an AI platform that helps students with its innovative education technology by leveraging AI and machine learning.
It analyzes student data and creates customized learning paths based on strengths, weaknesses, and preferences. As a result, students can improve their English, maths, and science grades from primary to further education.
In addition, Century Tech combines learning science, AI, and neuroscience. This combination delivers targeted learning and teaching experiences trusted by schools and colleges worldwide, improving students' performance in various curricula.
Century Tech Top Features
Accelerates Learning
Reduces Workload
Customized Learning
1. Accelerates learning
Intelligent personalization in education improves engagement and understanding, leading to accelerated learning.
2. Reduces Workload
Saves teachers valuable time in grading, analyzing data, creating educational resources, and spending more time on students' education.
3. Customized Learning 
Their platform analyzes student data and creates customized learning paths based on strengths, weaknesses, and learning preferences. Students can improve their English, maths, and science grades from primary to further education.
Century Tech Pricing & Plans
Century Tech offers several plans to meet your unique needs. You can contact the sales team to help you pick the best plan.
The subscription includes access to all resources, training, and ongoing support. Costs vary according to business size, with multi-year discounts available.
6. Dragon Speech Recognition – Best AI Tool for Taking Notes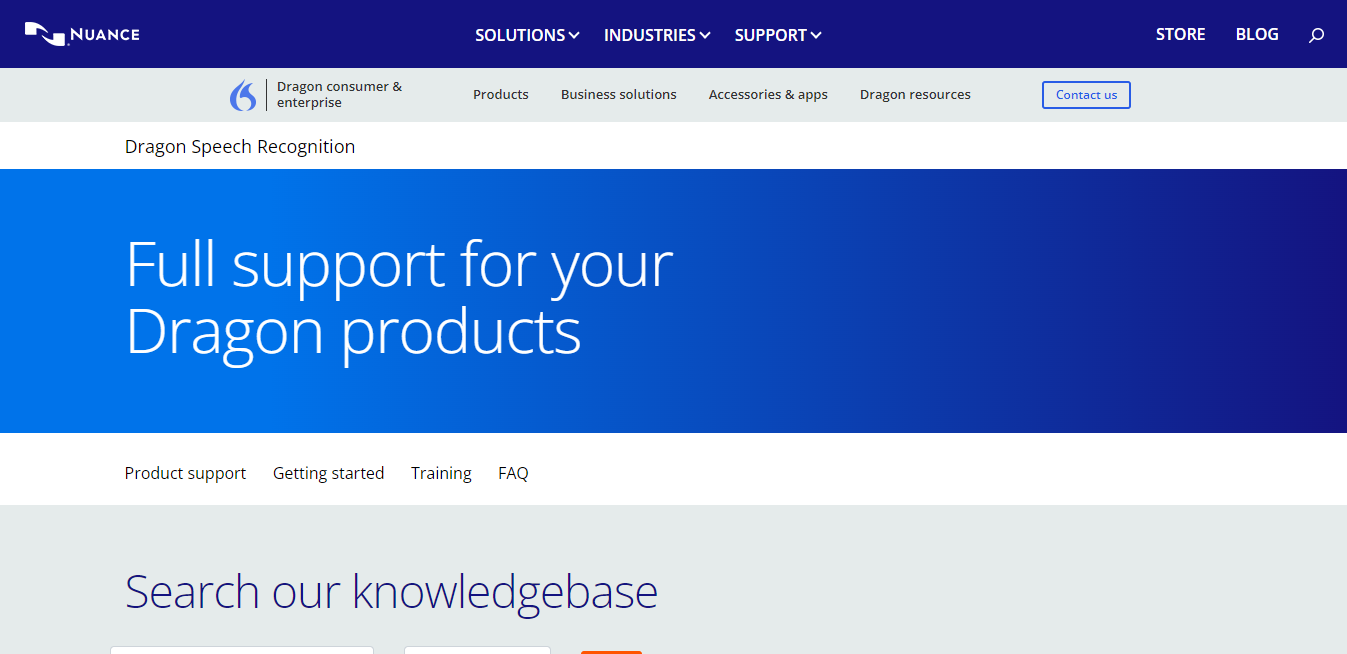 Dragon Speech Recognition uses artificial intelligence and machine learning algorithms to transcribe spoken words into text rather than typing on a keyboard.
The software also allows users to create custom voice commands to perform specific tasks, such as opening a particular application or navigating through a document.
Speech recognition helps students with accessibility needs or those who find typing difficult.
Dragon Speech Recognition Top Features
Ditch Mouse and Use Voice
Lesson Plans
Voice-Based Feedback
1. Ditch Mouse and Use Voice
By using your voice as a substitute for a mouse, you can speak to browse and search the web or even perform basic calculations.
2. Lesson Plans
With the ability to dictate lesson plans, syllabi, reading lists, worksheets, and more, you can create these documents at the speed of speech, completing them three times faster than typing and with a 99% accuracy rate.
3. Voice-based Feedback
Enhance your assessment approach by providing in-depth evaluations effortlessly and quickly through the convenience of voice.
Utilize this unprecedented simplicity to evaluate student work and provide comprehensive feedback on their papers, research projects, and tests.
Dragon Speech Recognition Pricing & Plans
You can contact Dragon Speech Recognition customer support service for pricing inquiries and get a quote.
7. Gradescope – Best AI Tool For Grading Your Assessments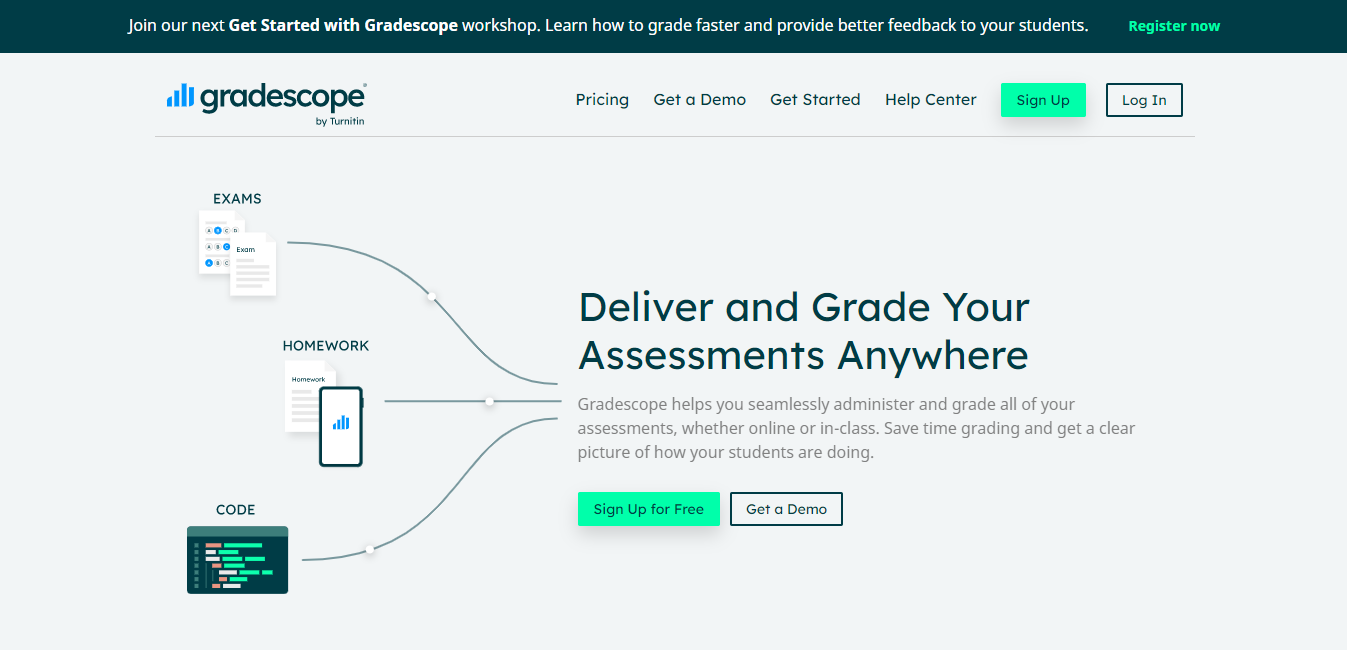 Gradescope is an online grading platform that allows educators to streamline and automate their grading process for assignments, quizzes, exams, and other assessments.
In addition, the platform allows educators to grade online assignments and provide feedback.
Gradescope is used in various educational institutions, including K-12 and higher education. The teachers may cater to the individual needs of each student and let the platform's artificial intelligence tools do the tedious tasks like planning and grading.
Gradescope Top Features
Quick & Flexible Grading
Valuable Insights
Feedback
AI-Assisted Groupings
1. Quick & Flexible grading
The grading system is quick and flexible, allowing detailed feedback to be applied with just one click. In addition, rubric changes can be made and used to previously graded work.
2. Valuable Insights
It delivers valuable insight into students' learning habits and areas that need attention.
3. Feedback
Feedback is delivered instantly, and graded assignments can be returned with a single click (optional).
In addition, Regrade requests can be handled online, freeing up office hours for instructors.
4. AI-Assisted Groupings
Answer groups can be graded together, and for certain question types, Gradescope AI will automatically form groups for instructors to review.
Gradescope Pricing & Plans
Gradescope provides three plans and for pricing inquiries, you have to contact the sales team.
1. Basic
Features:
It includes collaborative grading, unlimited course staff, a student mobile app, assignment statistics, regrade requests, full grade export, and late submissions.
2. Complete
Features:
It includes everything in the Basic plan plus: AI-assisted answer groupings, anonymous grading, programming assignments, and more.
3. Institutional
Features:
It has everything in the Complete Plan plus: LMS integration, Administrator dashboard, and dedicated onboarding and training.
7. Carnegie Learning – Best AI Tool for Personalized Learning
Carnegie Learning is an AI educational technology company that provides math solutions to K-12 schools. The company was founded in 1998 by cognitive and computer scientists from Carnegie Mellon University.
Its core focus is developing adaptive math software that uses artificial intelligence and cognitive science to personalize student learning. The platform also provides professional development services.
With its AI-powered tools, teachers and administrators can implement effective math instruction strategies.
Carnegie Learning Top Features
Certified Live Tutors
Accelerates Learning
Personalized Learning
Actionable Data For Student Progress
1. Certified Live Tutors
Its certified live tutors provide personalized, engaging tutoring to fill gaps in learning and reinforce classroom teaching.
2. Accelerates Learning
The platform focuses on prerequisite skills to prepare all students for grade-level learning, providing an extra boost to help you learn and increase confidence.
3. Personalized Learning
It provides high-quality instructional materials that support every lesson, ensuring personalized instruction that aligns with each student's needs.
4. Actionable Data For Student Progress
The platform includes a robust suite of assessments, including pre-and post-assessments and ongoing formative assessments, to provide actionable data on student progress and ensure effective tutoring that suggests areas for future focus.
Carnegie Learning Pricing & Plans
You can contact the Carnegie Learning customer support team for pricing inquiries.
9. Albert.io – Best AI Tool for Adaptable Practice Sessions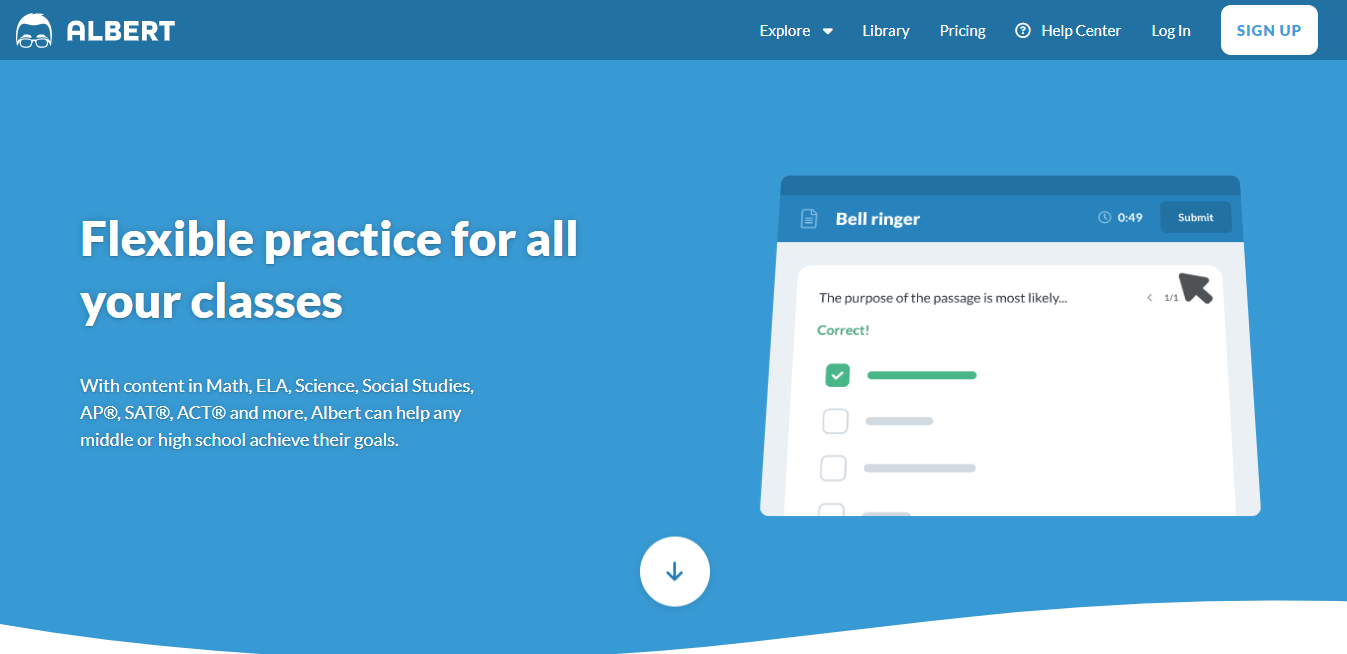 Albert.io provides adaptable practice sessions that cater to all classes, with diverse content spanning Math, ELA, Science, Social Studies, AP, SAT, ACT, and other subjects. As a result, Albert can help any middle or high school achieve their academic goals.
Albert. io Top Features
Practice Questions
Assessments
Data Analytics
1. Practice Questions
Albert.io offers a vast library of practice questions covering various subjects, including math, science, history, and English.
These questions prepare students for exams and reinforce their understanding of key concepts.
2. Assessments
Albert.io allows teachers to create custom assessments and track student progress in real-time.
This feature helps teachers identify areas where students may be struggling and provide targeted support.
3. Data Analytics
The platform provides detailed analytics and reports on student performance, allowing teachers to identify areas where students need additional support and adjust their teaching strategies accordingly.
Albert.io Pricing & Plans
1. Plan One
It requires at least 50 students, two teachers, and an admin.
Features:
All content on Albert, including AP®, SAT®, PSAT®, ACT®, Core Math, Core ELA, Core Science, Core Social Studies, Middle School, and state exam courses.
Administrator data, onboarding, and management tools.
All teacher features, including teacher collaboration tools such as co-teacher support.
Integrations, including Clever, Canvas, and Google Classroom.
Dedicated teacher and administrator support.
Price:
It costs $15 per student per school year.
2. Pre-Recorded In-Depth Training
Features:
This plan is for smaller schools where live training sessions do not make sense. It has the same content in a pre-recorded form to support higher-fidelity onboarding.
Price:
It costs $100, which is a one-time payment for yearly access.