At a Glance
Luminar Neo, Sharpen AI, Gigapixel AI, PaintShop Pro 2023, Leawo PhotoIns, Lensa AI, Picsart, Imagine AI, Vance AI, and autoRetouch are the ten best AI Tools for photo editing tools in 2023.
These AI tools help you edit your photos to create stunningly professional-looking images in the blink of an eye without any expertise.
This article briefly introduces each tool with key features and pricing plans so you can choose the best for your unique needs.
In today's digital world, editing photos has become more crucial. With the rise of artificial intelligence, photo editors have become smarter, more efficient, and more accessible than ever.
We have researched and reviewed the 10 Best AI Photo Editors in 2023 that utilize AI technology to enhance and transform your photos.
This article gives a brief introduction to each AI photo editor. It highlights its top features to provide a comprehensive understanding of each tool's capabilities and help you decide which AI photo editing software best suits your needs.
1. Luminar Neo By Skylum – Best AI Tool for Photo Editing

Luminar Neo automates complicated tasks and makes professional-level editing accessible to everyone, making it the best AI photo editor.
It has a user-friendly interface that caters to users with different proficiency levels. It brings out true colors, enhances portraits, and unleashes creativity.
It is an application and plugin for Windows and macOS and offers high-performance image editing with 24/7 technical support and a 30-day money-back guarantee.
Luminar Neo Top Features
Unique AI-powered color tools
Portrait retouching
AI masking tool
Sharpening and detail tools
Superior Bracket Merging
1. Unique AI-Powered Color Tools
It can balance hue, saturation, highlights, and contrast and fine-tune each color separately.
2. Portrait Retouching
It uses AI neural nets to detect facial features and lets you work directly with them. It has tools like Origin, Skin, Light, Slim, Eyes, and Lips, making portrait retouching easy and intuitive.
3. AI Masking Tool
This tool lets you mask objects in a single click, including people, sky, buildings, vehicles, water, plants, mountains, and natural and artificial ground.
4. Sharpening and Detail Tools
It improves the crispness of your images with intelligent sharpening tools like StructureAI. You can draw attention to specific parts of your image and neutralize any blur from the lens or sensor.
5. Superior Bracket Merging
You can create HDR photos directly in Luminar Neo. This feature allows merging multiple images of the same scene with different exposures to create a final image with a greater dynamic range than a single photograph can capture.
Luminar Neo Pricing & Plans
1. Explore
Features:
This plan includes Luminar Neo Photo Editor, ten magnificent Skies, Upgrades, Software Updates, 1 Computer License, Insiders Community Access, and 24/7 technical support.
Price:
2. Pro
Features:
This plan includes everything in the Explore Plan plus; Extensions Pack, Future Extensions, and 2 Computer Licenses.
Price:
It costs $119/year.
3. Lifetime
Features:
This plan includes all the features in the Pro Plan, except it is available only for one computer.
Price:
It costs a one-time payment of $149 and $299 for the Extensions Pack.
2. Sharpen AI by Topaz Labs – Best AI Tool for Sharpening Images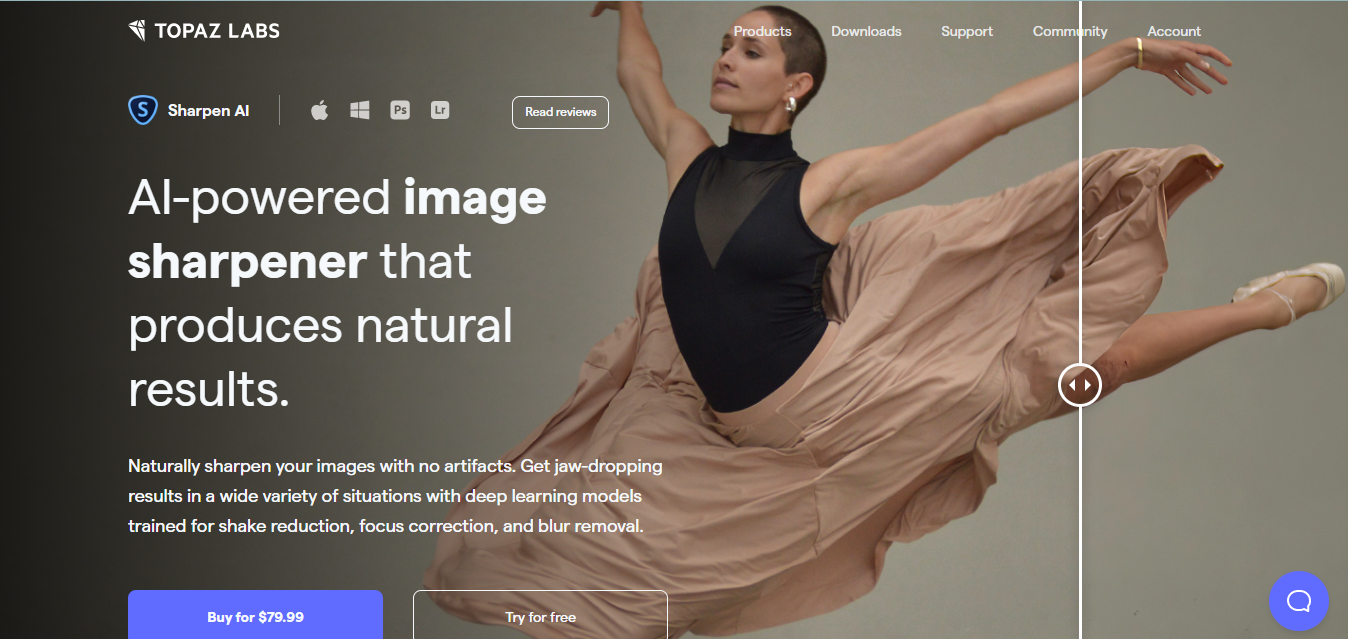 Sharpen AI is an intelligent image sharpener that targets and reverses three specific types of blur to create natural-looking results.
Sharpen AI Top Features
Motion Model
Focus Model
Softness Model
Natural Results
Rescue Blurry Photos
1. Motion Model
This model reduces motion blur caused by a shaky camera or moving subject.
It is trained to identify and correct motion blur, producing clearer images.
2. Focus Model
The focus model is designed to reduce lens blur caused by missed focus.
While it may not recover every image, it can completely recover a throwaway image when it works.
3. Softness Model
This model is ideal for adding that extra "pop" to your already-good images while ensuring they stay natural.
It can be used instead of traditional sharpening on finely detailed features like eyes, feathers, leaves, and stars.
4. Natural Results
Sharpen AI is specifically trained to provide a natural-looking image while increasing sharpness.
It avoids the common issues of haloing and fringing caused by traditional sharpening, resulting in a more powerful and emotional image.
5. Rescue Blurry Photos
Sharpen AI can help rescue blurry photos that are impossible to fix in Photoshop.
Although it may not always work, the results can be surprisingly good when it does.
Sharpen AI Pricing & Plans
Features:
Sharpen AI offers only one plan, including all the above features, live support, one year of new AI models, and major upgrades.
Price:
It costs a one-time payment of $79 with a 30-day refund guarantee.
3. Gigapixel AI by Topaz Labs – Best AI Tool for Upscaling Images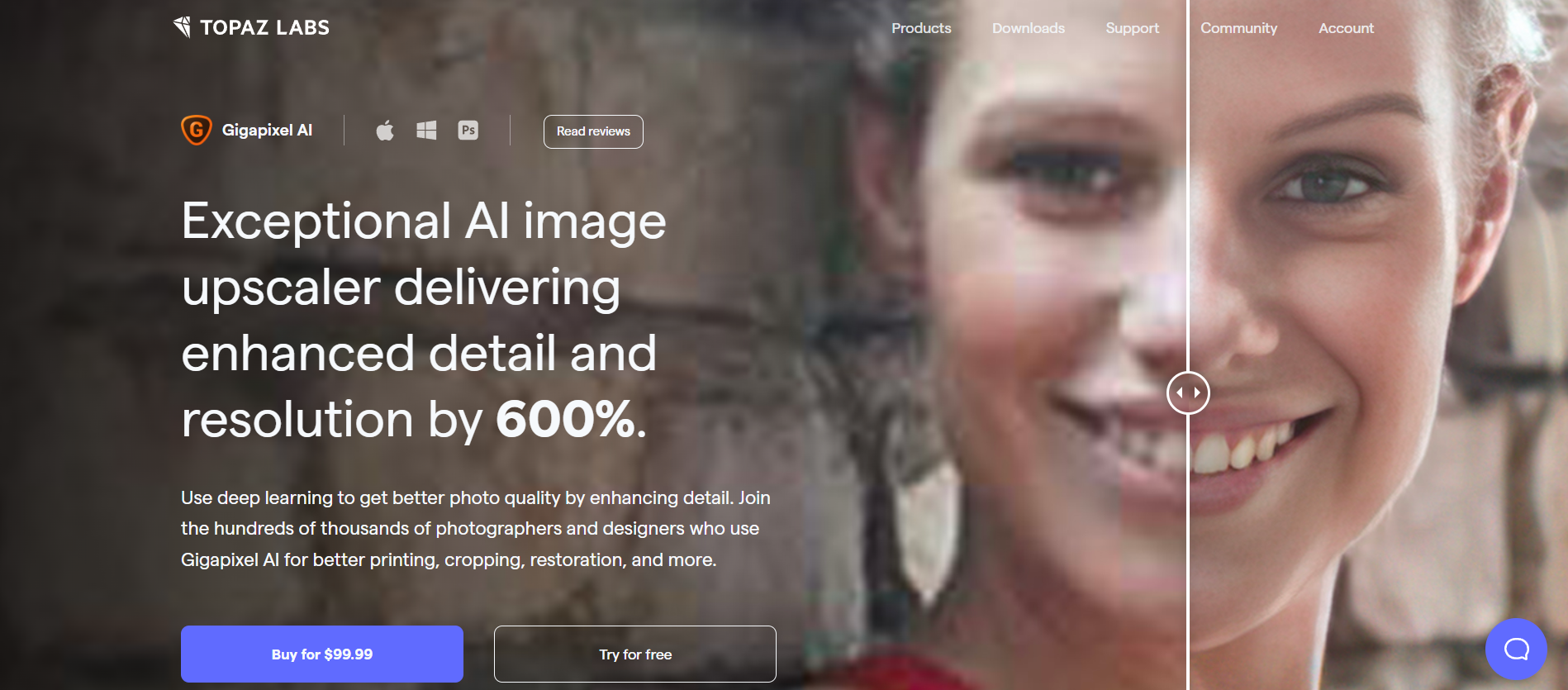 Gigapixel AI is used for image upscaling by increasing the resolution of digital images.
It utilizes neural networks trained on millions of images to fill in missing pixels and create natural-looking detail, making it possible to upscale images without sacrificing quality.
Gigapixel AI Top Features
Image Upscaling
Face Recovery AI
Subject-specific AI models
JPEG Artifact Removal
Video and Computer Graphics Compatibility
1. Image upscaling
It can upscale image resolution instead of enlarging pixels, resulting in natural-looking and photorealistic detail.
2. Face Recovery AI
Face Recovery AI technology is a breakthrough feature that enhances details and textures in low-resolution faces.
3. Subject-Specific AI Models
It can enhance mountain textures, straight and clearly-defined lines in architecture, fine detail in landscapes, and more with its subject-specific AI models.
4. JPEG Artifact Removal:
It can automatically remove JPEG compression artifacts, apply noise reduction, and sharpen the output naturally..
5. Video and Computer Graphics Compatibility
Gigapixel AI is compatible with video and computer graphics, allowing for enhancing these types of media as well.
Gigapixel AI Pricing & Plans
Features:
Gigapixel AI offers only one plan, including all the above features, live support, one year of new AI models, and major upgrades.
Price:
It costs a one-time payment of $99.99 with a 30-day refund guarantee.
4. PaintShop Pro 2023 – Best AI Tool for Graphic Designing and Editing

PaintShop Pro is one of the best AI photo-editing apps. It uses AI and machine learning to offer many AI tools for graphic design and offer smart solutions.
It is designed to make every shot the best and help users create something incredible with their images.
PaintShop Pro Top Features
Photo-Editing
Graphic Design
Smart Solutions
The Ultimate Exclusive Photo-Editing Collection
Add Effects for Impact
1. Photo-Editing
It offers the best AI photo-editing tools, including composition guides, adjustment tools, selection and correction tools, and portrait and retouching tools.
2. Graphic Design
It allows you to create graphics and designs for websites, social media, and other digital platforms. The software offers a range of brushes, textures, and editing photo backgrounds.
3. Smart Solutions
AI editor capable of producing improved photos in no time.
AI-powered tools such as AI Upsampling, AI Artifact Removal, and AI Denoise help users easily enhance their images.
4. The Ultimate Exclusive Photo-Editing Collection
Amazing AI photo editor offers a bonus pack of premium software, including MultiCam Capture 2.0 Lite, Painter Essentials 8, PhotoMirage Express, Highlight Reel, and Sea-to-Sky Workspace.
5. Add Effects for Impact
Users can choose from multiple workspaces and add various effects powered by AI technology to their photos, including drop shadows, borders, and reflections.
PaintShop Pro Pricing & Plans
Features:
PaintShop offers only one plan, including all the above features, live support, one year of new AI models, and major upgrades.
Price:
It costs a one-time payment of $79 with a 30-day free trial and refund guarantee.
5. Leawo PhotoIns – Best AI Tool to Improve Photo Quality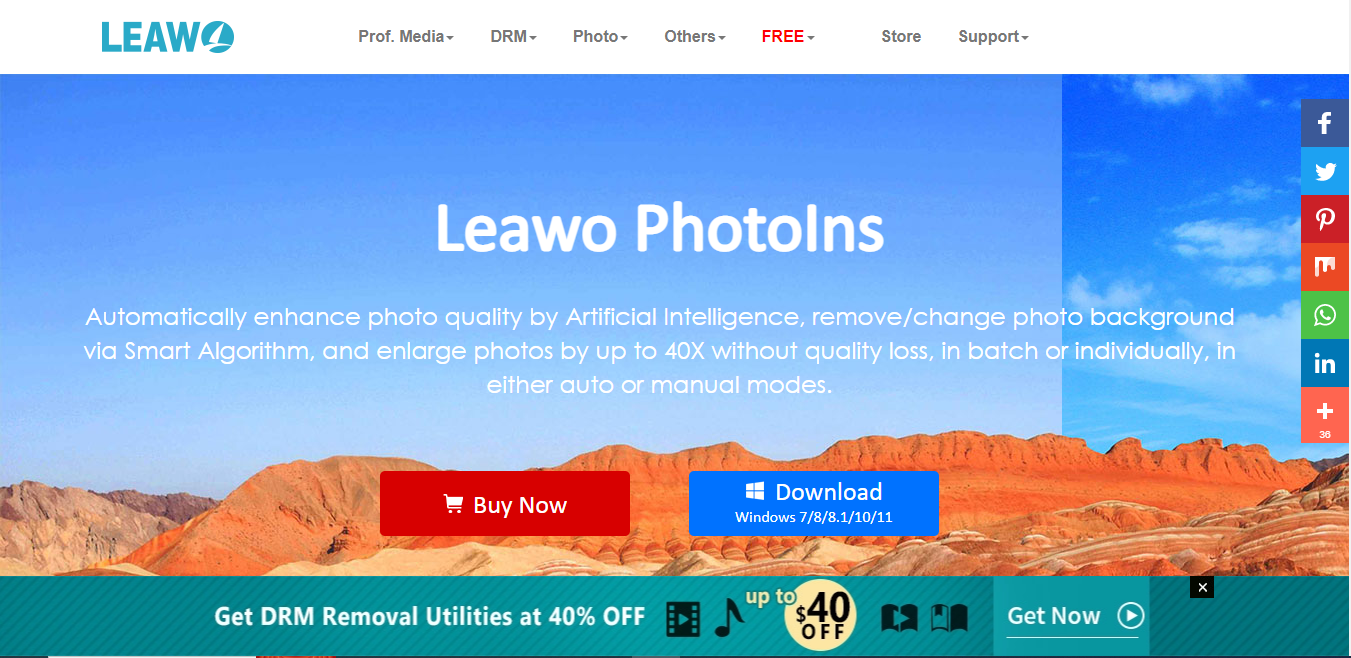 Leawo Photo Enhancer is an automatic picture editing software that enhances and improves photos' quality with the power of artificial intelligence.
It includes various features but is famous for its background removal AI feature allowing you to change backgrounds in bulk.
Leawo Photolns Top Features
AI Photo Enhancer
Photo BG Remover
Photo Enlarger
1. AI Photo Enhancer
AI-powered photo editing software allows quality enhancement of portrait photos easily by retouching skin, removing freckles, enhancing eyes, and adjusting lightening.
Fix photo exposure issues automatically by detecting exposed areas excessively and adjusting the brightness.

AI sky enhancer creates beautifully enhanced sky for landscape photos.

The smart de-haze feature removes haziness and fogginess from photos.
2. Photo BG Remover
Automatically changes the photo background to any solid color or image.
Get a perfect solution for batch background removal and precisely analyzes all loaded photos.
3. Photo Enlarger
You can enlarge and enhance images to higher quality for printing, product display, banner, restoration, and more.
It has automatic image editing software that uses AI to make improvements by color rendering, reducing artifacts, and enhancing detailed texture.
It supports manual adjustment for contrast, sharpness, and brightness optimizations.
Leawo Pricing & Plans
Features:
It Includes all function modules.
Price:
It costs $79.95/ Year; if you want a one-time plan, you have to pay $109.95.
6. Lensa AI – Best AI Tool for Portrait Enhancing
Lensa is a mobile AI photo app that helps improve selfies with features designed specifically for macOS.
It offers various features to enhance the subject's appearance and the photo's background.
Lensa AI Top Features
Perfect Face Skin
Impeccable Eyes
Adjustable Background
1. Perfect Face Skin
Smooths out bumps, lines, and other facial imperfections.
Gives your skin a perfect and flawless look.
Highlights your face to make it stand out in the shot.
Blurs out the background to keep the focus on your face.
2. Impeccable Eyes
Removes eye bags with a single slide.
Enhances eyes by adding contrast.
Thickens eyebrows by adjusting a slider.
3. Adjustable Background
Adjusts background blur and depth.
Matches the background to your portrait.
Adds motion to the background with a slider.
Adds a Petzval lens effect of highlighting the subject.
Lensa AI Pricing & Plans
Lensa AI is available both on Mac App Store and Google Play
1. Mac App Store Premium Subscriptions (7-Day Free Trial)
Annual:
It costs $29.99/year.
Monthly:
It costs $7.99/month.
2. Google Play (7-Day Free Trial)
Annual:
It costs $14/year.
Monthly:
It costs $7.99/month.
7. Picsart – Best AI Tool for Designing and Generating Images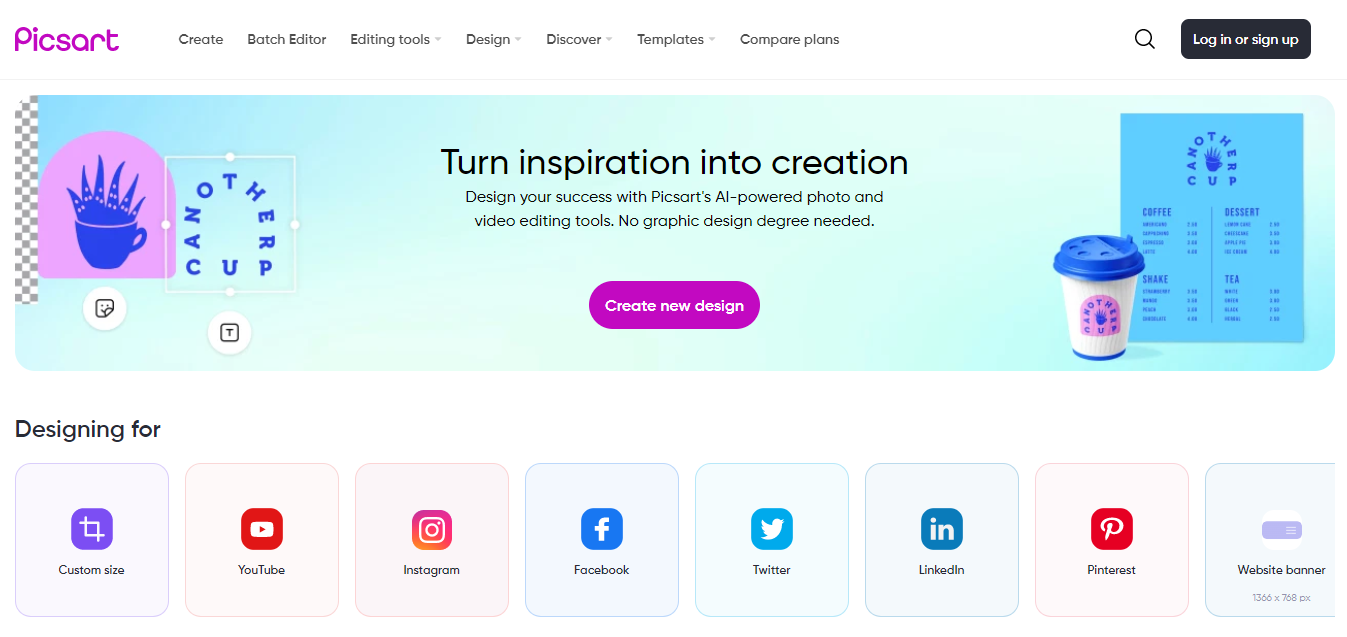 Picsart is designed for both beginners and professionals and uses one of the most advanced AI technology that can make the editing process easy and efficient.
Picsart Top Features
AI Image Generator
AI Image Enhancement
Free Collage Make
Versatile Photo-Editing Tools
Efficient Batch Editor
1. AI Image Generator
With the Picsart AI Image Generator, you can easily turn your words into vibrant and dynamic graphics in seconds.
Type a detailed description of your vision and watch as it transforms into AI-generated art.
2. AI Image Enhancement
Picsart AI Enhance allows you to improve the quality of your images with just one click.
It enhances edges and brings out details in your photos, giving them a professional look.
3. Free Collage Make
With Picsart's free online Collage Maker, you can combine your photos with creative layouts to design unique and captivating collages.
It is perfect for creating motivational vision boards, social media posts, and collages that let you tell a story with your images.
4. Versatile Photo-Editing Tools
Picsart provides a user-friendly platform for image editing that offers a range of tools, such as filters, text, stickers, and backgrounds.
5. Efficient Batch Editor
Picsart's Batch Editor feature allows users to edit in bulk, eliminating repetitive tasks.
Picsart Pricing & Plans
1. Free
Features:
This plan includes Powerful photo and video editing tools, t
housands of free images, and templates
.
2. Picsart Gold
Features:
It offers thousands of templates, fonts, stickers, and tools, Cross-platform access on both the mobile app and the web; millions of high-res stock images for personal and commercial use; Background Removal with a click; animation maker, No watermarks; save your designs as JPG, PNG, or PDF.
Price:
It costs $5/month.
3. Team
Features:
It has everything in Gold and Team management, Full premium access for every team member, Centralized billing and account administration, Priority support, File sharing, and collaboration.
Price:
It costs $7/month.
8. Imagen AI – The Fastest Photo Editing AI Tool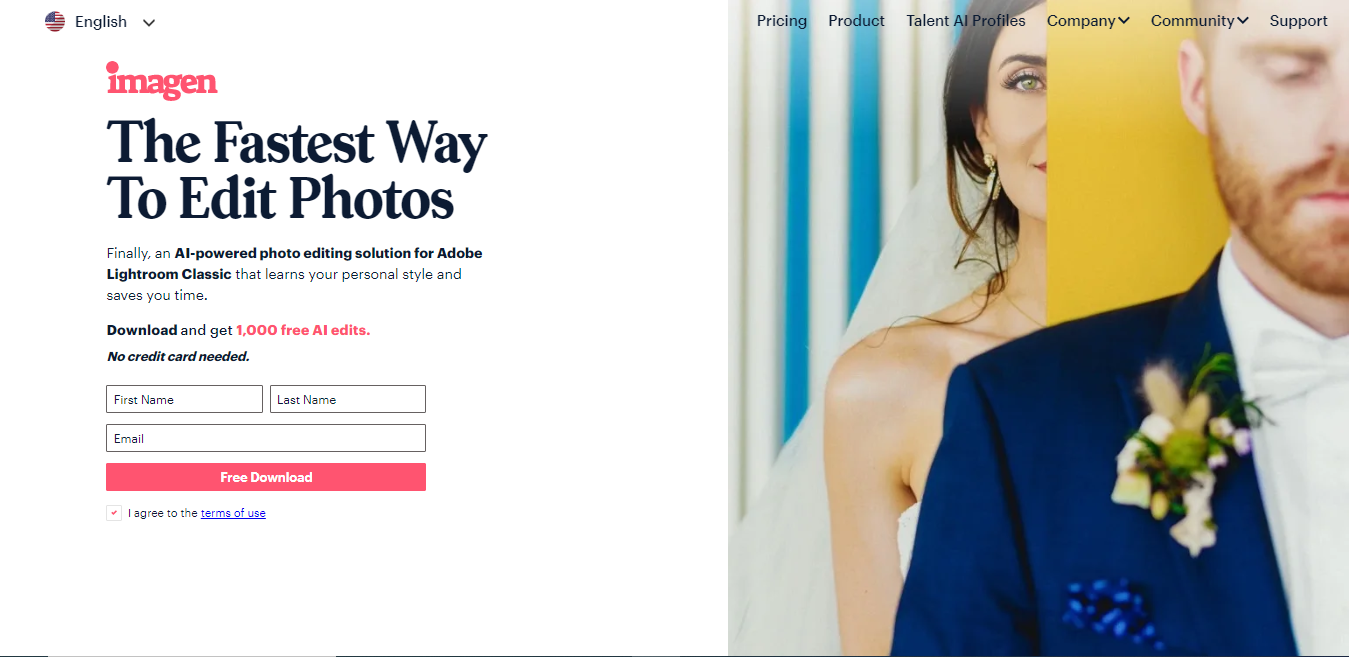 Imagen AI uses artificial intelligence (AI) to analyze your previous photo edits and create a Personal AI Profile. You can apply this profile to your Lightroom Classic catalog to improve your photos in your personalized style, including adjustments to white balance, exposure, color correction, and more.
Imagen AI analyzes each photo in real-time and adjusts the parameters based on your chosen editing style and the photo's needs. You can review and tweak the final edits if needed while Imagen continues to learn and evolve with you.
Imagine AI Top Features
Personalized AI Profile
Real-time Analysis
Control and Flexibility
Lightning Fast
Affordable
1. Personalized AI Profile
Imagen analyzes your previous photo edits to create a Personal AI Profile that can be applied to your Lightroom Classic catalog.
2. Real-time Analysis
Imagen's AI analyzes each photo you want to edit, adjusting the different Lightroom parameters based on your chosen editing style and the photo's needs.
3. Control and Flexibility
You can review and tweak the final edits if needed, and Imagen will continue to learn and evolve with you.
4. Lightning Fast
Imagine seeing your editing style applied consistently and accurately to the photos in your Lightroom Library at the speed of less than 1/2 a second per photo.
5. Affordable
It provides the fastest photo editing solution in the industry, starting at only $0.05 per photo.
Imagen Pricing & Plans
The minimum charge is $7 per month for Personal or Talent AI profiles, and any usage lower than $7 will be charged as credit for future edits. The subscription can be canceled at any time.
9. Vance AI – Best AI Tool for Photo Enhancing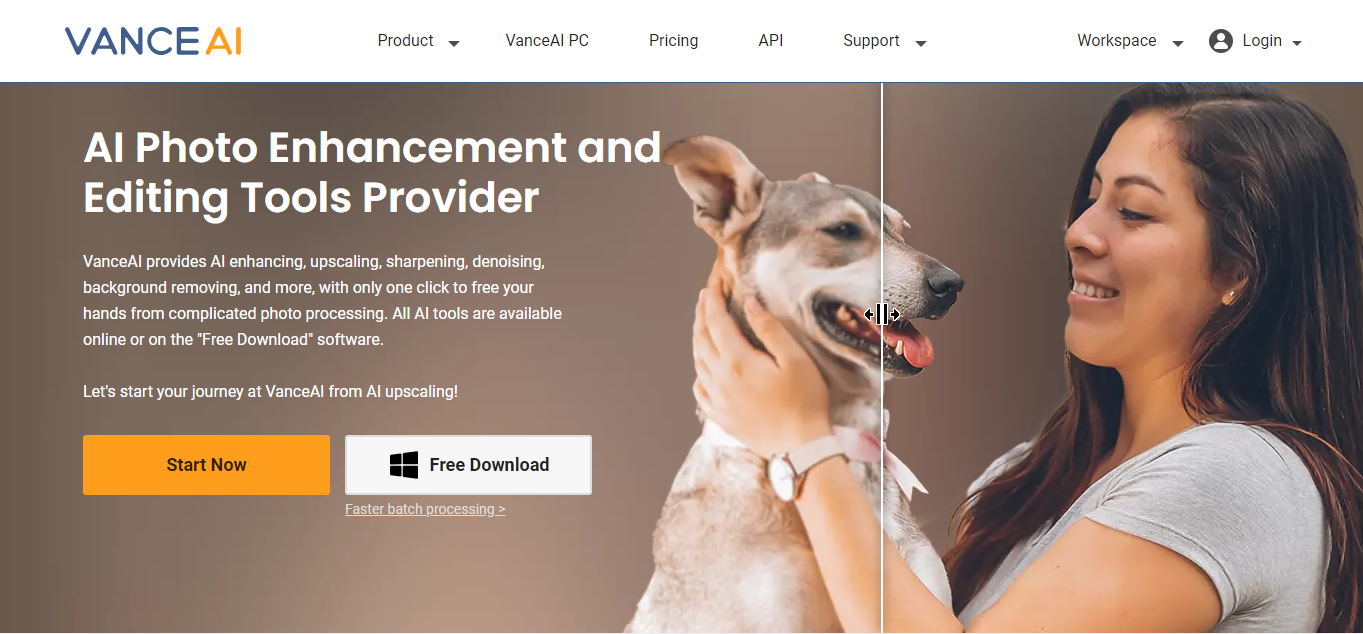 Vance AI is an online and downloadable software that offers a variety of AI-powered photo enhancement and editing tools.
Its AI technology is based on Deep Convolutional Neural Networks (DCNN) that can quickly and intelligently analyze and process images.
Vance AI Top Feature
AI Enhancing, Upscaling, Sharpening, and Denoising
AI Background Removing
AI Photo Restorer
AI Colorize Photo
AI Portrait Retouching
1. AI Enhancing, Upscaling, Sharpening, and Denoising
VanceAI's AI-enhancing tool enhances the overall quality of an image by adjusting brightness, contrast, and saturation, resulting in a more vibrant and lively photo.
With its upscaling tool, VanceAI can increase the size and resolution of an image while maintaining its original quality.
Its AI sharpening tool helps to sharpen blurry or soft images by enhancing edges and increasing the overall clarity of the photo.
VanceAI's AI denoising tool reduces image noise and graininess, resulting in a cleaner and smoother photo.
2. AI Background Removing
The AI background remover can quickly and accurately remove the background of an image and replace it with a transparent or custom background.
3. AI Photo Restorer
VanceAI's photo restorer tool can restore old and damaged photos by removing scratches, tears, spots, dust, and sepia tone.
4. AI Colorize Photo
With the AI colorize photo tool, VanceAI can automatically convert black and white photos to color and enhance faces.
5. AI Portrait Retouching
The AI portrait retouching tool can instantly retouch faces in photos by removing blemishes, wrinkles, and other imperfections, resulting in a flawless portrait.
Vance AI Pricing & Plans
Vance AI offers per-image pricing, and one credit equals one image.
1. 100 Credits
The price starts at
$4.95
.
2. 200 Credits
The price starts at
$6.95
.
3. 500 Credits
The price starts at
$11.45
.
4. 1000 Credits
The price starts at
$17.95
.
10. autoRetouch – Best AI Tool for Clipping Path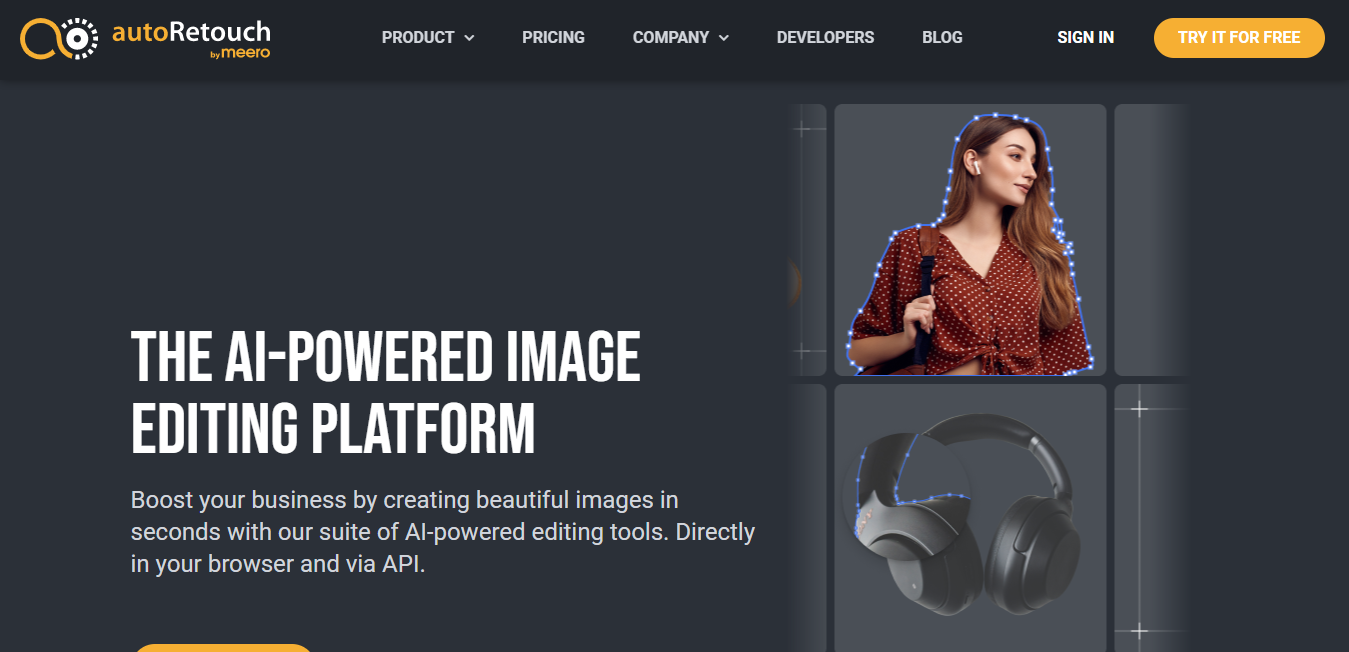 autoRetouch is a collection of AI photo tools to streamline workflows and process batch Photos editing of products.
autoRetouch Top Features
Custom Background
Skin Vector Paths
Ground Shadow
Crop Images
Crop Models' Faces
1. Custom Background
It helps you meet marketplace standards by adding a pure white or custom color, graphic, or image to your product images.
The tool also removes imperfections from your studio images with the use of AI without removing the backdrop
2. Skin Vector Paths
The AI tool streamlines advanced retouching techniques with high-quality, automatically generated clipping paths around your model's skin.
3. Ground Shadow
The tool adds depth and dimension to your product images by inserting an automated drop shadow under the feet.
5. Crop Images
Customizable, automatic image cropping makes it a breeze to focus on the important parts of your fashion, portrait, or product images.
6. Crop Models' Faces
The software removes everything above the lip from images featuring a model's full face.
autoRetouch Pricing & Plans
autoRetouch offers pay-as-you-go credit packages, and you can Contact the Sales Team for pricing Inquiries.
Conclusion
AI tools highlighted in this article are excellent options for anyone seeking to enhance their photo editing capabilities. It's important to choose a tool that suits your specific requirements, whether you're a professional photographer or a beginner looking to experiment with AI technology.
After thorough research and review, we have identified Luminar Neo as the best AI photo editing tool due to its extensive features, user-friendly interface, and affordable price point.
However, each of the ten tools mentioned in this article offers unique benefits, and users are encouraged to explore their options to determine which one works best for them.