At a Glance
Descript, Krisp, Adobe Podcast, Auphonic, Podcastle, Cleanvoice AI, AudioStrip, Altered AI, Audo Studio, and AI Mastering are the ten best AI tools for Audio Editing Tools in 2023 that can help you edit audio like a professional without any skill or expertise.
We have briefly introduced each AI tool with their top features and pricing plans so you can pick the right one that meets your unique needs.
Sound effects and audio enhance the visual elements of film, television, video games, music production, and other media.
Sound engineering is a highly-paid profession involving recording, mixing, television production, live concerts, and music. But, traditional audio editing programs have a complex interface with many controls and demand a certain level of expertise to master.
Fortunately, AI tools for audio editing offer simplified audio solutions. AI tools for audio editing use machine learning and advanced algorithms to analyze audio data and make adjustments.
AI-powered audio editing software is generally less expensive and can be accessed as free web applications.
In this article, we have highlighted the 10 Best AI Tools for Audio Editing in 2023 based on their merit and utility of features to help you edit and enhance the audio of your media.
1. Descript – Best AI Tool for Creating Audio File From Text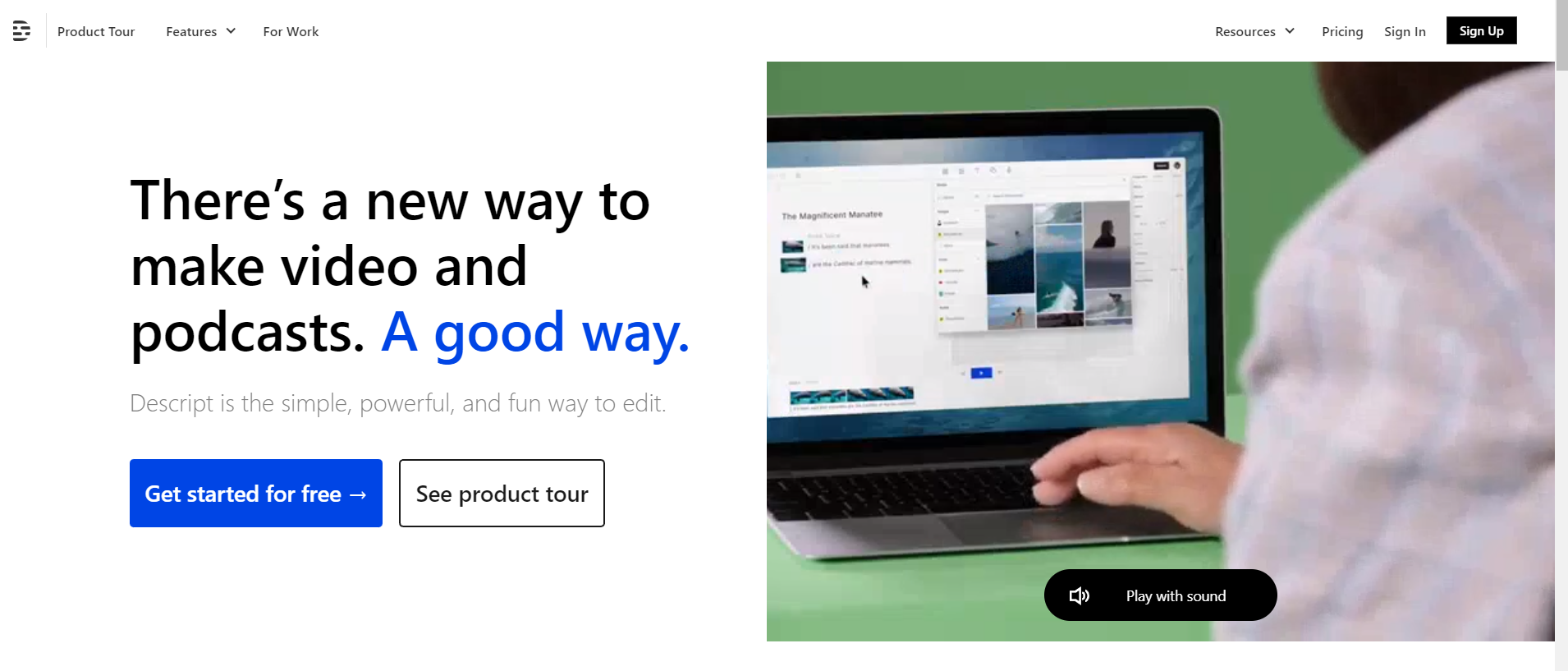 Descript uses artificial intelligence to make audio and video editing incredibly easy, efficient, and creative.
Its great AI features enable users to write, record, transcribe, overdub, edit, collaborate, and share content. Descript
Descript Top Features
Audio Video Transcription
AI Voice Cloning
Audio Enhancement
Multiple Track Editing
Project Export
1. Audio Video Transcription
Automatically transcribes audio and video files and lets you edit the transcription as a text document.
Users can delete, cut, and paste text to remove filler words, stutters, and mistakes.
2. AI Voice Cloning
Users can create an AI voice cloning and add words or sentences to the sound file by simply typing them into the transcript.
3. Audio Enhancement
It includes various audio enhancement tools, such as noise reduction, volume leveling, and speech enhancement.
4. Multiple Track Editing
Users can use the service of audio and screen recording in multiple tracks and edit them together in Descript.
5. Project Export
AI software also allows exporting your project to a timeline-based tool to make your final edits.
With this feature, you can easily transfer your project to any professional software: Adobe Audition, Adobe Premiere Pro, Apple Logic, Avid Pro Tools, and Final Cut Pro.
Descript Pricing & Plans
1. Free
Features:
The Free Plan includes 1-hour transcription/month, filler word removal, 1000 words vocabulary, and more.
2. Creator
Features:
The Creator Plan offers 10-hour transcription/month, Up to 60 minutes of Studio Sound File, and a Stock Library.
Price:
It costs $12/month.
3. Pro
Features:
The Pro Plan includes 30-hour transcription/month, unlimited studio sound files, and unlimited access to the stock library.
Price:
It costs $24/month.
2. Krisp – Best AI Tool for Enhancing Audio Calls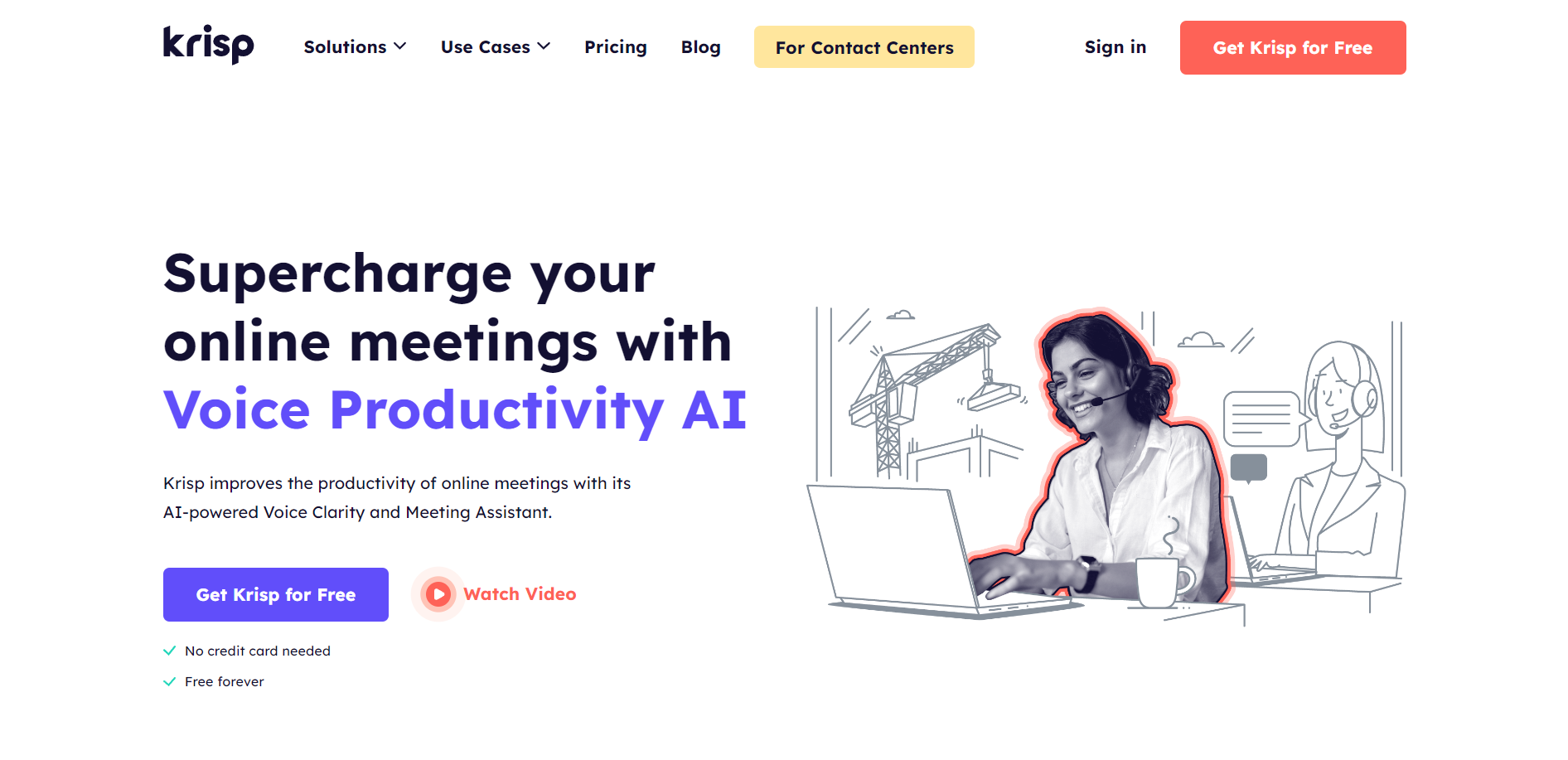 Krisp is a top AI noise cancellation app that removes static noise from audio calls, including voices, echoes, and other ambient sounds.
This app enhances the call experience and helps users confidently speak in business calls, meetings, and conferences.
Krisp Top Features
AI Noise Cancelling
Call Insights and Analytics
Team Version
1. AI Noise Cancelling
Krisp's AI technology removes background voices and ambient sounds from your calls, so you can focus on the conversation and avoid distractions.
A noise-canceling technology filters out all kinds of noises, including traffic, construction, and other environmental sounds.
It eliminates echoes from your audio calls, making your voice clear and easy to understand.
2. Call Insights and Analytics
It also provides call insights and analytics, including talk time and call summaries.
3. Team Version
Krisp also offers a team version of the app, allowing teams to communicate clearly and efficiently without distractions or interruptions.
Krisp Pricing & Plans
1. Free (
Includes 7-day Pro Trial

)
Features:
The Free plan includes Noise Cancellation, Background Voice Cancellation, Echo Cancellation, HD Voice, and 60 mins daily usage.
2. Pro
Features:
The Pro plan has all features of the Free plan plus; Unlimited HD Voice, Centralized user management, and Centralized billing.
Price:
It costs $8 per month/seat.
3. Business
Features:
The Business plan has all the previous plans' features and includes SSO, SCIM, Assisted security reviews, Centralized settings management, Linux & ChromeOS support, Admin insights, and Enterprise and call centers.
Price:
It costs $10 per month/seat.
4.
E
nterprise
Features:
It has all the features from the previous plans and includes API, Custom MSA support, Device-based authentication, and Virtual desktop infrastructure.
Price:
The Krisp Sales Team will give you a custom price based on your chosen features.
3. Adobe Podcast – Best AI Tool for Podcasting Audio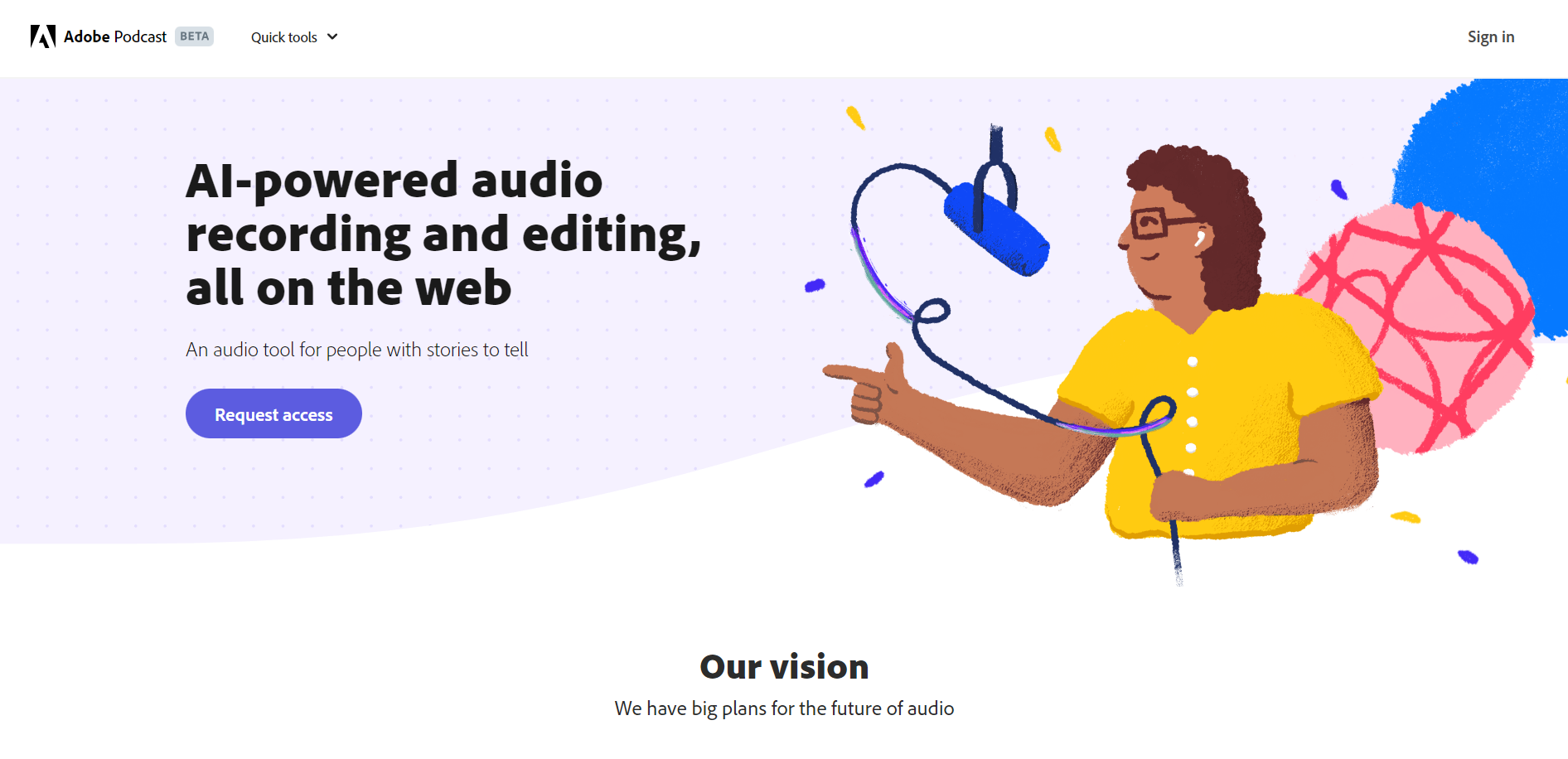 Adobe Podcast is an AI-powered audio recording and editing tool that is available on the web.
It is designed for people with stories to tell and who want to edit words, not waveforms.
The tool is powered by Adobe Premiere Pro's speech-to-text technology, making it simple yet effective to edit audio using a transcript.
Adobe Podcast Top Features
Remote Recording
AI Speech Enhancement
1. Remote Recording
You can take advantage of remote recording audio with others by sharing a link.
Everyone's audio is recorded locally in high quality. Then its audio tool automatically syncs it back together in the cloud.
2. AI Speech Enhancement
Adobe's Enhance Speech feature uses AI-based technology to increase clarity by removing ambient noise and sharpening your voice's frequencies to create professional podcasts.
Adobe Podcast Pricing & Plans
You can contact the Adobe Podcast sales team for quotes and pricing inquiries.
4. Auphonic – Best AI Tool to Edit Audio on a Phone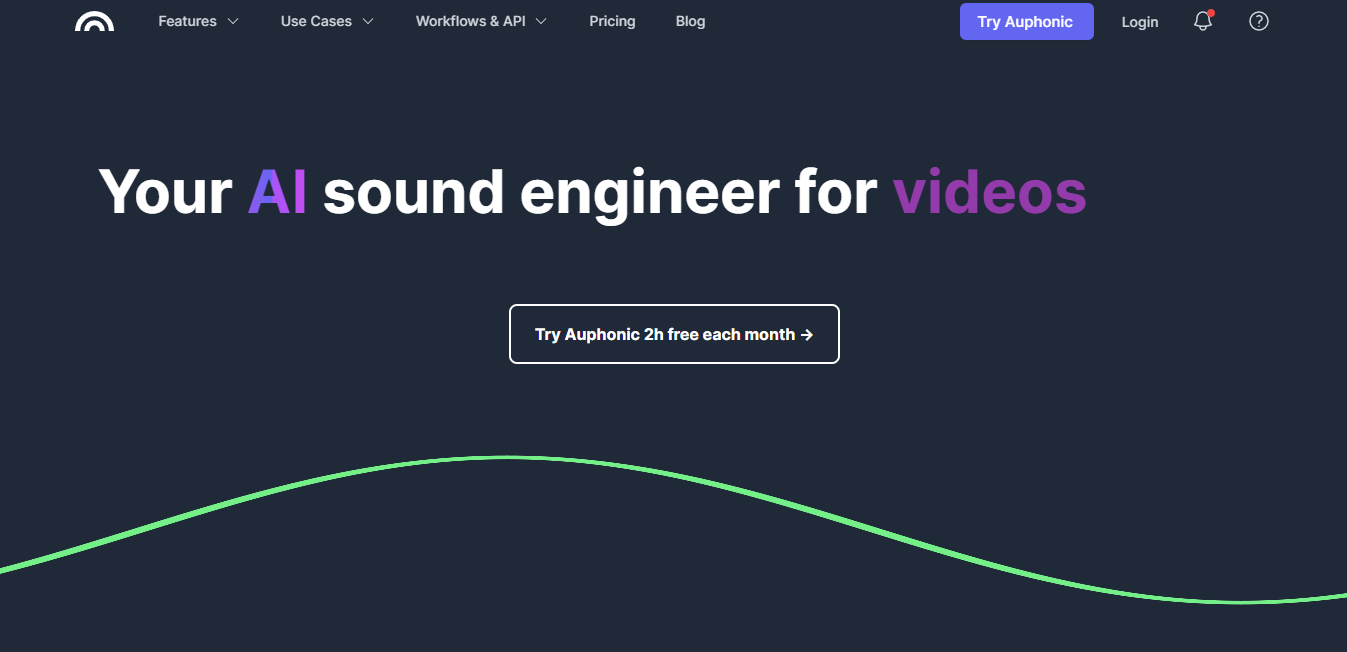 Auphonic is an advanced AI-based audio post-production tool that offers a range of features for improving the quality of audio recordings.
It is available as a desktop and mobile app for convenient use on the go.
Auphonic Top Features
Corrects Level Difference
Denoising
Multitrack Algorithm
AI Speech Recognition
1. Corrects Level Difference
Corrects level differences between speakers, music, and speech and applies dynamic range compression to achieve a balanced overall loudness.
2. Denoising
Denoise by eliminating ambient sounds from audio to get a clean speech file or remove static noises and dead air while keeping desired sounds like singing birds.
3. Multitrack Algorithm
Auphonic's multitrack algorithm processes individual and combined tracks, including speech tracks from multiple microphones, music tracks, and remote speakers via phone or Skype, to produce a balanced, high-quality final mixdown.
4. AI Speech Recognition
The automatic speech recognition feature makes audio files searchable and accessible to listeners, boosting the podcast's accessibility and search engine visibility.
Auphonic Pricing & Plans
1. Free
The Free plan allows you to edit 2 hours of audio with AI-based audio algorithms.
2. Recurring Credits Yearly
If you need to edit audio longer than 2 hours, you can buy subscriptions; $11 for 9 hours/month, $24 for 21 hours/month, $49 for 45 hours/month, and $99 for 100 hours/month. The amount is billed yearly.
3. One-Time Credits
If you want to use Auphonic just once for your project, you can buy One-Time Credits; $12 for 5 hours, $22 for 10 hours, $50 for 25 hours, $88 for 50 hours, and $100 for 150 hours.
5. Podcastle – Best AI Audio Editing Tool for Storytelling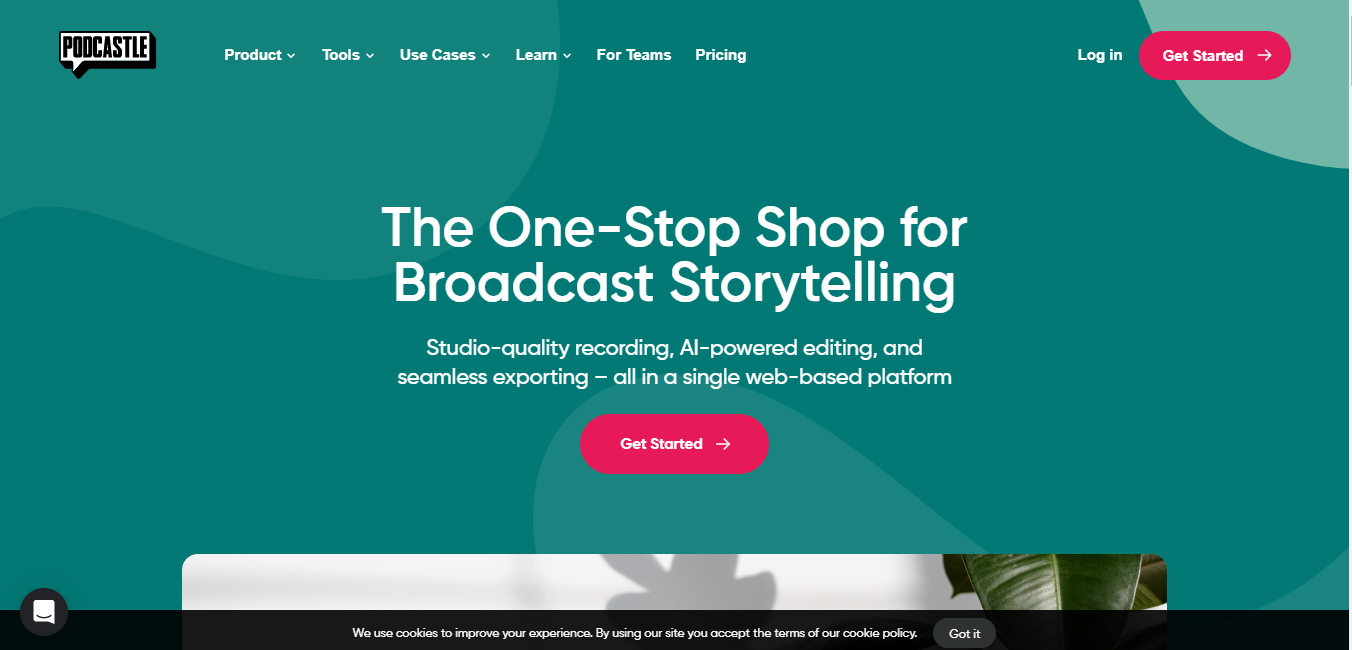 Podcastle is a comprehensive platform designed for broadcast storytelling that provides high-quality video and audio recording, AI editing, and seamless exporting in a single web-based platform.
The platform aims to simplify creating, editing, and publishing podcasts by offering a range of intuitive features.
Top Features
Remote Recording
Intuitive Digital Audio
Audio Enhancement
Re-voicing
1. Remote Recording
You can invite and record up to 10 guests through the Chrome browser or iOS app. Video interview recordings are provided to enhance and market podcasts.
2. Intuitive Digital Audio
Intuitive Digital Audio workstation is designed for podcasters to create, edit, and enhance content.
3. Audio Enhancement
The AI-powered audio enhancement allows users to eliminate ambient noise and optimize audio levels across all tracks with a single click.
3. Re-voicing
It has a generative AI technology that enables users to create a digital copy of their voice, providing a personalized touch to their podcasts.
You can also convert text into audio using high-quality, ultra-realistic stock voices.
Podcastle Pricing & Plans
1. Basic
Features:
It includes unlimited audio recording, 3 hours of video recording, 1-hour speech-to-text conversion, and text-to-speech 10K characters.
2. Storyteller
Features:
This plan includes unlimited audio recording, 8 hours of video recording, 10 hours of speech-to-text conversion, and text-to-speech 400K characters.
Price:
It costs $11/month.
3. Pro
Features:
The Pro plan has unlimited audio recording, 20 hours of video recording, 25 hours of speech-to-text conversion, and text-to-speech 1M characters.
Price:
It costs $23.99/month.
6. Cleanvoice AI – Best AI Tool for Editing Audio in Different Languages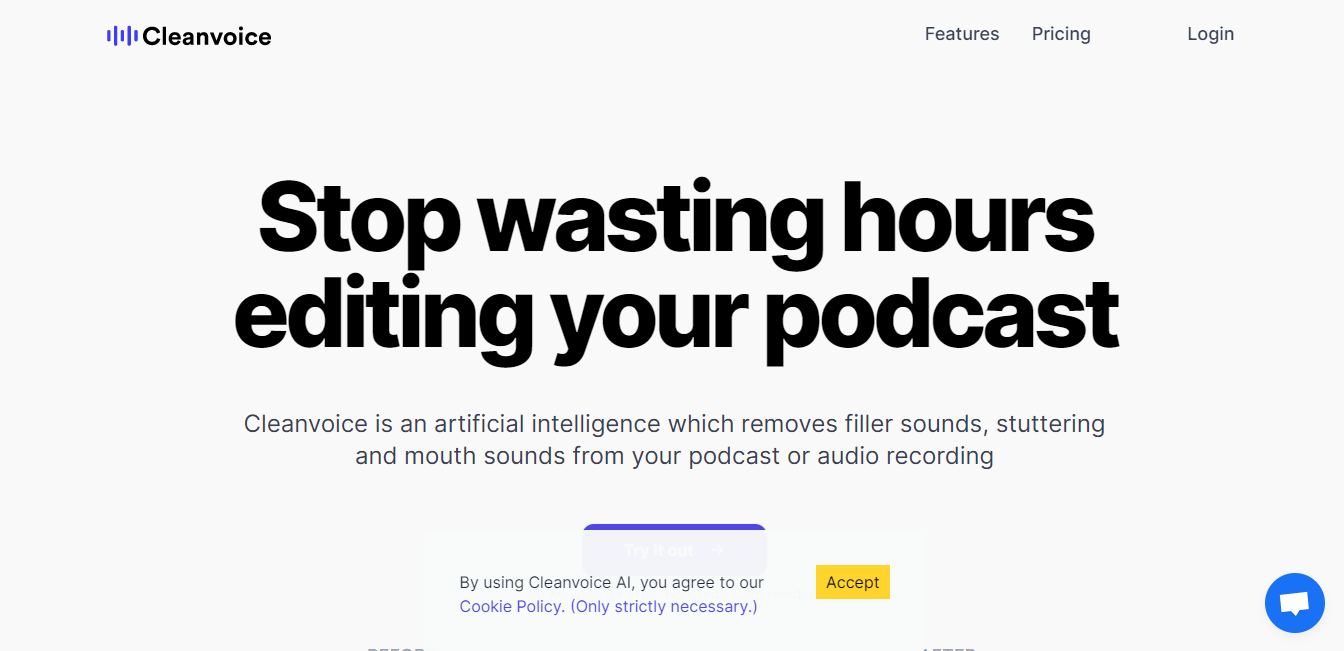 Cleanvoice is an AI-powered tool designed to assist podcasters and audio creators to edit their audio recordings by automatically removing unwanted sounds such as filler words, mouth sounds, stuttering, and long silences.
Cleanvoice AI Top Features
Multi-Language Filler Sounds Detection
Silence Removal
Integration
1. Multi-Language Filler Sounds Detection
Cleanvoice can detect and remove filler sounds in multiple languages, including German, French, Australian accents, Irish accents, and more.
You can upload your audio file of voiceovers, and Cleanvoice will identify and eliminate common-sounding voices, such as clicking and lip-smacking.
2. Silence Removal
Cleanvoice can identify and remove long periods of silence, helping to keep the podcast engaging for listeners.
3. Integration
Cleanvoice allows users to export their timelines to their preferred editing software while assisting with Cleanvoice's editing suggestions.
Cleanvoice Pricing & Plans
There are two ways of using Cleanvoice, which are as follows:
1. Subscription
$10.76 for 10 hours (Processed audio per month).
$26.91 for 30 hours (Processed audio per month).
$86.11 for 100 hours(Processed audio per month).
2. Pay As You Go
$10.76 for 5 hours of processed audio.
$19.37 for 10 hours of processed audio.
$43.05 for 30 hours of processed audio.
7. AudioStrip – Best AI Tool for Instrumental and Vocal Isolation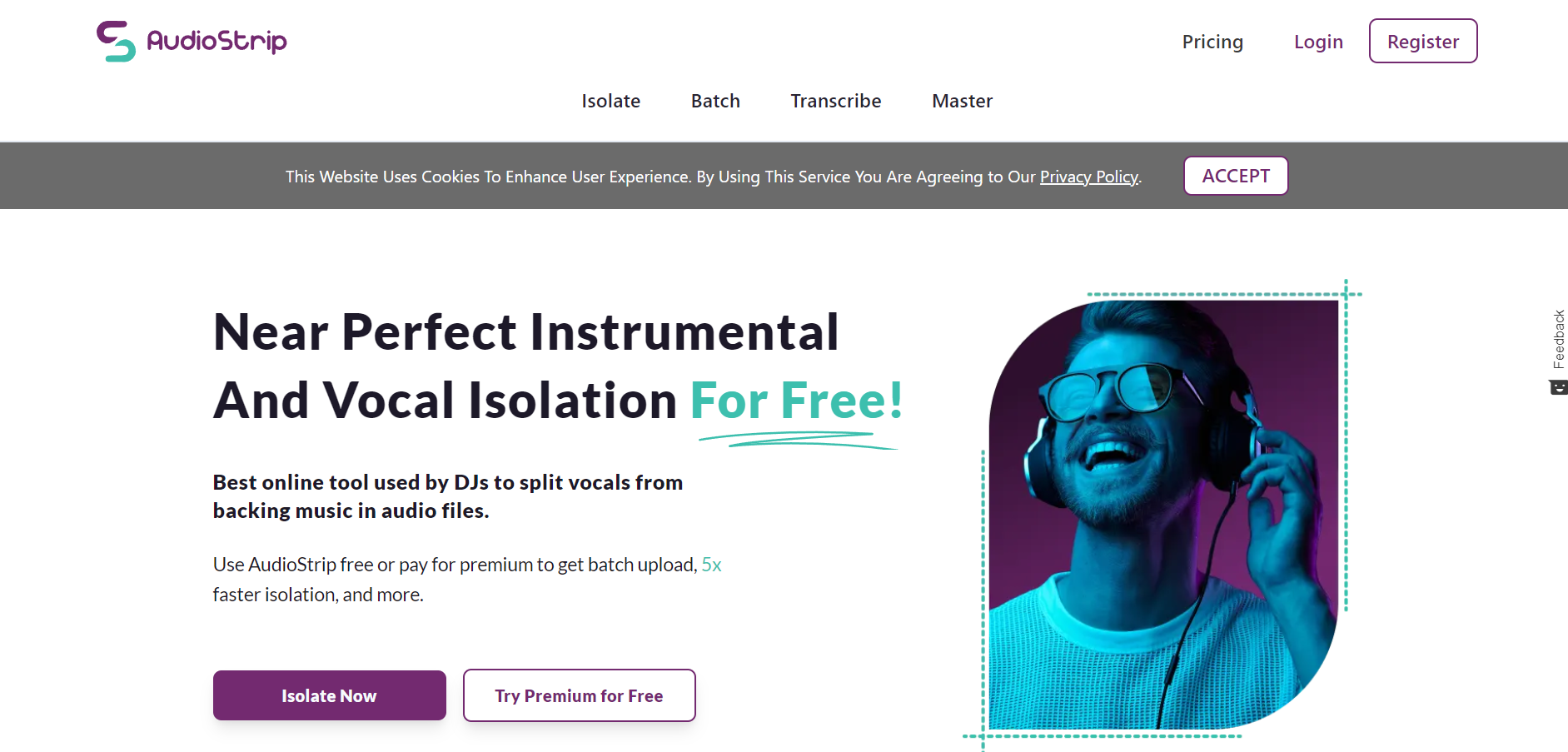 AudioStrip is an online tool for music lovers and producers to extract or remove vocals from songs, leaving only the instrumental part.
AudioStrip Top Features
Audistrip Batch
Audiostrip Transcribe
Audiostrip Mastering
1. Audiostrip Batch
It enables music producers to remove vocals from instrumentals on any song.
With this tool, you can isolate vocals and instrumentals from multiple audio files simultaneously, making it easier to create remixes or use the instrumental version of a song for your projects.
2. AudioStrip Transcribe
It transcribes the musical score from any song for free.
Upload your song, and AudioStrip Transcribe will automatically transcribe the instruments, outputting the detected musical score as MIDI.
This feature is incredibly useful for musicians and producers who want to save time and effort by not having to manually figure out a song's note progression or drum beat.
3. AudioStrip Mastering
It allows music producers to quickly master their tracks using the latest audio algorithms.
With this tool, you can upload your unmastered track, along with a target song that you want it to sound like. AudioStrip Mastering will then automatically master your song at the touch of a button, saving you hours of effort that would otherwise be spent manually mastering your tracks.
Audiostrip Pricing & Plans
1. Free Plan
Features:
The Free Plan offers 3 Isolations per Month (per algorithm), 3 Masters per Month, 3 Transcriptions per Month, 15-60 mins Isolation Speed, and MP3 Output Format.
2. Premium Plan
Features:
The Premium Plan has Faster Run Times, Unlimited Extractions, WAV Extractions Preview, Unlimited Use of AudioStrip Batch, Unlimited Transcriptions, and Unlimited AI Masters.
Price:
It costs £3.99/month.
8. Altered Studio – Best AI Tool to Augment Your Voice
Altered AI is an advanced audio editing app incorporating various Voice AI technologies, enabling users to create professional-quality voice performances.
It can be used online or locally on Windows and Mac operating systems.
Altered Studio Top Features
 AI Voice Editor
 Online Audio Edit
 Transcribe, add Voice-Over, and Translate
 AI Custom Voices
 Voice Augmentation
1. AI Voice Editor
Altered Voice Editor is an AI-powered voice editing tool that lets users perform various audio editing tasks without being experts.
It is specially designed for voice recordings and packed with AI tools to boost productivity and creativity.
2. Online Audio Edit
With Altered AI, users can edit audio files online without downloading or installing any software.
It is a web-based app you can access anywhere and on any device.
3. Transcribe, add Voice-Over, and Translate
Altered AI provides tools to transcribe audio files, add voice-overs with text-to-speech, and translate them into various languages using major voice AI providers.
Users can experiment quickly and dub their videos or podcasts in multiple languages.
4. AI Custom Voices
With Altered AI, users can create custom voices to suit their project's needs. They can create a captivating voice, the voice of a famous actor, a friend, or a grandparent. They can even create their voice at a younger age, even as a child.
5. Voice Augmentation
Altered AI's unique technology allows users to change their voice to any carefully curated portfolio or custom voice and create compelling professional voice performances.
Users can augment their voices and create impressive audio recordings to impress the audience.
Altered Studio Pricing & Plans
1. Creator (Online Plan, Free Trial Available)
Features:
It has Speech-To-Speech Morphing (up to 60 mins per Month), 6 Professional Voices, 50 Common Voices, Flexi Voice Models, Timbre Voice Models, Voice Morph Controls, Text-To-Speech (up to 240K chars), Speech-To-Text Transcription, and Text-To-Text Translation.
Price:
It costs $65/Month.
2. Professional (Desktop & Online Plan)
Features:
It offers everything in the Creator plan and has Speech-To-Speech Morphing (up to 180 mins), 20 Professional Voices, 150 Common Voices, and customer support.
Price:
It costs $200/Month.
3. Enterprise (On-premise Desktop Online Plan)
Features:
Everything in Professional plus; Unlimited Speech-To-Speech Morphing, Custom Voices, Rapid Voice Cloning, and more.
Price:
You can contact the Altered Studio sales team for quotes and pricing inquiries.
9. Audo Studio – Best AI Tool for Cleaning and Enhancing Audio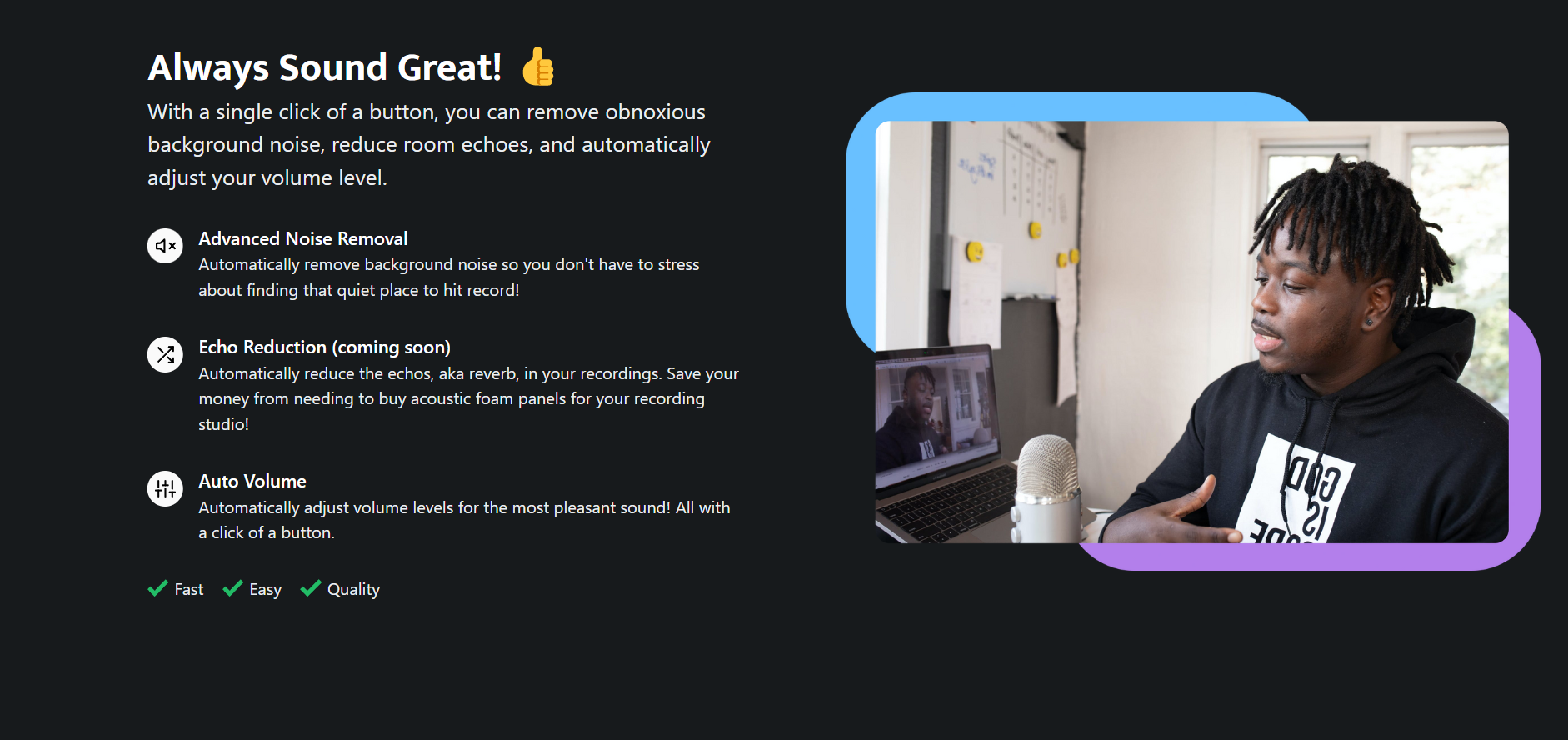 Audo Studio is an advanced audio processing and editing tool that simplifies cleaning and enhancing audio recordings.
With its cutting-edge artificial intelligence and audio processing algorithms, the Audo Studio can quickly and easily remove background noise, reduce room echoes, and adjust volume levels to produce high-quality audio recordings.
Audo Top Features
One Click Audio Cleaning
Advanced Noise Removal
Echo Reduction
Auto Volume
1. One-Click Audio Cleaning
With Audo Studio's One Click Audio Cleaning feature, users can remove background noise and enhance their speech with the latest advancements in audio processing and AI.
2. Advanced Noise Removal
This feature relieves users of finding a quiet recording location and ensures their recordings are clear and high-quality.
3. Echo Reduction
Its Echo Reduction feature allows users to automatically reduce echoes, also known as reverb, in their recordings.
This feature eliminates the need for users to purchase expensive acoustic foam panels for their recording studios, saving them money and hassle.
4. Auto Volume
Audo Studio's Auto Volume feature automatically adjusts volume levels for the most pleasant sound.
With just a click of a button, users can ensure that their audio recordings are balanced and easy to listen to.
Audo Studio Pricing & Plans
1. Starter (Free)
Features:
It offers Noise Removal, Dereverberation (coming soon), Auto Volume, and 20 minutes of audio enhancement per month.
2. Creator
Features:
This plan includes everything included in the Starter plan, and it offers 600 minutes of audio enhancements per month.
Price:
It costs $12/month.
3. Pay As You Go
Features:
It offers 600 additional minutes on top of your Starter or Creator monthly minutes.
Price:
One-time payment of $20 for 600 minutes of audio enhancements.
10. AI Mastering – Best AI Tool for Mastering Audio
AI Mastering is a powerful tool that helps automatically improve your music's sound quality.
It offers a range of features that make it easy to use and customize, allowing you to focus on your music.
AI Mastering Top Feature
User Friendly
Improves Sound Quality Automatically
Loudness and Dynamic Range
Mastering Level Customization
Output Format Customization
1. User Friendly
AI Mastering is designed to be user-friendly and easy to use. With its drag-and-drop UI, you can drag and drop your music files to start the mastering process. You can also customize the settings to suit your preferences.
2. Improves Sound Quality Automatically
It uses advanced artificial intelligence algorithms to improve the sound quality of your music.
It can bring the sound quality closer to commercial music, giving your music a professional sound.
3. Loudness and Dynamic Range
With its powerful limiter, AI Mastering can balance your music's loudness and dynamic range. This helps to create a more balanced and polished sound.
4. Mastering Level Customization
You can customize the mastering level of your music to control the overall volume and impact of your music.
5. Output Format Customization
AI Mastering supports various output formats, including WAV, MP3, and FLAC. You can choose the format that best suits your needs.
AI Mastering Pricing & Plans
AI Mastering offers free mastering online for the first 2700+ users after its first launch.