At a Glance
NewsAPI, Connexun, Ject.AI, Vetted, Hunter.io, Quillbot, TinyEye, and ChatGPT are the best AI tools for journalists to efficiently gather and analyze large amounts of data, as well as automate certain tasks such as fact-checking and language translation.
These AI tools can also assist in identifying potential sources and generating new ideas for stories, ultimately helping to enhance the overall quality and accuracy of journalistic reporting.
The proliferation of digital news media has led to an explosion in the daily volume of news articles. This creates a significant challenge for journalists and news consumers.
With millions of articles being written and published daily, it can be extremely difficult to sift through this massive volume of information and identify the most relevant and important news items.
As technology evolves, AI has become an increasingly important tool for media persons. From identifying trends to fact-checking, AI can assist reporters in various ways to produce accurate, high-quality journalism.
Here are the eight best AI-driven tools to help journalists find and authenticate news and perform other professional duties in the news industry.
1. News API – Best AI Tool for Researching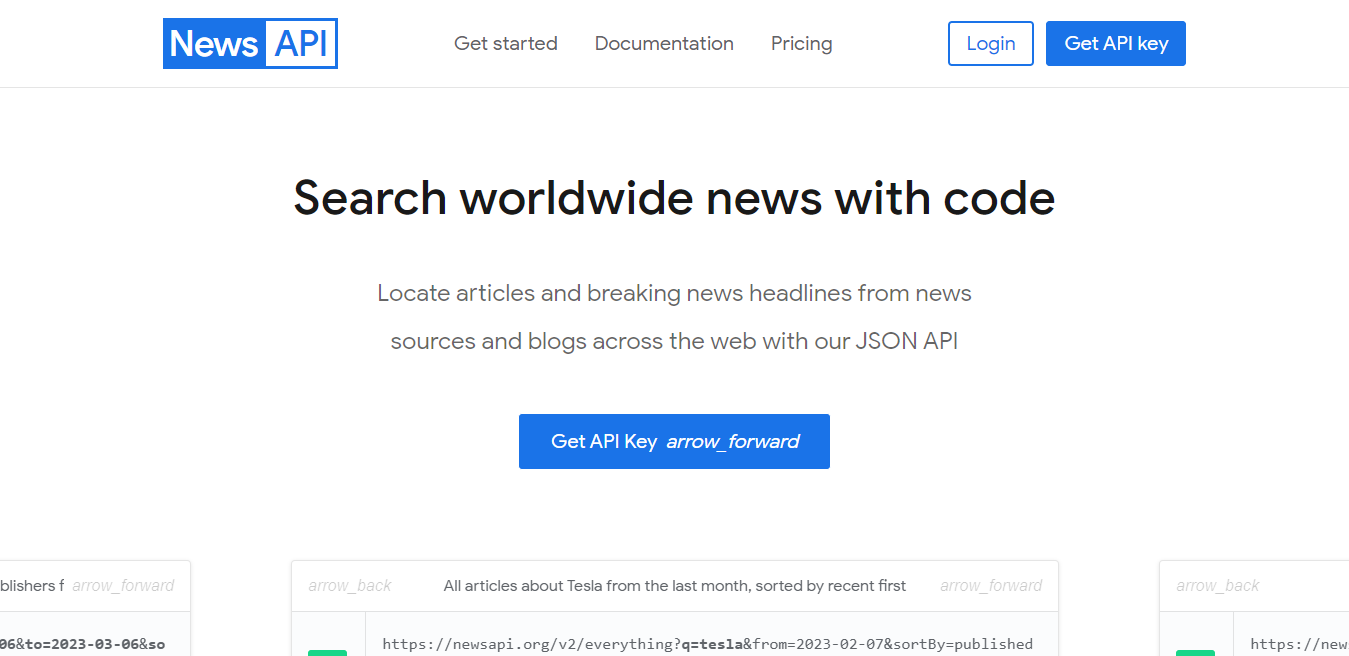 News API is a web service that provides access to news articles and headlines from various sources, including major news organizations, blogs, and other news-related websites.
The service is offered through a REST API, which allows developers to easily integrate news content into their applications or websites.
With NewsAPI, developers can request HTTP to retrieve articles and headlines based on certain search criteria, such as keywords, date ranges, and sources.
The API returns the search results in JSON format, a lightweight data-interchange format that is easy for computers to parse and generate.
News API Key Features
Worldwide Coverage

Simple Integration
Free Development
Powerful Search and Filter Options
1. Worldwide Coverage
News API has access to hundreds of millions of articles in 14 languages from 55 countries, making it a globally comprehensive news source with multilingual support.
2. Simple Integration
This feature allows for easy use and integration with the availability of SDKs, making it easy to incorporate into any project.
3. Free Development
This feature offers a development trial with no credit card required, making it accessible and affordable for developers to test and integrate into their projects.
4. Powerful Search and Filter Options
News API provides powerful search and filter options that enable users to retrieve specific news articles by author, keyword, source, or date. This feature enhances the accuracy and relevance of search results, allowing users to quickly find the information they need.
News API Pricing & Plans
1. Developer Plan
Features:
This plan is for all development and testing of personal or commercial projects. It offers features like searching all articles and getting top live headlines, articles available with a 24-hour delay, search articles up to a month old, and CORS enabled for localhost.
Price:
This plan is free of cost.
2. Business Plan
Features:
This plan is for production and published commercial projects. This offer has features like searching all articles and getting top live headlines, new articles available in real-time, search articles up to 5 years old, and CORS enabled for all origins.
Price:
This plan costs $449 per month, which is billed monthly.
3. Advanced Plan
Features:
This plan is for large enterprise projects that require exceptional resources and support. It offers features like 2,000,000 requests per month included, $0.0009 per extra request, Premium email and phone support, and Search all articles and get top live headlines.
Price:
This plan costs $1749 per month, which is billed monthly.
2. Connexun – Best AI Tool for Sourcing News from Around the World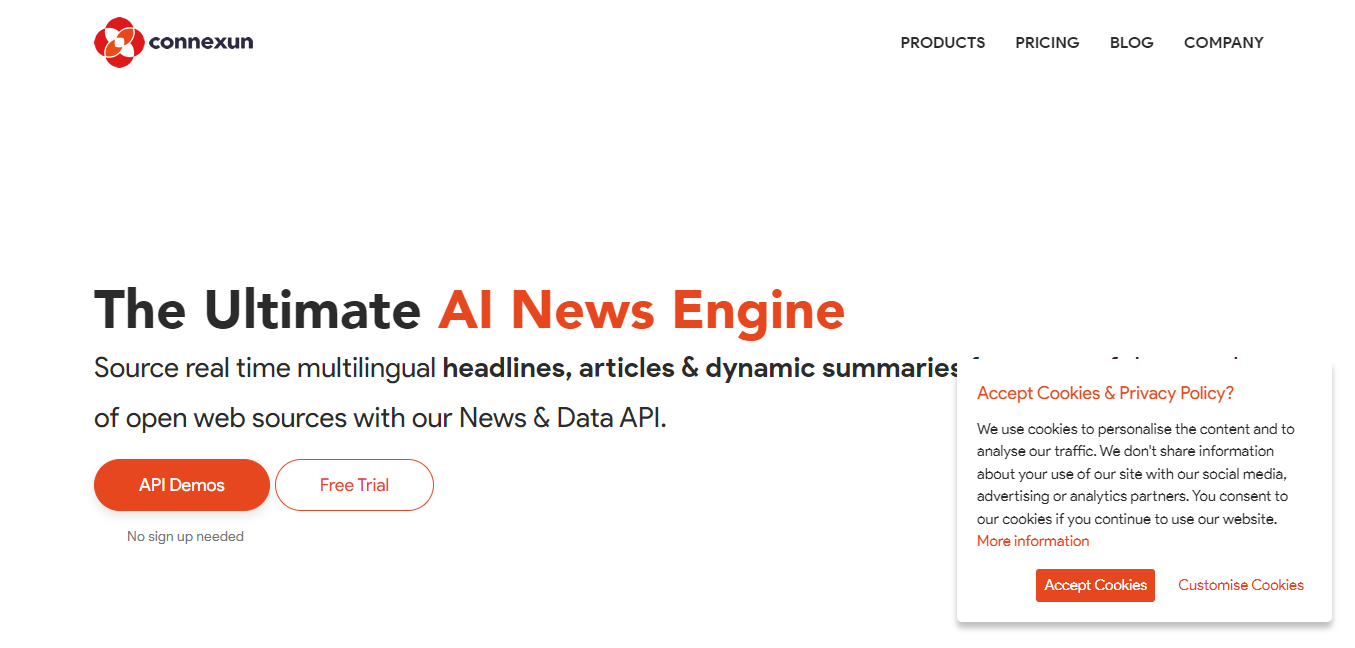 Connexun is a powerful software that functions as the Ultimate AI News Engine, caters to journalistic needs, and can be a valuable news outlet's assistant.
It can source real-time multilingual headlines, articles, and dynamic summaries from tens of thousands of open web sources through its News & Google API.
With its advanced technology, Connexun provides users with a comprehensive and up-to-date overview of the latest news and events in various industries and regions across the globe by classifying information.
Whether you're a news organization, a business, or an individual seeking to stay informed, Connexun is an invaluable tool to help you stay on top of the latest developments.
Connexun Top Features
News Analysis
Text Analysis API
Endpoint Research
1. News Analysis
Connexun's proprietary AI engine Natural Language Processing (NLP) NewsAPI, powers your news analysis.
2. Text Analysis API
Connexun's Text Analysis API leverages its NLP engine to help users perform NLP tasks on large amounts of online news content.
This enables efficient analysis of textual data for businesses and individuals.
3. Endpoint Research
Entity extraction endpoints enable content monitoring based on specific parameters, such as location, topic, name, and expression.
Connexun Pricing & Plans
1. Basic Plan
Features:
This plan is for individuals who want to get started quickly. It offers a 10000/month quota with two requests per second,
Price:
This plan costs $9.99/month.
2. Developer Plan
Features:
This plan is suitable for professionals who require more volume for their applications. It offers a 25000/month quota with five requests per second. 
Price:
This plan costs $19.99/month.
3. Pro Plan
Features:
This plan is suitable for professionals who work on large-scale applications. It offers a 40000/month quota with five requests per second. 
Price:
It costs $29.99/month.
3. Ject.AI – Best AI Tool for Creating Fresh News Content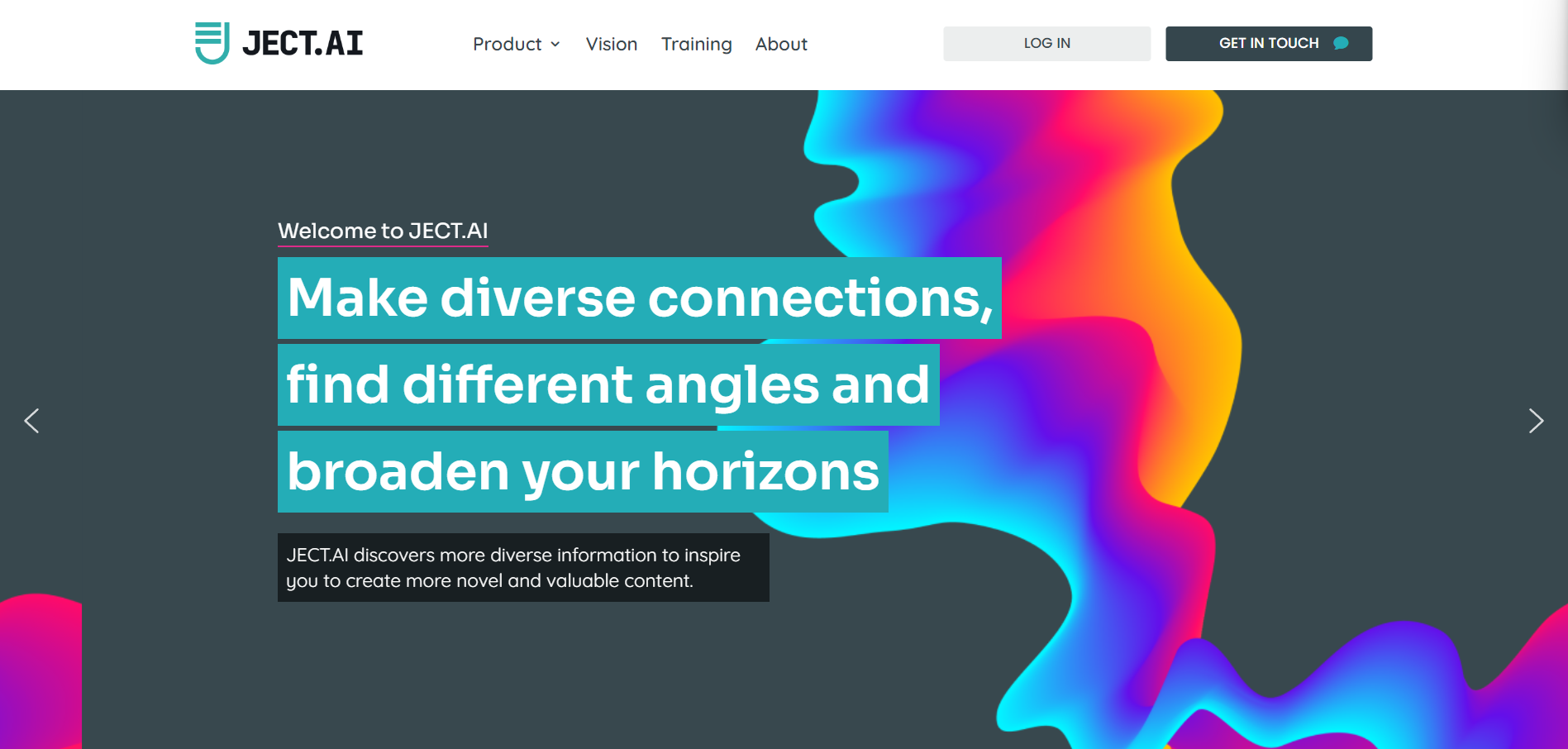 Ject.ai is a software that provides an innovative solution for creating fresh content more efficiently and cost-effectively.
Its smart algorithms and interactive features enable users to discover new angles, voices, and ranges while staying in control of the creative process.
This feature is a valuable tool for businesses and individuals who must produce unique and engaging content regularly, making it an excellent AI platform for journalism.
Ject.AI Top Features
Diverse Perspective 
Global Platform Of experts
Web App
CUE Plug-in
1. Diverse Perspective:
The software helps users generate new story ideas and angles easily and quickly.
Users can employ various strategies to discover related but different content and explore new angles on stories more efficiently, enabling them to access diverse perspectives and stay informed.
2. Global Platform Of Experts
Ject.AI offers a global platform of experts, journalists, and influential people sorted by their areas of expertise.
The platform is constantly updated in real-time, and journalists can discover global news outside their filter bubbles.
3. Web App
Ject.AI provides a web app that delivers tailored guidance to help users achieve insightful results.
4. Cue Plug-in
Ject.AI's CUE plug-in offers a seamless integration solution that enables users to utilize its features within their existing CMS (Content Management System).
This allows users to access and utilize Ject.AI's features without switching to a separate platform, providing a more streamlined workflow.
Ject.AI Pricing & Plans
You can contact Ject.AI Sales Team for a quote.
4. Vetted – Best AI Tool for Finding Verified Sources and File Stories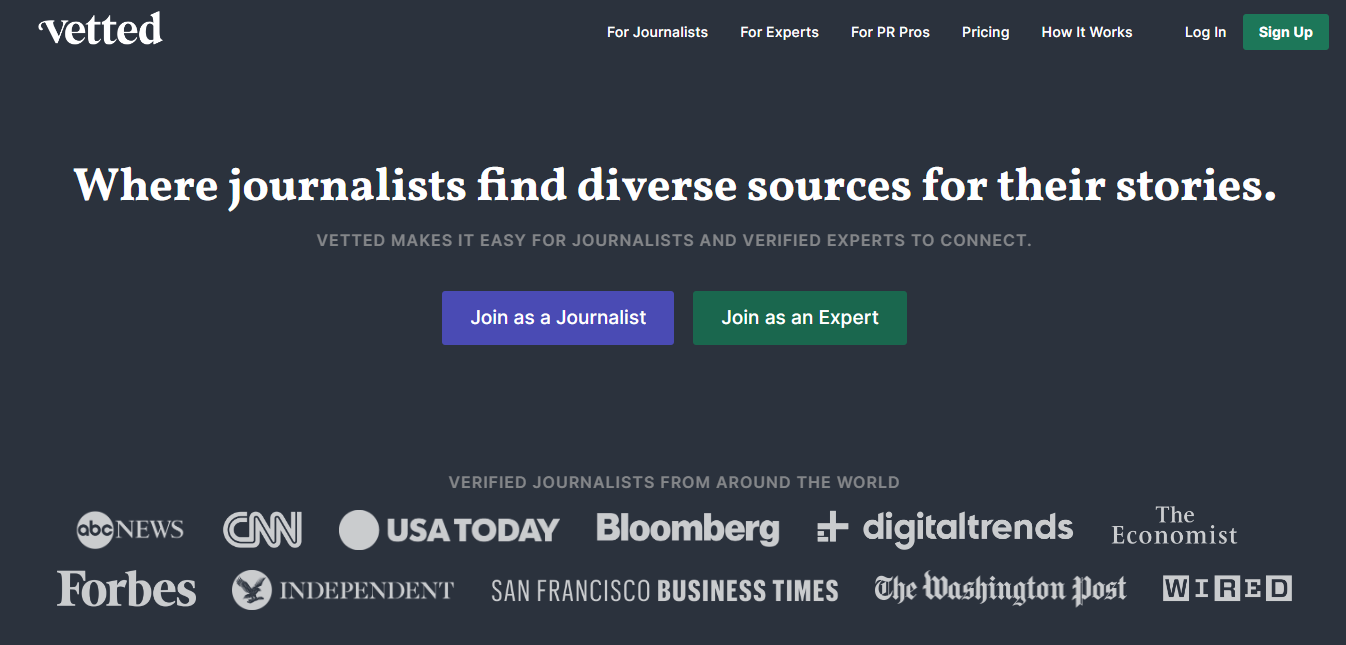 Vetted is a software that helps users find verified sources and file stories faster.
The software allows media persons to search for references by industry, expertise, gender, and more. It is used by well-known media outlets such as Forbes, ABC News, USA Today, Bloomberg, The Economist, Business Insider, The Washington Post, and Wired.
Vetted Key Features & Benefits
A Reliable Source
Privacy
1. A Reliable Source
Media people use Vetted to search for specific experts for their stories.
The software allows investigators to send messages to experts through secured emails.
It is a valuable tool for newsmen who need to quickly and easily find and contact reliable sources for their articles.
2. Privacy
The software enables media persons to find sources for their stories without being pitched. In addition, it uses masked contact information to protect privacy.
Vetted Pricing & Plans
Vetted doesn't charge subscription fees. However, once verified, you only pay when you get quoted.
1. One-Time
Verification Fee: $79.
2. U.S. Regional
Price: $350/article.
3. Industry-Specific
Price: $400/article.
4. U.S. National
Price: $500/article.
5. International
Price: $600/article.
5. Hunter.io – Best AI Tool for Investigative Journalists
Hunter.io is a web-based email finder tool that lets you find email addresses associated with a specific domain, company, or individual.
The tool leverages artificial intelligence and web scraping techniques to search through various sources, such as social media, public directories, and web pages, to identify email addresses associated with the target domain or individual.
This AI-based email finder is the best tool for investigative journalists.
Hunter.io Top Features
Email Verification
Pitching
Integration
1. Email Verification
People related to journalism often receive emails from sources, but it cannot be easy to verify whether the email address is legitimate.
Hunter.io can be used to verify the validity and deliverability of an email address, which can help ensure that they are communicating with the right person.
2. Pitching
Hunter.io can also be used to find the email addresses of media outlets, editors, and professionals related to journalism, which can help send pitches and press releases.
3. Integration
Its integration with LinkedIn can provide additional information about these professionals, such as their current job titles and company affiliation.
Hunter.io Pricing & Plans
1. Free
Features:
It features 25 monthly searches, 50 monthly verifications, and 1 Email Account.
Price:
This plan is free of cost.
2. Starter
Features:
This plan includes 500 monthly searches, 1000 monthly verifications, Email Accounts 5, domain searches, and more.
Price:
It costs $49/month.
3. Growth
Features:
It includes 2500 monthly searches, 5000 monthly verifications, Email Accounts 10, domain search, CSV exports, and more.
Price:
It costs $99/month.
4. Pro
Features:
This plan includes 10000 monthly searches, 20000 monthly verifications, 20 Email Accounts, and more.
Price:
It costs $199/month.
5. Business
Features:
It includes 30000 monthly searches, 60000 monthly verifications, Email Accounts 40, and more.
Price:
It costs $399/month.
6. Quillbot – Best AI Tool for General Writing
Quillbot is a web-based tool used by anyone who thinks their general writing needs improvement.
It is the best AI content software that can be used for a wide range of use cases that involve writing essays, articles, blog posts, and much more.
The software can be especially useful for students, business professionals, and content creators who want to write more effectively and efficiently.
In addition, Quillbot's AI-powered natural language processing can help users to speed up the writing process.
Quillbot Top Features
Paraphrasing
Grammar Correction
Tone and Style
Content Generation
Templates
1. Paraphrasing
It is a paraphrasing tool. It can rephrase sentences, paragraphs, and documents to fine-tune the writing style.
For example, it rewrites a given section with new words. It also allows you to select the degree of change in vocabulary.
You can also summarize long-form content and also lengthen short paragraphs.
2. Grammar Correction
It helps you analyze text and provide suggestions for grammar, style, and readability.
3. Tone and Style
It has multiple speech styles. It asks you to select a type and writes your content in a given style.
These styles include standard, fluent, formal, simple, and creative.
4. Content Generation
Quillbot can generate new and relevant content based on a given topic. It helps users develop ideas for blog posts, articles, and more, making it a great tool for journalists and writers.
5. Templates
The software includes pre-written templates and snippets that can be used to create common types of content like emails, blogs, and local news items.
6. Integration
You can integrate it with Microsoft Word and Google Docs. Additionally, it can be added to a Chrome browser as an extension.
Quillbot Pricing & Plans
1. Free
Features:
This plan offers 125 words in the Paraphraser, Standard, and Fluency modes, three synonym options, 1 Freeze word or phrase, and 1200 words in the summarize.
Price:
This plan is free of cost. You don't need to provide your credit card information.
2. Premium
Features:
It includes unlimited words in the paraphraser, standard, fluency, expand, shorten, formal, simple, and creative modes, four synonym options, unlimited freeze words and phrases, 6000 words in the summarizer, and more.
Price:
It costs $9.95/month.
7. TinyEye – Best AI Tool for Images Recognition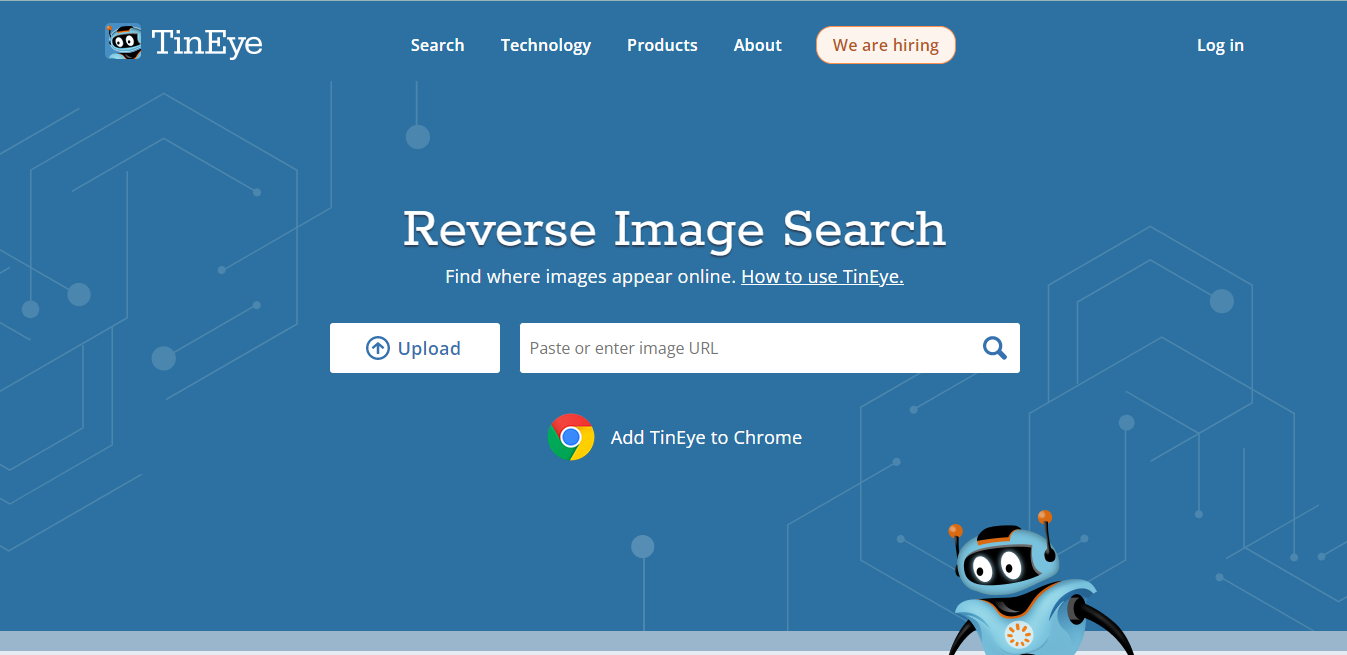 TinEye is a software that provides advanced image search solutions using computer vision and image recognition technology.
The software offers a range of APIs and solutions that can help users locate images and find relevant information, regardless of the size or scope of their search.
TinyEye Top Features
Reverse Image Search Functionality
Authentication
Image Recognition
1. Reverse Image Search Functionality
TinEye's reverse image search functionality identifies the origin of an image, tracks its usage across the internet, and detects any unauthorized use. This can be particularly useful when verifying the authenticity of a photograph or a screenshot shared on social media.
2. Authentication
With the rise of social media, news outlets often rely on user-generated content for their stories. TinEye can help verify the authenticity of such content by cross-referencing it with other sources to check for discrepancies.
3. Image Recognition
TinEye's image recognition technology can track patterns and insights in visual data enabling journalists to identify trends and uncover hidden connections and emerging new stories.
TinyEye Pricing & Plans
It doesn't cost a monthly fee. You buy the searches you need for your project.
1. Starter
5000 searches
Pricing
$200.
2. Basic
10,000 searches
Pricing
$300.
3. Corporate
50,000 searches
Pricing
$1000.
4. Enterprise
1,000,000 searches
Pricing
$10,000.
8. ChatGPT – Best AI Tool for Writing News Articles
ChatGPT is a versatile tool for journalists to generate article ideas, fact-check statements, translate languages, summarize lengthy reports, and generate interview questions.
It saves time, improves accuracy, and provides inspiration based on various prompts or topics.
However, it should be noted that ChatGPT is not a replacement for human judgment or critical thinking, and a human must always verify their output.
Chatgpt Top Features
Finding Answers
Fact-Checking
Language Translation
Summarizing Long Stories
1. Finding Answers
Media professionals can ask ChatGPT questions about their beat, and the model can provide suggestions for potential stories.
2. Fact-Checking
You can use ChatGPT to fact-check information quickly and accurately.
3. Language Translation
ChatGPT can translate text from one language to another, which can be useful for journalists who are reporting on stories in foreign countries or need to read articles or documents in a different language.
4. Summarizing Long Stories
You can use it to summarize lengthy articles or reports quickly and efficiently.
This can be helpful for journalists who need to read a lot of information quickly to gather the most important details.
Chatgpt Pricing & Plan
1. Free
Available when demand is low, standard response time, and regular model updates.
2. Plus
Available even when demand is high, faster response speed, and priority access to new features.
In summary, AI tools help correspondents to sift through large volumes of news to identify the most relevant information.
By automating repetitive tasks, analyzing large volumes of data, and personalizing news feeds, AI tools can help journalists to augment their research.
As a result, work more efficiently, stay on top of breaking news, and produce more informed and engaging content.