At a Glance
Turing, Manatal, Hiredscore, Zoho, Fetcher, HireVue, and Entelo are the best AI tools for hiring that will help diversify your pipeline by making your hiring process quick, smart, seamless, and cost-effective.
Resume Screening, Skill and Personality Assessments, Video Interviews, Predictive Analytics, and Chatbots are some of the key AI features used in talent acquisition tools.
Using AI recruiting softwares has several benefits, including improved efficiency, enhanced candidate matching, increased diversity and inclusion, better candidate experience, data-driven decision making, and an unbiased hiring process.
Recruiting is a complicated process that requires a significant amount of time and effort. As a result, it is more challenging, particularly for small businesses without dedicated HR staff.
Finding the right candidates can be difficult. There is fierce competition for the best talent for in-demand roles. In addition, the cost of recruitment can vary widely, including advertising costs for posting job ads.
AI can rate a recruit by analyzing data from resumes, applications, assessments, and other sources using machine learning algorithms. It improves the quality of matches between candidates and job openings, enhancing the recruitment process's overall efficiency.
In this article, I have compiled a list of the best AI tools for hiring in 2023 that help recruiting and talent acquisition by automating certain tasks.
First, let us briefly examine AI's general features for recruiting platforms that use AI to determine the best job seeker from a shared talent pool.
AI Recruiting Tools Features
You must consider the following features while selecting any AI recruiting platform to pick the one that suits your needs.
1. Resume Screening
AI-powered resume screening tools that can help quickly analyze resumes and filter out the most qualified candidates based on keywords, education, experience, and other criteria.
This can save recruiting teams a lot of time and effort in screening large numbers of resumes.
2. Skill and Personality Assessments
AI talent acquisition assessments can evaluate candidates' skills and personality traits by analyzing their responses to questions and scenarios.
This can provide more objective and standardized insights into a candidate's fit for a specific role.
3. Video Interviews
AI-powered video interview tools can also enable recruiters and hiring managers to analyze candidates' body language.
For example, they can analyze facial expressions, tone of voice, and body language to provide insights into their communication skills, confidence, and overall suitability for the role.
4. Predictive Analytics
AI and machine learning help with predictive analytics. This feature analyzes data from past hiring processes and employee performance to identify patterns and predict future hires' success.
This can help recruiters make more informed hiring decisions and reduce the risk of hiring the wrong candidate.
5. Chatbots
AI-powered chatbots can assist with initial candidate screening, answer frequently asked questions, and provide a more efficient and engaging candidate experience.
AI tools can help streamline and improve the hiring process, leading to more successful hires and a more efficient recruitment process.
Best AI Recruiting Software in 2023
Following is the list of the best AI software with salient features to enable you to choose the top AI recruiting solution according to your company's requirements.
1. Turing – Best AI Tool to Find Vetted Talent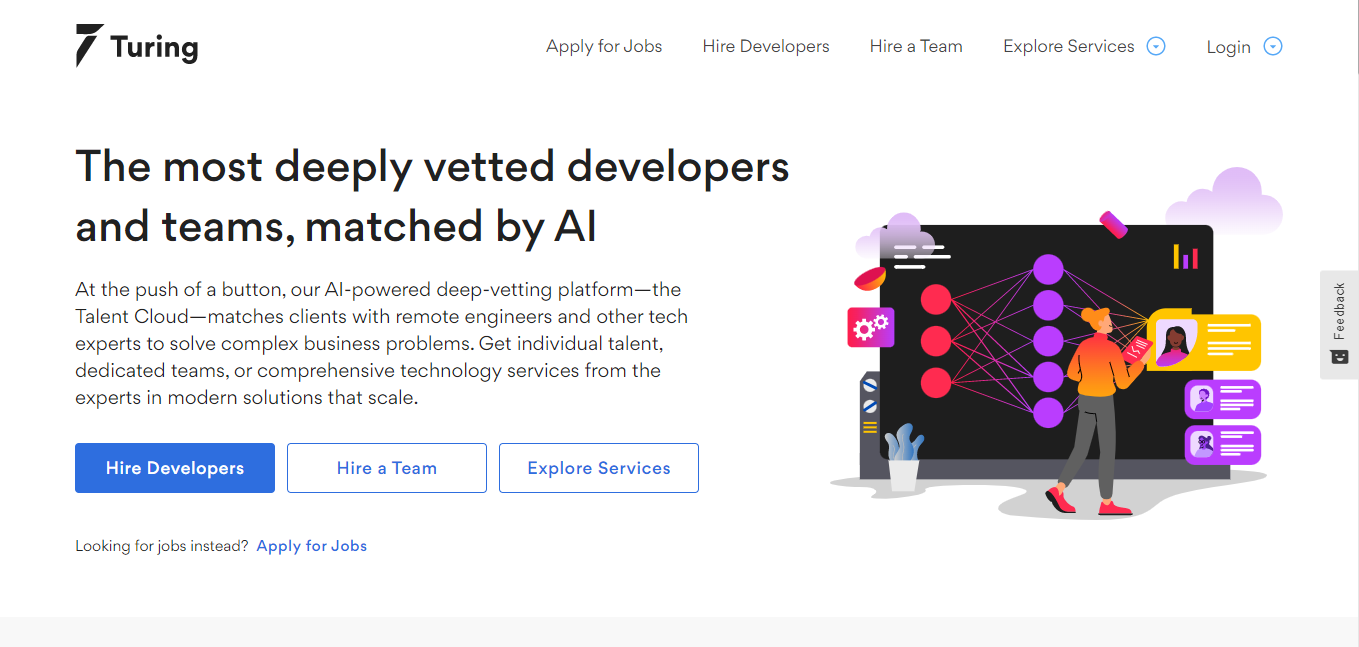 Turing is an AI-powered recruitment software that offers tools to help companies quickly find top talent for their development teams.
The software uses AI algorithms, machine learning, and data analytics to quickly compile a list of pre-vetted candidates.
The software streamlines the process, and within a few days, the company receives a list of highly qualified developers. Next, the company can identify the best candidates and schedule interviews with their top choices.
Turing Top Features
Hiring Remote Workers
IDR Framework
Talent Cloud
1. Hiring Remote Workers
You can hire senior pre-vetted remote developers or a team of developers with strong technical and communication skills ready to work in your time zone.
2. IDR Framework
Turing Services uses the IDR framework to manage the life cycle of cloud business solutions.
It assesses the best adoption approach, implements secure cloud solutions, and provides ongoing operational and maintenance support.
3. Talent Cloud
With the help of AI, the Intelligent Talent Cloud evaluates, matches, and oversees more than 1.5 million developers globally.
It helps companies build an engineering team within a few days, cutting down time and resources needed.
Turing Pricing & Plans
You can contact Turing Sales Team for a quote for your chosen features.
2. Manatal – Best AI Tool For Quick Hiring
Manatal is created to source and recruit candidates efficiently, offering a fast-paced solution.
The recruitment pipeline is fully customizable with a user-friendly drag-and-drop interface.
Additionally, the platform includes a Kanban board, providing a comprehensive view of recruitment progress.
Manatal Top Features
Automated Job Posting
Screening Process
Accessibility
1. Automated Job Posting
The recruitment platform uses AI to help post job openings on over 2,500 free and premium channels.
These channels include global, local, and specialized job platforms like LinkedIn, Indeed, CareerJet, Monster, JobStreet, etc.
Furthermore, you can manage all sponsored job advertising campaigns using a single interface.
2. Screening Process
The AI system scores candidate profiles based on job requirements, aiding in screening.
Additionally, it enriches candidates' profiles with social media data, improving matching recommendations.
3. Accessibility
Manatal is accessible from any device, including computers, phones, and tablets, so you can stay up to date with all recruitment activity no matter where you are.
In addition, you can easily use all of Manatal's features from any device, even on the go.
The system also sends notifications for reminders and specific events.
Manatal Pricing & Plans
1. Professional Plan
Features:
This plan is for individuals and small teams. It is available for a free trial of 14 days. The Professional Plan offers features including up to 15 jobs per account, Up to 10,000 Candidates, and Unlimited Hiring Managers.
Price:
It costs $15/user per month.
2. Enterprise Plan
Features:
This plan is designed for industry leaders with a 14-day free trial. It offers Unlimited Jobs, Unlimited  Candidates, Unlimited Hiring Managers, and more.
Price:
It costs $35/ user per month.
3. Custom Plan
The plan comes with custom integrations and customized features. You can get a quote for a custom plan by contacting the sales team.
3. HiredScore – Best AI Tool for Human Resources
HiredScore leverages AI for talent acquisition, orchestration, and deep integrations. As a result, it helps recruiting teams hire faster and increases HR productivity.
In addition, this innovative approach allows you to manage different tasks while keeping your HR data safe and transparent.
HiredScore Top Features
Scoring System
Talent Orchestration
Transparent Scoring
1. Scoring System
You can use HiredScore's AI to quickly evaluate every applicant based on the job requirements and instantly get a relevance score.
This helps you identify priority candidates faster and without bias.
2. Talent Orchestration
Talent Orchestration uses AI to handle routine recruitment tasks and data issues so that recruiters can focus on more valuable human interactions and complex business problems.
The system also includes features such as alerts and automation stop-gaps to maintain quality and ensure a positive user experience.
3. Transparent Scoring
It gives you an advantage of clear applicant scoring.
AI system provides a transparent, fully explainable score, so you can easily see how each applicant fits the job's requirements and stay compliant.
HiredScore Pricing & Plans
You will have to contact HiredScore Sales Team to get a quote.
4. Zoho Recruit – Best AI Tool for Hiring Agencies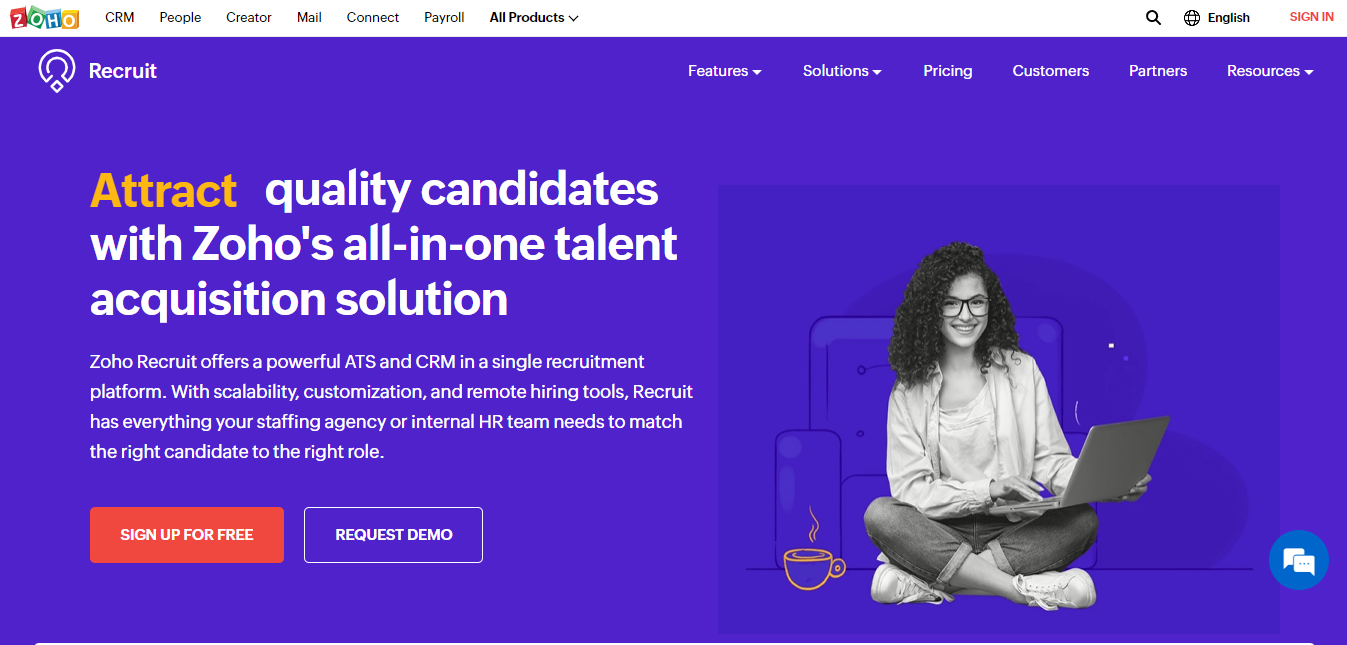 Zoho Recruit is an all-in-one talent acquisition software solution that helps you engage, recruit, and attract high-quality candidates.
This powerful software platform offers a unique combination of Applicant Tracking System (ATS) and Customer Relationship Management (CRM) capabilities, which makes it a perfect recruitment tool for staffing agencies or internal HR teams.
With Zoho Recruit, you can easily scale up your recruitment process, customize it to fit your needs, and utilize hiring tools to reach candidates from anywhere.
Zoho Recruit Top Features
Finding Perfect Fits
Skill Tags
Quick View Tab
Recruit's Radius Search
1. Finding Perfect Fits
In addition, this Recruit quickly matches job criteria with candidates in your database by clicking "Find Matching Candidates."
2. Skill Tags
Tag skills for a job and use advanced search to find candidates with the best talent and a percentage match rating according to your job description.
3. Quick View Tab
Easily view and filter candidate profiles, and reduce hiring time by sending pre-screening assessments with a quick view tab.
4. Recruit's Radius Search
Zoho Recruit's Radius Search finds the most relevant candidates near you based on job criteria and location down to the zip code.
Zoho Recruit Pricing & Plans
1. Free
Features:
1 Active Job, Free Job Postings, Candidate Management, Email Management, Interview Scheduling, and 24/5 Support.
2. Standard
Features:
The Standard plan has a free trial. This includes everything in the Free program plus 100 Active Jobs,
Candidate Sourcing,
Premium Job Boards,
Social Recruiting, and 50+ integrations.
Price: 
It costs $25
/user/month, which is billed annually.
3. Professional
Features:
The professional plan has a free trial. It includes everything in the Standard plan plus 250 Active Jobs,
AI Candidate Matching,
Advanced Analytics, and more.
Price:
This plan costs $50/user/month, billed annually.
4. Enterprise(Free Trial Available)
Features:
This plan has a free trial. Its features include everything in Professional plus 750 Active Jobs Custom Roles & Profiles, Custom Functions & Buttons, and Client Portals.
Price:
This plan costs $75/user/month, billed annually.
5. Fetcher – Best AI Tool for Talent Hunting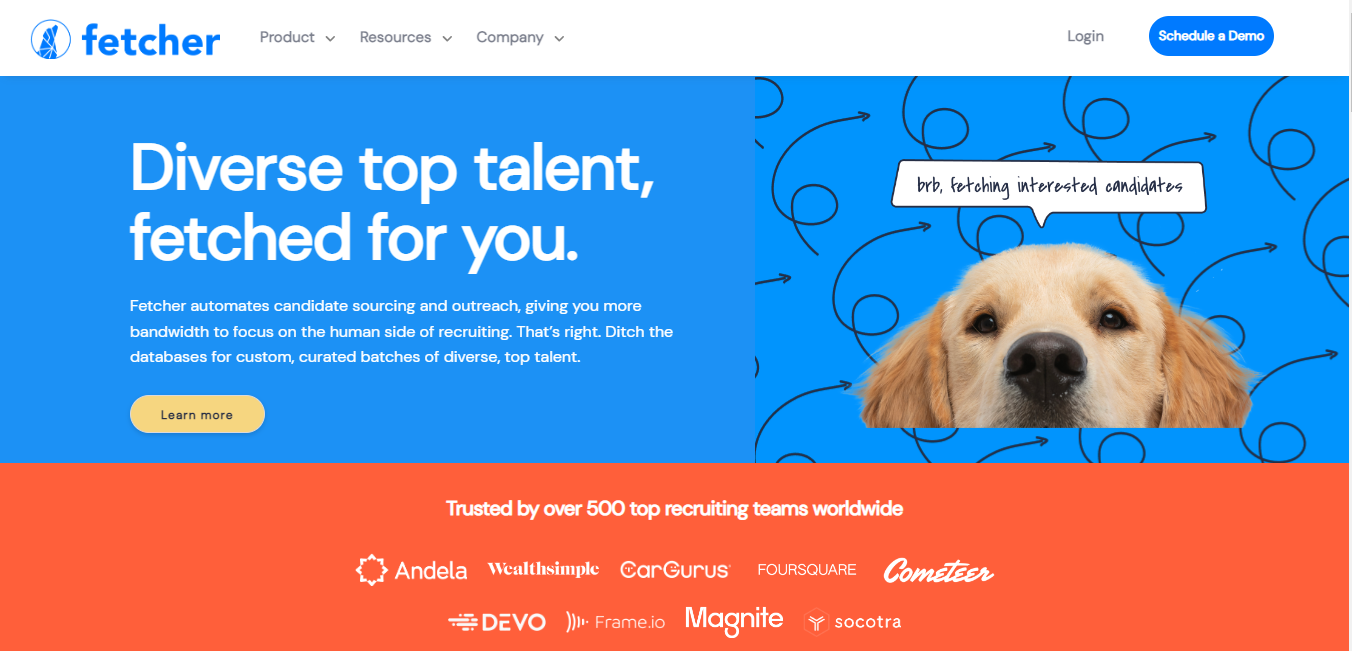 Fetcher is an AI recruitment platform that combines AI with human monitoring.
It provides curated batches of candidates to save you time from searching through a database.
The software looks for people on the internet who match your requirements. Then, real people check and ensure they fit you well.
With Fetcher, it's like having your team working in the background for you to provide good-fit candidates.
Fetcher Top Features
Easy Contact
Outreach Analytics
Integration
1. Easy Contact
The software's recruitment marketing feature allows you to contact candidates quickly with personalized email campaigns and add them to your list with just one click.
In addition, you can automate follow-ups to increase engagement. With structured outreach strategies and non-InMail options, you can reach more candidates faster, and anyone in your company can use the feature.
2. Outreach Analytics
AI-based recruiting platform provides full sourcing and outreach analytics.
It gives visibility into the number of candidates at each stage, email effectiveness, and team performance.
It also offers demographic and gender breakdowns of sourced candidates for each role to help you focus on your diversity strategy.
3. Integration
Integrating your go-to tools with Fetcher is effortless, allowing for a more efficient recruiting system.
It boosts productivity with easy ATS, CRM, email, and Slack integrations.
In addition, the software makes managing candidates and understanding your recruiting funnel simple and hassle-free.
Fetcher Pricing & Plans
You can contact Fetcher Sales Team for a quote for your chosen plan.
6. HireVue – Best AI Tool to Automate Workflows
HireVue is an AI-powered recruiting platform that helps throughout the hiring process. It uses AI to automate workflows and simplify the process of scaling hiring.
With text recruiting, assessments, and video interviewing software, the platform helps improve how you engage, screen, and hire talent.
HireVue Top Features
Video Interviewing
App-Less Experience
Standardize Interviews
1. Video Interviewing
This software provides video interviewing capabilities enabling you to screen potential employees, not just their resumes.
The software accelerates the hiring process with live and on-demand options and integrates seamlessly with your ATS.
It gives you an advantage over competitors in the recruitment process.
2. App-Less Experience
Hirevue eliminates the need for complicated scheduling, interview guide creation, and app downloads.
It offers an app less experience for candidates, allowing them to interview anytime and anywhere.
The software also engages candidates through conversational AI via SMS and WhatsApp, providing a user-friendly and hassle-free experience.
3. Standardize Interviews
It is a recruitment automation platform tool that helps recruiters standardize interviews, reduce bias, and improve the hiring process.
It eliminates the reliance on resumes or assumptions by providing more than 1,000 job-specific interview guides automatically created in seconds. These interview guides have been vetted and maintained by organizational psychologists.
By providing easy interview creation for hiring teams, the software ensures that candidates are provided with a more consistent and fair interview process.
HireVue Pricing & Plans
1. Essentials
Features:
It offers Live Video Interviewing, 2500-7500 employees, On-Demand (One-Way) Interviewing, Customisable Branding, and Single Language Configuration (Choose from 40 Languages).
Price:
It has a one-time cost that starts from $35K. The cost changes if you choose more features.
2. Enterprise(7500+ employees)
Features:
It offers features like Chatbot, Text-to-Apply, 7500+ employees, Pre-built ATS Integrations, Role-based Assessments, Multiple Brand Themes, Multilingual Configuration (Up to 40 Languages), and Benchmark Analytics.
Price:
7. Entelo –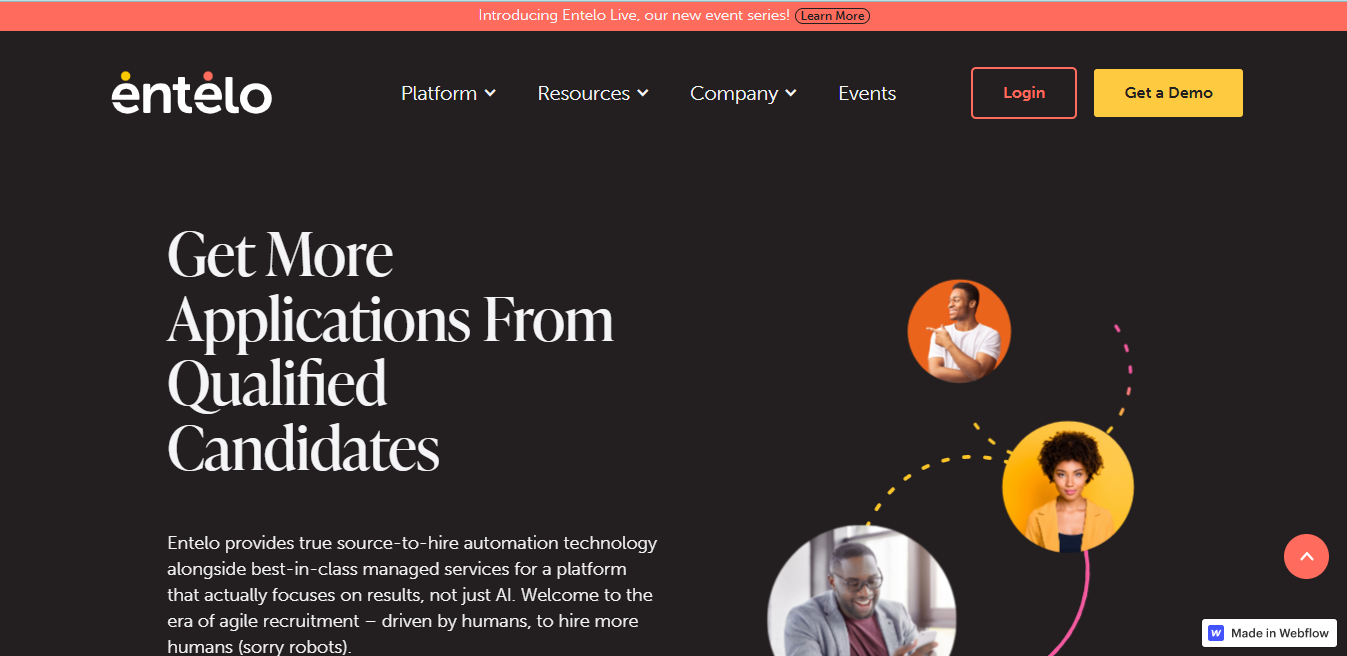 Entelo is a hiring tool that provides true source-to-hire automation technology and top-notch managed services.
Unlike other platforms that rely solely on AI, Entelo focuses on results, and it's designed to drive agile recruitment.
With a human-driven approach, the software helps to attract more applications from qualified candidates, resulting in successful hires.
Entelo Top Features
Classifications
Internal Database
Multi-Touch Campaigns
1. Classifications
Entelo's recruiting technology helps your company to become stronger by building a more diverse and inclusive workforce.
The software helps you find top candidates from under-represented groups based on gender, race, ethnicity, and veteran status.
As a result, your company can improve financial performance and accelerate value creation with a stronger, more diverse, and innovative team.
2. Internal Database
Entelo's powerful AI engine can quickly help you find the best candidates from internal databases, job boards, and social networks.
The software analyzes many factors to match candidates to your job criteria. It also provides data-driven advice to help you improve your outreach efforts.
3. Multi-Touch Campaigns
AI recruiting software uses artificial intelligence to engage with top candidates using personalized, multi-touch campaigns to keep them interested in your company.
This is done by sending real-time and relevant updates about their position in the hiring process and using candidates' preferred communication channels.
Entelo Pricing & Plans
Entelo offers customized pricing for each feature. You can contact Entelo Sales Team to get a quote.
Benefits of Using AI Recruiting Software
There are several benefits of using AI tools in recruiting and talent acquisition, including:
1. Improved Efficiency
AI tools can automate many repetitive and time-consuming tasks involved in the recruiting process, such as resume screening and scheduling interviews.
AI in recruitment automation frees recruiters to focus on more strategic tasks, such as building relationships with candidates and hiring managers.
2. Enhanced Candidate Matching
AI-powered recruiting software uses AI to match data from resumes, job postings, and other sources to identify and hire the best-qualified candidates for a given role.
This can help to improve the quality of matches between candidates and vacancies, which reduces the time to fill positions and improves the overall success rate of hires.
3. Increased Diversity and Inclusion
AI recruiting technology can be programmed to identify and eliminate bias in the recruiting process, such as gender or racial discrimination.
This can help increase diversity and inclusion in the workplace, which has been shown to improve business outcomes.
4. Better Candidate Experience
AI-powered chatbots and other tools can provide candidates with personalized content and updates about the recruiting process, improving the overall candidate experience.
This can help attract and retain top talent and improve the company's reputation as an employer.
5. Data-Driven Decision Making
AI is trained to analyze large amounts of data to identify trends and patterns that may not be visible to human recruiters.
This helps to make more data-driven hiring decisions leading to better business outcomes.
6. Unbiased Hiring Process
AI can also make the hiring process fairer through blind resume screening, language analysis, predictive hiring, and structured interviews.
These tools can help eliminate demographic factors and identify qualified candidates based on qualifications and experience.
However, carefully developing and utilizing AI tools is important to avoid perpetuating or amplifying existing biases. A vigilant human oversight is necessary to ensure these tools' ethical and responsible use.