At a Glance
AI email marketing tools optimize your email campaigns with segmentation, personalization, automation, predictive analysis and email optimization.
Omniscend, ActiveCampaign, Optimove, Drift Email, seventh sense, Zeta Email, and Mailmodo are the best AI email marketing tools that will help you optimize your campaign and ensure your message resonates with the audience.
These tools will automate your email marketing and bring valuable insights and analytics to your table to increase ROI.
Using AI for email marketing is a powerful method that allows businesses to reach existing and potential customers by delivering personalized and valuable content that aligns with their interests, needs, and preferences.
Using artificial intelligence for an email marketing program gives you the highest success rate of any marketing channel.
It also helps retain existing customers by providing consistent updates about new products, services, and promotions and collecting feedback.
Moreover, using AI in email marketing is a cost-effective strategy that can boost sales and generate more revenue through targeted offers and promotions, with a high return on investment of $36 for every $1 spent.
We have compiled a list of the 7 best AI tools for Email Marketing to help marketers make their campaigns more effective and bring more conversions.
This article also sheds light on how AI can help make email campaigns better and more effective.
Role Of Artificial Intelligence In Email Campaigns
Artificial intelligence in email marketing offers marketers new ways to create personalized, relevant, and timely communications.
This resonates with their target audience and improves email marketing strategies.
Here are some of the ways AI is being used in email marketing:
1. Segmentation
AI and machine learning can analyze large amounts of customer data to create segments of customers with similar preferences, interests, and behaviours.
Marketers can then use this information to personalize each segment's email content and offers.
2. Personalization
AI-based email personalization solutions, such as subject lines, headlines, body copy, and offers, are based on customer behaviour and preferences.
This can increase engagement and conversion rates, as customers will likely open and engage via emails tailored to their interests and needs.
3. Automated Campaigns
The application of AI can help automate your email marketing.
For example, it triggers emails based on specific customer actions (such as abandoned carts or product views) to send personalized recommendations and promotions to customers at particular times.
4. Predictive Analytics
AI helps email marketing platforms analyze data from customer interactions with email campaigns to predict customer behaviour and preferences.
It suggests the right strategies to engage customers based on AI experimentation of large data sets.
5. Optimization
Email marketers can use AI to optimize email campaigns by testing different variables.
AI tools use natural language generation to write subject lines, create email designs, and send times to determine what works best for specific audiences.
Email marketing artificial intelligence delivers more personalized, relevant, and effective campaigns that drive customers toward your business goals.
7 Best AI Tools For Email Marketing in 2023
Here are our best picks for AI email marketing tools that can optimize campaigns and analyze their effectiveness.
1. Omnisend – Best AI Email Marketing Tool for Automation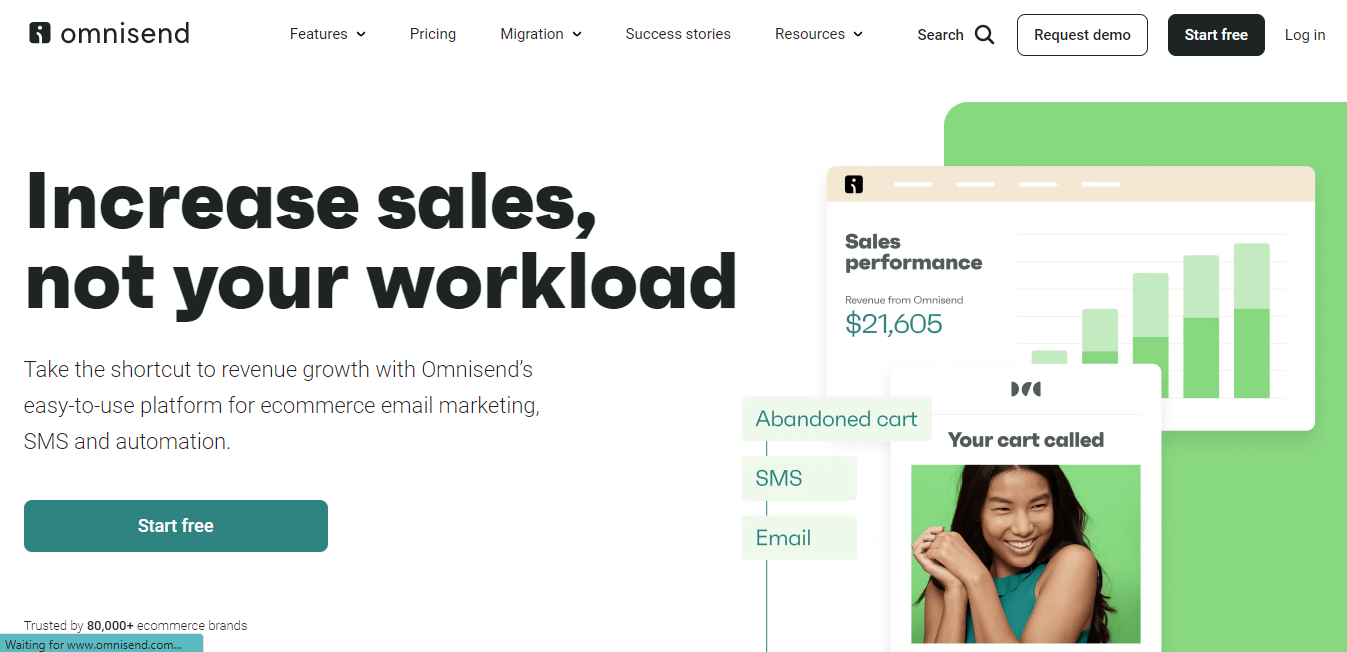 Omnisend is a user-friendly eCommerce email marketing, SMS, and automation platform to engage customers and shoppers with cold email outreach.
This AI-powered email automation platform removes the busywork of engaging, converting, and reactivating your eCommerce customers with its multiple available channels.
Top Features
Email Templates
Consistent Branding Of Emails
Customization
Omnichannel Workflows
Segmentation
1. Email Templates
Regardless of your Omnisend plan, you can access a vast template library for occasions like Valentine's Day, Easter, email newsletters, etc.
These templates have different styles and are visually engaging email copies to appeal to your audience.
Adding content is simple with a drag-and-drop editor, so you can quickly send emails to connect with your customers.
2. Consistent Branding of Emails
Omnisend offers automatic and manual options to add your logo, brand colours, and social media links to your email templates.
The email builder remembers your branding elements and includes them in every email, regardless of your selected template.
This saves you time and ensures consistency in your branding efforts.
3. Customization
If you prefer to create your design from scratch, you can select from layouts and customize them to your liking.
With its user-friendly editor, you can design each email precisely how you want, whether it's menus, images, products, coupons, or writing subject email lines.
4. Omnichannel Workflows
Omnisend combines multiple messaging channels like email, SMS, and web push notifications into a single workflow.
This helps you reach your customers on their preferred channels, ensuring a consistent and personalized experience. By using multiple channels, you can also improve your reach and conversions.
5. Segmentation
Omnisend is tailored for e-commerce businesses and offers shopping behaviour-based segments targeting various customer types.
The segmentation allows you to filter your audience based on transactional events and purchase behaviours.
By integrating with this e-commerce platform, you can utilize all available data to segment customers according to their purchasing patterns, such as the items they buy, their average order value, and purchase recency, among other criteria.
Omnisend Pricing & Plans
Omnisend offers three plans: Free, Standard, and Pro.
1. Free Plan:
It offers up to 250 contacts, unlimited contact list size, and 500 emails per month.
2. Standard Plan:
It includes all the features in the free plan plus up to 500 contacts and 6,000 emails per month.
Pricing
This plan costs $16 per month.
3. Pro Plan
It offers all the features the previous plan includes, plus unlimited emails for up to 500 contacts. It costs $59 per month.
2. ActiveCampaign – Best AI Tool for Personalized Email Marketing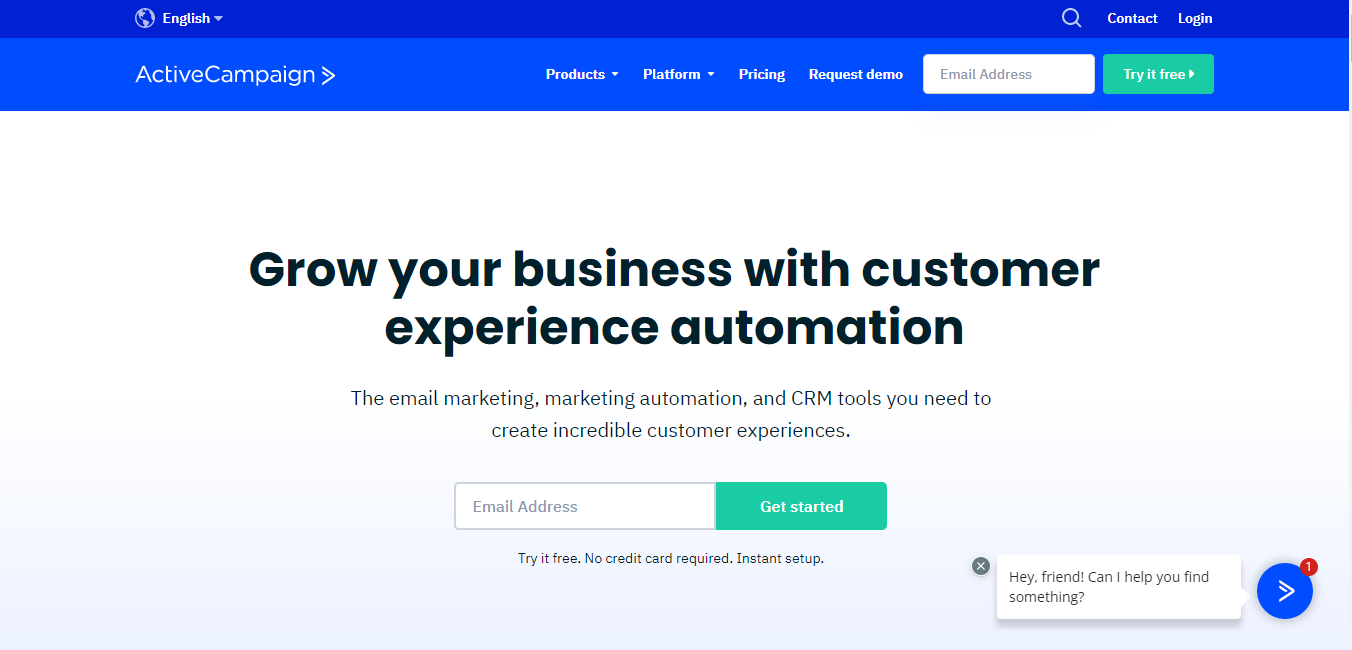 ActiveCampaign is a multipronged personalized email marketing automation platform that has marketing channels automation and CRM tools to create incredible customer experiences.
It helps you grow your audience and target the right prospects via website tracking, email marketing, segmentation, subscription forms, and strong deliverability.
ActiveCampaign Top Features
Email Templates
Combines Your Email Marketing and Sales Engagement Strategy
Ensures Email Deliverability
Integration
1. Email Templates
ActiveCampaign has a library of over 250 responsive templates for marketers, including 70+ new designs.
These templates allow you to customize and send beautiful emails without design experience or technical knowledge.
The templates are pre-built with all the necessary code, design, and QA and are available for free to all ActiveCampaign subscribers.
2. Combines Your Email Marketing and Sales Engagement Strategy
To boost results and drive growth, it's crucial to know when to connect personal sales messaging to broader AI marketing approaches and automate the personal touch at scale.
For example, ActiveCampaign provides a consistent customer experience by sending one-to-one emails from sales representatives' inboxes.
3. Ensures Email Deliverability
ActiveCampaign protects the deliverability of emails because of its well-established reputation. As a result, your email sends where it is intended.
4. Integration
AvtiveCampaign can integrate with 900+ apps.
ActiveCampaign Pricing & Plans
1. Lite:
This plan is for solopreneurs who need an easy-to-use marketing solution with one user account.
Pricing: It costs $29/month (paid annually).
2. Plus:
This plan is for small teams that create excellent customer experiences with up to three user accounts.
Pricing: It costs $49/month (paid annually).
3. Professional:
This plan is for teams who want to experiment and optimize their marketing efforts with advanced features and five user accounts.
Pricing: It costs $149/month (paid annually).
3. Optimove – Best AI Tool for Multichannel Campaigns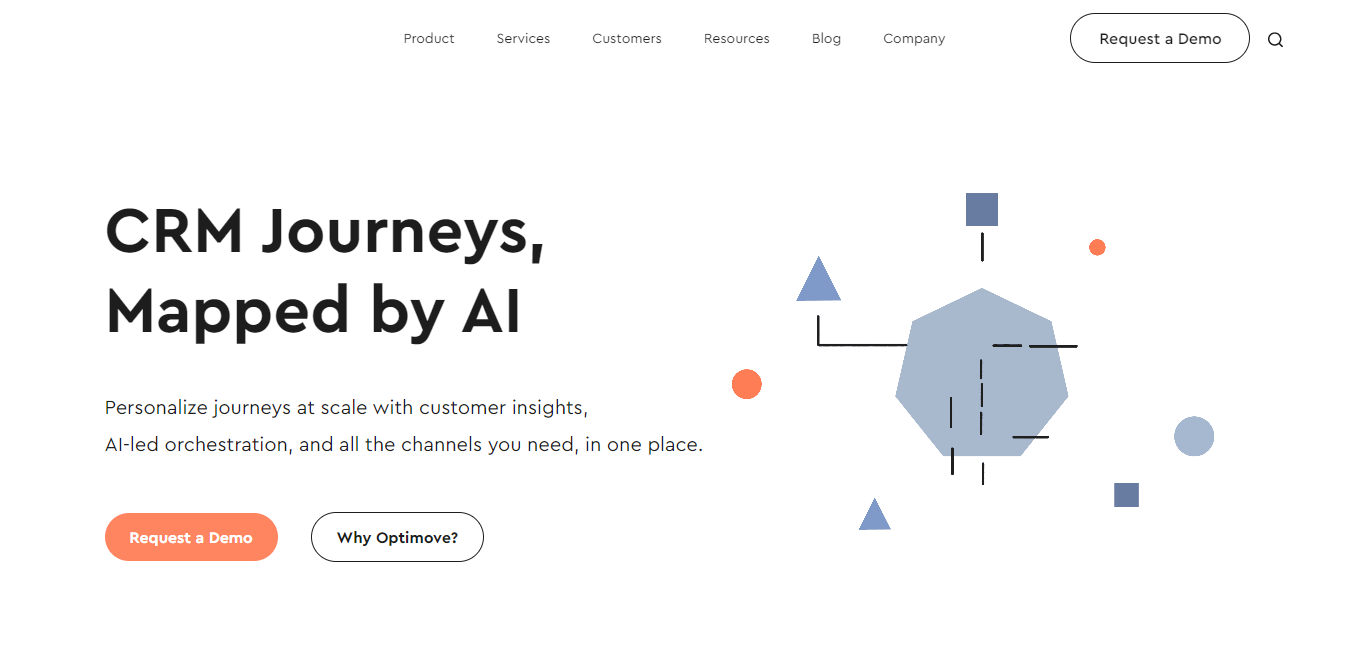 Optimove is an AI-powered platform that offers businesses convenient access to customer data and presents engagement opportunities.
It optimizes campaigns and delivers relevant messages through multichannel campaigns.
It executes personalized customer-led campaigns across all marketing channels, including email, in-app, digital ads, text messaging, mobile push, and integrations.
Optimove Top Features
Personalization and Hyper-Targeting
Relevant Customer Messages and Offers
Automated Emails With Recommendations for Customers
1. Personalization and Hyper-Targeting
Optimove uses all available data and insights to provide email-personalization marketing and hyper-targeting.
It leads to increased email relevance for businesses.
2. Relevant Customer Messages and Offers
Optimove's AI-powered tool, like the DynamicMail add-on, guarantees that every customer views the most relevant messages, products, prices, and offers, regardless of when they open the email.
3. Automated Emails With Recommendations for Customers
It sends personalized and automated emails with product recommendations and customizable content.
Optimove Pricing & Plans
Optimove sales team helps small businesses or freelancers choose a suitable plan with features that meet their needs. The price depends on the features included.
4. Drift Email – Best AI Tool for Conversational Marketing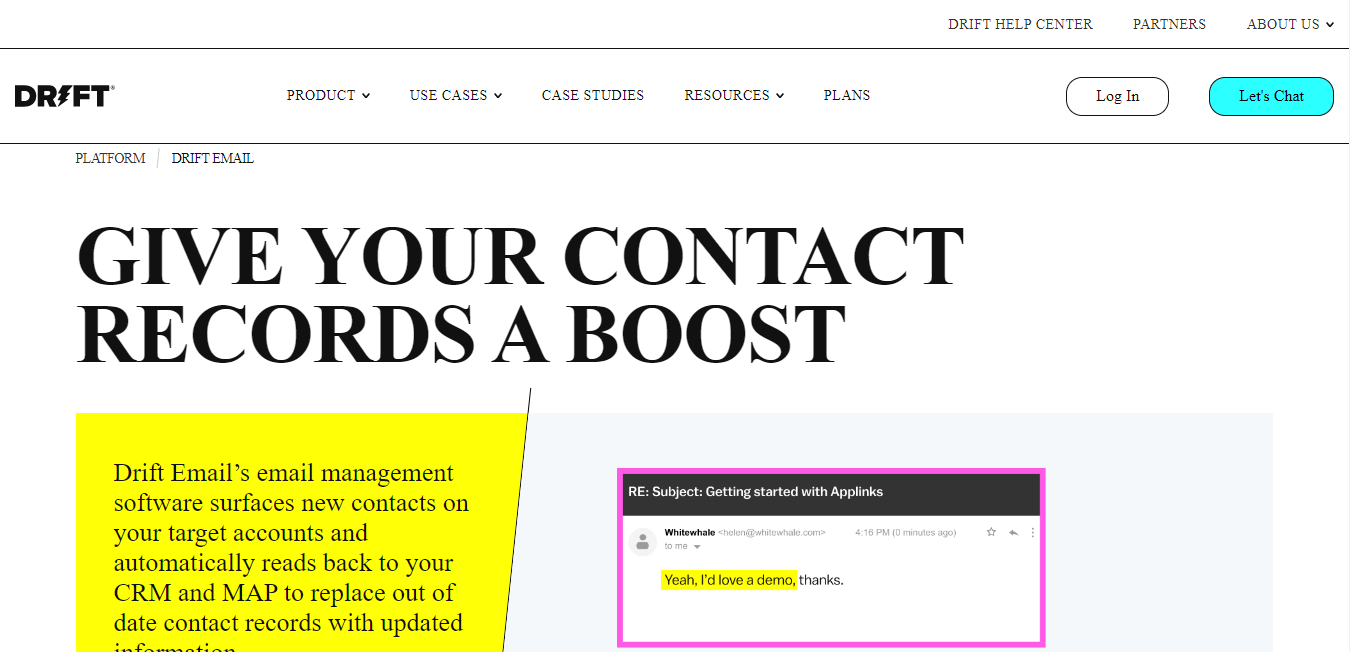 Drift Email serves as a conversational marketing platform that facilitates effortless communication between your marketing, sales, and customer teams and your customers.
It offers tools to help personalize conversations through chat, email, video, and others. It enables personalized discussions to take place.
Drift Email Top Features
Automated Email Replies
Self-Cleaning Email Database
1. Automated Email Replies
Drift Email automatically analyzes all incoming marketing and sales replies by identifying and tagging genuine human responses.
It further synchronizes contact activities and replies email mining solution data to relevant lists or fields in your automated marketing platform.
Finally, the tool ensures that those replies are directed to the appropriate representatives.
2. Self-cleaning Email Database
It cleans up the email database and enriches it with each send.
For example, its machine-learning algorithm can sort through unsubscribe requests, automated replies, out-of-office replies, job changes, phone numbers, and other data.
Subsequently, it gives their emails an updated database directly in the marketing automation platform.
Drift Email Pricing & Plans
1. Premium
Features: This plan is designed to support the growth of small businesses. It offers several useful features like Live Chat, Meetings, Custom Chatbots, Intel, Real-Time Notifications, Conversational Landing Pages, and more.
Pricing: The pricing starts at $2,500 per month, which is billed annually.
2. Advanced
Features: It engages your audiences with personalized messages and grows the qualified pipeline with less effort. The features include all the Premium plan's features, including Fastlane, Audiences, A/B Testing, and Advanced Routing.
Pricing: The Drift Email Sales Team will give prices depending on your requested features.
3. Enterprise
Features: This plan is designed to scale your personalization and pipeline generation efforts across the full customer lifecycle. This plan includes all the features provided in the previous plans, plus Workspaces, AI-Powered Chatbots, Flex Routing, and Custom RBAC.
Pricing: The Drift Email Sales Team will give prices depending on your requested features.
5. Seventh Sense – Best AI Tool for Campaign Optimization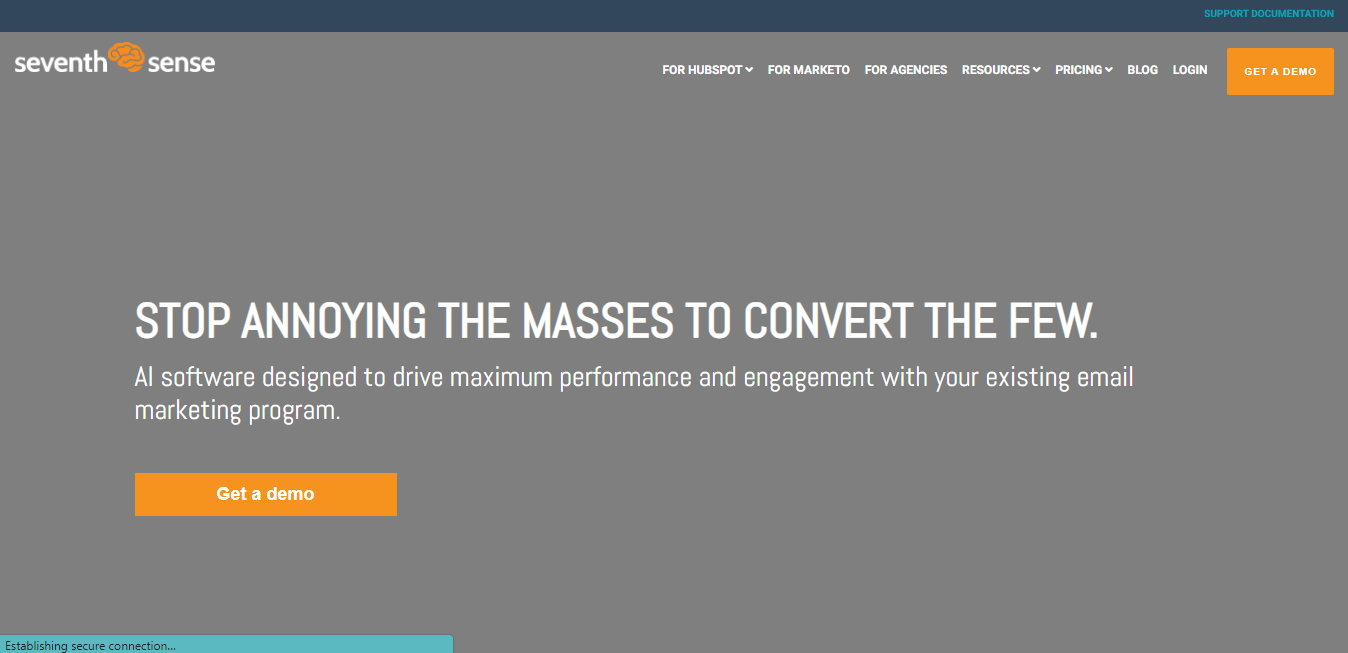 Seventh Sense is designed to maximize the performance and engagement of your existing email marketing campaign.
Top Features of Seventh Sense
Email Optimizer
Time Optimization
Frequency Optimization
Email Throttling
Deliverability
1. Email Optimizer
You can easily stand out from the competition using the only email delivery optimization system designed specifically for HubSpot and Marketo.
This system leverages artificial intelligence to help you break through the clutter while relying on HubSpot and Marketo to deliver emails and provide familiar reporting capabilities.
2. Time Optimization
It offers you true send-time personalization. Emails are automatically delivered to every individual at his or her most optimal engagement time.
3. Frequency Optimization
Due to customers' diverse needs, automatic engagement-based segmentation enables you to send emails to them according to their desired frequency.
4. Email Throttling
Implementing throttling not only improves the deliverability of your campaigns but also grants you the ability to temporarily halt them, make modifications, and evenly distribute the workload on your systems, call centres, and sales personnel.
5. Deliverability
Enhancing engagement levels will improve your sender's reputation with major email providers, ultimately resulting in an overall enhancement of email deliverability.
Seventh Sense Pricing & Plans
1. Business
Features: The plan includes 50 thousand leads, Unlimited Usage, Batch Email Campaigns, Email Throttling, and unlimited historical engagement data.
Price: It costs $360 per month. Additional marketing leads are sold in increments of 5,000.
2. Enterprise
Features: It includes everything in the Business plan plus Batch Email Preview, Personalized Onboarding, Email Frequency Optimization, and Unlimited Users.
Price: The Seventh Sense Marketo Sales Team gives a custom plan for your special needs and bills accordingly.
6. Zeta Email – Best AI Tool for Integration with Other Marketing Channels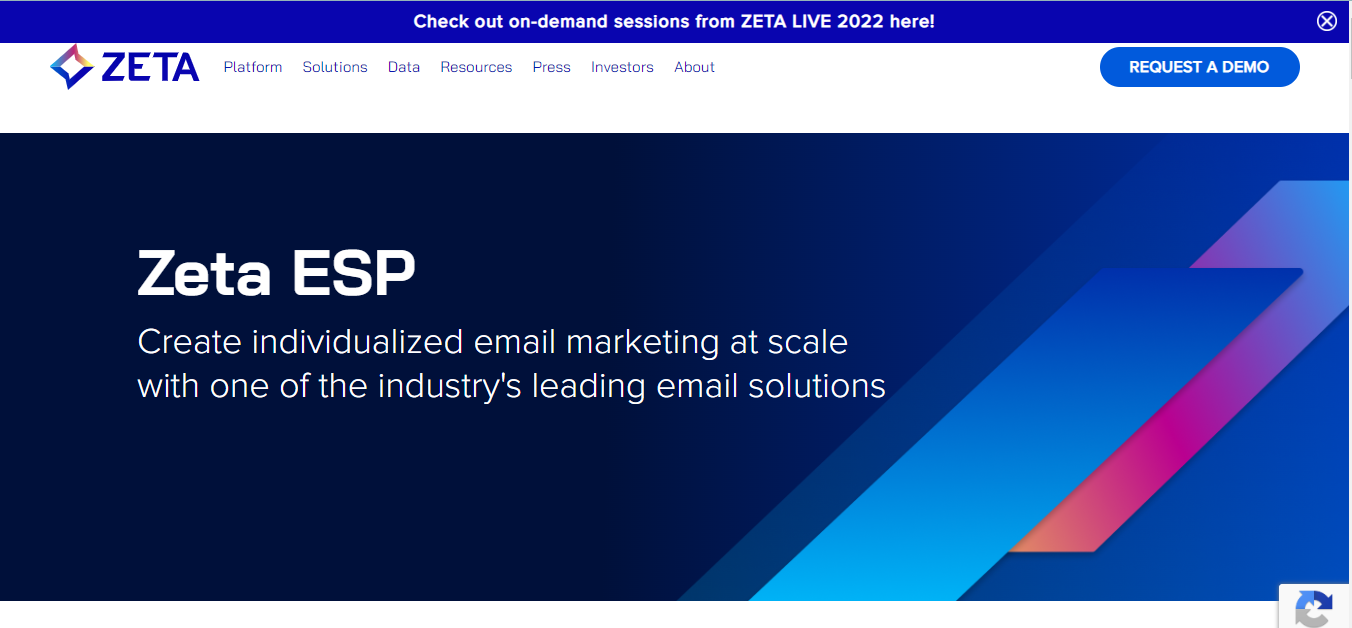 Zeta elevates the performance of your email marketing campaigns by personalizing emails in real time.
It also enables you to integrate with all other marketing channels by deploying personalization on a large scale.
Zeta Top Features
Personalization
Predictive Insights
Flexible Data Handling
1. Personalization
Create personalized email content and product offerings to align with your audience's specific interests, demographics, and current behaviours by utilizing regularly refreshed, up-to-date profiles.
2. Predictive Insights
Zeta's always-on predictive insights use advanced data analytics and machine learning algorithms to help marketers optimize various aspects of their marketing campaigns.
It includes optimizing for a channel with AI subject line generators, creative, send time, frequency, and more.
3. Flexible Data Handling
With Zeta's advanced data handling, you can incorporate, evaluate, and utilize new data sources in just a few seconds.
Experience real-time updates for segmented data through advanced integrations and easily distribute performance data across multiple platforms.
Zeta Pricing & Plans
Zeta Marketing Platform has not provided pricing information. You can contact Zeta Marketing Platform to inquire about current pricing.
7. Mailmodo – Best AI Tool for Faster Workflows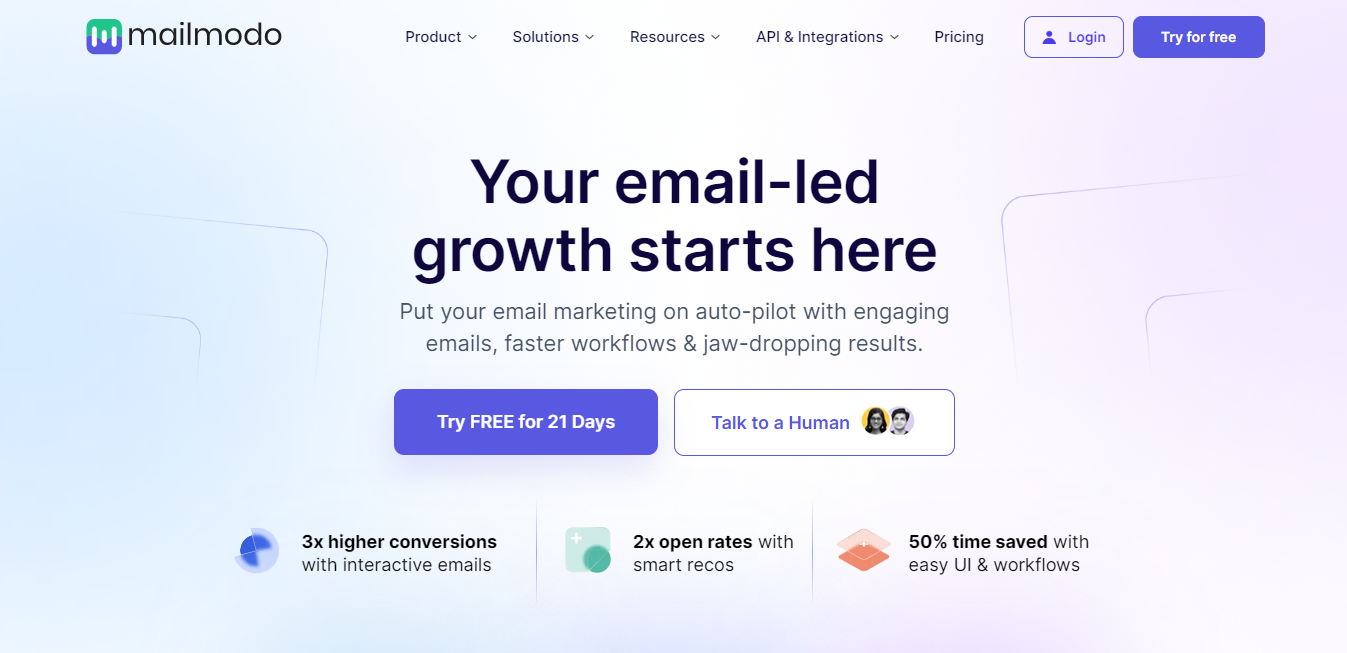 Mailmodo is an AI email marketing software that runs on auto-pilot with engaging emails and faster workflows.
You can create stunning emails with automation tools that take your marketing program to the next level.
Mailmodo Top Features
Interactive Templates
Promote Your Brand
Personalization
1. Interactive Templates
It allows you to pick an email template from the gallery and customize it using a template builder to match your brand.
You can also create one from scratch if you need more flexibility.
It offers a no-code drag-and-drop builder with over 200 pre-made templates for all use cases.
In addition, it provides responsive and mobile-ready designs and reusable blocks for faster development.
2. Promote Your Brand
You can do four things to maintain consistency throughout your email marketing campaigns.
First, upload your brand logo. Second, select a font family, colour, and size. Third, use consistent email layouts. Finally, save content blocks for future use.
By doing these things, you can define your brand stack and ensure consistency in your email campaigns.
3. Personalization
Using a range of personalization parameters, you can deliver emails to your subscribers that are relevant to them.
You can personalize the content and CTAs of your emails by adding dynamic images inside emails and including dynamic content that updates in real-time.
Mailmodo Pricing & Plans
1. Silver
Features: Silver Plan offers 40,000 Contacts, 75,000 Email Sending Credits, Unlimited Templates & Campaigns, No Team Members, 1 Custom Domain, Email & Chat Support, Limited Integrations, and Limited Interactive Widgets.
Pricing: Silver costs $99 per month.
2. Gold
Features: Gold Plan offers 100,000 Contacts, 250,000 Email Sending Credits, Unlimited Templates & Campaigns, 3 Team Members, 2 Custom Domains, Dedicated Onboarding Support, All Integrations, All Interactive Widgets, 1 Million Custom Events/per month, and Automated Email Sequences.
Pricing: Gold costs $249 per month.
3. Platinum
Features: Platinum Plan offers 300,000 Contacts, 1,000,000 Email Sending Credits, Unlimited Templates & Campaigns, 5 Team Members, 5 Custom Domains, Dedicated Customer Success, All Integrations, 3 Million Custom Events per month, and Automated Email Sequences.
Pricing: Platinum costs $599 per month.
4. Custom
Customers can customize their plans to meet their special needs.