At a Glance
10 best AI tools for businesses include Jasper AI. Semrush, WotNot, Trengo, ActiveCampaign, Tableau, Augmentir, Legal Robot, Timehero, and Sisense.
These tools provide businesses with various capabilities, from data analysis and prediction to automation and natural language processing, to gain valuable insights, improve decision-making, and boost overall productivity.
COVID-19 has driven companies and entrepreneurs to explore AI for more efficient and effective business methods.
AI offers several benefits, including cost reduction, increased efficiency, productivity, and innovation, that change the face of your business.
If you're a small business owner or entrepreneur looking for the right AI tools to skyrocket your business, you may be overwhelmed by the many AI tools available on the market.
However, choosing the right AI tools for your business needs can significantly impact your success. Therefore, we have provided you with the best AI tools for entrepreneurs.
1. Jasper AI – Best AI Tool for Content Creation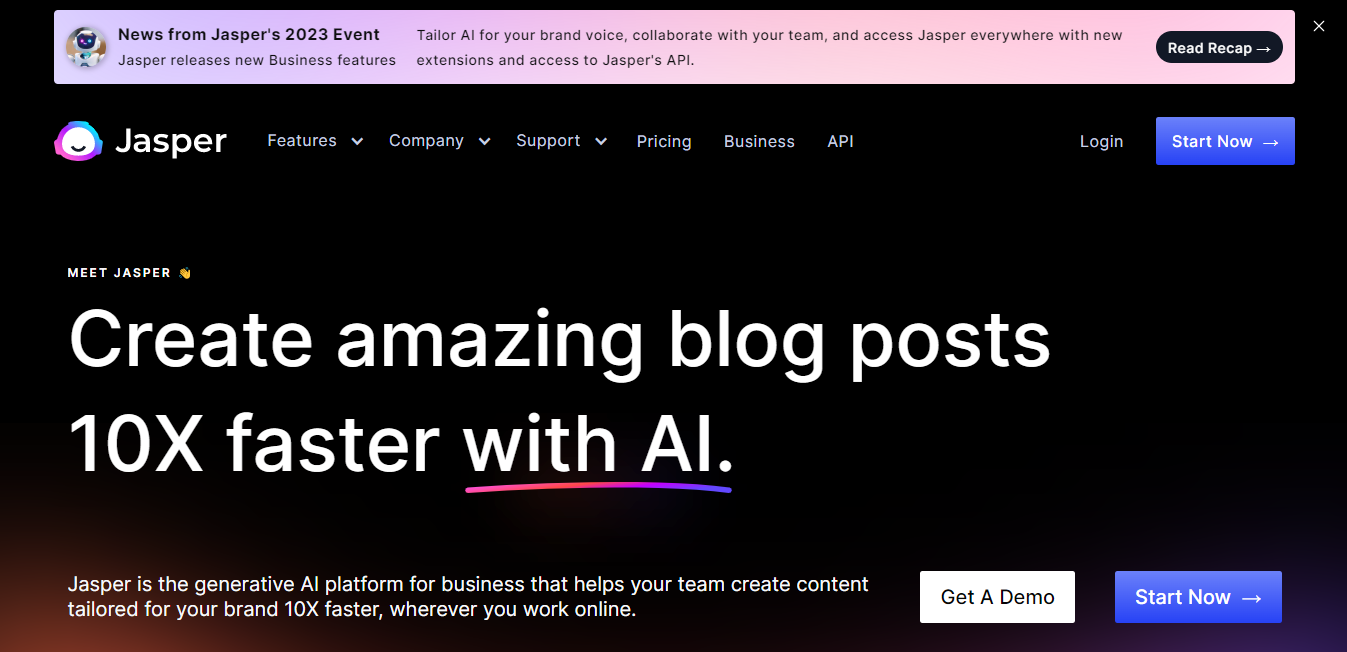 Jasper.ai is cutting-edge AI software for content creation.
It uses AI and natural language processing (NLP) to streamline and automate the writing process with its powerful editing tools aimed at helping businesses save time and increase efficiency.
It is a powerful AI tool that can convert raw data into written content using deep learning.
Jasper Top Features
Creates Original Content That Ranks For SEO
Plagiarism-Free Content
Jasper Chat
50+ Templates and 25+ Languages
Jasper Recipe
1. Creates Original Content That Ranks For SEO
The AI content generates educational blog articles for websites using titles, headings, and a few sentences to create keyword-rich content.
It offers valuable insights into keywords that increase web traffic and bring more business with its SEO content writing.
2. Plagiarism-Free Content
Jasper's plagiarism checker uses Copyscape to detect plagiarism in a document.
3. Jasper Chat
It makes interacting with AI more approachable and human-like.
With this AI chatbot, users can easily request assistance generating ideas, editing work, or adding humor to their day.
4. 50+ Templates and 25+ Languages
With over 50 templates, including a text summarizer, paragraph generator, product description, SEO title, meta descriptions, and Amazon descriptions, Jasper has been trained on industry standards and successful models to generate top-notch copy.
5. Jasper Recipes
Jasper offers a recipe feature that helps users generate specific content by providing keywords or suggestions.
Jasper.AI Pricing & Plans
1. Boss Mode
This plan is designed for individuals and small teams.
Features: Full power AI writing with control & flexibility, 50K to 700K+ words/month, 50+ AI templates, Google Docs style editor, Jasper Chat, Compose & command features, and Live chat support.
Pricing: Monthly subscription costs $82.
2. Business Mode
This plan is for growing teams and businesses.
Features: Customized word/user packages and billing options, Personalized onboarding and support for scaling with Jasper, AI collaboration for more than five users, Personalized AI brand voice, API access (coming soon), Personalized onboarding and training, Dedicated account manager and many more.
Pricing: You can pick a custom plan according to your special needs, and the sales team will bill according to the features and plan you pick.
2. SEMrush – Best AI Tool for Content Marketers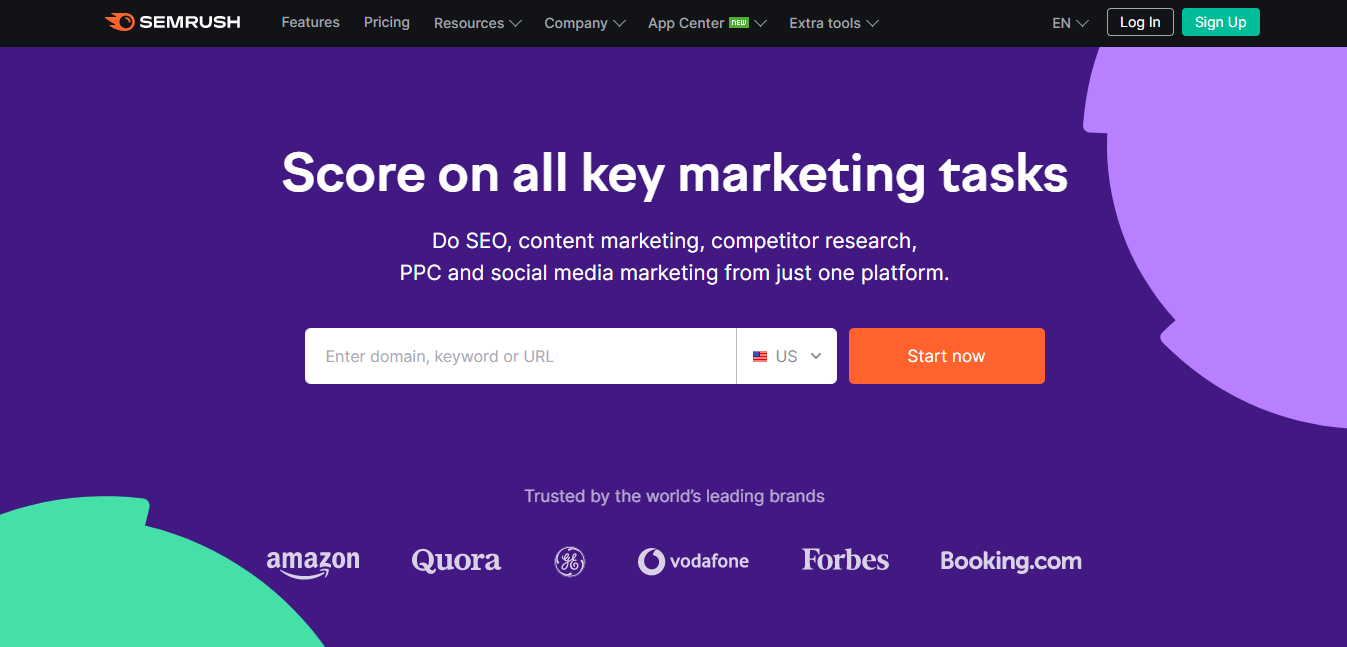 SEMrush has developed several AI tools that help content marketers optimize and streamline their work.
It offers SEO, PPC, and SMM services, providing reports and insights to improve marketing strategy with its targeted content marketing.
SEMrush Top Features
Tools To Improve SEO Score
SEO Dashboard
Competitive Research Tools
1. Tools To Improve SEO Score
Semrush provides over 20 tools that help improve website SEO.
Leveraging the power of AI, it offers a keyword database of over 23.5 billion keywords.
It helps with competitive research, keyword research, link building, rank tracking, and on-page SEO.
2. SEO Dashboard
Semrush provides a user-friendly dashboard with condensed reports on various aspects of SEO, such as organic research, position tracking, traffic analytics, site audit, backlink analytics, backlink audit, and on-page SEO checker.
3. Competitive Research Tools
It identifies top competitors and uses AI to generate keywords that attract organic traffic and their weaknesses.
SEMrush Pricing & Plans
1. Pro:
This plan is for newbies and small teams who are just getting started.
Features:
5 projects,
500 keywords to track,
10,000 results per report.
Price: Costs$119.95 monthly.
2. Guru:
This plan is for agencies and mid-size businesses.
Features:
15 projects,
1,500 keywords to track,
30,000 results per report.
Price: $229.95 monthly.
3. Business:
This plan is for large agencies and enterprises.
Features:
40 projects,
5,000 keywords to track,
50,000 results per report.
Price: $449.95 monthly.
3. WOTNOT – Best AI Tool for Automation
WOTNOT is an AI-powered tool with a chatbot platform that allows you to create AI bots without coding, providing an easy and fun bot-building experience.
It enables you to automate customer-agent interactions with chatbots, thereby increasing lead generation and appointment booking and enhancing customer support for your startup.
WOTNOT Top Features
Bot Builder
Analytics Data
Live Chat
WhatsApp Chatbot
Outbound Bots
Slack Live Chat
Appointment Booking
1. Bot Builder
A tool for building chatbots without coding. It uses a visual canvas for easy creation and customization.
2. Analytics Dashboard
A feature for tracking key performance indicators of the chatbot. By using artificial intelligence to analyze bot performance, it generates valuable insights on a dashboard.
3. Live Chat
Allows real-time monitoring of conversations handled by the bot or agents.
4. WhatsApp Chatbot
A feature for reaching out to potential customers through social media tools like WhatsApp. It is automated and scalable for maximum reach.
5. Outbound Bots
Proactive engagement through SMS and WhatsApp.
6. Slack Live Chat
Live chat integration for Slack for easy and efficient communication.
7. Appointment Booking
Automated booking system for sales team demos. It streamlines and improves the booking process.
WOTNOT Pricing & Plans
There are four plans to choose from. You can subscribe to the free plan but have to contact the sales team for other plans' prices. 
1. FREE
For individuals or teams just getting started with WotNot
Features: 1,000 conversations, No-code Chatbot Builder, Analytics Dashboard, Theme the Chat Widget, and Unlimited users.
2. Startup:
For growing teams that are looking for more features.
Features: Everything in the free plan and, 10,000 conversations, Outbound bots, WhatsApp API, Basic support, and Basic integrations.
3. Business:
For businesses looking to automate complex interactions.
Features: 50,000 conversations, Live Chat, Remove Branding, Dedicated CSM, Advanced integrations.
4. ENTERPRISE:
For businesses with high security and support needs
Features: Single Sign On (SSO), Setup Assistance, 24/7 Prioritized Support, Optimization Services, and Technical Support
4. Trengo – Best AI Tool for Customer Engagement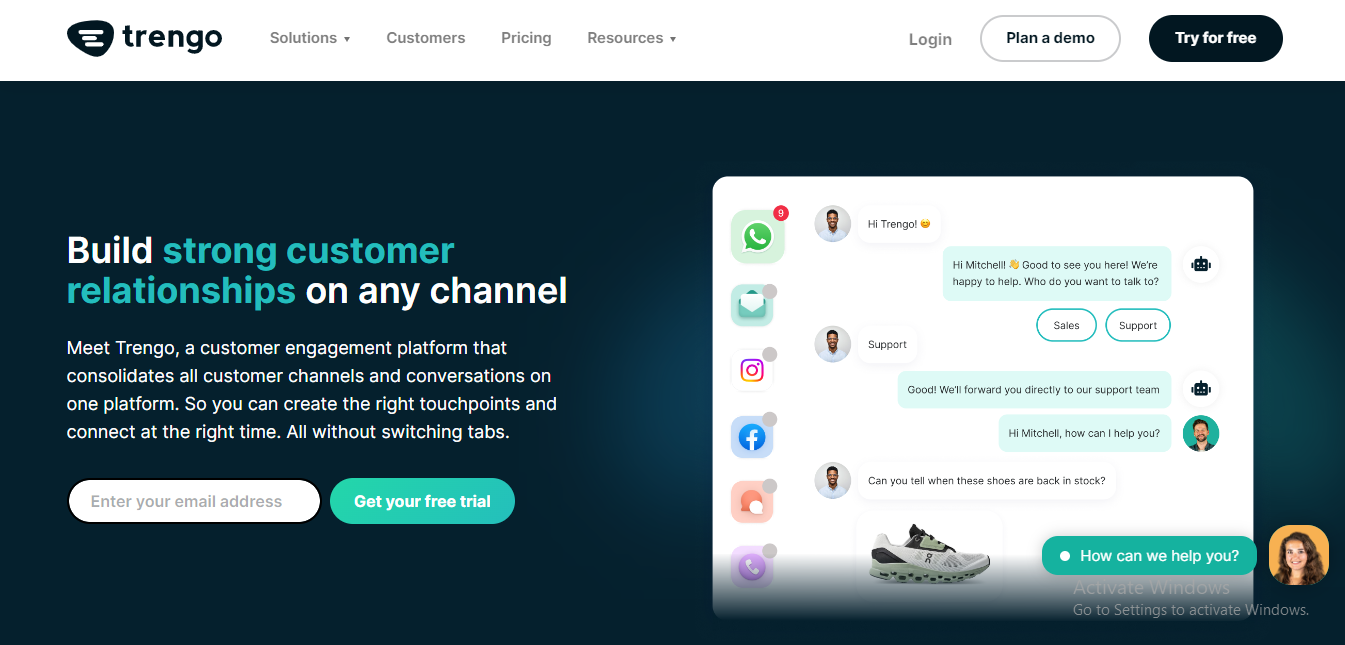 Trengo is a platform for enhancing customer engagement interactions and channels into one interface.
Its business intelligence tools help you establish meaningful interactions and connect at optimal times without constantly switching between tabs.
Trengo Top Features
Single Interface Collaboration
Customer Engagement through Automation
Easy-to-Use
1. Single Interface Collaboration
You can team up with your colleagues to discuss inquiries in a single inbox. Route incoming messages to teams or coworkers. You can facilitate internal collaboration using @tagging to keep the momentum going.
2. Customer Engagement through Automation
Its advanced AI reduces repetitive tasks with automation and provides prompt FAQ responses. In addition, it establishes protocols that improve your business operations. As a result, improve business efficiency and reduces costs while maintaining quality with automation in customer interactions.
3. Easy-to-Use
Easily learnable customer-engagement platform in 20 minutes to AI marketing solutions, Ai sales, and customer support without tech skills. Increase repeat business and customer satisfaction through created conversations and workflows.
Trengo Pricing & Plan
1. Grow
Features: Unlimited messages, ∞ contacts, 180 days archive, 5 users, 5 communication channels, Team inbox, and Live Chat.
Price: $17/month/user.
2. Scale
Features: ∞ contacts, ∞ days archive, 5 – 100 users, 50 communication channels, Team Chat, WhatsApp, Chatbots, CSAT, Statistics + API.
Price: $29/user/month.
3. Enterprise
Features: Scale, plus: ∞ contacts, ∞ days archive, 5 – ∞ users, ∞ communication channels, WhatsApp Broadcasting, workload balancing, no restrictions, IVR MENUS, Two-Factor Authentication.
Price: $ 41per user/month.
5. ActiveCampaign – Best AI Tool for Email Marketing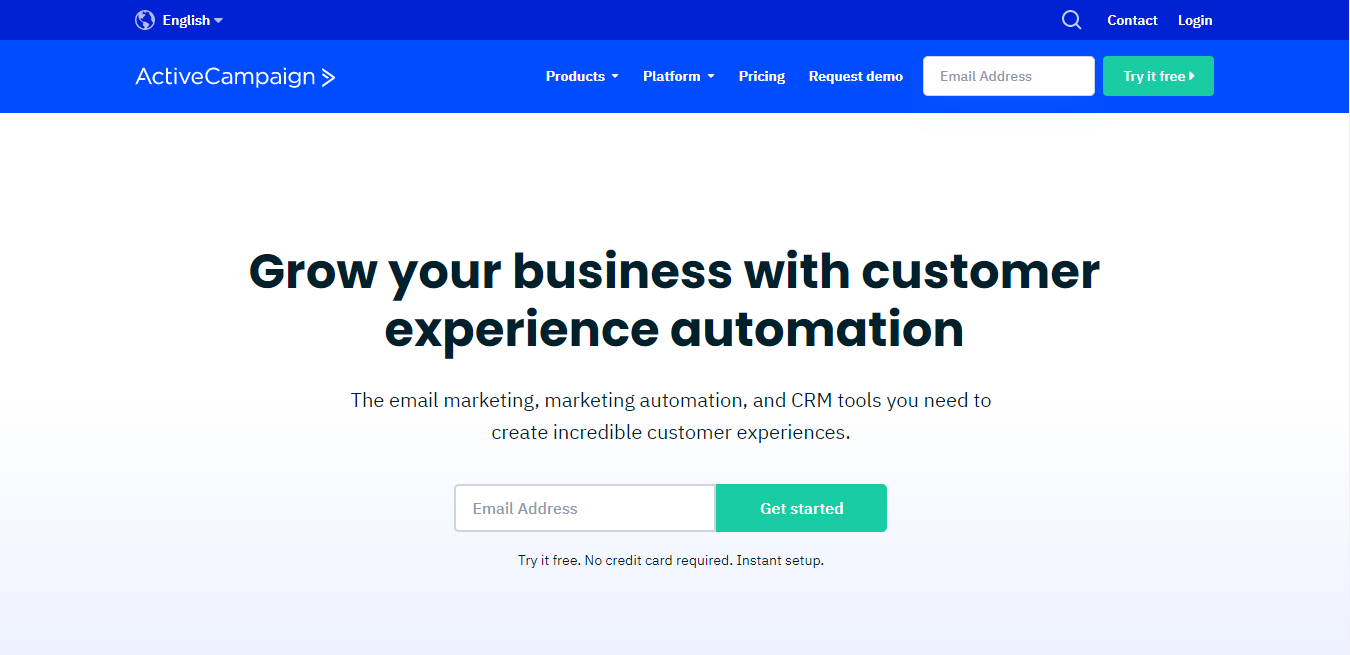 ActiveCampaign is a versatile marketing tool for email marketing automation that offers a range of personalized marketing channels and CRM tools to deliver exceptional customer experiences.
It has features such as website tracking, segmentation, subscription forms, and reliable deliverability that enable you to expand your audience.
In addition, it targets the most relevant prospects to help your business flourish by targeting marketing campaigns.
ActiveCampaign Top Features
Email Templates
Connects Your Email Marketing and Sales Engagement Strategy
Ensures Email Deliverability
Integration
1. Email Templates
ActiveCampaign has a library of 250+ responsive templates that marketers can use, which includes 70+ new designs.
These templates allow for easy customization with their design tools.
2. Connects Your Email Marketing and Sales Engagement Strategy
Disconnected sales and marketing teams make it difficult to provide a connected customer experience.
ActiveCampaign helps to improve results and drive growth by automating personal sales messaging and integrating it with AI marketing techniques.
3. Ensures Email Deliverability
AI business tools' strong reputation helps safeguard your emails' deliverability, ensuring they reach their intended recipients without issue.
4. Integration
ActiveCampaign can integrate with 900+ apps.
ActiveCampaign Pricing & Plans
1. Lite:
This plan is for solopreneurs who need an easy-to-use marketing solution with one user account.
Pricing: It costs $29/month (paid annually).
2. Plus:
This plan is for small teams focused on creating excellent customer experiences with up to three user accounts.
Pricing: It costs $49/month (paid annually).
3. Professional:
This plan is for teams who want to experiment and optimize their marketing efforts with advanced features and five user accounts.
Pricing: It costs $149/month (paid annually).
4. Enterprise:
Custom pricing and features for larger organizations looking to personalize their marketing at scale with 10 user accounts.
Pricing: The sales team of ActiveCampaign will bill you based on the features you choose.
6. Tableau – Best AI Tool for Data Visualization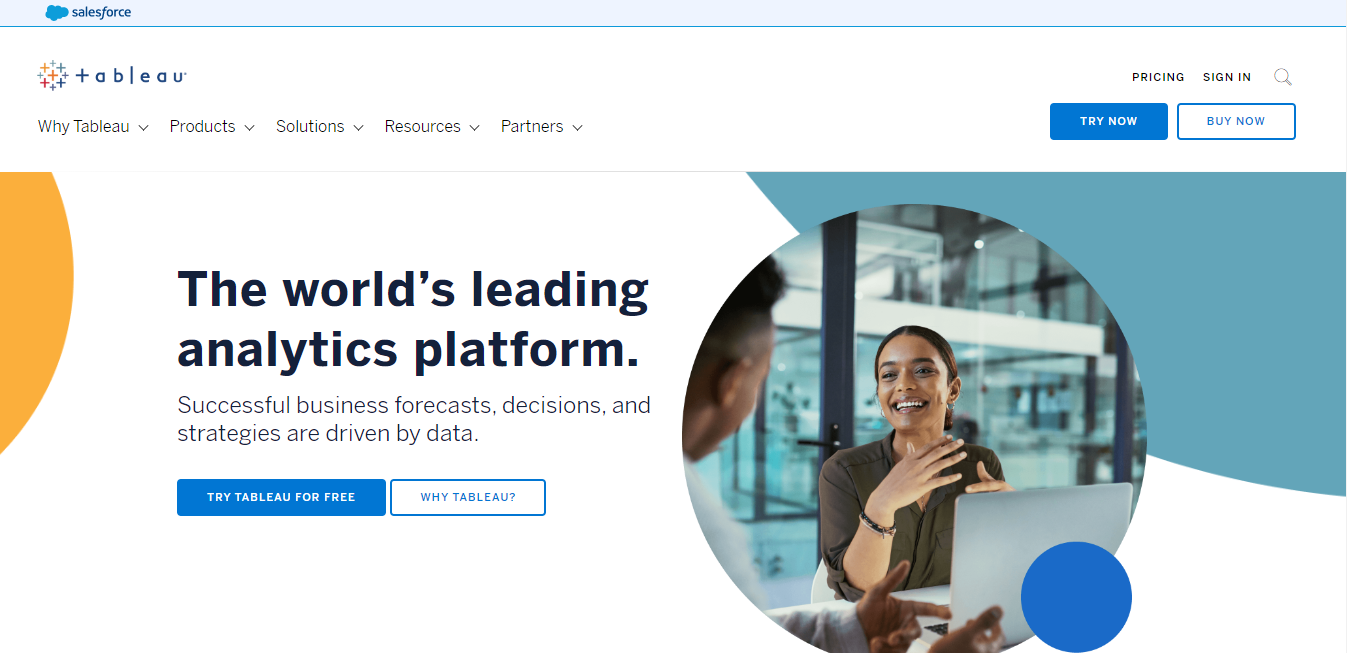 Tableau is a data visualization software that uses AI to transform data for problem-solving by allowing users to import data and predict potential outcomes.
It helps analysts, data scientists, executives, and big businesses to make the most of their data.
Its powerful tools build a data culture to transform businesses' marketing efforts with its limitless potential.
Tableau Top Features
CRM Analytics
Data Management
Embedded Analytics
Data Visualization
1. CRM Analytics
Its Customer Relations Management (CRM) empowers salesforce users with actionable insights and AI-driven analysis tools that improve workflow.
Its powerful analytics help you identify cross-selling and upselling opportunities on call times.
2. Data Management
A centralized data reporting system helps you pick important tables for analysis, making management easier.
In addition, you can combine extracts and queries to reduce strain on your data warehouse and Tableau setup.
3. Embedded Analytics
You can make Tableau's analysis features part of your product for a smooth experience. Improve customer satisfaction by adding data with customized analytics directly.
4. Data Visualization
It offers tools that use AI to convert raw data into a variety of visualization for business intelligence.
Tableau Pricing & Plans
1. Tableau Creator
This plan is best for data analysts.
Features: Tableau Desktop, Tableau Prep Builder, and one Creator License of Tableau Cloud.
Price: $70/user/month billed annually.
7. Augmentir – Best AI Tool for Human Resources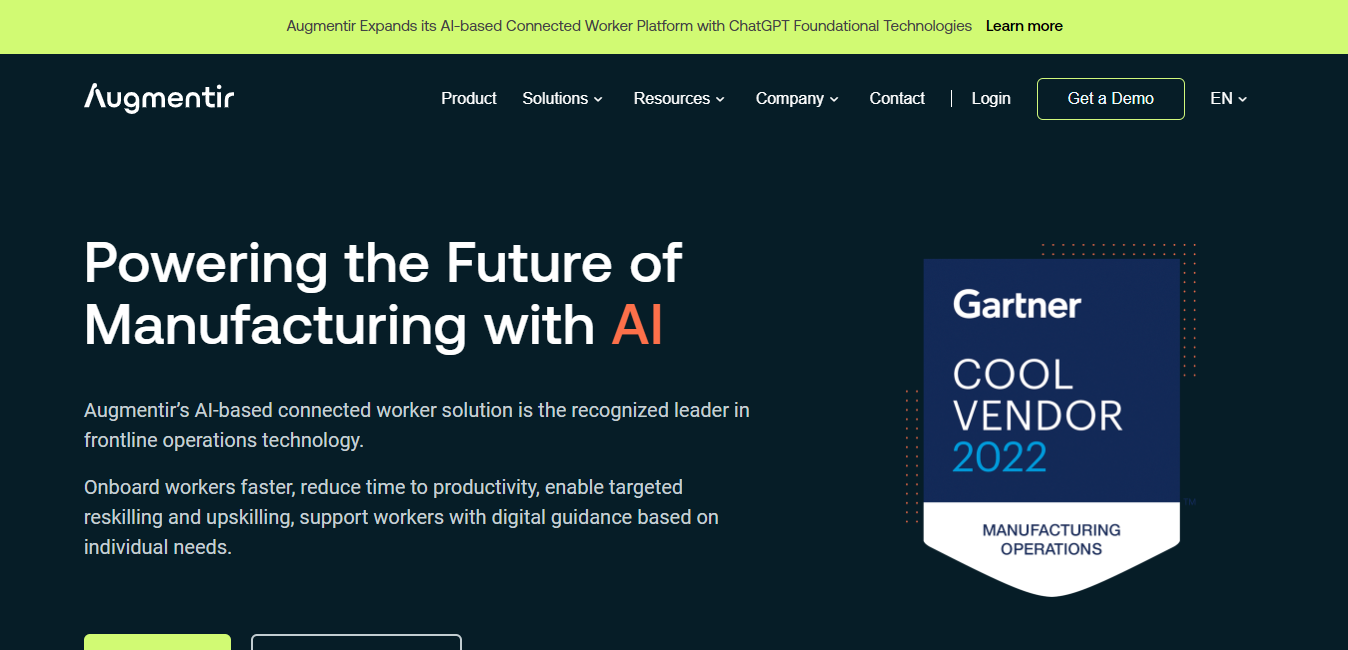 Augmentir's AI-based worker solution helps achieve operational excellence through smart digitization.
It enables faster onboarding, increased productivity, targeted reskilling and upskilling, and personalized digital guidance for workers.
Augmentir Top Features
Quality Improvement
Operational Improvement
Autonomous Maintenance
1. Quality Improvement
It makes quality assurance and inspection procedures digital, consistent, and efficient, resulting in fewer mistakes and less need to redo work.
2. Operational Improvement
It ensures that the equipment is working properly and productively.
The tool improves the safety, quality, and efficiency of the maintenance routines performed by plant management, operations, and maintenance staff.
3. Autonomous Maintenance
Augmentir has digital tools to manage and track equipment issues and tags and fix problems before they cause trouble.
Augmentir Pricing & Plans
Customizable Pricing: Subscription pricing is billed according to the features you choose for your needs.
8. Timehero – Best AI Tools for Project Management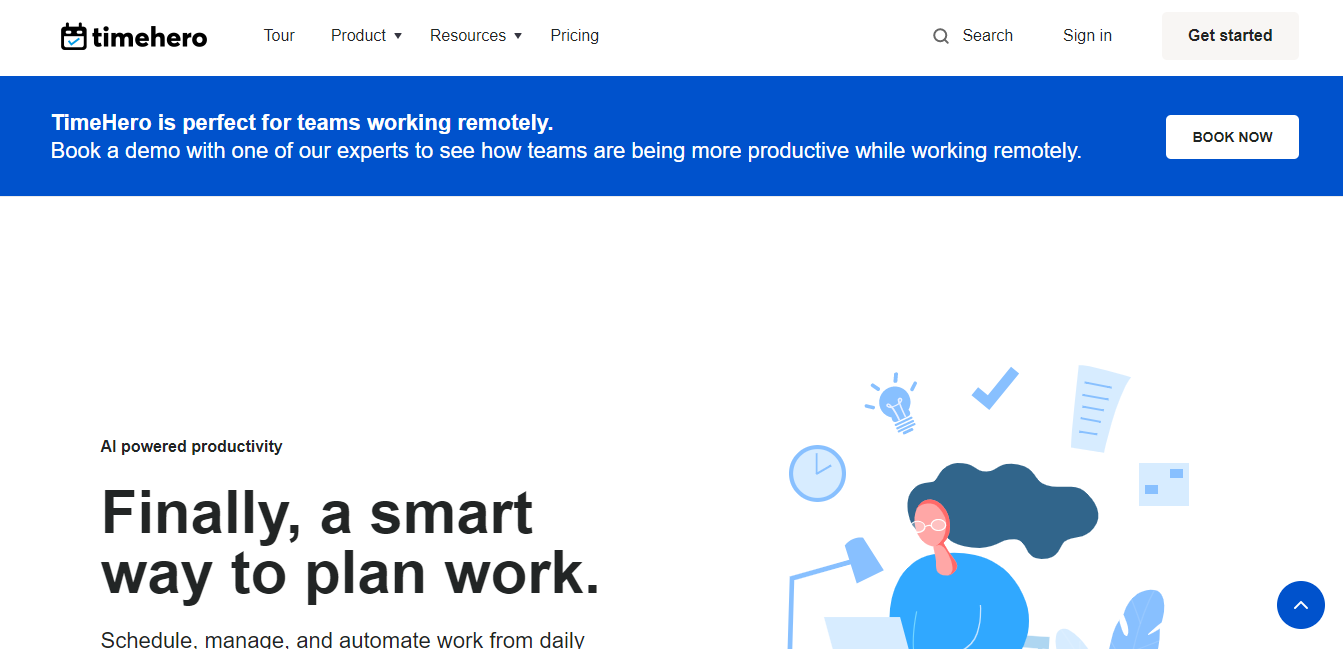 TimeHero is an AI platform that simplifies the process of organizing daily tasks, projects, and repetitive to-dos by enabling you to create a flexible work plan that adjusts automatically.
With TimeHero, planning and completing your tasks becomes effortless and automated.
TimeHero Top Features
Smart Recurring Tasks
Task Organizer
Sync
1. Smart Recurring Tasks
It simplifies the process of planning tasks that you frequently perform, whether they are date-specific or require advanced planning to meet deadlines.
TimeHero automates the planning of such tasks for greater business efficiency.
2. Task Organizer
TimeHero offers new AI solutions by offering scheduling tools that prioritize tasks based on your availability and plans around your schedule.
3. Sync
It syncs with Office 365 and Google calendars.
TimeHero Pricing & Plans
1. Basic Plan:
This plan is for planning simple daily tasks and to-do's around your connected calendars.
Price: $4.60 per user, per month.
2. Professional:
This plan is for smart project management, recurring tasks, and integrations.
Price: $10 per user, per month.
3. Premium:
This plan is for everything you need to automate your project workflow and reporting.
Price: $22 per user, per month.
9. Legal Robot – Best AI Tool For Legal Assistance
Legal Robot uses NLP and deep learning to make legal assistance accessible for all company sizes.
In addition, it helps individuals understand complex legal contracts and improves the readability of contracts to ensure full comprehension by employees.
Legal Robot Top Features
Compare Legal Documents
Manages Compliance Risk
1. Compare Legal Documents
AI-powered software that automatically compares legal documents to identify differences and similarities, saving time for legal professionals working for companies.
It is particularly useful for comparing revisions or amendments and can help reduce errors and increase efficiency in the legal field.
2. Manages Compliance Risk
Using LegalBot AI Tools for Microsoft Power automates the extraction of key information and insights for managing compliance risks, which would otherwise require significant time and effort.
Legal Robot Pricing & Plans
Not provided by the vendor.
10. Sisense – Best AI Tool for Data Analytics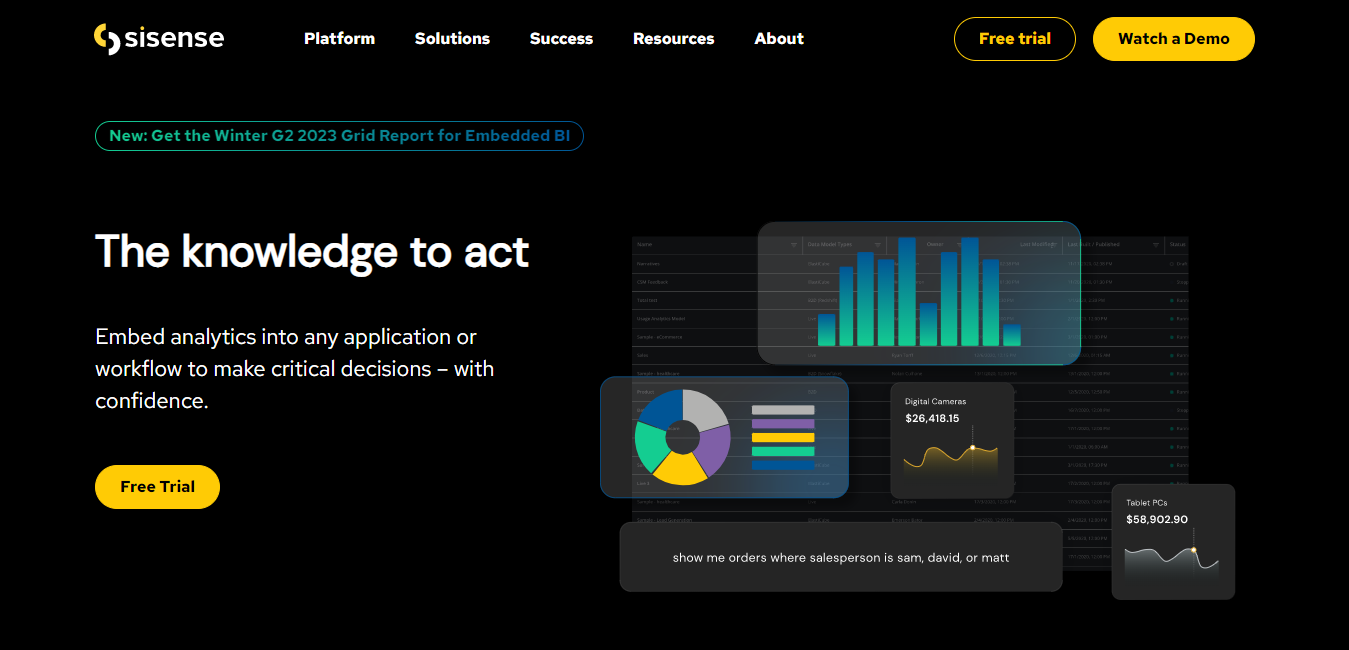 Sisense is an AI-driven platform that provides intelligence and works as data analytics software.
Its helpful features go beyond traditional business intelligence.
It infuses analytics everywhere, embedded in customer and employee applications and workflow to improve business strategies.
Sisense Top Features
Fusion Embedded Analytics
Infusion Apps
Fusion Analytics
1. Fusion Embedded Analytics:
It seamlessly integrates analytics into your product or service with customizable features regardless of your tech stack.
Its predictive intelligence with natural language querying empowers customers. It provides you with data from multiple sources and automatically turns them into insights with AI's power.
In addition, it allows complete control with end-to-end governance and security to protect user data.
2. Data Insights Extraction:
You can work with data in the tools you already have to unlock insights without going to the dashboard.
It eliminates barriers that lock data away in specialized AI environments.
Whether using Google Workspace, Teams, or Office 365, you can fetch and share data insights where you work.
3. Machine Learning:
You can use code, low code, and no code for data analysis, investigation, and visualization.
With the help of machine learning, Sisense uncovers opportunities and makes outcomes accessible through natural language narratives.
As a result, it offers intelligent decisions without technical expertise.
Sisense Pricing & Plans
1. Subscription Based:
Sisense offers subscription pricing starting at $1,000 per month for a basic package, which includes up to 5 users and 50 GB of data. After that, the pricing increases per the number of users and data storage required.
2. Perpetual License:
Sisense also offers a perpetual license option, which provides a one-time cost for the software and ongoing maintenance and support. The perpetual license pricing varies based on the specific needs of the organization.
3. Custom Pricing:
Sisense also offers custom pricing options for enterprise-level organizations with large-scale needs.