At a Glance
Amelia, Zendesk, Trengo, WOTNOT, and TeamSupport are the best AI tools for Customer Support in 2023 to automate repetitive tasks, provide quick and accurate responses to customer inquiries.
AI is transforming customer experience with object detection, virtual assistants, natural language processing, machine learning, emotion recognition, automated routing, automated email response, personalized experience, and predictive analytics.
AI-powered customer service can help you boost sales, increase team productivity, and automate repetitive tasks freeing up more time for pressing matters.
Customers don't want to wait on hold or navigate complex call menus for assistance. Meeting customer expectations instantly helps boost your organization's ratings, attracting more customers and promoting your product growth.
AI is changing customer care by automating repetitive tasks and quickly and accurately responding to customer inquiries. It frees up human customer agents to handle more complex issues. It also provides valuable customer data to provide recommendations and personalized experiences.
Discover how AI can revolutionize customer service by improving efficiency and enhancing the overall customer experience. Explore the benefits of implementing AI in customer service, and take a look at our top 5 AI-powered customer service tools designed to reduce resolution time and boost customer satisfaction. Each tool is briefly described to help you choose the one that fits your specific needs.
1. Amelia – Best AI Conversational Agent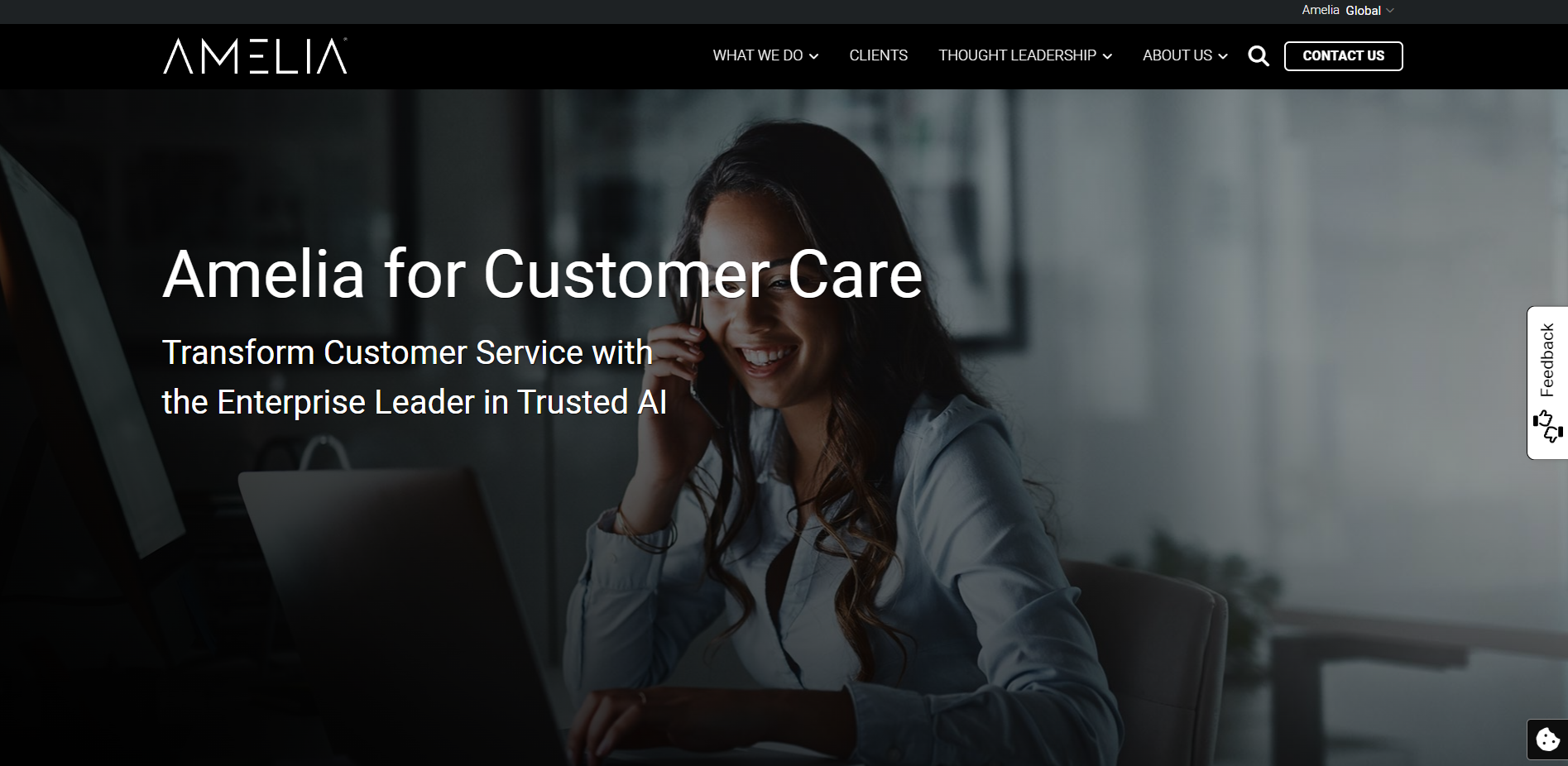 Amelia is a market-leading conversational AI agent through which you can build, create, and deploy your customized variety of use cases.
It will help you build a hybrid workforce with human and digital collaboration. It delivers the best human interaction with conversation, expression, emotion, and understanding, bringing greater business value.
Amelia works as a digital employee for a specific role with an interactive interface.
Amelia Key Features:
Covers Four Industries
Offers Solutions in Four Departments
1. Covers Four Industries
Amelia covers four industries: Banks and Financial Institutions, Healthcare, Insurance, and Telecommunications.
It can handle various tasks, such as managing IT and customer service for financial companies, navigating clinical and administrative tasks in healthcare, delivering benefits to policyholders in insurance, and transforming and optimizing employee and agent-customer interactions in telecommunications.
2. Offers Solutions in Four Departments
The software also offers Customer Care, HR Services, and IT Services solutions. In addition, it helps customers interact with its conversational AI, assists with the transition for new onboarding hires and provides IT support services.
Amelia Pricing & Plans:
The pricing for Amelia AI is not publicly available, as it is tailored to each client based on their specific needs and requirements. The cost of Amelia AI depends on factors such as the complexity of the deployment, the level of customization required, the number of users, and the level of support needed.
2. Zendesk – Best Customized Customer Service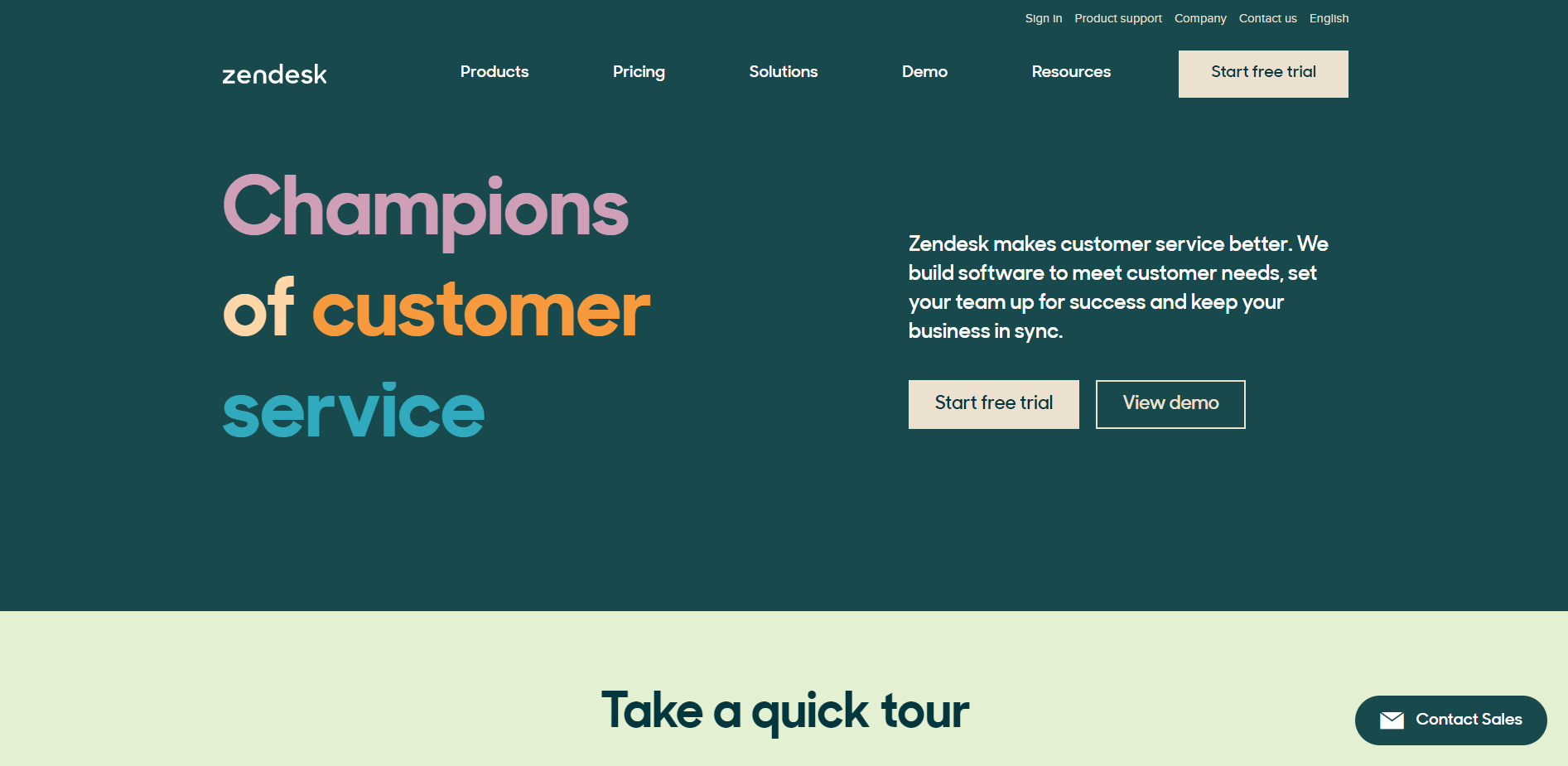 Zendesk offers customer service solutions by allowing your customers to reach out to you anytime, anywhere.
Today, over 100,000 businesses use Zendesk to improve their customer support teams.
It provides a comprehensive and user-friendly customer resolution that can adapt to the growth of the business.
Zendesk focuses on delivering great customer service, setting teams up for success, and keeping the company in sync. It is a powerful all-in-one package.
Zendesk's Key Features:
Ticketing System
Messaging & Live Chat
Help Center
Integrated Voice Solutions
1. Ticketing system
It offers a fully integrated ticketing system through a central hub for all customer questions, requests, and concerns.
2. Messaging & live chat
Customers get a prompt response with its messaging and live chat feature. You can customize this feature to meet your needs.
3. Help Center
Its help center software offers self-service that empowers customers and agents alike.
4. Integrated Voice Solutions
Its integrated voice solutions sync with all other channels, letting agents see all customer information for quick problem-solving.
Zendesk Pricing & Plans:
1. Suite Team
Features
Ticketing system

Email, chat, voice, social messaging, and more

Help Center

AI-powered bots

Prebuilt analytics dashboards

1,000+ apps & integrations

Pre-defined responses (macros)

Custom business rules (triggers & automation)

Online support from the Zendesk team

Digital onboarding and adoption resources
Pricing:
The Suite Team costs $49 per agent per month and $2,940 per year for five agents.
2. Suite Growth
Features:
All the features included in the previous plan plus…

Multiple ticket forms

Light Agents

Service level agreements (SLA)

Customer satisfaction ratings (CSAT)

Multilingual support and content

Self-service customer portal

Business hours
Pricing:
The Suite Growth costs $79 per agent/month and $4,740/year for five agents.
3. Suite Professional
Features
All the features included in the previous plans plus…

Custom and live analytics

Side conversations

Skills-based routing

Integrated community forums

Data location options

HIPAA compliance
Pricing:
The Suite Professional costs $99 per agent/month, which adds up to $5,940/year for five agents.
4. Suite Enterprise
Features:
All the features included in the previous plans plus…
Sandbox

AI-powered Content Cues

Content blocks

Custom agent roles

Contextual workspaces

AI-powered triage and conversation insights – RETAIL ONLY
Pricing:
The Suite Enterprise costs $150 per agent/month and $9,000/year for five agents.
3. WOTNOT – Best Automated Customer Service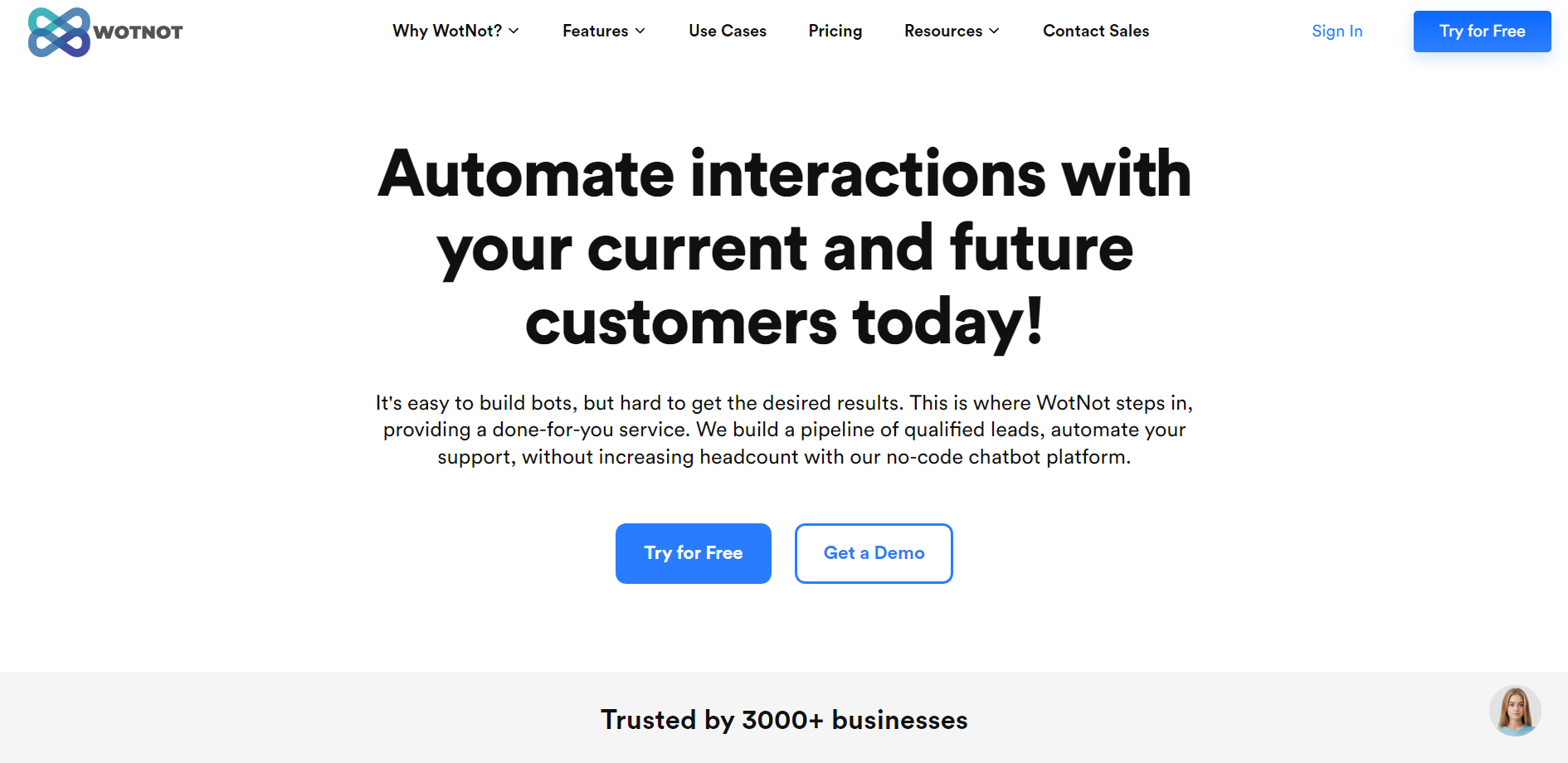 WOTNOT is a no-code chatbot platform to build an AI bot easily without coding.
It helps you automate your customer-agent interactions with chatbots. For example, you can generate leads, book appointments, and improve customer support with a fun bot-building experience.
WOTNOT Key Feature
Bot Builder
Analytics Dashboard
Live Chat
WhatsApp Chatbot
Appointment Booking
1. Bot Builder
A tool for building chatbots without coding. It uses a visual canvas for easy creation and customization.
It allows you to track key performance indicators of the chatbot, and it generates insights for improved bot performance.
3. Live Chat
Its live chat feature offers real-time monitoring of conversations the bot or agents handle.
4. WhatsApp Chatbot
This feature allows you to reach out to potential customers through WhatsApp. It is scalable and automated for maximum reach.
5. Appointment Booking
Automated booking system for sales team demos. It streamlines and improves the booking process.
WOTNOT Pricing & Plans
Below are the plans and the features they offer. WOTNOT sales team tells you the costs once you book a demo with them.
1. Free
This plan is for individuals or teams just starting with WotNot.
Features
1,000 conversations
No-code Chatbot Builder
Analytics Dashboard
Theme the Chat Widget
Unlimited users
2. Startup
This plan is for growing teams that are looking for more features.
Features
Includes every feature in the Free plan, plus…
10,000 conversations
Outbound bots
WhatsApp API
Basic support
Basic integrations
3. Business
This plan is for businesses looking to automate complex interactions.
Features
Includes all the features in the previous plans, plus…
50,000 conversations
Live Chat
Remove Branding
Dedicated CSM
Advanced integrations
4. Enterprise
This plan is for businesses with high security and support needs.
Features
Includes every feature in the previous plans, plus…
Single Sign On (SSO)
Setup Assistance
24/7 Prioritized Support
Optimization Services
Technical Support
4. Trengo – Best Personalized Customer Service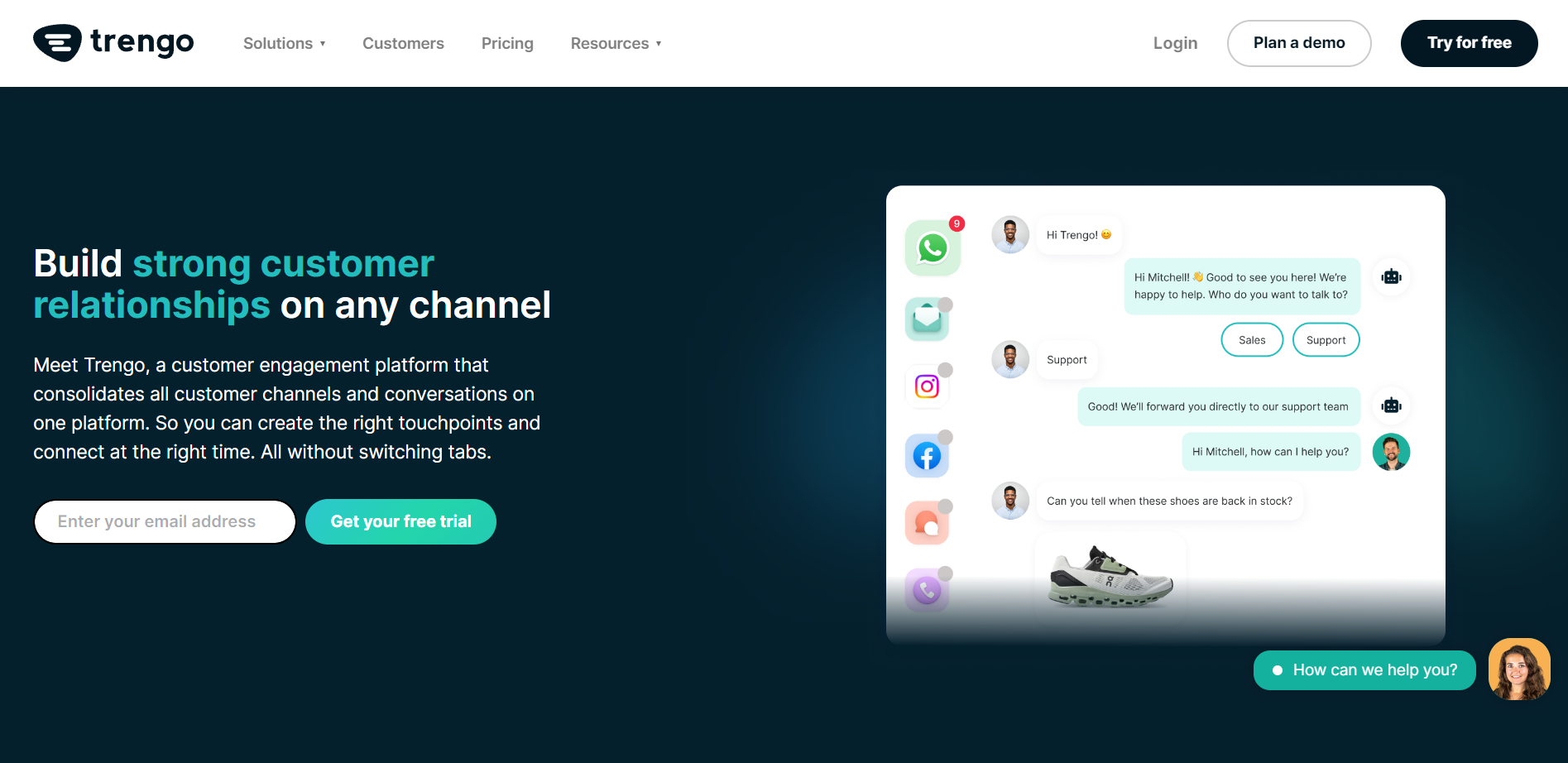 Trengo is a platform for enhancing customer engagement by consolidating all customer-agent interactions and channels into one interface. This enables you to establish meaningful interactions and connect optimally without constantly switching between tabs.
Trengo Key Features
Single Interface Collaboration
Automated Customer Engagement
Easy-to-Use Platform
1. Single Interface Collaboration
You can collaborate with your colleagues to discuss inquiries in a single inbox.
It allows you to reroute incoming messages to teams or coworkers.
You can facilitate internal collaboration using @tagging to keep the momentum going.
With efficient and effective team communication, your teams can have quick and relevant conversations that engage customers.
2. Automated Customer Engagement
Trengo helps you reduce repetitive tasks with automation, provide prompt responses to FAQs, and set established protocols.
As a result, improve efficiency and reduces costs while maintaining quality with automation in customer interactions.
3. Easy-to-Use Platform
It has an easily learnable customer-engagement platform that you can learn in 20 minutes.
You can boost your company's sales, marketing, and customer support without tech skills and Increase repeat business and customer satisfaction through created conversations and workflows.
Trengo Pricing & Plans
1. Grow
Features:
Unlimited messages
Unlimited contacts
180 days archive
5 users
5 communication channels
Team inbox
Live chat
Flowbots (Add-on)
Pricing:
Grow plan costs $18 per user/month. For a minimum of five users, it costs $90 per month.
2. Scale
Features:
Unlimited contacts
Unlimited days archive
5 – 100 users
50 communication channels
Team chat
WhatsApp
Chatbots
CSAT
Statistics + API
Pricing:
The Scale plan costs $29 per user/month. For a minimum of 5 users, it costs $145/month.
3. Enterprise
Features:
Unlimited contacts
Unlimited days archive
Unlimited users
Unlimited communication channels
WhatsApp Broadcasting
Workload balancing
No restrictions
IVR menus
Two-factor authentication
Pricing:
The Enterprise plan costs $41 per user/month. For a minimum of five users, it costs $205/month.
5. TeamSupport – Best B2B Customer Support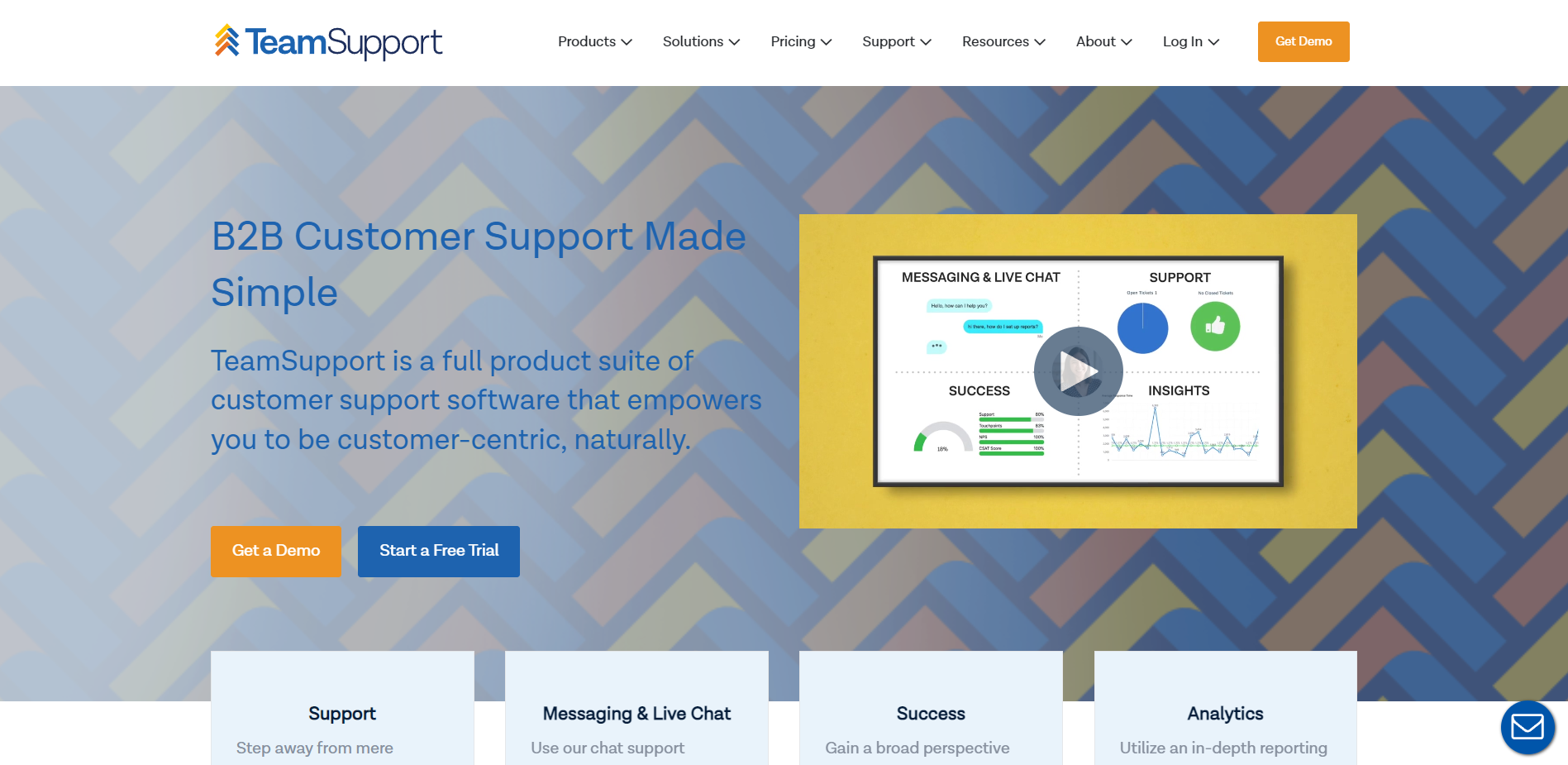 TeamSupport is a full suite of customer support that transforms customer interaction data into opportunities to optimize processes and operations.
TeamSupport's Key Features
Customer Management
Customer Self-Service
Live Chat for Sales and Marketing
1. Customer Management
Its helpdesk software lets you keep track of all interactions in one place. In addition, its proactive analytical tools empower you to provide deep insights into customer health and sentiment.
2. Customer Self-Service
It offers an intelligent chatbot with a knowledge base to empower customer self-service available on request.
3. Live Chat For Sales And Marketing
You can connect with customers to provide information and resolve their issues at every stage through its live chat software for intelligent routing to streamline your sales & marketing efforts.
TeamSupport Pricing & Plans
1. Essential Support
This support ticketing solution is for companies looking to grow.
Features
Customer Management
Advanced Ticket Management
Customer Self-Service, Ticket Deflection
Knowledge Base (Single Product)
Collaboration Features Within Tickets
Customer Satisfaction Rating (CSAT)
Customer Distress Index (CDI) scoring
Basic Reporting & Prebuilt Dashboard
Pricing:
The Essential Support plan of TeamSupport costs $49 per agent/month.
2. Enterprise Support
Features:
All features included in the previous plan, plus…
Asset Management
SLA Management (Up to 3)
Sandbox
Ticket Page Full Customization
Customer Hubs (Up to 3)
Multiple Brand/Product Lines
Integrations (1 included)
Pricing:
The Enterprise Support plan costs $69 per agent/month.
3. Complete Customer Support Suite
Features:
All features included in the previous plans, plus…
Up to 3 Sandbox
Customer Hubs (Up to 5)
Integrations (Unlimited)
API Calls (Up to 20,000)
Enterprise Live Chat
Customer Health Monitoring for Higher Retention
Advanced Reporting with Customizable Dashboard
Pricing:
The Complete Customer Support Suite costs $119 per agent/month.
How is AI Transforming Customer Experience?
Artificial intelligence has brought up a paradigm shift in customer care. Businesses worldwide are gaining extensive gains in their ROIs using AI technologies. We will give you a brief overview of how it can help you scale your customer service standards.
1. Object Detection
Object detection has advanced significantly in the area of artificial intelligence. It is a computer vision task of locating instances of semantic objects of a certain class.
Object detection plays a vital role in customer care. For example, it is used in call centres to help agents identify and categorize customer issues based on the objects and scenes in images or videos customers share.
2. AI-Powered Virtual Assistants
Chatbots use NLP and machine learning algorithms to simulate human conversation and provide automated customer support. It can handle customer support inquiries, conduct routine interactions, and scale customer satisfaction.
In customer care, conversational AI improves efficiency and provides a convenient channel for customers. On the other hand, virtual assistants are useful in sales and marketing to convert casual browsers into potential customers.
3. Natural Language Processing NLP
It enables machines to understand natural human language. The software can process natural language and generate responses that humans can understand.
It uses machine learning algorithms and statistical models to process and analyze large amounts of natural language data. It analyzes text, speech, and other forms of human language to help computers understand and generate human language.
4. Machine Learning
Machine AI learning is as important as NLP. With ML, an application can learn and improve from experience without explicit programming. This amazing capability allows automated responses to become better and consistent with customer needs and requirements.
5. Emotion Recognition For Customer Understanding
Emotional AI uses technology to detect facial expressions and respond to human emotions in customer service, leading to a more personalized and empathetic experience.
For example, sentiment analysis identifies how a customer feels about their services. It responds consistently and concisely in real time if the customer is unhappy with the service.
6. Automated Routing
Automated routing efficiently directs customer queries to the appropriate support agent. It categorizes queries based on issue type and priority using algorithms and pre-defined rules.
It makes query handling more efficient and quick by agents, with the most urgent issues on the top of their helpdesk.
In addition, it scales your customer support experience and reduces average resolution time as automated responses become clearer and more concise.
7. Automated Email Response
AI helps improve customer services and reduce response times to every customer support ticket request.
Agents can access an AI widget on their helpdesk that gives the correct information for customer questions based on previously answered tickets and company data.
In addition, AI can help you scale customers' self-service rates when customers can identify and find the support they need without relying on a service agent.
8. Personalized Experience
Implementing AI customer support can personalize the experience through chatbots, voice assistants, predictive help, recommendations, and context-aware support.
Chatbots and voice assistants provide 24/7 customer support and allow for natural language interactions.
Predictive support uses customer data to provide solutions for customer success.
Personalized recommendations offer tailored product or service suggestions based on past interactions and preferences.
Finally, context-aware support uses information about the customer's current context to provide more relevant assistance.
9. Predictive Analytics
Predictive analytics can improve customer service by anticipating customer needs, identifying potential issues, and optimizing resource allocation.
It analyzes customer behavior, queries, and demographic data to predict future behavior and prevent common problems. Predictive analytics helps organizations better understand their customers and offer software solutions.
In addition, it enables them to provide proactive support to improve satisfaction and loyalty.
Benefits of AI-Powered Customer Service
1. Boosts Sales and Productivity
A study by Oxford University found that the satisfaction of customer service agents directly affects a company's sales figures. The study involved interviewing 1,800 contact center employees over six months. It focused on customer service teams as they are particularly susceptible to stress in the workplace.
Low productivity was frequently seen in customer service, where direct customer communication occurred. This is often due to dissatisfaction among employees due to workload.
Integrating AI leads to more efficient workflows and reduces employee workload. Overall, it improves service quality and delivers financial rewards.
2. Increases Team Potential
AI helps e-commerce companies address customer service challenges while improving quality and generating financial rewards. This optimization process starts with improving workflows and reducing the burden on employees.
Additionally, AI-powered solutions provide valuable insights and data-driven recommendations to help further improve the performance and productivity of your contact center.
In short, investing in AI technology can bring about substantial financial benefits for your company with increased customer engagement.
3. Automation
Integrating automation in the contact center significantly saves personnel costs while increasing your service team's efficiency.
It allows your service agents to resolve more tickets in less time. It frees time and resources to focus on more pressing matters.
4. Faster Responses and 24/7 Availability
Automation improves control of support ticket volume for traditional channels and reduces the number of calls and emails an agent must answer.
Simple inquiries are responded to in real-time and 24/7, leading to faster response and reduced customer waiting times.
It uses an up-to-date knowledge base, works quickly, and prevents mistakes. In addition, a high first-contact resolution rate means inquiries are resolved during the first support contact, reducing the need for additional tickets.
AI-powered contact center operates efficiently, resulting in lower customer ticket costs and lower costs per contact.