At a Glance
QilkView, ChatGPT, Splunk, Sisense, IBM Watson Analytics, and RapidMiner are the best AI tools for business analysts for case analysis and document business requirements with precision.
These Ai tools help with predictive insights, better workflows, and data-driven decisions to make your business a success.
We have briefly introduced each tool with its key features and pricing plans.
In the ever-evolving world of business analysis, staying ahead of the curve is crucial. That's why top business analyst tools are in high demand, especially those tailored for project management and extensively used by business analysts.
These tools provide invaluable assistance in various aspects, including use case analysis and the ability to precisely document business requirements.
We have shortlisted the 6 Best AI Tools for Business Analysts in 2023 with capabilities that extend far beyond traditional methods, enabling professionals to unlock insights, make data-driven decisions, and propel organizations toward success. 
1. QlikView – Best Tool For Uncovering Hidden Insights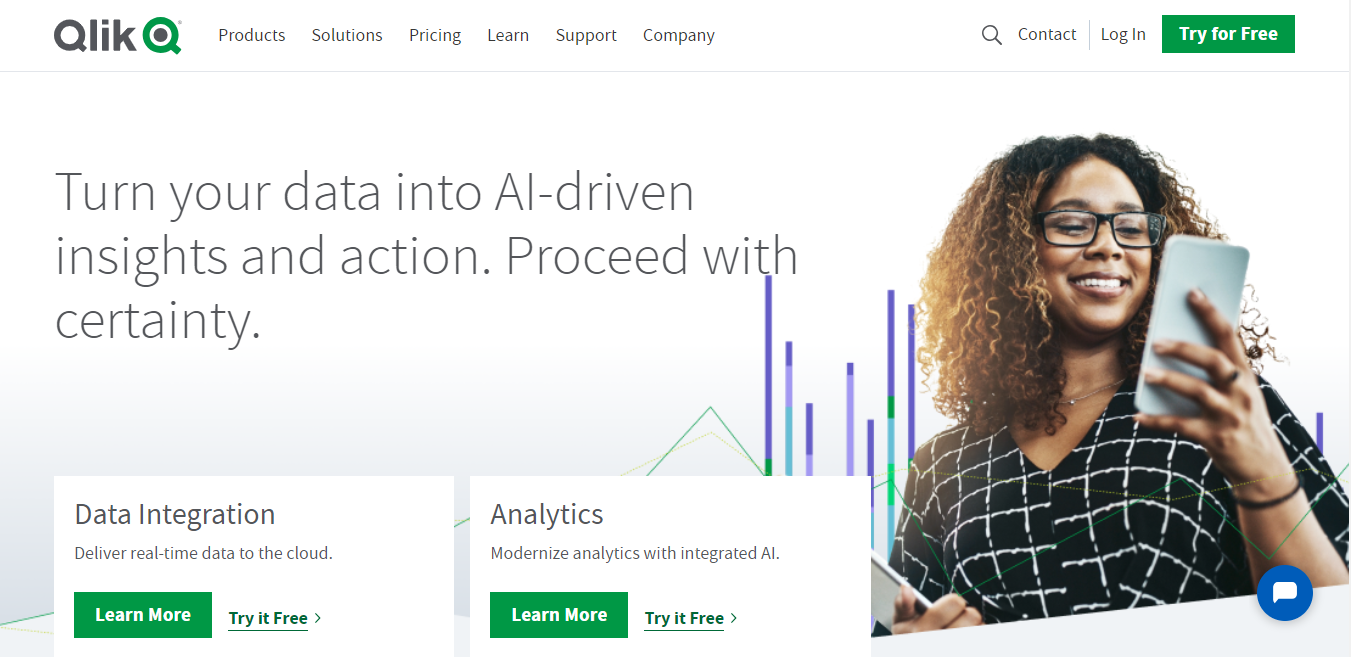 QlikView is designed to empower organizations with powerful analytics capabilities.
With its advanced features and intuitive interface, QlikView enables businesses to extract meaningful insights from raw data and make informed decisions.
QlikView Key Features
Uncover Hidden Insights with Associative Data Model
Data Analysis From Multiple Sources & Integration
Interactive Visualizations and Dashboards
Augmented Analytics for Enhanced Decision-Making
1. Uncover Hidden Insights with Associative Data Model
Unlike traditional query-based tools, it allows users to sort data and freely explore relationships, revealing valuable insights from massive amounts of data that may otherwise remain hidden.
2. Data Analysis From Multiple Sources & Integration
QlikView enables businesses to analyze data from multiple sources, integrating diverse datasets regardless of size or format.
This empowers decision-makers to gain a holistic view of their organization's data, perform comprehensive analyses, and uncover actionable insights that drive better business decisions.
3. Interactive Visualizations and Dashboards
QlikView transforms complex data into meaningful visuals with interactive data visualizations and pre-built dashboard templates.
Decision-makers can quickly grasp information and gain a comprehensive overview of their business performance, facilitating data-driven decision-making.
4. Augmented Analytics for Enhanced Decision-Making
QlikView combines machine intelligence with its Associative technology by leveraging augmented analytics capabilities.
This approach enhances decision-making by increasing the data literacy of the entire workforce, fostering a culture of informed decision-making across the organization.
QlikView Pricing & Plans
Business(Free-Trial Available)
Features
It offers smart visualization and dashboards, an associative Engine for deeper insights, augmented analytics with advanced AI, connect and combine 100s of data sources, and flexible APIs and custom extensions.
Price
It costs $30/month.
Enterprise
Features
It offers everything in Qlik Sense business, plus: enterprise governance, multiple user types, Increased capacity, unlimited shared and managed spaces, advanced reporting with auto-distribution, and pattern detection with Qlik AutoML.
Price
You can contact the QlikView sales team for a custom quote and pricing.
2. ChatGPT – Best For All-In-One Solution For Business Intelligence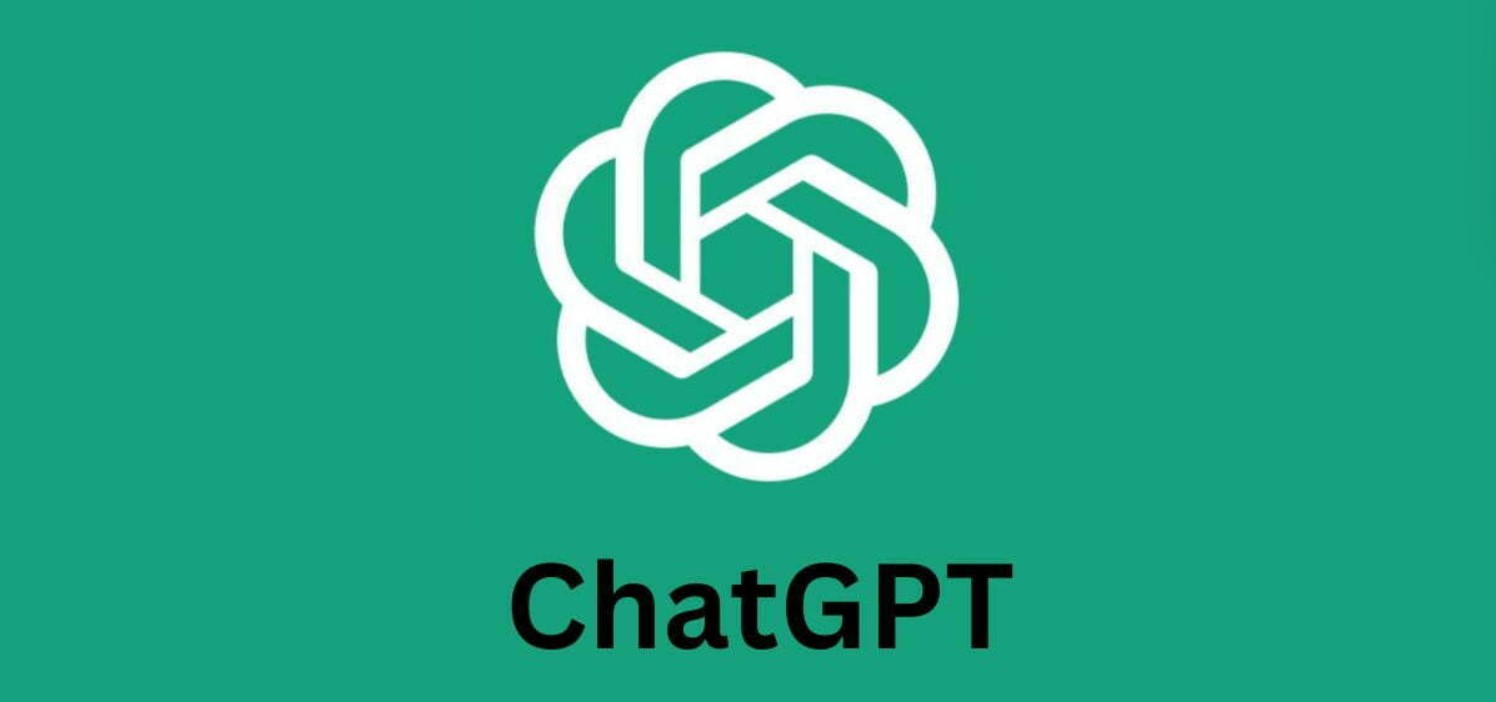 With ChatGPT, business analysts can leverage its user-friendly interface to interactively explore and analyze data, generate insights, and make informed decisions.
By employing various analysis methods and best practices, ChatGPT uncovers patterns and trends, providing plenty of business value.
With its natural language processing capabilities, it enables seamless communication and collaboration, meeting the needs of every business and helping analysts in their data analysis and decision-making processes.
ChatGPT Key Features
Data Analysis
Predictive Analytics
Decision Support
Natural Language Generation
Trend Analysis
1. Data Analysis
ChatGPT assists in analyzing and interpreting data, uncovering patterns, trends, and insights from provided datasets.
2. Predictive Analytics
It helps build predictive models based on historical data, enabling forecasting future outcomes like sales projections and customer behavior prediction.
3. Decision Support
It acts as a virtual advisor, offering suggestions, evaluating different scenarios, and providing insights to support complex business decisions.
4. Natural Language Generation
ChatGPT generates well-written reports, summaries, and presentations based on provided data, automating the writing process and ensuring consistent outputs.
5. Trend Analysis
By its ability to analyze data, it can identify trends in the industry, and it helps businesses stay ahead by spotting new opportunities and recommending proactive strategies.
ChatGPT Pricing & Plans
ChatGPT is free to use. However, Open AI has introduced its paid version.
ChatGPT Plus
Features
It offers general access to ChatGPT, even during peak times, faster response times, and priority access to new features and improvements.
Price
It costs $20/month.
3. Splunk – Best For End-To-End Data Visibility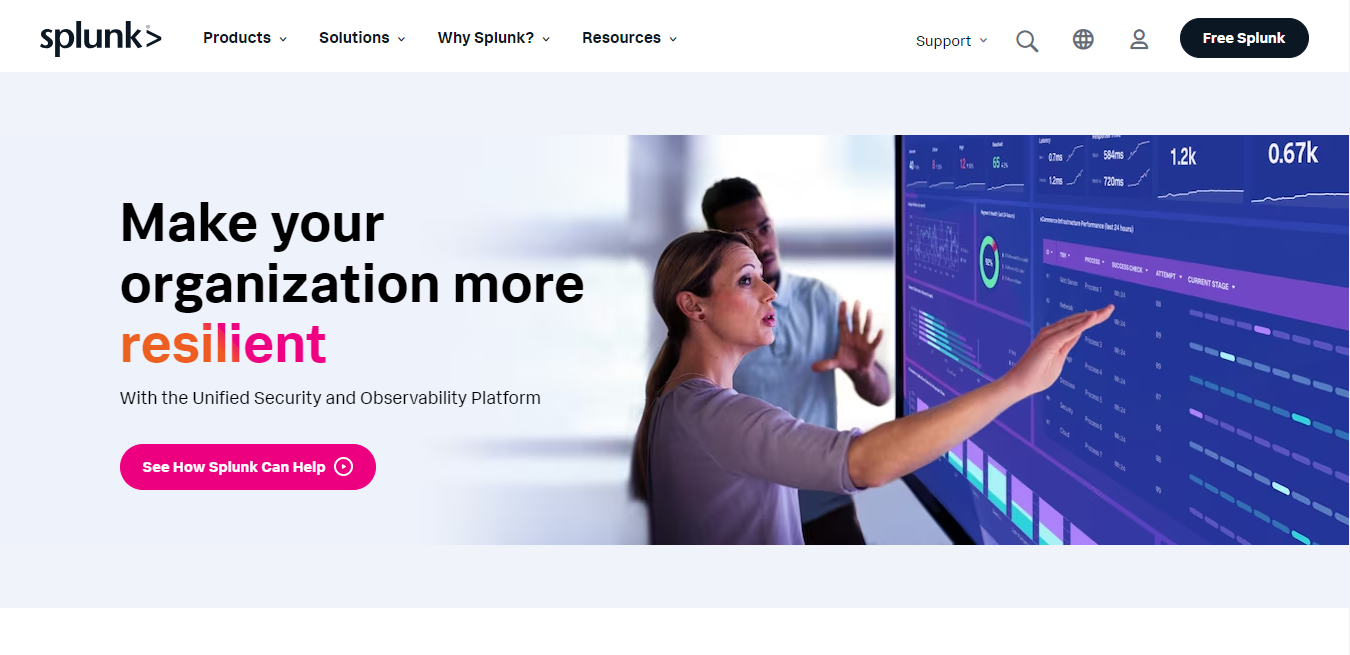 Splunk is a powerful platform used as a tool for organizations to gain actionable insights from their data.
It enables users to explore, analyze, and visualize their data to drive business success and make informed decisions aligned with their business goals.
At its core, Splunk Enterprise provides end-to-end visibility from edge to cloud, allowing users to explore, analyze, visualize, and act on their data to drive business resilience and make informed decisions.
Splunk Key Features
Accessible Data
Machine Learning and AI
Data Streaming
Scalable Index
Collaboration Tools
1. Accessible Data
You can use the Splunk platform from anywhere, whether on-premises, at home, in your data center, or a combination of them with a unified hybrid experience.
It enables businesses to leverage their data using Splunk and gain insights to achieve their business goals.
2. Machine Learning and AI
Leverage machine learning and AI capabilities offered by Splunk to predict and prevent issues, improve security, and drive better business outcomes.
3. Data Streaming
Collect, process, and distribute real-time data to Splunk and other destinations in milliseconds with real-time stream processing.
It allows businesses to process data from various sources, including their business systems, ensuring up-to-date information for analysis.
4. Scalable Index
Collect and ingest data from thousands of sources at a terabyte-scale, ensuring scalability and flexibility for storing and retrieving massive amounts of data.
It helps businesses process and manage large volumes of data to meet their business needs.
5. Collaboration Tools
These tools allow you to interact and collaborate from anywhere using mobile, TV, and augmented reality capabilities.
It also allows seamless collaboration between businesses. 
Splunk Pricing & Plans
You can contact the Splunk sales team for pricing inquiries.
4. Sisense – Best Tool For Business Intelligence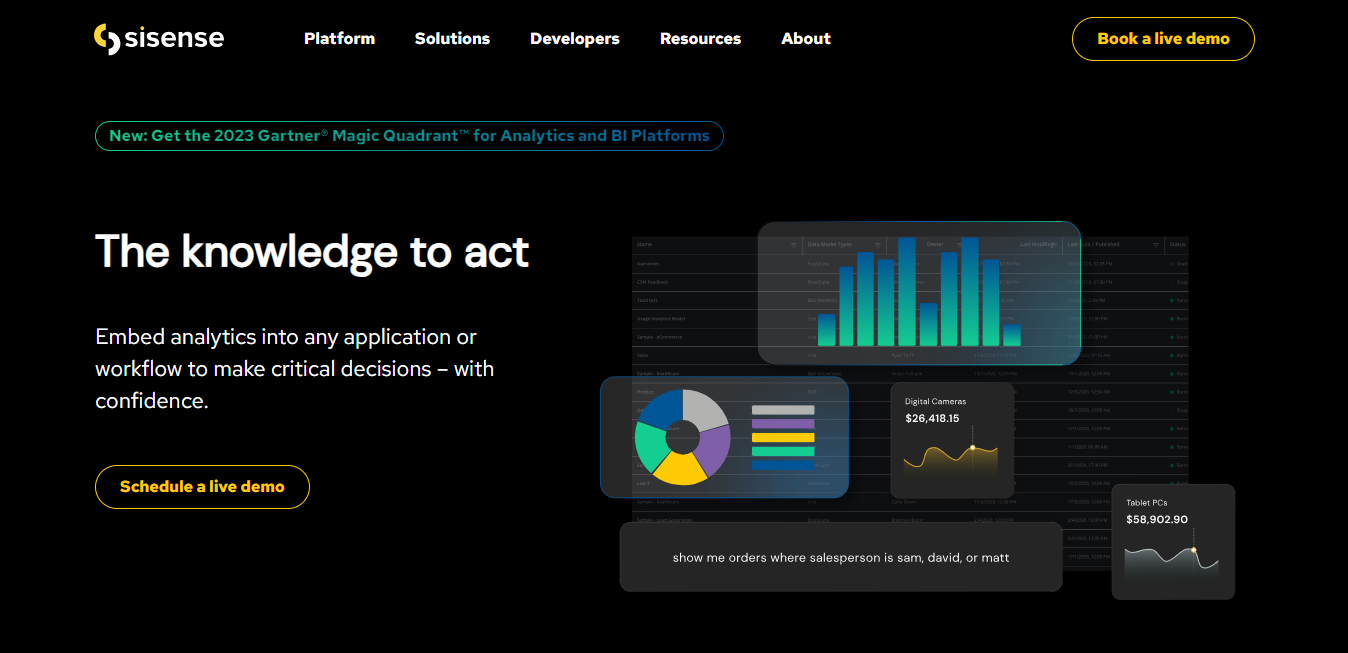 Sisense is one of the top business analysis tools on the market, allowing users to connect with their data effortlessly.
With Sisense, you can leverage live data models from high-performance databases or combine data from multiple sources into a cached data model, enabling you to create insightful dashboards easily.
Sisense empowers you to make critical decisions confidently by embedding analytics into any application or workflow, providing actionable insights your business need to keep an eye on.
Sisense Key Features
Seamless Data Connectivity
Live Data Models
Mashed-Up Data Sources
Embedded Analytics
Extensibility with Add-Ons
1. Seamless Data Connectivity
Sisense enables easy integration and consolidation of data, providing a unified view for comprehensive analysis from different sources.
2. Live Data Models
It ensures real-time access to the most up-to-date information, enabling you to confidently make data-driven decisions.
It lets you power your dashboards with live data models that leverage high-performance databases.
3. Mashed-Up Data Sources
You can gain comprehensive insights and uncover valuable correlations and patterns by combining diverse datasets.
It allows you to combine data from multiple sources using its accelerated cached data model.
4. Embedded Analytics
Sisense offers an API-first analytics platform, allowing you to embed white-labeled analytic experiences at scale that help business analysts make informed decisions to improve their workflow management.
6. Extensibility with Add-Ons
Sisense's data analytics software is infinitely extensible, supporting various Add-Ons.
These Add-Ons, provided by Sisense and expert partners, enhance the capabilities and functionality of the platform.
It allows you to optimize and customize your analytics experience for all business requirements. 
Sisense Pricing & Plans
Instead of providing any pricing plan, Sisense offers a live demo to ascertain your requirements and suggest a pricing plan.
5. IBM Watson Analytics – Best For Business Predictive Insights
IBM Business Analytics Enterprise empowers businesses with tools and techniques to improve planning, decision-making, and outcomes through data-driven insights.
It combines predictive analytics, reporting, data analytics, and data integration capabilities with AI technology to provide a single-entry content hub for discovering, personalizing, and recommending business analytics content.
IBM Watson Analytics Key Features
Comprehensive Analytics Platform
Composite Dashboards
Insightful Decision-Making
Easy Collaboration
1. Comprehensive Analytics Platform
IBM Business Analytics combines predictive analytics, reporting, data analytics, and data integration capabilities.
It offers various business analysis tools and techniques to support data-driven decision-making and improve business outcomes.
2. Composite Dashboards
With IBM Business Analytics, users can create composite dashboards by compiling content assets from multiple business intelligence (BI) vendors into a single, integrated analytics dashboard.
This allows for a holistic view of data and insights accessible to all users at scale.
3. Insightful Decision-Making
The platform empowers users to make confident business decisions by providing real metrics and insights that lead to the best business analysis.
By leveraging advanced analytics capabilities, users can eliminate guesswork and rely on data-driven insights to drive strategic initiatives and achieve business goals.
4. Easy Collaboration
The software tools facilitate collaboration across teams and departments by providing tools and functionalities that enable the seamless sharing of insights, reports, and analytics.
It allows users to collaborate and align business objectives and plans, fostering a culture of collaboration and ensuring organizational alignment.
IBM Watson Analytics Pricing & Plans
You can contact the IBM Watson Analytics sales team for any pricing inquiries.
6. RapidMiner – Best for Advanced Data Science and Predictive Analytics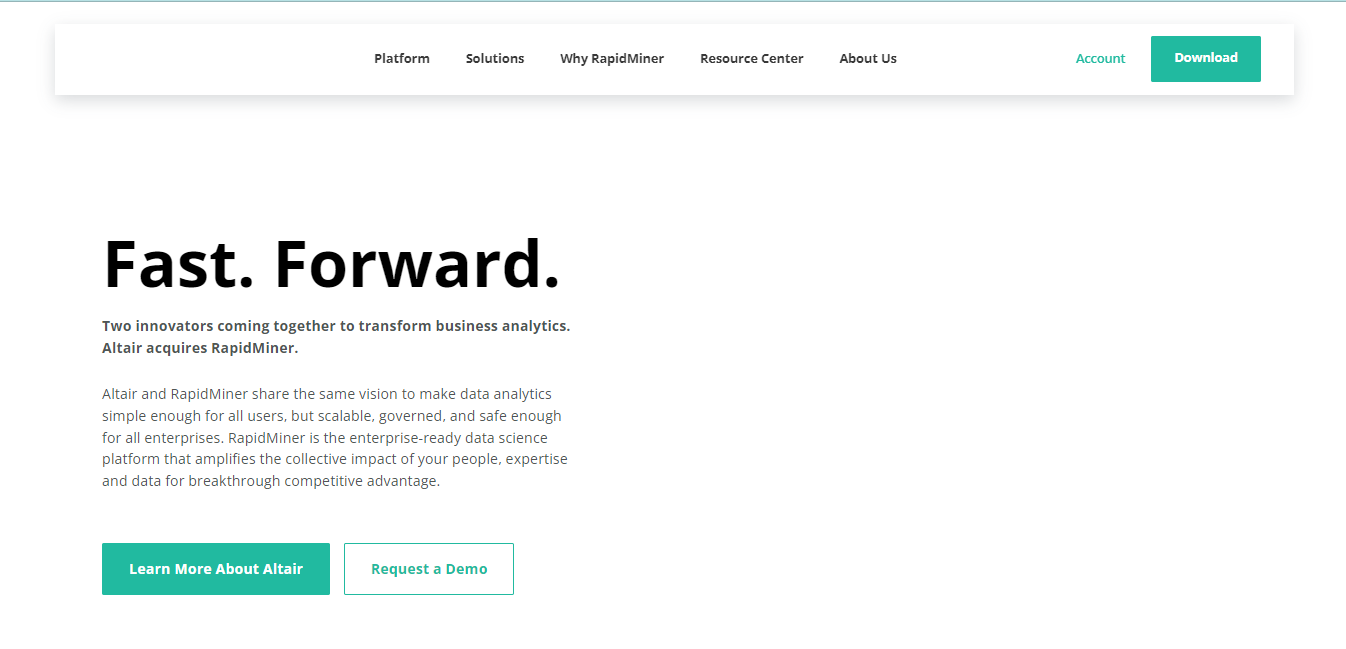 With RapidMiner, business analysts can leverage the platform's automation, intuitive data preparation, code-based data science, visual analytics workflows, and centralized project management.
RapidMiner is revolutionizing how organizations approach business analytics, making it accessible, scalable, and impactful for all.
RapidMiner Key Features
Data Science Lifecycle
Data Engineering
Model Building
Collaboration & Governance
1. Data Science Lifecycle
RapidMiner offers end-to-end automation and augmentation to enhance productivity and simplify the path to results.
The platform streamlines the data science lifecycle from data exploration to modeling to production and minimizes unnecessary complexity.
2. Data Engineering
The tool is used to simplify the process of getting data ready for predictive modeling.
RapidMiner provides interactive data exploration and evaluation of data health, completeness, and quality.
It lets you quickly fix missing values and outliers, blend datasets, and create new columns as needed.
3. Model Building
It empowers your data scientists to create models using code in a scalable and managed notebook environment.
RapidMiner facilitates collaboration between coders and non-coders, enhancing productivity and ensuring seamless teamwork.
4. Collaboration & Governance
Its visual workflows offer an intuitive drag-and-drop canvas, allowing you to create models in a fully visual environment.
Identify and troubleshoot issues easily, showcase your work during deployment, and onboard new stakeholders swiftly.
RapidMiner Pricing & Plans
You can contact the RapidMiner Sales Team for pricing inquiries.