At a Glance
Contentatscale, Trinka, Jasper AI, Sudowrite, Paragraph AI, Writesonic, Rytr, and LongShot AI are the best AI tools for bloggers in 2023 to harness the power of artificial intelligence and streamline the content creation process. 
We have briefly introduced each tool along with key features and pricing plans.
In the fast-paced blogging world, content creation can be challenging. Bloggers often struggle with creating factually correct content while keeping up with the ever-changing demands of SEO marketing.
Fortunately, the emergence of AI content generator tools has revolutionized the blogging landscape. With a wide range of AI writing tools on the market, bloggers can now harness the power of artificial intelligence to streamline their content creation process.
We have listed the 8 Best AI Tools for Blogging in 2023 that can ensure the accuracy of your content and optimize your blogs for SEO, making it easier than ever to produce high-quality posts.
1. Content At Scale – Best For Content That Can Bypass AI Detection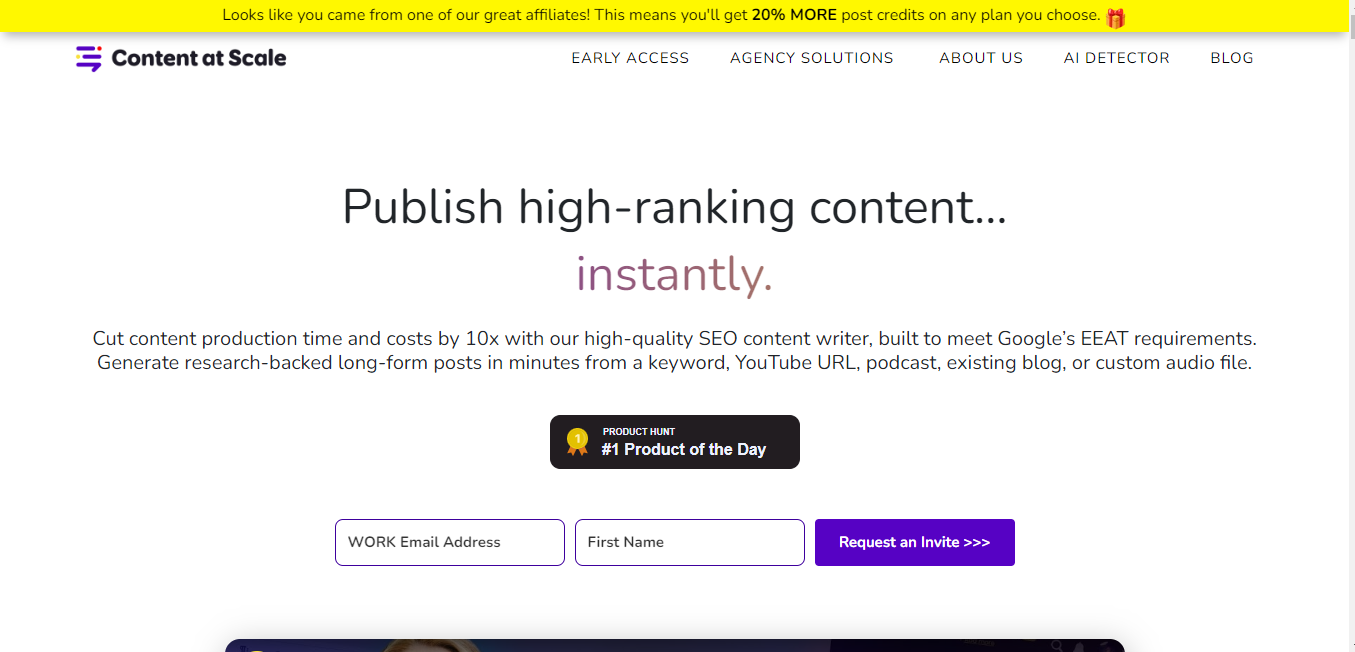 Contentatscale enables bloggers to create content quickly and easily while significantly reducing production time and costs.
It is designed to meet Google's Expertise, Authoritativeness, and Trustworthiness (EAT) requirements and generates high-quality content optimized for search engine optimization (SEO). 
Content At Scale Key Features
Instant Content Generation
SEO-Optimized Content
Bypass AI Content Detection
Multiple Input Sources
Easy Editing and Publishing
1. Instant Content Generation
It helps users generate research-backed long-form content within minutes using various input sources such as keywords, YouTube URLs, podcasts, existing blogs, or custom audio files.
2. SEO-Optimized Content
The AI writer takes inspiration from top-ranking content for target keywords and helps you write fresh, original content based on that.
This eliminates the need to rely on industry-specific writers or spend time transferring knowledge to new writers.
3. Bypass AI Content Detection
Contentatscale makes the generated content so human-like that it bypasses AI content detection.
This means that even with future Google updates, the content remains protected.
4. Multiple Input Sources
Users can provide a keyword or multiple keywords to write blog posts, rewrite an existing article based on a source URL, convert podcast episodes or MP3 files into educational articles, extract original content from YouTube videos or MP4 links, and even upload documents, PowerPoint decks, PDFs, or multiple articles to generate fully written, beautifully-formatted blog posts.
5. Easy Editing and Publishing
The content generated by Contentatscale serves as a draft that can be easily edited according to user preferences before publishing.
Content At Scale Pricing & Plans
You can contact Content At Scale's sales team for pricing inquiries for this tool.
2. Trinka – Best For Academic Blog Writing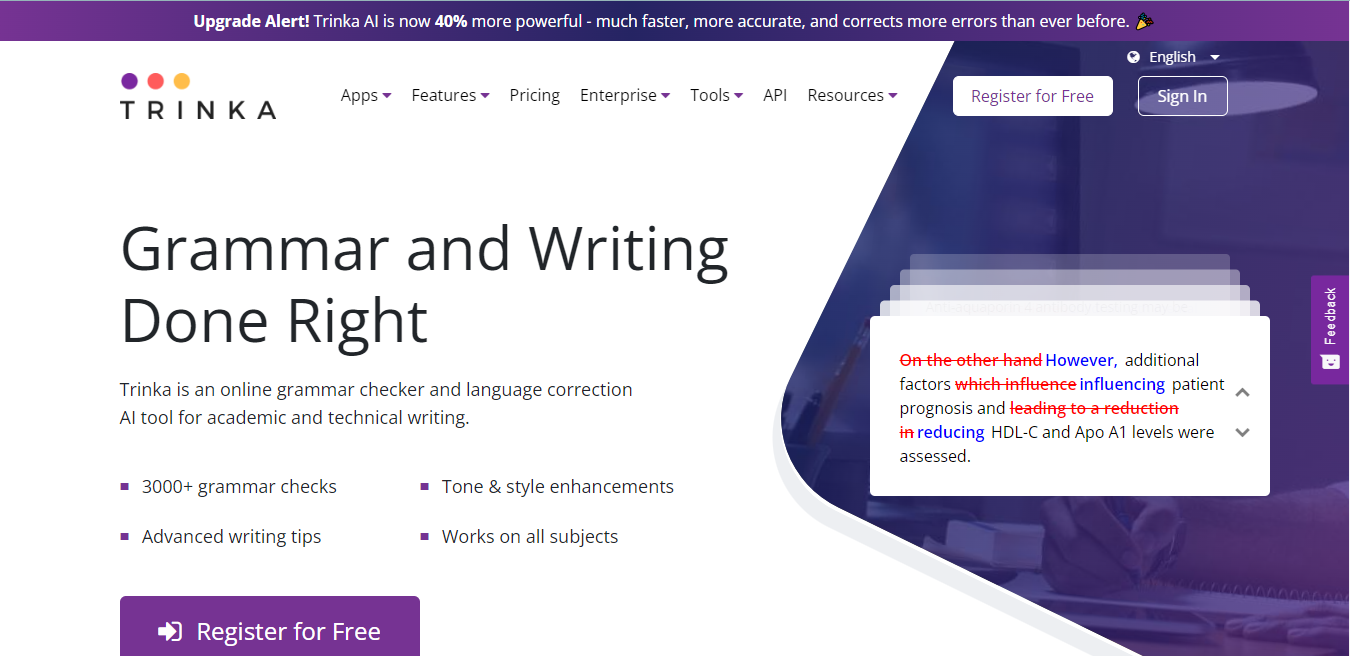 Trinka can help with grammar and language enhancement tailored for academic blog writing.
It can help you with many features beyond traditional grammar and spelling checks, providing holistic language improvement for your academic blog posts.
Trinka Key Features
Powerful Grammar and Spelling Checks
Enhancements for Engaging Content
Plagiarism Check
Auto File Edit
Publication Readiness Checks
Citation Checker
Consistency Check
Personal Dictionary
1. Powerful Grammar and Spelling Checks
It goes beyond basic corrections, identifying and rectifying complex grammar errors that other tools may overlook.
This ensures that your blog posts are clear, concise, and error-free.
2. Enhancements for Engaging Content
Trinka assists in refining the tone, delivery, and phrasing of your blog content, making them more engaging and reader-friendly. 
3. Plagiarism Check
Trinka offers a comprehensive plagiarism check using the advanced iThenticate algorithm.
It compares your blog post against a vast database of paid publications, ensuring your written content is unique and free from unintentional plagiarism.
4. Auto File Edit
With Auto File Edit, you can apply powerful language revisions to your academic blog posts.
Trinka tracks all the changes made, making it easy for you to review and accept the edits. 
5. Publication Readiness Checks
Trinka evaluates your blog posts against predefined checkpoints, ensuring your content is ready for publication on your blog. 
6. Citation Checker
Trinka's Citation Checker identifies weak or insufficient citations in your blog posts and suggests strong and relevant sources.
7. Consistency Check
Trinka's Consistency Checks help you eliminate inconsistencies in your writing style, ensuring uniformity in hyphens, spellings, and other linguistic elements to enhance the academic professionalism of your blog posts.
8. Personal Dictionary
You can add domain-specific terms, jargon, or other words unique to your field and build a personalized dictionary. 
Trinka Pricing & Plans
1. Basic
Features
It offers access to all features, Up to 5000 words/month, one free Plagiarism Check score/per month, two free credits for Plagiarism Check, Auto File Edit, and more.
2. Premium
Features
It offers everything in the Basic Plan plus; Unlimited monthly usage, two free Plagiarism Check scores/per month, five free credits for Plagiarism Check, Auto File Edit, and Early Access to new features.
Price
It costs $6.67/month.
3. Jaspar AI – Best AI Copywriting Tool & Long-Form Content
Jasper uses generative AI to break through writer's block, create even original imagery, and repackage content into different formats, tones, and languages.
Unlike most AI-generated content creation tools, Jasper can be trained on your brand and called up on any platform you use for unique content production, from email to social media to your website.
Jaspar AI Key Features
Rank for SEO
First Draft Fast
End Writer's Block
Translate 25+ Languages
Scale Up Content
Unlock Documents
1. Rank for SEO
Jasper helps businesses improve their search engine rankings by creating original and keyword-rich content. Blog writers can generate educational blog articles that are optimized for SEO.
2. First Draft Fast
You can briefly describe what you want, and Jasper quickly generates the initial draft, saving valuable time and increasing productivity.
3. End Writer's Block
When faced with writer's block or struggling to develop creative content ideas, Jasper can inspire and help overcome the blank page syndrome.
4. Translate 25+ Languages
Jasper breaks through language barriers by offering translation capabilities in over 25 languages. 
5. Scale Up Content
From blog posts to stories, social media content, and even books, Jasper is a tool that helps create various content types with the power of AI.
6. Unlock Documents
The "Unlock Documents" feature lets you quickly generate long-form original, quality, and plagiarism-free content. Jasper's AI capabilities assist in generating high-quality content by utilizing multiple copywriting skills within a single document.
Jasper AI Pricing & Plans
1. Creator (First 7 Days Free)
Features
It offers chat functionality, templates and documents, basic art generation, one default brand tone, capacity for five active campaigns, and a plagiarism checker.
Price
It costs $49/month.
2. Teams (First 7 Days Free)
Features
It offers three seats (option to buy more), the ability to import documents and style guides, the capacity for ten active campaigns, and live chat support.
Price
It costs $125/month.
3. Business
Features
In this plan, you can customize your number of users, unlimited tones, full image upscaling, security features like SSO, access to an API, and personalized account manager and set-up.
Price
Contact the Jasper AI sales team to get custom features and pricing. 
4. Sudowrite – Best For Writing Captivating Descriptions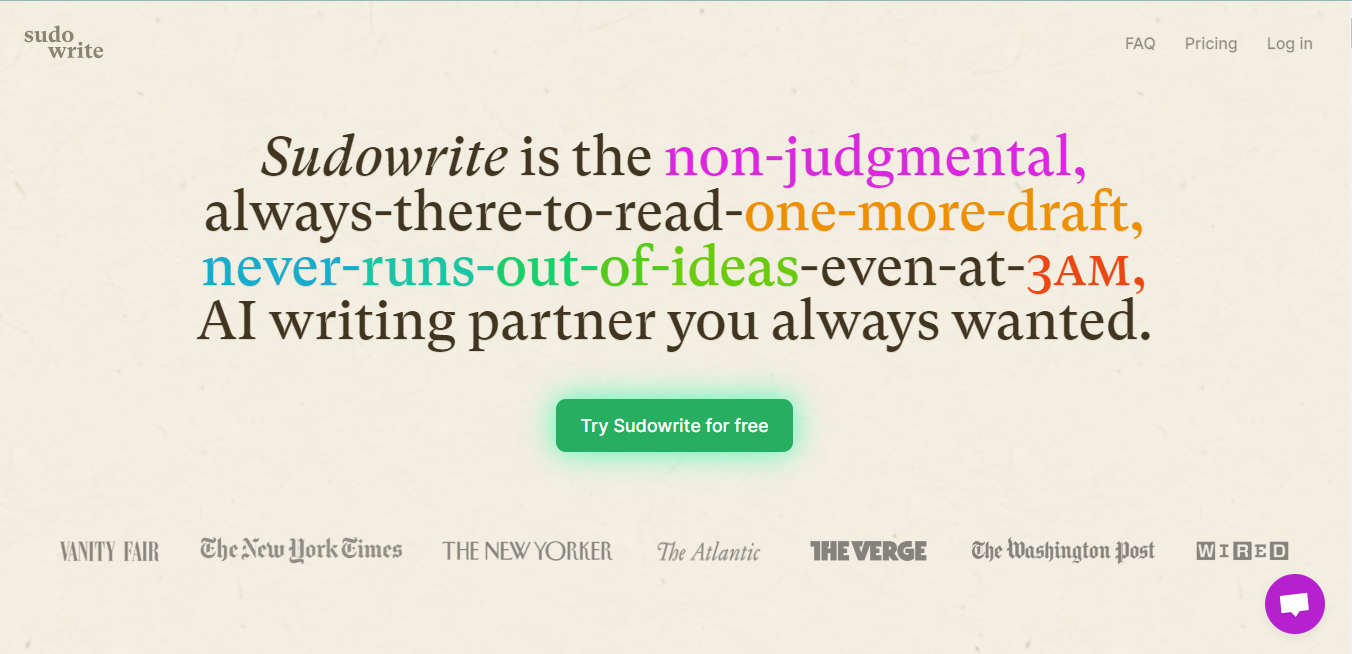 Sudowrite is the best AI content generator for enhanced creativity and effortless relevant content generation.
It offers features to help elevate your blog writing experience with Sudowrite's innovative features by generating fresh content.
Sudowrite Key Features
Engaging Descriptions
Master Pacing and Depth
Writer's Block
Effortless Revisions and Refinement
Instant Feedback for Improvement
Find the Perfect Words
Fresh Ideas with AI Assistance
Endless Inspiration with Brainstorm
Visualize Blog Elements
1. Engaging Descriptions
Sudowrite's "Describe" feature helps you paint vivid pictures with your words.
It assists you in creating connections with your readers by incorporating captivating descriptions that transport them directly into your blog's world.
2. Master Pacing and Depth
With Sudowrite's "Expand" feature, you can effortlessly enhance pacing and add depth to your content. 
3. Writer's Block
Sudowrite's "Write" feature comes to the rescue when faced with writer's block, providing an extra boost of creativity.
This AI-powered tool analyzes your writing style, plot points, and characters to generate the next 300 words in your unique voice, ensuring a steady flow of ideas.
4. Effortless Revisions and Refinement
Sudowrite's "Rewrite" feature serves as your flexible revision buddy. It offers infinite options with its power of AI writing, which adapts to your direction and refines your content to perfection.
5. Instant Feedback for Improvement
Sudowrite's "Feedback" feature acts as your trusted companion, whatever you're writing, offering valuable insights for improvement.
6. Find the Perfect Words
With just a few clicks, Sudowrite helps you find the perfect words that resonate with your readers, helping you create content quickly.
7. Fresh Ideas with AI Assistance
Sudowrite's "Canvas" feature unleashes your creativity by generating alternate plot points, character arcs, and engaging themes.
8. Endless Inspiration with Brainstorm
Sudowrite's "Brainstorm" feature acts as your endless source of inspiration.
Whether you need captivating blog post titles, unique names for your characters, or intriguing concepts, Sudowrite will provide an infinite stream of ideas to fuel your blogging journey.
9. Visualize Blog Elements
Sudowrite's "Visualize" feature brings your blog elements to life, making your writing visually creative and filled with character profiles, world-building details, and story elements, enhancing the overall appeal of your blog posts.
Sudowrite Pricing & Plans
1. Hobby & Student
Features
This plan is good for short stories, blog posts, or essays. It allows 30,000 AI words per month.
Price
It costs $10/month.
2. Professional
Features
This plan is suitable for longer works, like a novel or screenplays. It allows 90,000 AI words per month.
Price
It costs $25/month.
3. Max (Free Trial Available with no credit card)
Features
This plan suits those looking to work AI deeply into their process. It allows 300,000 AI words per month.
Price
It costs $100/month.
5. Paragraph AI – Best Blog Writing App for iOS, Android, and Desktop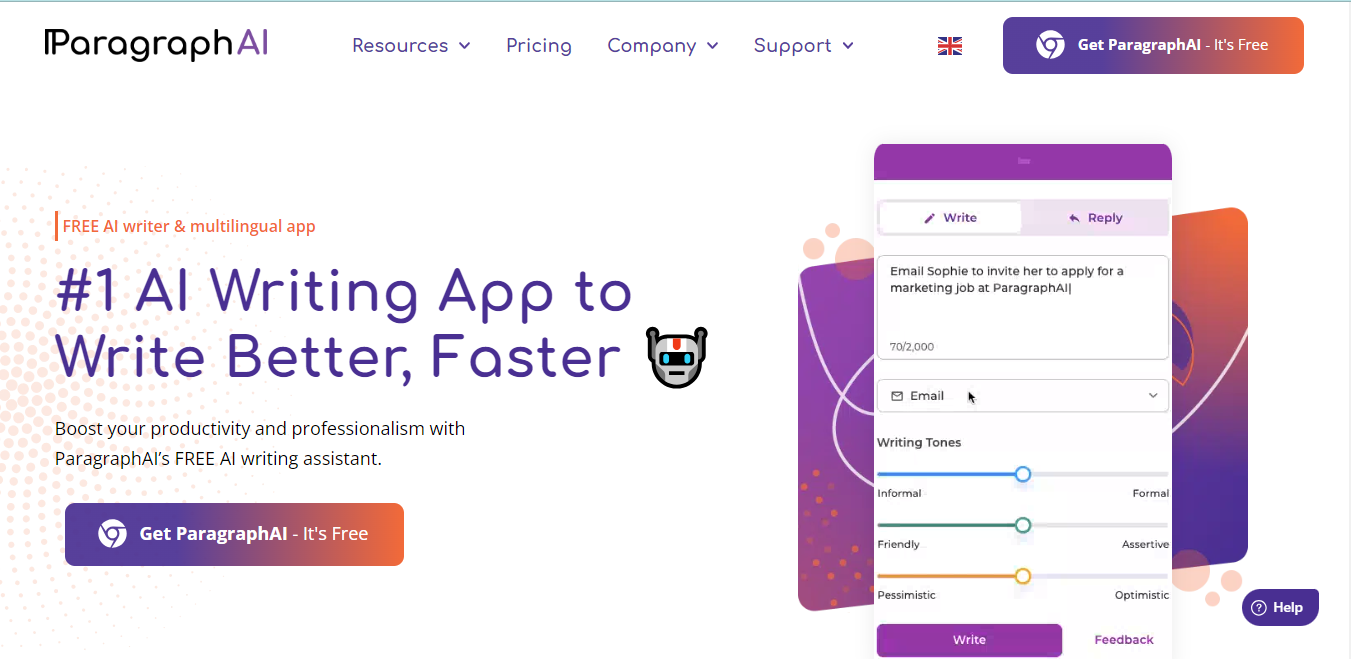 Paragraph AI offers flawless grammar, effortless writing, and instant replies with this powerful AI assistant. 
Paragraph AI Key Features
Flawless Grammar
Effortless Writing
The AI Writer For All Use Cases
1. Flawless Grammar
Enhance your writing with impeccable spelling, grammar, and vocabulary. Paragraph AI's world-class AI writing app ensures flawless text in your preferred language and tone of voice.
2. Effortless Writing
This all-purpose AI writer generates 99.99% plagiarism-free content, emails, reports, resumes, and more, saving you time and effort.
3. The AI Writer For All Use Cases
Powered by ChatGPT, it generates text, emails, and more in your unique writing style. It instantly drafts accurate and grammatically correct responses for any purpose.
Its AI tools for content writing can write paragraphs, compose emails, create lists, craft articles, facilitate translations, and publish blog posts.
Paragraph AI Pricing & Plans
Paragraph AI is for iOS, Android, and desktops and is also available as Chrome Plugin.
Its free version offers lots of features. However, it also offers three paid plans;
1. Student
Features
In this plan, you can write 1,000,000+ words/ month and 150 writes/ day, generate up to 5x more text than free, Plagiarism-free SEO Content, Emails, Reports, Resumes, and Essays in 30+ Languages.
Price
It costs $19.99/month.
2. Professional (For Individual Pro Users)
Features
It includes everything from the Student plan without the student discount.
Price
It costs $24.99/month.
2. Team
Features
It offers everything the Professional plan plus; EAM Management Dashboard with Analytics, Brand Tone Settings, Only Pay For Active Team Members & Receive Detailed Statements & Invoices, Training & Live Chat Support, and Industry & Role Specific AI Results.
Price
You can contact the Paragragh AI sales team for these features and get pricing.
6. Writesonic – Best AI Tool For Bloggers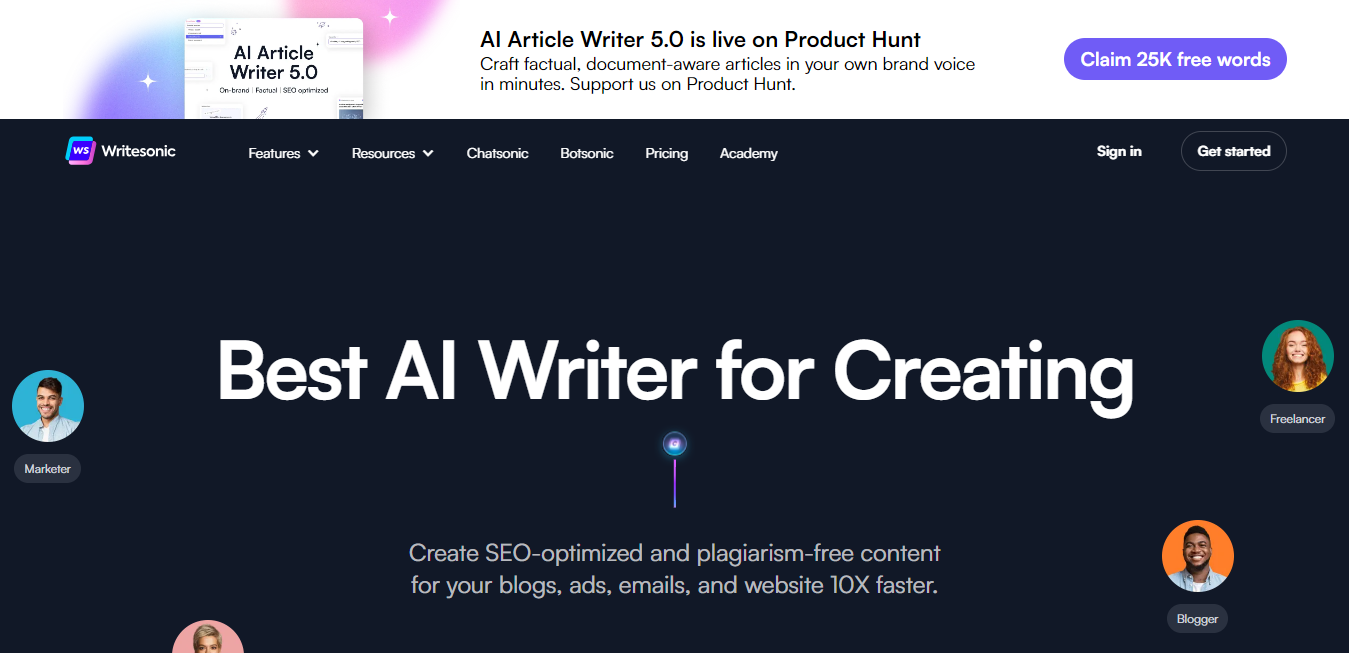 With Writesonic, you can access a comprehensive suite of over 80 AI writing tools.
Whether you need to write articles, blog posts, or outlines, Writesonic streamlines your writing process and helps you publish your content effortlessly.
Writesonic Key Features
Blog Ideas
Blog Intros
Blog Outlines
AI Article & Blog Writer
Multilingual Support
SEO Optimization
Factually Accurate Content
Plagiarism-Free Guarantee
1. Blog Ideas
It gives original and captivating blog post ideas tailored to your topic.
2. Blog Intros
Writesonic helps you craft attention-grabbing introductions that captivate your readers from the start.
3. Blog Outlines
It lets you organize your thoughts and structure your blog posts effectively with relevant sections and perfect outlines.
4. AI Article & Blog Writer
This AI tool is ideal for long-form content such as articles, blog posts, sales emails, ebooks, etc.
5. Multilingual Support
Writesonic's blog topic generator can generate ideas in more than 25 languages.
6. SEO Optimization
You can achieve better search engine rankings with Writesonic's SEO integrations.
It can be trained with your list of keywords or utilize built-in SEO tools like Semrush and Surfer SEO to optimize your content.
7. Factually Accurate Content
Writesonic's AI, powered by GPT-4, delves into top-ranking Google search results to provide comprehensive and factually correct blog content.
8. Plagiarism-Free Guarantee
Writesonic's AI generates unique and authentic content free of plagiarism, ensuring your work stands out.
Writesonic Pricing & Plans
1. Free Trial
Features
It offers Chatsonic: ChatGPT-like chatbot, Botsonic: No-code AI chatbot builder, 100+ AI Templates, AI Article Writer, Browser extensions, 1-Click WordPress Export, Zapier Integration, Landing Page Generator, Sonic Editor (Google Docs-like Editor), and 25+ Languages.
2. Pro
Features
It offers everything in Free-trial, plus; GPT-4 and GPT-4 32K, Factual and Personalized Article Writer (Uses GPT-4 32K), Brand Voice ($33/month and above), Botsonic: No-code AI chatbot builder, Complete Article Rewriter, API Access, Bulk Processing, Surfer Integration, and Priority access to new features.
Price
It costs $19/month.
3. Enterprise
Features
It offers everything in the Pro plan: a custom number of words, a custom number of users, custom AI development, invoicing options, a dedicated account manager, training sessions, and premium support.
Price
You can contact the Writesonic sales team to get custom features for your unique needs and get a price for them.
7. Rytr – Best For Creating Different Tones For All Use Cases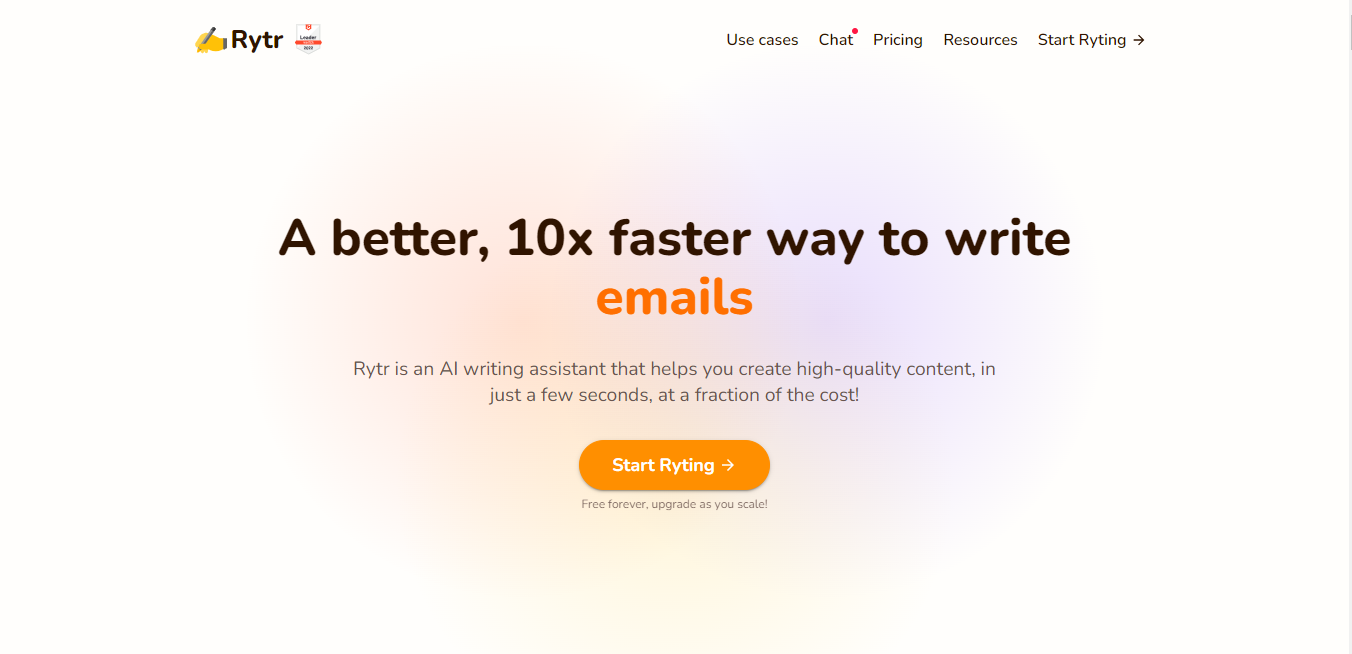 Rytr is an advanced AI writing software tool that helps you generate catchy blog, article, and essay ideas and outlines in just a few clicks.
With its user-friendly interface and powerful features, Rytr revolutionizes how you create content. 
Rytr Key Features
Language Selection
Tone Selection
Wide Range of Use Cases
Input Context
Killer Content Generation
Scientific Copywriting Formulas
1. Language Selection
You can choose from over 30 language options to tailor the output to your desired language and reach a global audience effortlessly.
2. Tone Selection
It allows you to select the tone of voice that matches your content type, ranging from casual to convincing.
With over 20 tone options, Rytr ensures your writing style resonates with your audience.
3. Wide Range of Use Cases
Rytr supports more than 40 use cases and types of content, allowing you to generate ideas and outlines for various writing needs.
4. Input Context
You can input keywords, phrases, or titles and let Rytr work magic.
With just a click, you'll receive AI-generated output that aligns with your input and requirements.
5. Killer Content Generation
Rytr's state-of-the-art language AI can help you generate unique and original content for various verticals.
You can create high-converting copies in popular tones and languages.
6. Scientific Copywriting Formulas
Rytr leverages scientific copywriting formulas like AIDA (Attention, Interest, Desire, Action) and PAS (Problem, Agitate, Solve) to generate high-quality output requiring minimal editing, saving you time and effort.
Rytr Pricing & Plans
1. Free Plan
Features
The free plan can generate 10k characters per month, access 40+ use-cases and 20+ tones, write in 30+ languages, have a Built-in plagiarism checker, and generate up to five images per month with AI.
2. Saver Plan
Features
It includes everything in the Free Plan plus; 100k characters generation per month and Generating up to 20 images per month with AI.
Price
It costs $9/month.
3. Unlimited Plan
Features
It includes everything in the Saver plan plus; Generate UNLIMITED characters per month, up to 100 images per month with AI, a dedicated Account Manager, and Priority Email & Chat support.
Price
It costs $29/month.
8. LongShot AI – Best For SEO Optimized & Factually Correct Content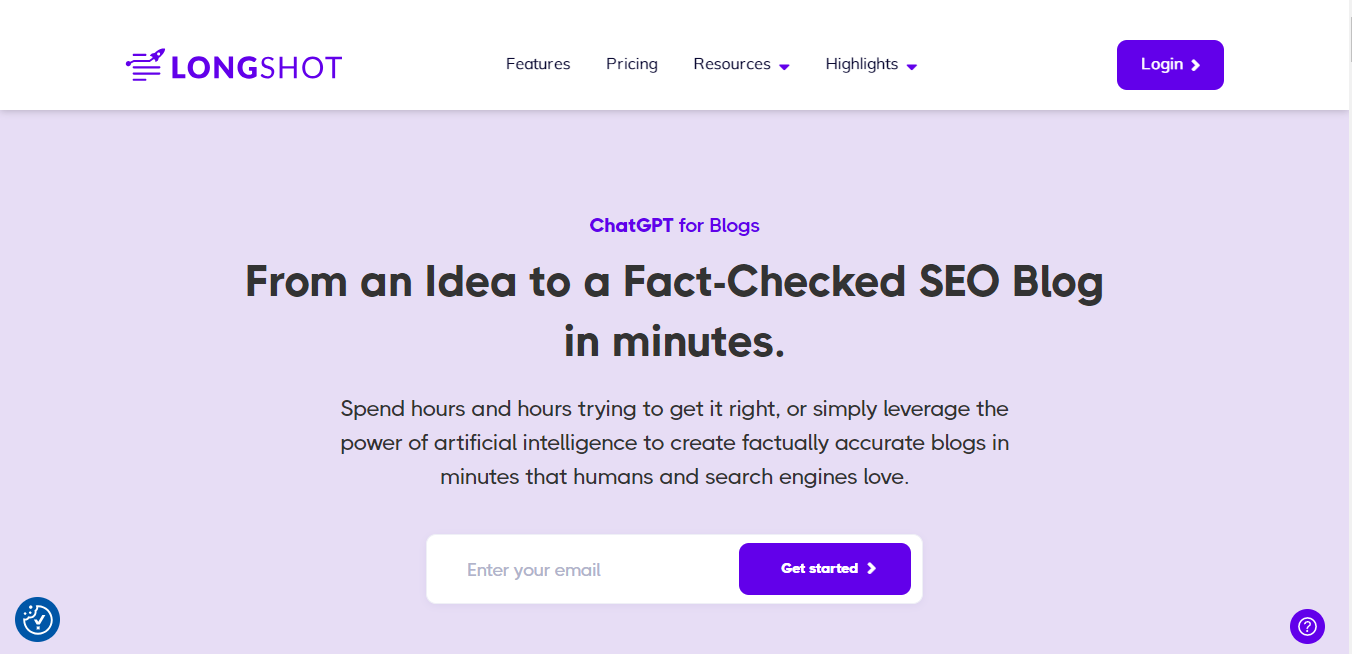 Longshot AI  helps bloggers create engaging and factually accurate content using artificial intelligence.
With its innovative features, Longshot AI streamlines content creation and ensures that human readers and search engines love your blogs. 
LongShot AI Key Features
FACT GPT
Generate Helpful SEO Content
Customized AI Templates
Generate Factually Accurate AI Content
Seamless Integration with Your Favorite Platforms
1. FACT GPT
With FACT GPT, you can generate fresh and relevant user-sourced content with citations on trending topics, including movies, TV shows, sports, gadgets, global events, and more.
2. Generate Helpful SEO Content
Longshot AI enables you to 10x your SERP (Search Engine Results Page) ranking by generating topically relevant, user-centric content.
It allows you to create content that addresses the questions and queries users search for, using insights from "People Also Asked" questions. This helps you optimize your content for SEO and deliver valuable information to your readers.
3. Customized AI Templates
Longshot AI allows you to create and share templates that match your workflow, automating content generation for your specific needs.
Whether you need prompts for certain types of content or want AI to replicate a specific example, Longshot AI allows you to customize AI-generated content for your unique requirements.
4. Generate Factually Accurate AI Content
It provides feedback on the accuracy and supports its claims by dropping links to high-authority websites.
5. Seamless Integration with Your Favorite Platforms
Longshot AI eliminates the hassle of using multiple tools by integrating with popular platforms.
Whether you prefer WordPress for publishing your blogs or rely on tools like Semrush for SEO optimization, Longshot AI seamlessly integrates with these platforms, allowing you to access all your favorite tools in one place.
It even offers Copyscape integration to check for plagiarism, saving time and effort.
LongShot AI Pricing & Plans
1. Free (No Credit Card Required)
Features
It provides 100 credits on signup, One user, and all features.
2. Pro (5-Day Trial At $1)
Features
It offers 1000 monthly credits (50K monthly words), One user, All Features, Basic Integrations, and Unlimited Projects & Docs.
Price
It costs $19/month.
3. Team (5-Day Trial At $1)
Features
It offers everything in the Pro plan plus; 3,000 monthly credits (150K monthly words), five users, advanced integrations, collaboration with a team, and an analytics dashboard.
Price
It costs $49/month.
4. Agency (5-day trial at $1)
Features
It offers everything in the Team plan plus; 30,000 monthly credits (1M+ words), Unlimited users, and three consulting sessions.
Price
It costs $299/month.