At a Glance
WriteSonic is a versatile AI-powered content generation platform that empowers users to efficiently create high-quality written material, including engaging blog articles, compelling ad copy, and even visually stunning images.
The platform also offers advanced editing capabilities and seamless integration with AI chatbots and automation features, providing a holistic content creation experience.
Its user-friendly interface, versatile AI-generated content that also includes AI image generator, and positive user testimonials make it a compelling choice for those looking to streamline their content creation process.
Writesonic is an AI-powered writing tool that provides users with a wide range of features to streamline and enhance their content creation process.
With over 80 robust AI writing tools, Writesonic offers a versatile platform for generating high-quality written content across various formats.
Whether you need compelling blog posts, persuasive advertising copy, engaging product descriptions, or more, Writesonic's AI capabilities can help you write anything and publish it effortlessly.
Read on to learn more about Writesonic key features, pricing plans, pros & cons, comparison with alternatives, and review to make an informed decision.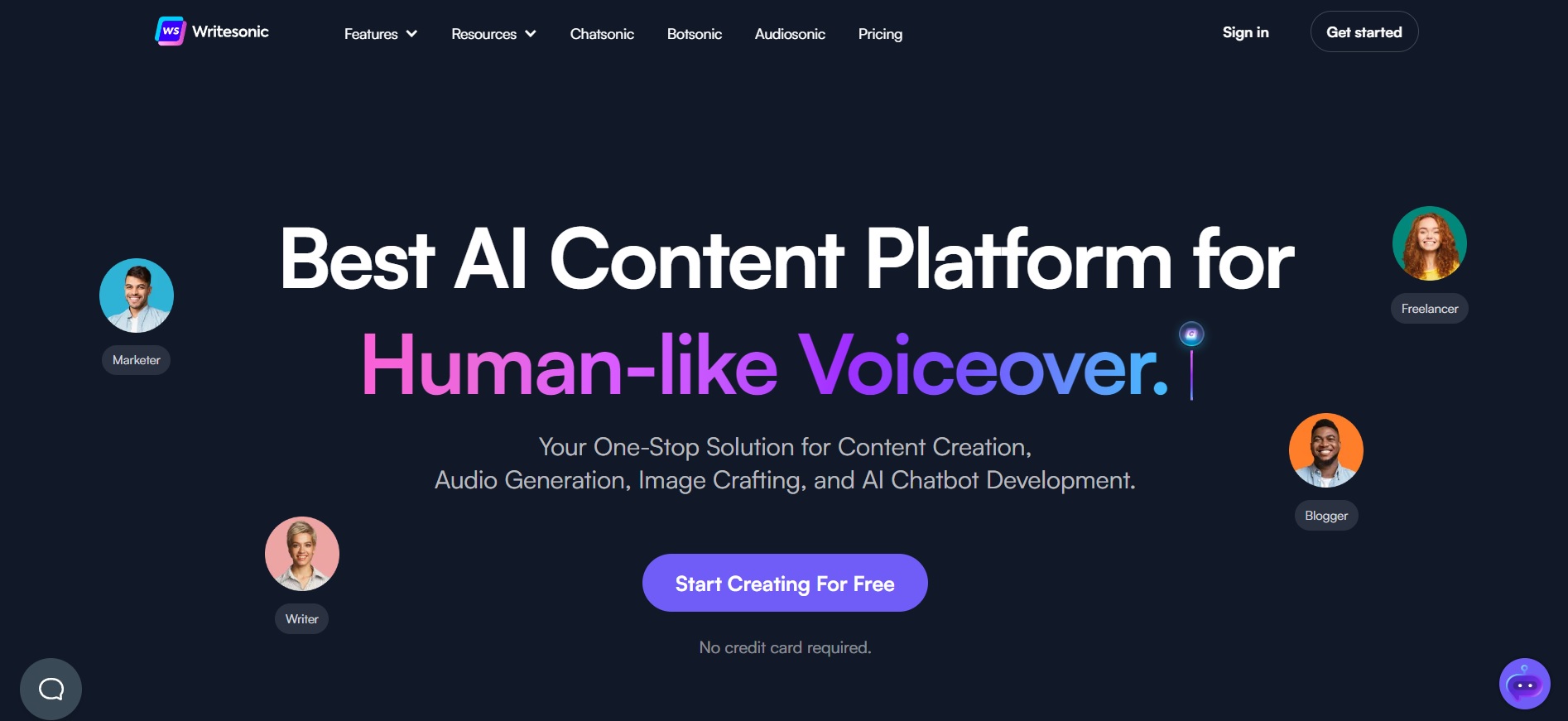 Writesonic Key Features
Feature
Description
AI Content Generation
– AI Article & Blog Writer: Write complete articles and blog posts with AI speed and precision.

– Content Rephrase: Easily rephrase existing content for a fresh perspective.

– Sentence Expander: Enhance sentence detail and clarity.

– Story Generator: Quickly craft engaging short stories.

– Instant Article Writer: Generate long-form content and SEO blogs in seconds.

Ecommerce Assistance
– Ecommerce Product Descriptions: Create sales-boosting product descriptions.

– Amazon Product Descriptions: Craft compelling Amazon listings.

– Amazon Product Features: Describe products concisely.

– Amazon Product Titles: Generate titles following Amazon's guidelines.

– Amazon Sponsored Brand Ads Headline: Create attention-grabbing headlines for Amazon ads.

Ads and Marketing Tools
– Facebook Ads: Create high-performing ads for more leads.

– Google Ad Titles: Increase CTR with catchy Google Ad titles.

– Google Ad Descriptions: Generate compelling Ad descriptions.

– Google Ads: Get quality Google ad copy (Title & Description).

– LinkedIn Ads: Build brand awareness and leads with interactive ads.

SEO Optimization
– SEO Meta Tags (Product): Optimize meta tags for product page rankings.

– SEO Meta Tags (Blog Post): Optimize blog post meta tags.

– Landing Page Headlines: Capture visitors' attention with compelling headlines.

– SEO Meta Tags (Homepage): Enhance homepage Google ranking with optimized meta tags.

LinkedIn and YouTube
– Short LinkedIn Posts: Create professional LinkedIn updates quickly.

– YouTube Descriptions: Summarize YouTube videos concisely.

– YouTube Titles: Craft persuasive video titles.

– YouTube Ideas: Get unique video ideas.

– YouTube Intros: Create engaging video intros.

– YouTube Outlines: Plan and structure YouTube videos.

– Tweet Generator: Generate relevant and trendy tweets and threads.

General-purpose Writing
– Feature to Benefit: Create benefit-driven copy.

– Landing Pages: Develop high-converting landing pages like a pro.

Content Enhancement
– Paraphrasing Tool: Discover different writing styles.

– Sentence Expander: Build up sentences for added detail.

Quick Responses
– Quora Answers: Rapidly respond to Quora questions.

– Review Responder: Personalize responses to user reviews.

– Content Shortener: Condense copy for precise messaging.

– Cold Emails V2: Improve email conversions with personalized cold emails.

– Email Subject Lines: Create powerful subject lines for higher open rates.

– Company Vision: Effectively communicate your company's vision.

– Personal Bios: Craft effective online profiles.

– Company Bios: Create sharp company bios.

– Company Mission: Clarify your mission statement.

– Short Press Releases: Generate quick press releases.

– Emails: Obtain accurate emails for various occasions.

Creative Ideas and Summarization
– Blog Ideas: Discover catchy blog post ideas.

– Listicle Ideas: Find impressive listicle ideas.

– Startup Ideas: Brainstorm business ideas.

– Article Summarizer: Efficiently summarize content.

– Keyword Extractor: Research keywords for SEO.

Product and Branding
– Product Names: Generate catchy product names.

– Analogy Maker: Add engaging concepts to your message.

Marketing Frameworks
– Growth Ideas: Discover tips and tactics for business growth.

– AIDA Framework: Organize content for Attention, Interest, Desire, and Action.

– Pain-Agitate-Solutions: Address pain points and provide solutions.
Writesonic Pricing Plans

1. Free
Features
It includes 100 monthly messages, one chatbot, one user seat, 500K uploaded characters, embed on unlimited websites, upload limit of 3 files, historical insight with Chatbot inbox, and built-in lead capture forms.
2. Starter
Features
It includes 2,000 messages/month, one chatbot, three user seats, 10M uploaded characters, embeds on unlimited websites, historical insight with Chatbot inbox, lead capture forms built-in, Whatsapp integration, Facebook Messenger integration, Calendly integration, Telegram integration, Slack integration (coming soon), Human-agent handoff, Zapier integration (coming soon), and WordPress integration.
Price
It costs $49/month.
3. Business
Features
It includes everything in Starter, plus: SSO/SAML Login, Premium Integrations like Salesforce, Hubspot, Marketo, More uploaded characters, Private GPT model (custom AI development), Private Vector Database, dedicated account manager, training sessions, invoicing options, and priority support.
Price
Custom pricing
Writesonic Pros And Cons
PROS
WriteSonic consistently generates high-quality content that can save users time and effort.
It streamlines content creation, making it faster and more efficient.
The platform is user-friendly and easy to navigate, even for those with limited technical skills.
WriteSonic offers various content types, from blog posts to marketing materials, catering to various writing needs.
ChatSonic integration enhances user experience, allowing for real-time assistance and collaboration.
CONS
While WriteSonic generates high-quality content, there's room for minor enhancements to make it even more impeccable.
Users might encounter occasional instances of repetitive phrases or paragraphs in the content generated by WriteSonic.
Some users have reported occasional buffering issues, particularly after login. Addressing these issues can enhance the user experience.
WriteSonic's editing capability is restricted to a 25-character or word limit, which can be challenging for more extensive edits.
Writesonic Alternatives
Feature
Copy.ai
Writesonic
Jasper AI
SinCode AI
Simplified
AI Content Generation
Copy.ai offers generative AI for various content needs, including long-form articles, social media content, product descriptions, and more.
Writesonic creates AI-powered content for articles, product descriptions, marketing materials, and chatbots.
Jasper AI is an AI art generator and writer that can create unique images and photos based on your descriptions and generate engaging written content.
SinCode AI offers over 50 AI tools to streamline tasks and boost productivity, including advanced content creation and automation.
Simplified is the no-code app for designing invitations, ads, social media posts, videos, and writing instant marketing copy with the AI Copywriting Generator.
Long-Form Articles
Create high-quality, SEO-friendly blog posts quickly with Copy.ai, making content creation efficient.
Generate in-depth articles and blogs effortlessly with Writesonic's AI Writer and Sonic Editor.
Jasper AI focuses on generating visual art but can also assist in creating written content to match your message.
SinCode AI supports content generation, including blog post creation, with multiple GPT models available for different tasks.
Simplified offers a Long Form Writer to generate blogs, articles, and books quickly. Enhance your copy with the article rewriter, sentence expander, or AI paragraph generator.
Social Media Content
Copy.ai helps you craft engaging and impactful social media posts to boost your online presence.
Enhance your social media strategy with Writesonic, creating compelling posts and captions with ease.
Jasper AI can produce images perfect for sharing on social media, complementing your written content.
SinCode AI offers AI tools for social media content creation, including post generation and content enhancement.
Simplified simplifies social media management with integrations, content creation, and scheduling capabilities.
Product Descriptions
Efficiently generate product descriptions and enhance SEO for e-commerce with Copy.ai's platform.
Elevate your e-commerce store's Google ranking and sales with Writesonic's SEO-optimized product descriptions.
Jasper AI can create visual representations of products, enhancing product descriptions and visual marketing.
SinCode AI provides tools for generating product descriptions and optimizing e-commerce content.
Simplified offers an AI content generator with 50+ templates to generate copy that converts for product descriptions, ads, and more.
Content Briefs
Utilize Copy.ai for content briefs to guide your content creation process and improve efficiency.
Generate content briefs and streamline your content marketing strategy with Writesonic's tools.
Jasper AI can turn your brief descriptions into visual artwork, making it easier to convey your ideas.
SinCode AI supports content brief generation and assists in content planning and strategy.
Simplified's content generation includes briefs and planning for content creation. Collaborate with teams and clients in real-time and schedule posts with the content calendar.
Ad Copy
Copy.ai assists in crafting persuasive ad copy to drive conversions and engagement for your campaigns.
Boost your ad campaigns with Writesonic's high-quality ad copy generation tools for various platforms.
Jasper AI can create visual elements for your ads, making them more appealing and effective.
SinCode AI offers tools for generating ad copy and optimizing ad content for better performance.
Simplified's AI Copywriting Generator helps you write instant marketing copy, including advertising copy for various purposes.
Sales Copy
Create persuasive and effective sales copy with Copy.ai, driving more sales for your products and services.
Writesonic empowers you to write compelling sales copy to increase your conversion rates.
Jasper AI can complement your sales copy with unique visuals to captivate your audience.
SinCode AI provides tools for crafting persuasive sales copy and optimizing sales materials.
Simplified's AI Copywriting Generator is also suitable for improving or rewriting inspiring sales copy for various platforms.
Workflow Automation
Copy.ai's beta feature, Workflows, allows teams to use AI to automate various tasks, ensuring efficient results at scale.
Writesonic offers to automate and simplify content marketing.
Jasper AI offers numerous automated content creation capabilities.
SinCode AI offers over 50 AI tools to enhance workflow efficiency including task automation and document editing.
Simplified supports real-time collaboration and workflow automation for teams, allowing you to tag, comment, and assign work to team members and edit posts collaboratively.
Ecommerce Workflows
Copy.ai enables the creation of high-converting product descriptions and email sequences, making e-commerce operations more effective.
Writesonic supports e-commerce by generating SEO-optimized product descriptions, improving upsells, and translating content for a global audience.
Jasper AI can enhance e-commerce visuals, improving the presentation of products.
SinCode AI offers tools for e-commerce, including product description generation and workflow optimization.
Simplified simplifies e-commerce with AI content generation and optimization for product descriptions and other e-commerce content. .
SEO Workflows
Copy.ai includes SEO workflows for optimizing content, ensuring it ranks well on search engines.
Enhance your SEO strategy with Writesonic's keyword-rich content generation and optimization tools.
Jasper AI can write content with specified keywords.
SinCode AI provides tools for SEO optimization and content generation to improve search engine visibility.
Simplified offers SEO-driven content generation with AI tools and features to enhance SEO.
Brand Voice Control
Copy.ai's 'Brand Voice' feature ensures consistent brand identity across all content, strengthening brand connections.
Writesonic can ensure a consistent brand voice across all the content.
Jasper AI can create content, maintaining a consistent brand voice across all the platforms.
SinCode AI offers Brand Voice tools to tailor content to match your brand's style and tone.
Simplified helps you maintain brand consistency with collaborative features and AI content generation capabilities.
Access to Best AI Models
Copy.ai leverages the best AI models for content creation, ensuring consistently high-quality results.
Writesonic's AI models are designed to generate content that resonates with your audience.
Jasper AI uses AI algorithms for image creation and content generation.
SinCode AI provides access to advanced AI models for various tasks, including content generation and optimization.
Simplified offers AI-driven content generation with a variety of templates and AI features to create content that meets your business needs.
Data Security (SOC II)
Copy.ai prioritizes data security with SOC II compliance, ensuring sensitive information is well-protected.
Writesonic is committed to offering a highly secure environment for content creation.
Jasper AI is SOC 2 compliant, GDPR compliant and SSO enabled.
SinCode AI values data security and offers secure AI tools for various applications.
Simplified's data security practices are not mentioned.
Free Trial
Copy.ai offers a 7-day free trial to explore its AI-powered content generation capabilities.
Writesonic provides a generous free tier to get started with its AI content creation tools.
Jasper AI offers a free trial to create AI art and written content based on user prompts.
SinCode AI offers free trials for its advanced AI tools to experience their capabilities.
Simplified offers a free trial to explore its AI content generation and collaboration features.
Pricing
Copy.ai offers three plans:
Free,
Pro: $49/month,
Enterprise: Custom Pricing
Writesonic offers three plans:
Free Trial: 10,000 words/month,
Unlimited: $16/seat,
Business: $12.67/month,
Enterprise: Custom Pricing
Jasper AI offers three pricing plans:
Creator: $39/month
Teams: $99/month
Business: Custom Pricing
SinCode offers three pricing plans:
3000 words credit: $4.50
Starter: $20/month
Pro: $49/month.
Simplified offers pricing plans ranging from free to premium, catering to various needs, with features such as AI content generation and social media management.
Integrations
Copy.ai's API allows integration into any tool you want.
Writesonic offers integration with Zapier, allowing users to connect it with various applications and workflows.
Jasper AI's integrations allow you to create on-brand AI-assisted content in the tools you use the most.
SinCode AI offers API to integrate into any tool.
Simplified can integrate into any software or website you want.
Writesonic Vs. Jasper AI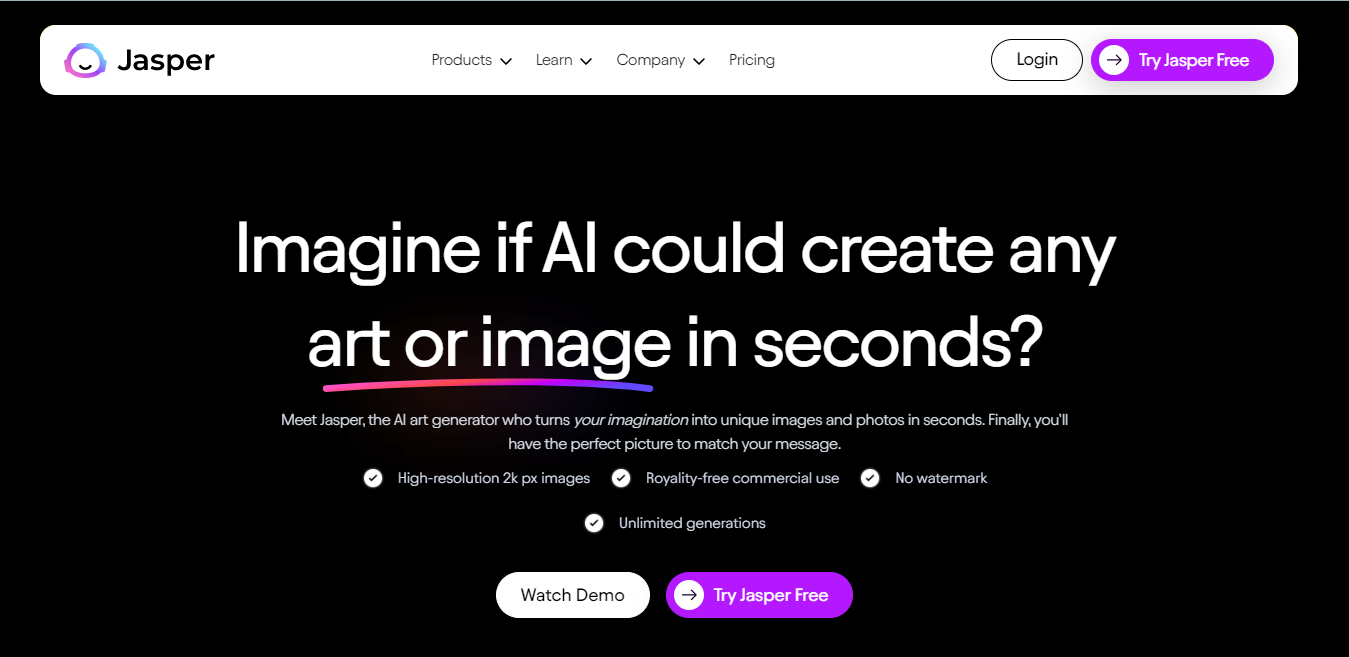 Jasper — #1 Writesonic AI Alternative 🆚
Let's cut to the chase, Jasper AI is the #1 alternative to Writesonic.
Jasper AI has all the essential and advanced AI writing features compared to Writesonic.
(Unlimited — AI Writing, Updates, Framework, Workflow, Community) 🔥
Jasper and Writsonic are two prominent AI-powered content generation platforms offering unique features and capabilities.
In this comprehensive comparison, we'll break down the key differences and advantages of Writesonic over Jasper.
1. Pricing
Writesonic offers a significant cost advantage over Jasper.
With Writesonic's Unlimited Plan, priced at just $16/month, you get unlimited premium words and all features included in Jasper's Creators Plan, which costs $39/month.
This means you can enjoy similar capabilities while saving money with Writesonic.
2. Content Generation Tools
Writesonic boasts a comprehensive suite of over 100 AI tools for content and customer interaction.
In contrast, Jasper provides around 50 AI tools.
This means Writesonic offers a more extensive range of content generation options, making it suitable for a wider range of use cases.
3. Integration with Google Search
Writesonic has an edge regarding real-time content generation on current topics.
It is powered by GPT-4 and GPT-4-32K and can utilize Google Search for up-to-date information.
Jasper relies on GPT-3, and its content might not always reflect the latest trends and events.
4. User-Friendliness
Writesonic is praised for its user-friendly interface, making it easy for users to navigate and create content.
This feature is especially beneficial for those new to AI writing tools. Jasper's user interface might not be as intuitive.
5. Mobile App
Writesonic offers a mobile app called ChatSonic, powered by ChatGPT, which allows users to generate content on the go.
This can be particularly useful for professionals who must create content outside their workspace.
Jasper lacks a dedicated mobile app.
6. Chrome Extension
Writesonic's ChatSonic Chrome extension simplifies content creation by allowing users to write directly on websites.
This feature streamlines the writing process, enhancing user convenience.
Jasper doesn't offer a comparable Chrome extension.
7. Social Media Post Generator
Writesonic offers a variety of social media content templates, including tweet generators, LinkedIn post generators, Instagram captions, YouTube titles, and more.
These templates help improve brand reach and engagement on social media platforms.
Jasper doesn't provide a similar range of social media content tools.
8. Seamless Integrations
Writesonic integrates seamlessly with tools like Surfer, Zapier, SEMrush, WordPress, and Copyscape, streamlining workflows and enhancing efficiency.
These integrations contribute to better automation of tasks. Jasper might not offer such extensive integration options.
9. Customer Support
Writesonic is known for its responsive customer support team, ensuring users receive assistance when needed.
Having reliable customer support can be crucial when working with AI-powered tools.
Jasper's customer support quality may vary.
10. Templates and Community
Writesonic has an extensive collection of templates and an active community of users, allowing for easy access to resources and knowledge sharing.
A robust community can be beneficial for troubleshooting and idea exchange. Jasper might not have such a well-developed community.
Writesonic Review
Writesonic is an AI-powered content creation platform that has gained significant popularity in the digital marketing and content creation space.
With over 10,000 reviews and an impressive 4.8 out of 5 rating, Writesonic helps marketers, writers, bloggers, and freelancers.
In this in-depth review, we will explore the key features, benefits, and user experiences of Writesonic.
1. User-Friendly Interface
One of the standout features of Writesonic is its user-friendly interface.
Whether you're a seasoned marketer or a novice writer, the platform is designed to be intuitive and easy to navigate.
The clean layout and clear menus make it simple to access various content creation tools, even for those new to AI-driven writing.
2. Versatile Content Creation
Writesonic positions itself as a one-stop solution for generating content, and it lives up to this claim.
The platform offers a wide range of content creation tools, making itself a versatile writing assistant without compromising on content quality;
3. AI Article & Blog Writer
Writesonic's AI article writer can generate long-form articles and blog posts quickly.
It's a valuable tool for writers looking to boost their productivity by generating entire articles using AI.
4. Content Enhancement Tools
Writesonic provides several content enhancement tools like the Paraphrasing Tool, Sentence Expander, and Content Shortener to create quality content.
These tools help users refine and improve their content writing process for clarity and engagement.
5. Ecommerce Assistance
For ecommerce stores, Writesonic can generate product descriptions, benefit bullet points, and SEO keywords with its advanced AI that will improve content marketing strategy.
This can be a game-changer for online businesses looking to enhance their product listings.
6. Marketing Content
Marketers appreciate Writesonic's capabilities for creating high-converting ad copy for platforms like Facebook, Google, and LinkedIn.
It can significantly improve click-through rates and reduce advertising costs with its copywriting ability.
7. Landing Page Generator
Writesonic can also simplify the process of creating landing page copy.
This feature is particularly useful for entrepreneurs and startups looking to establish a strong online presence.
8. AI Chatbot Development
Writesonic even delves into AI chatbot development with its Botsonic platform, allowing users to create AI-powered chatbots for various applications.
Chatsonic
Chatsonic redefines what's possible with AI-driven text generation with its GPT-4 capabilities.
It excels in providing real-time, fact-based content on trending topics, offers a unique powerful AI art generation feature that transforms text into digital artwork, and serves as a versatile personalized AI assistant capable of assisting with various tasks.
Botsonic
Botsonic brings a new level of innovation to the table.
This no-code custom ChatGPT chatbot builder harnesses the capabilities of GPT-4 to empower individuals and businesses to create AI chatbots effortlessly.
With Botsonic, you can centralize your website's data and transform it into a knowledge base that ChatGPT can use to engage with customers in a human-like manner.
The beauty of Botsonic lies in its seamless integration, flexible branding options, and custom training capabilities, making it a dynamic asset for customer interactions.
9. Integration and Accessibility
Writesonic integrates seamlessly with various platforms, including WordPress, Zapier, and even as a Chrome extension.
This makes it convenient for users to publish content directly to their websites or preferred platforms.
The accessibility of Writesonic across different devices and operating systems ensures that users can create content wherever they are.
10. Social Media Post Generator
Writesonic is a good AI writer tool for generating social media content.
With its AI image generation and creating high-quality content for social media posts adds another big weapon in the armory of content creators.
Writesonic offers a variety of social media content templates, including tweet generators, LinkedIn post generators, Instagram captions, YouTube titles, and more.
Using Writesonic to generate quality content with its AI templates help improve brand reach and engagement on social media platforms
Conclusion
Writesonic is one of the best AI writing assistants that offer a wide range of tools for writers, marketers, and entrepreneurs that not only streamlines complex writing process but also fulfills different types of content creation needs.
Its user-friendly interface, versatile AI-generated content that also includes AI image generator, and positive user testimonials make it a compelling choice for those looking to streamline their content creation process.
With its competitive pricing and integration options, Writesonic has solidified its place as a top contender in the AI-driven content creation space.