At a Glance
Scispace, Scholarcy, Casper AI, ChatPDF, Semantic Scholar, Elicit, Consensus, QuillBot, ProWritingAid, and OpenRead are the Top 10 AI Tools for Academic Writing in 2023 to save you hours of tedious academic research and writing.
We have highlighted each tool's Key Features so you can choose the best for your needs.
Most of these academic research tools are free, while some offer paid versions. 
In today's rapidly evolving academic landscape, harnessing the power of technology is essential for staying ahead of the game.
However, while the rise of artificial intelligence has brought forth a range of innovative solutions, the abundance of resources makes selecting the right tools that make academic research more efficient and accurate can be daunting.
We have shortlisted the Top 10 AI Tools for Academic Writing in 2023, which are invaluable assets for scholars.
By utilizing these diverse tools, researchers can elevate their work by leveraging the capabilities of AI models, making the research process smoother and unlocking new possibilities. 
1. SciSpace – Best For Simplifying Technical & Scientific Literature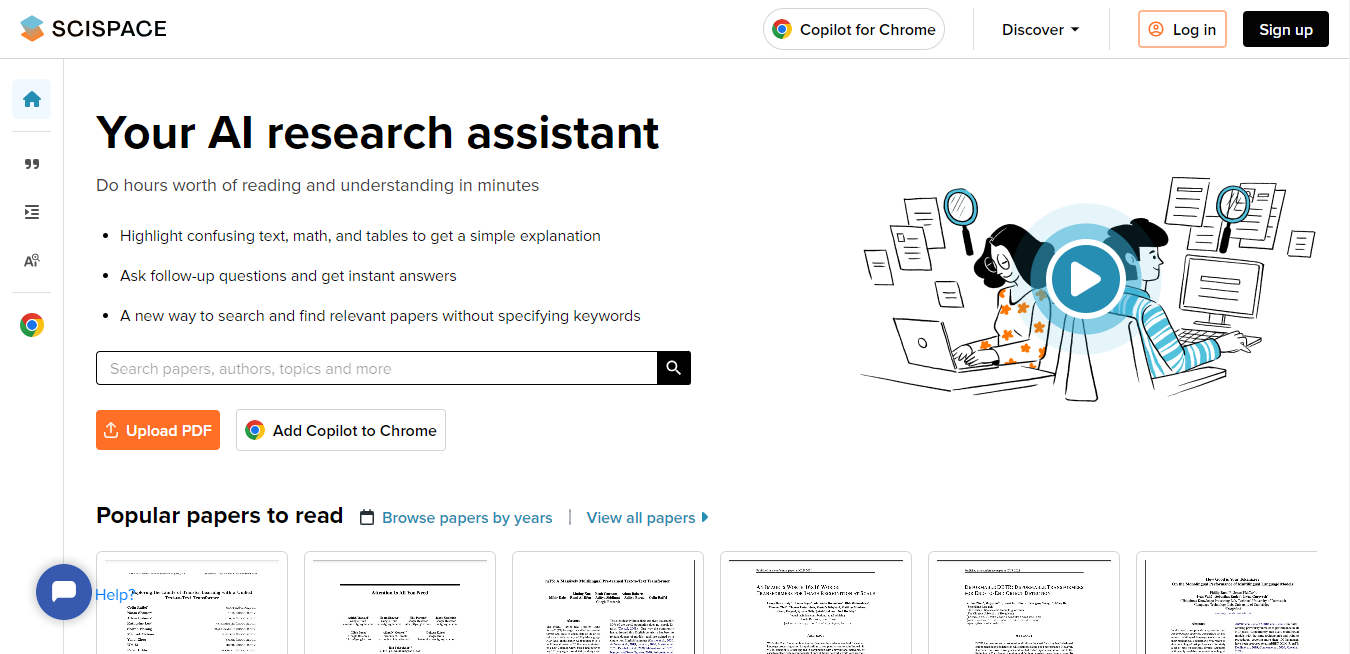 SciSpace is a Chrome Copilot and an online AI research assistant tool that helps users understand technical and scientific writing.
It explains text, math, and tables in research papers and blog posts, making it easier to grasp complex concepts.
SciSpace Copilot is a revolutionary scientific research tool compatible with the Chrome browser, making it accessible to users on various devices for free.
SciSpace Copilot Key Features
Simplify Technical Language
Ask Follow-up Questions
Understand Math and Tables
Multilingual Support
Bookmark and Save
1. Simplify Technical Language
Copilot simplifies jargon, acronyms, and complex paragraphs, offering clear explanations to make scientific research articles more accessible.
2. Ask Follow-up Questions
Users can ask questions while reading and receive instant answers, allowing them to delve deeper and clarify doubts.
3. Understand Math and Tables
Copilot allows users to analyze and understand unfamiliar math equations and tables in PDFs, providing insights into their meaning and significance.
4. Multilingual Support
Interact with Copilot in 13 languages and receive explanations in your native language, ensuring accessibility for users worldwide.
5. Bookmark and Save
Users can save articles or PDFs to their Copilot collection, bookmarking them for future reference and easy access. 
SciSpace Pricing & Plans
Scispace is a free AI search engine and can be used as a copilot of Chrome.
2. Scholarcy – Best For Summarizing Academic Research Papers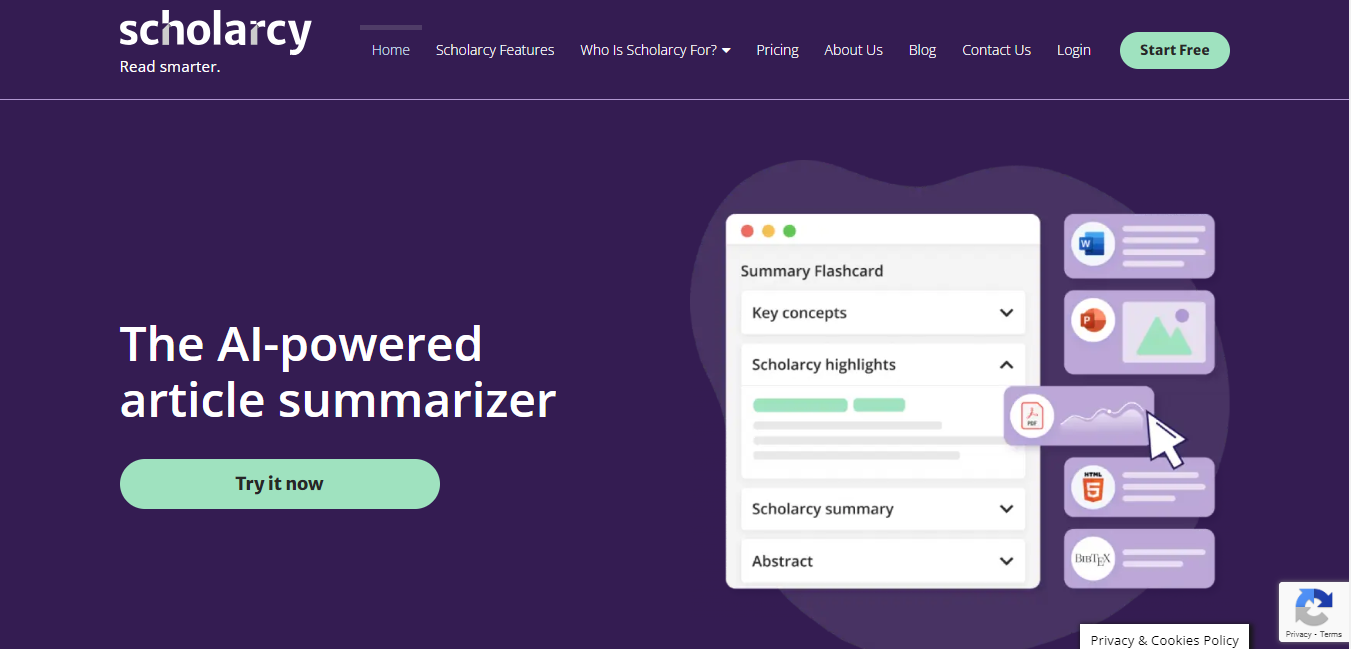 Scholarcy can generate concise summaries from academic articles, book chapters, and research papers, streamlining the process of extracting key information.
By interacting with any Word or PDF document, Scholarcy's AI algorithms help users quickly grasp the main findings and insights based on the research they've conducted.
Scholarcy Key Features
Research Paper Summarization
Interactive Flashcards
Highlighting Key Points
Links to Open-Access Versions
Comparative Analysis
1. Research Paper Summarization
Scholarcy efficiently summarizes academic research papers and articles, concisely presenting users with essential information.
2. Interactive Flashcards
The tool generates interactive flashcards that enable users to review important points, concepts, and key findings from multiple papers, facilitating effective study and knowledge retention.
3. Highlighting Key Points
Scholarcy highlights critical points within an article, allowing users to identify and focus on the most relevant information, enhancing comprehension and saving time.
4. Links to Open-Access Versions
Scholarcy locates open-access versions of cited references from sources like Google Scholar and arXiv, providing users with direct links to full-text PDFs and facilitating further exploration of the topic.
5. Comparative Analysis
Its Comparative Analysis engine highlights the connections and relationships between a paper and relevant previous studies.
This feature helps users understand how a paper builds on existing research, identifies knowledge gaps, and reveals emerging trends.
Scholarcy Pricing & Plans
You can download Scholarcy Free from the Chrome or Edge store.
3. Casper AI – Best For Summarizing Articles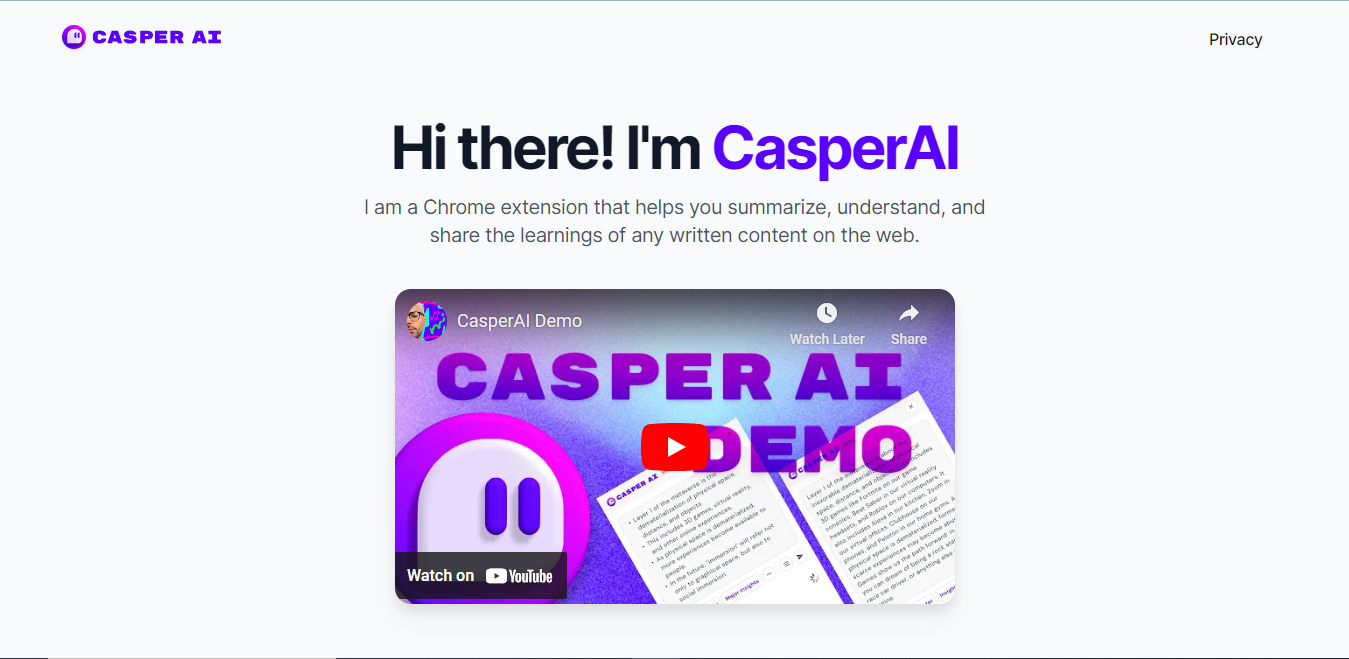 Casper can generate article summaries to simplify the workflow for professionals by creating content and sharing insights with stakeholders.
It leverages the capabilities of OpenAI's GPT's newest models to provide quick and efficient summaries of web pages and PDFs, enabling users to get the gist of the content without reading the entire document.
Casper's Chrome Extension is a valuable resource for individuals preparing for exams, conducting due diligence, working on important projects, or staying updated on relevant legislation.
Casper AI Key Features 
Streamlined Workflow
AI-powered Summaries
Content Creation
Insights and Data Collection
Simplified Sharing
1. Streamlined Workflow
Casper's Chrome Extension streamlines professionals' workflow by providing insights and summaries generated by OpenAI's GPT models.
It saves time and effort by condensing the essential information from web pages and PDFs, allowing users to focus on their core tasks.
2. AI-powered Summaries
With Casper, users can quickly grasp the main points and key takeaways from articles and documents.
The tool leverages large AI language models to generate accurate and concise summaries.
3. Content Creation
It helps users create compelling content by offering relevant suggestions and organizing their ideas, simplifying research procedures.
4. Insights and Data Collection
It highlights new insights, analyzes data from different sources, and uses GPT-3.5 to prioritize key information.
This feature enables users to stay informed and aware of the latest insights in their industry.
5. Simplified Sharing
It summarizes news articles into a concise "tl;dr" format, making it easy to communicate important updates and key points to colleagues, clients, or other relevant parties.
Casper AI Pricing & Plans
Casper AI is a free Chrome extension.
 4. ChatPDF – Best For Document Analysis
ChatPDF enhances the learning experience and supports academic growth.
With ChatPDF, users can efficiently analyze various documents, ensuring productivity and success in their studies. 
ChatPDF Key Features
Effortless Comprehension
Efficient Document Analysis
Knowledge Expansion
Comprehensive PDF Support
1. Effortless Comprehension
ChatPDF simplifies understanding textbooks, handouts, presentations, research papers, and academic articles. It eliminates the need for extensive reading and manual searching.
2. Efficient Document Analysis
The tool enables users to analyze various documents, including financial reports, sales reports, project proposals, business proposals, training manuals, and legal contracts.
3. Knowledge Expansion
Users can discover new insights, answers, and information from historical documents, poetry, literature, and more. 
4. Comprehensive PDF Support
ChatPDF can understand and interact with any PDF document. It can answer questions and provide information on any topic.
ChatPDF Pricing & Plans
It is a Free Online engine and can be used as a Chrome extension.
5. Semantic Scholar – Best Research Tool For Scientific Literature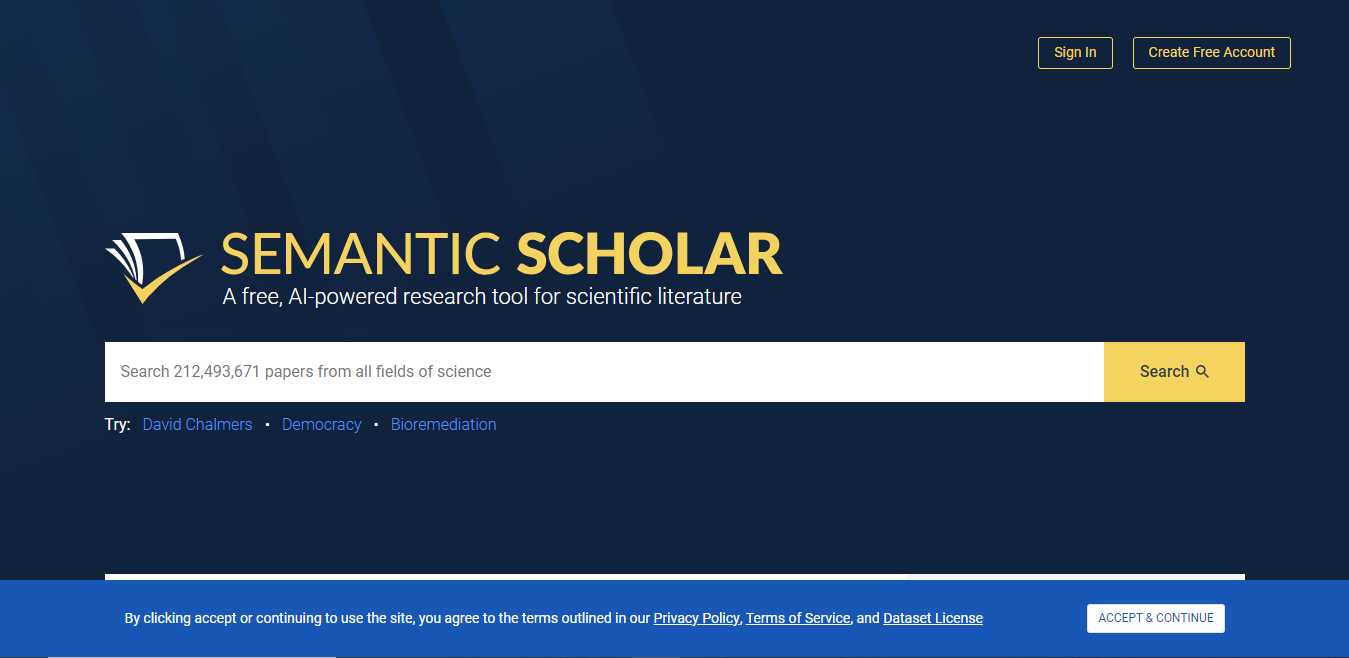 Semantic Scholar is a search and discovery tool that provides valuable resources and tools for the global research community.
With access to over 200 million academic publications, essays, and research papers, Semantic Scholar aims to accelerate scientific breakthroughs by leveraging powerful AI applications. 
Semantic Scholar Key Features
Relevant Research
TLDRs for Faster Scanning
Cite Any Paper
Research Feeds
Relevant Research
Semantic Scholar allows users to search millions of research articles from various fields of science.
Users can utilize filters on its AI engines, such as journals and conferences, authors, publication types, and date ranges, to find relevant research papers.
TLDRs for Faster Scanning
Users can look for TLDRs (Too Long; Didn't Read) on search results pages. TLDRs provide super-short summaries of the main objective and results of a paper.
This feature greatly enhances the accessibility of scientific literature by condensing the vast volume of research into concise and digestible summaries.
Cite Any Paper
Users are provided multiple citation format options by selecting "Cite" on a paper page or in the search results, including BibTex, MLA, APA, or Chicago.
Research Feeds
Once users add papers to their library, the Research Feeds feature quickly learns their interests and recommends the latest research to help users stay up-to-date. 
Semantic Scholar Pricing & Plans
It is a free online tool and can be used as a Chrome extension.
6. Elicit – Best For AI Research Automation
Elicit is an AI-powered research tool that utilizes language models, such as GPT-3, to help automate research workflows.
Primarily focused on literature review, Elicit offers several features to enhance the research process.
Elicit Key Features
Find Relevant Papers Without Perfect Keywords
Summarize Takeaways from the Paper Specific to your Question
Extract Key Information from the Papers
AI-Powered Research Tool
Organize and Filter Papers to Read
1. Find Relevant Papers Without Perfect Keywords
The AI tool allows semantic similarity to identify papers related to your query, even if the exact keywords don't match. For example, it can retrieve " meditation " papers when searching for "mindfulness."
2. Summarize Takeaways from the Paper Specific to your Question
Elicit generates custom summaries of abstracts that directly address your query, simplifying complex or lengthy information and helping you evaluate the relevance of papers.
3. Extract Key Information from the Papers
It extracts essential information from papers, enabling a quick understanding of crucial details without reading the entire document.
4. AI-Powered Research Tool
Elicit utilizes advanced AI techniques, including GPT-3 language models, to provide comprehensive research assistance, enhancing efficiency, accuracy, and automation.
5. Organize and Filter Papers to Read
Elicit allows the customization of displayed information and facilitates organizing papers based on various criteria.
It filters papers by study type, such as randomized controlled trials or systematic reviews, for targeted reading.
Elicit Pricing & Plans
Elicit is a free AI online tool.
7. Consensus – Best For Peer-Reviewed Research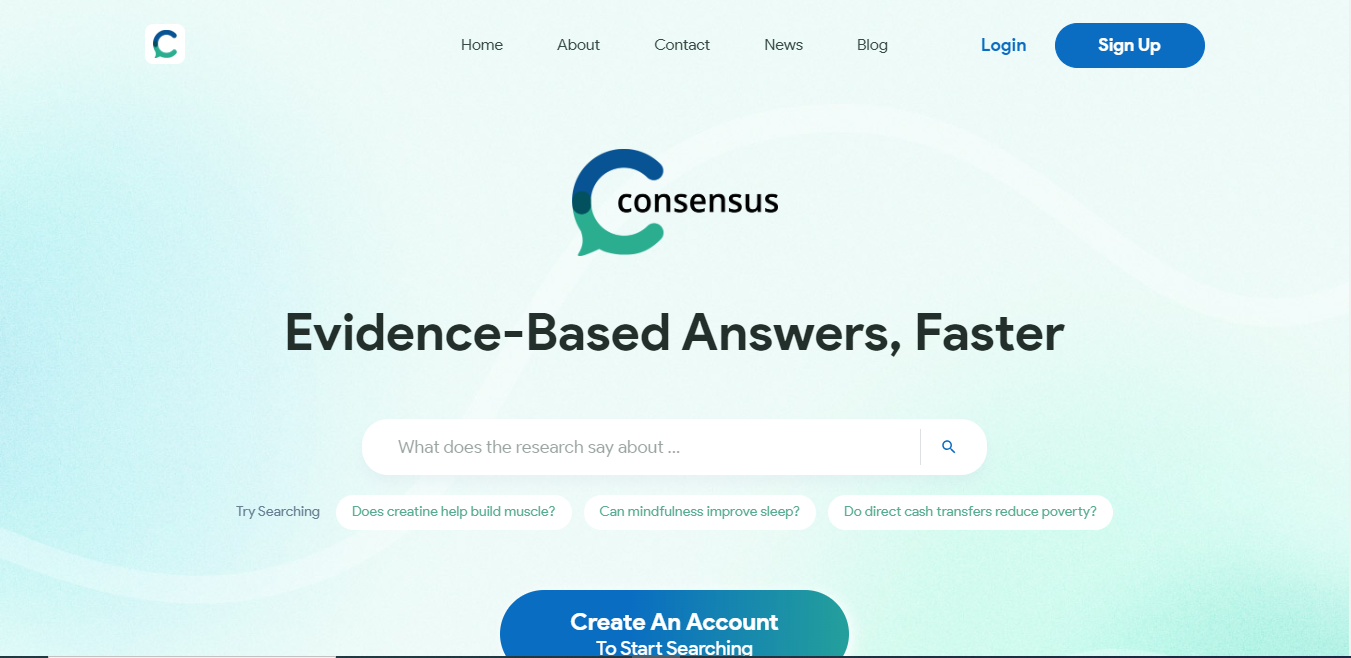 Consensus uses AI to extract and distill valuable findings directly from scientific research.
Its primary focus is on peer-reviewed and published sources, ensuring reliable and credible information for users.
Consensus Key Features
Scientific Results
Instant Analysis
Concept Relationships and Cause-Effect Analysis
Vetted and Unbiased Information
1. Scientific Results
Consensus exclusively searches through peer-reviewed sources, guaranteeing the accuracy and validity of the information retrieved.
By narrowing the scope to trusted scientific research, Consensus provides users with reliable findings to support their inquiries.
2. Instant Analysis
With the help of AI, Consensus reads scientific papers on behalf of users and extracts key findings.
This feature saves time and effort by delivering summarized and essential information, allowing users to quickly access the most relevant insights without extensive reading.
3. Concept Relationships and Cause-Effect Analysis
Users can ask for Consensus about the relationships between various concepts or cause-effect scenarios. For example, inquiring about the impact of immigration on the economy.
Consensus responds by presenting the consensus derived from multiple academic papers and a list of sources and summaries of the most influential articles analyzed.
4. Vetted and Unbiased Information
By utilizing AI technology, Consensus helps alleviate the arduous process of searching for trustworthy and objective information.
Consensus Pricing & Plans
Consensus is a free online tool.
8. QuillBot – Best AI Writing Assistant For Academic Writing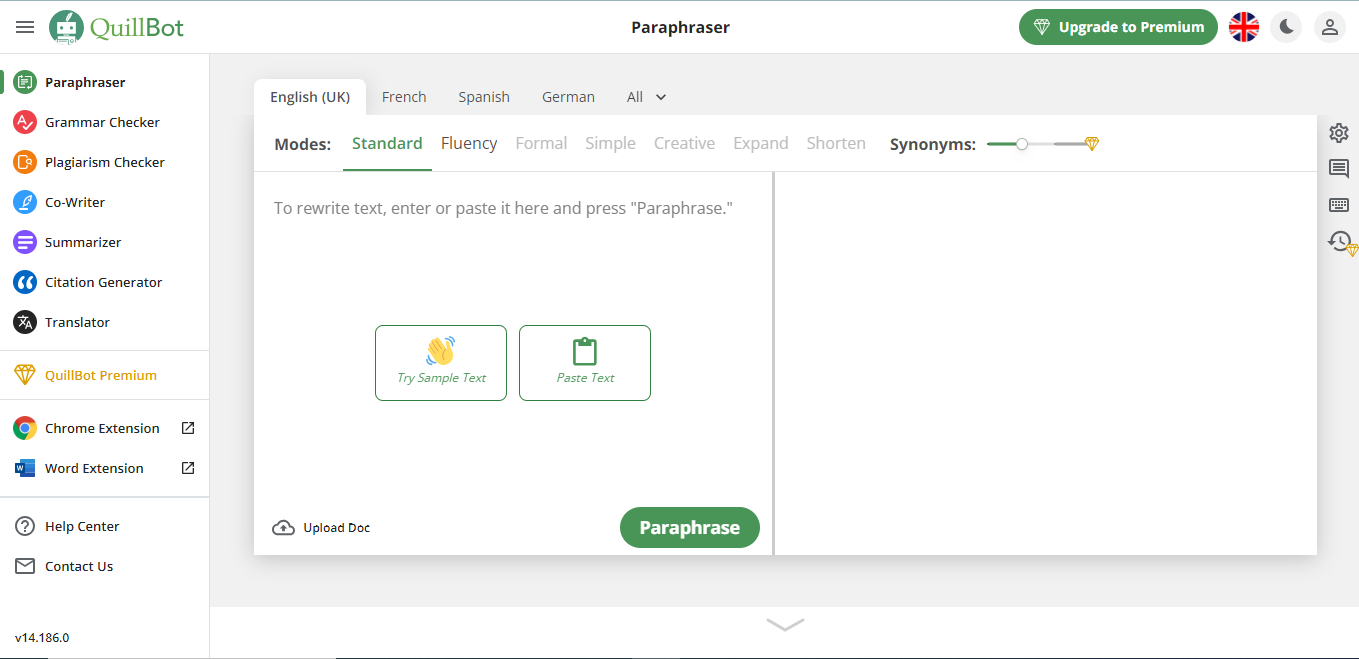 QuillBot is an AI-powered writing assistant designed to meet your academic writing needs, enhance your writing workflow, and help you produce high-quality AI content writing.
QuillBot Key Features
Research Effortlessly
Automatic Citations
Complete Your Work Faster
Grammar Checking
Access Analytics
Summarize with Ease
1. Research Effortlessly
QuillBot's Co-Writer simplifies the research process by allowing you to search the web directly within the tool. 
2. Automatic Citations
When incorporating web content in addition to your writing, QuillBot's Co-Writer automatically generates citations, saving you valuable time and ensuring proper source attribution.
It supports various citation styles, such as APA, MLA, and Chicago, catering to your academic requirements.
3. Complete Your Work Faster
QuillBot empowers you to paraphrase content with a single click while preserving the original formatting. This feature enables you to rephrase information effectively and efficiently.
The Write Assist feature also provides AI-powered assistance in constructing sentences, boosting your writing speed and accuracy.
4. Grammar Checking
With advanced artificial intelligence, QuillBot's Co-Writer reviews your text and offers suggestions for grammar corrections, enhancing the overall quality of your academic work.
5. Access Analytics
The analytics feature provides valuable insights into the length and flow of your writing, enabling you to optimize your content according to your specific needs.
6. Summarize with Ease
QuillBot is an AI writing tool that helps Summarize articles, papers, or documents into key points.
Powered by natural language processing, QuillBot identifies crucial information while preserving the original context.
QuillBot Pricing & Plans
1. Free
Features
It offers 125 words in the Paraphraser, Standard, and Fluency modes, three synonym options, 1 Freeze word or phrase, and 1200 words in the Summarizer.
2. Premium
Features
It offers everything included in the free plan plus; unlimited words in the Paraphraser, Standard, Fluency, Expand, Shorten, Formal, Simple, and Creative modes, four synonym options, Unlimited Freeze words and phrases, 6000 words in the Summarizer, Faster processing speed, Advanced grammar rewrites, Compare Modes (Desktop only), Plagiarism Checker, Tone detection, and Paraphraser History.
Price
It costs $9.95/month.
9. ProWritingAid – Best AI Writing Tool For Academic Writing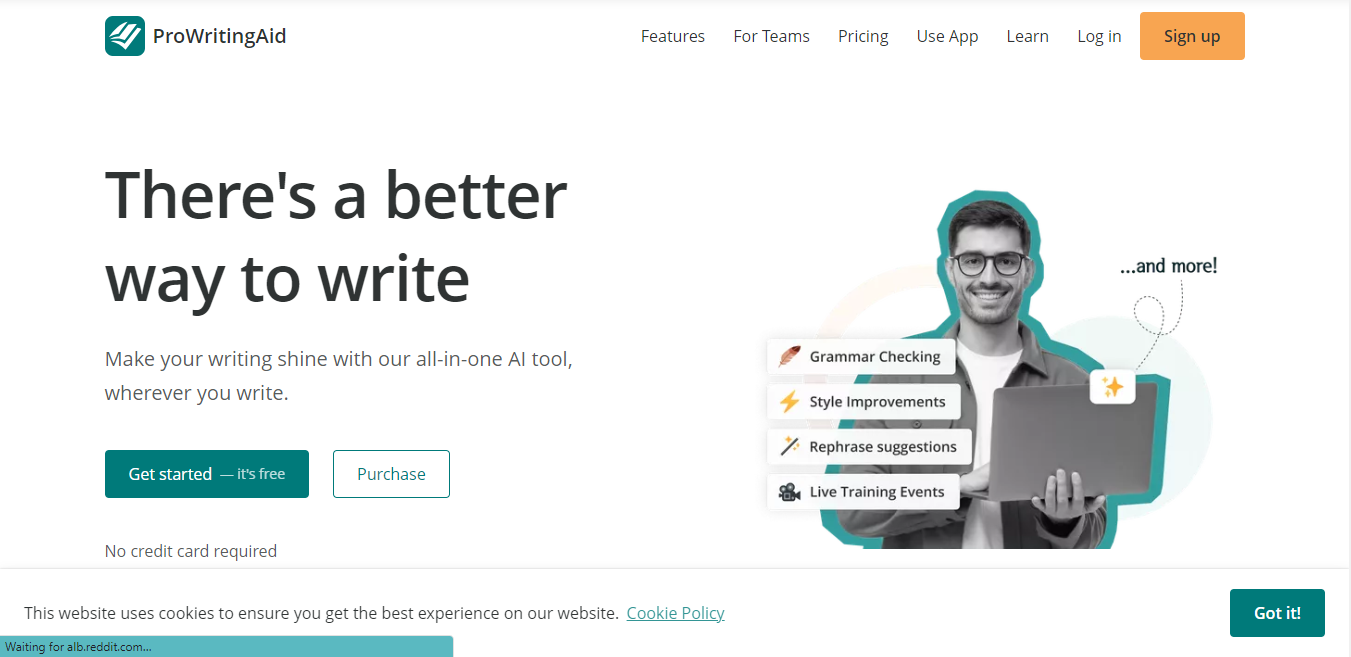 ProWritingAid is an all-in-one AI-powered tool designed to enhance your writing and make it shine.
With its combination of automated suggestions and expert advice, unlike other AI writing tools, ProWritingAid is a tool that can help writers improve their writing skills and effectively communicate their ideas.
ProWritingAid Key Features
Helpful Automated Suggestions
Expert Advice and Masterclasses
In-Depth Writing Reports
Style and Strength Improvements
Learn as You Edit
Data Visualization for Deeper Understanding
1. Helpful Automated Suggestions
There are thousands of grammar and style improvements at the click of a button.
It provides real-time writing and editing suggestions tailored to your specific needs.
2. Expert Advice and Masterclasses
Accessing a wealth of expert advice, masterclasses, and writing tips from renowned professionals, ProWritingAid offers guidance and inspiration to make your writing unforgettable.
3. In-Depth Writing Reports
ProWritingAid's AI can help surpass other editing software's extensive range of writing reports.
It goes beyond grammar and highlights repetitiveness, vague wording, sentence length variation, overuse of adverbs, passive voice, and complex sentence structures.
4. Style and Strength Improvements
It suggests style improvements to enhance the power and clarity of your writing.
The tool incorporates thousands of hand-coded rules to cover the essential aspects of style.
5. Learn as You Edit
It's a great tool for learning, as it offers in-app suggestions, explanations, videos, and quizzes to help you enhance your writing skills as you edit. 
6. Data Visualization for Deeper Understanding
Through charts and graphs, ProWritingAid provides visual representations of your writing, enabling you to better understand your writing and make informed improvements.
ProWritingAid Pricing & Plans
1. Free
Features
Its free version offers a 500-word count limit, ten rephrases daily, Grammar, Spelling, Punctuation, Word Explorer & Thesaurus, Document typesetting, and 100% Data security and privacy.
2. Premium
Features
It offers unlimited word count, rephrases, advanced style improvements, custom style guides, snippets, 24+ Writing analysis reports, long-form writing, customizable writing suggestions, terminology management, author comparison, and citations.
Price
It costs $30/month, and you can save 67% in yearly billing while the lifetime payment is $399.
10. OpenRead – Best For Capturing The Core Value Of A Paper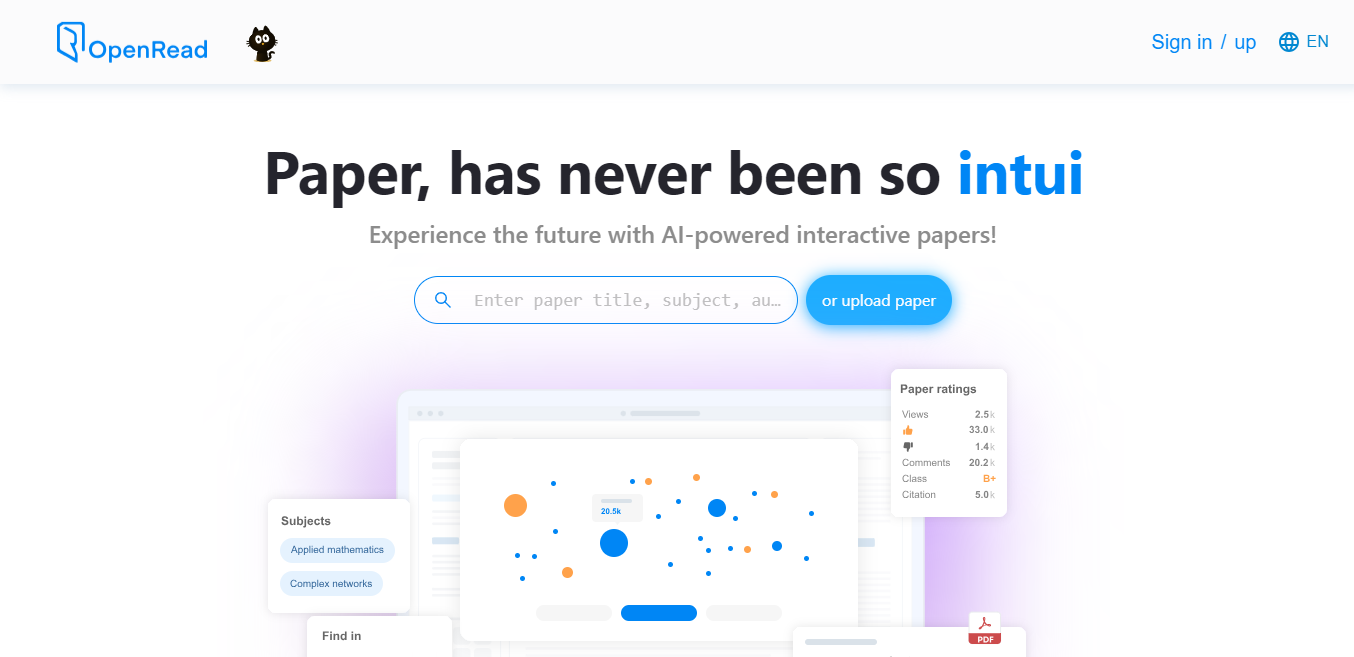 OpenRead is an innovative AI platform designed to enhance academics' and researchers' research and reading experience.
OpenRead Key Features
Extensive Reading Mode
Paper Q&A
Paper Espresso
1. Extensive Reading Mode
OpenRead's extensive reading mode allows users to capture the core value of a paper within just 5 minutes, saving valuable time.
2. Paper Q&A
Instead of reading long papers, users can ask questions about articles and the Paper Espresso and receive quick responses within seconds, enabling effortless access to information.
3. Paper Espresso
OpenRead's NLP assistant can generate personalized literature reviews by digesting papers, saving researchers from the hassle of manually searching for specific information. 
OpenRead Pricing & Plans
It is a free AI online tool.