At a Glance
Revealbot is an excellent tool to automate your ad management routine.
It enhances and expands ad campaigns by optimizing and scaling them with external data to create customized metrics and exploring pre-built automation for effective strategies.
Adespresso is the best alternative to Revealbot for beginners and those on a tight budget.  
Revealbot is an ad automation tool for scaling your Ad campaigns.
It boosts the overall effectiveness of your marketing efforts across various platforms.
With advanced parameters, it optimizes your targeting to increase clicks, purchases, and ROI.
Revealbot's attribution tracking allows you to accurately measure your ads' success.
Its pricing model is based on a per-month subscription.
Here are some of the Key Features of Revealbot, a Comparison with Similar Tools, its Pros and Cons, and our Unbiased Review to help you make a more informed decision.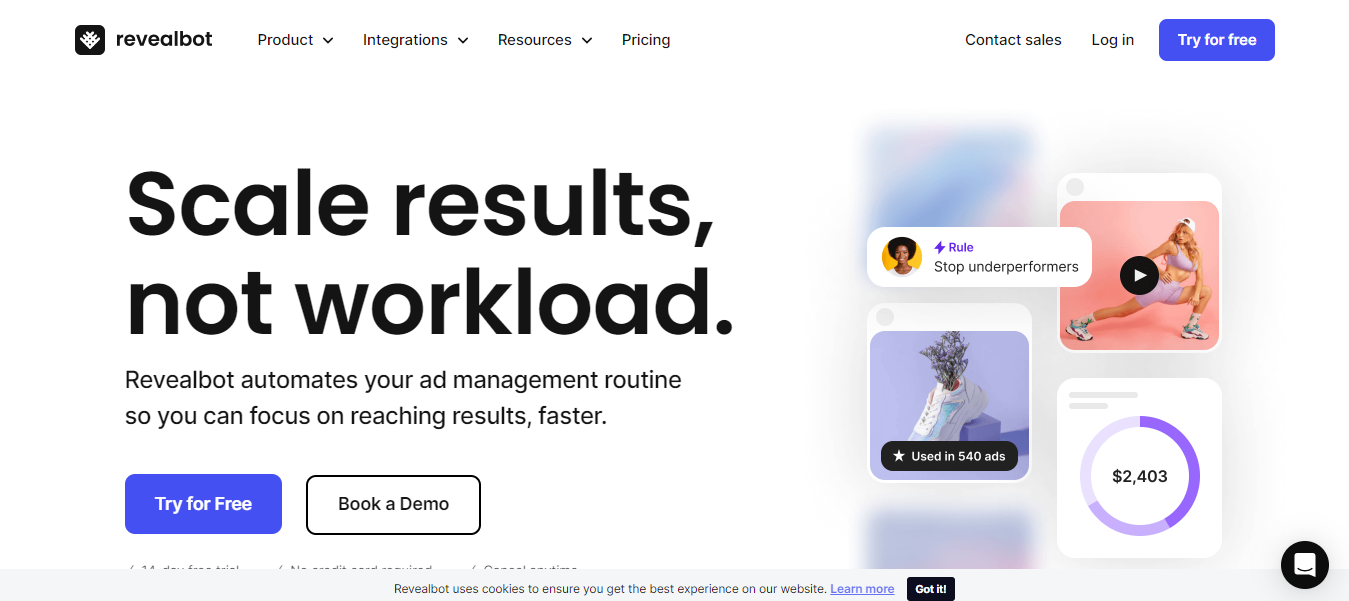 Revealbot Features
| Feature | Description |
| --- | --- |
| Brand Awareness | Increase brand visibility and recognition among different audiences through targeted Facebook ads. |
| Automated Rules | Set up automated rules to manage underperforming ads, saving time and ensuring efficient ad management. |
| Top Audience Reports | Access detailed reports on top-performing audience segments to gain valuable insights for future campaigns. |
| Bulk Creation Tool | Use a bulk creation tool to create dozens of ads quickly and efficiently, optimizing monthly ad spend across various platforms like Facebook, Instagram, TikTok, and Snapchat. |
| Conversion | Track conversions and measure the effectiveness of Facebook advertising campaigns using conversion metrics and Google Analytics integration. |
| Valuable Insights | Gain valuable insights from applied filters, ad performance metrics, and audience reports to optimize advertising strategy and make data-driven decisions. |
| Placement | Choose specific ad placements on Facebook, Instagram, and Google Ads to target different audiences across various channels. |
| Media Buyers | Collaborate with media buyers to manage ad campaigns, optimize ad placements, and reach the right audiences at the right time. |
| Optimize | Continuously optimize Facebook ads by analyzing metrics, adjusting ad targeting, and leveraging automated rules to maximize campaign performance and achieve better conversion rates. |
| Posts Automatically | Automatically schedule and post optimized ads, images, and videos across Facebook, Instagram, and other platforms, saving time and ensuring consistent content delivery. |
Revealbot Pros & Cons
PROS
Revealbot enables automated rules and strategies for Facebook, Google, and Snapchat Ads, allowing marketers to save time and improve campaign performance.
Revealbot enables automated rules and strategies for Facebook, Google, and Snapchat Ads, allowing marketers to save time and improve campaign performance.
The tool automatically converts top-performing Instagram content into ads for Instagram or Facebook, enhancing ad creativity and reach.
Revealbot integrates with platforms like Slack, Google Sheets, AppsFlyer, Wicked Reports, and Hyros, providing seamless data flow and streamlined workflows.
Revealbot offers scalable solutions, allowing advertisers to manage multiple ad accounts and users, making it suitable for growing businesses.
Marketers can create custom automation based on their specific marketing goals and get started on precise campaign optimization and performance management.
Revealbot provides an intuitive interface, making it easy for marketers to navigate and utilize the tool's functionality effectively.
CONS
The free plan or lower-tiered paid plans may have a monthly ad spend limit, which could restrict larger-scale advertising efforts.
While Revealbot supports major platforms like Facebook, Google, and Snapchat Ads, it may not cover all ad platforms, potentially limiting advertising options.
Unlike some competitors, Revealbot lacks a specific feature for generating 20% of a lookalike (LAL) audience.
Once the 14-day free trial ends, users need to subscribe to a paid plan, which may not be suitable for those seeking a permanent free solution.
Revealbot Pricing & Plans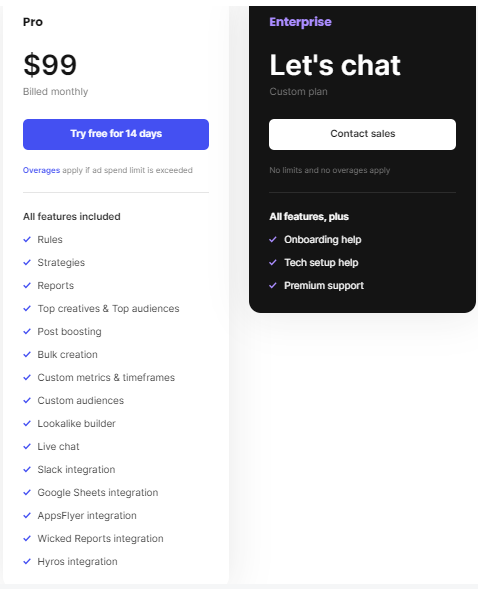 1. 14-Day Free Trial
It requires no credit card, and you can cancel anytime.
2. Pro (Upto $10K in Monthly Ad Spend)
Features
It includes rules, strategies, reports, top creatives & top audiences, post boosting, bulk creation, custom metrics & timeframes, custom audiences, lookalike builder, live chat, slack integration, Google Sheets integration, AppsFlyer integration, Wicked Reports integration, and Hyros integration.
Price
It costs $99/month.
3. Enterprise
Features
It includes everything in Pro Plan and Onboarding help, Tech setup help, and Premium support.
Price
Custom Pricing.
Revealbot Review
I found three strong points in Revealbot that no marketers, agencies, or businesses can ignore.
1. Advanced Campaign Management Under One Umbrella
Its multi-platform support allows you to create, monitor, and optimize your social media ad campaigns across platforms like Facebook, Instagram, and Google Ads, all from one centralized dashboard.
Revealbot's user-friendly interface simplifies the campaign setup, budget allocation, and performance tracking process, allowing marketers to efficiently manage their campaigns.
Its automation capabilities are ideal for analyzing campaign data, adjusting ad targeting, allocating budgets, and optimizing bidding strategies, leading to improved efficiency and better campaign outcomes.
2. Data-Driven Optimization With Real-Time Analytics
Revealbot's data-driven optimization capabilities empower marketers to maximize campaign results based on real-time insights.
It automatically adjusts ad targeting, bidding strategies, and creative elements based on performance data, ensuring optimal campaign performance and higher return on ad spend (ROAS).
You can access real-time analytics and performance reports to track the success of their campaigns, identify trends, and make data-driven adjustments for continuous improvement.
3. Automated Rules and Notifications For Ad Spend
You can set up custom rules based on performance metrics like ad spend, click-through rates, or conversions.
When specific conditions are met, Revealbot automatically takes actions like pausing underperforming ads or increasing bids, saving marketers time and effort.
You can receive real-time notifications on campaign performance, ensuring you stay informed about critical changes in ad performance and allowing you to take immediate action to optimize your campaigns.
4. Limitations of Revealbot
While Revealbot offers several advantages, it has certain limitations that you should consider when buying this tool.
The platform's pricing may be a barrier for smaller businesses or marketers with limited budgets, as the cost of the tool may outweigh the potential benefits for those with smaller-scale campaigns.
While Revealbot's automation features are powerful, their effectiveness relies on the quality and relevance of the initial campaign setup and targeting parameters.
You must ensure the campaigns are well-structured and aligned with your target audience to fully utilize Revealbot's capabilities.
Revealbot Alternatives
| Features | Revealbot | AdEspresso | Madgicx | Adzooma | TrustAds |
| --- | --- | --- | --- | --- | --- |
| Automation Platforms | Facebook, Google, Snapchat | Facebook, Instagram | Facebook, Instagram, Google, Snapchat | Facebook, Google | Facebook, Instagram |
| Instagram Content Ads | Yes | No | No | No | No |
| Pricing | Starts at $99/mo | Starts at $69/mo | Starts at $149/mo | Free | Starts at $97.97/mo |
| Ad Spend Limit | Up to $10,000/mo | Up to $3,000/mo | Up to $10,000/mo | No Limit | No Limit |
| Free Trial | 14-day unlimited access | 14-day free trial | 7-day limited free trial | Free | 7-day free trial |
| Customization | Advanced and precise automation tool | The simple and streamlined solution | Done-for-you algorithmic solutions | Powerful automation tool | Lookalike audience generator |
| Review Score (Capterra) | 4.6/5 with 70 reviews | 3.7/5 with 35 reviews | 4.9/5 with 27 reviews | 4.5/5 with 81 reviews | No online reviews |
| Integration | Slack, Google Sheets, AppsFlyer, Wicked Reports, Hyros | Not mentioned | Not mentioned | Not mentioned | Not mentioned |
| Support | Live chat | Not mentioned | Not mentioned | Not mentioned | Not mentioned |
AdEspresso — #1 Revealbot Alternative 🆚
Let's cut to the chase, Revealbot is the #1 alternative to Revealbot
AdEspresso has all the essential and advanced Ad automation features compared to Revealbot.
(Create, Manage, Analyze, Collaborate and Grow your Ad Campaign) 🔥
Revealbot Vs. AdEspresso
When comparing Revealbot and AdEspresso, it becomes clear that each platform has unique strengths.
AdEspresso offers a user-friendly and simplified experience, making it suitable for small to medium-sized businesses and beginners.
On the other hand, Revealbot caters to experienced marketers who require advanced automation features, multi-platform support, and the ability to turn Instagram content into ads.
With pricing plans that scale with ad spend, Revealbot offers a cost-effective solution for professionals looking to optimize and scale their campaigns efficiently.
The choice ultimately depends on the user's level of expertise, automation needs, and budget considerations.
Regarding pricing, AdEspresso starts at $69/month, while Revealbot's basic plan starts at $99/month, offering additional advanced features and multi-platform support for a slightly higher cost.
Why Choose Revealbot over Adesspresso
We ran side-by-side tests of identical campaigns. The findings consistently favored Revealbot, as the campaigns utilizing Revealbot automation consistently outperformed their counterparts.
This empirical evidence demonstrates the significant impact and effectiveness of Revealbot's automation features in enhancing campaign performance and delivering superior results.
So, a little high price is worth it. Paying a little more will bring more rewards in terms of marketing gains.