At a Glance
Final Cut Pro X (FCPX) is a powerful video editing software designed for professionals and enthusiasts, offering a wide range of editing tools and features.
FCPX plugins enhance the capabilities of Final Cut Pro X by providing additional effects, transitions, and utilities to elevate your editing projects.
This article explores FCPX features, Pros & Cons, and a detailed review.
Final Cut Pro X is a professional video editing software developed by Apple for macOS.
Macromedia initially created Final Cut Pro as an alternative to Adobe Premiere.
It offers a comprehensive set of tools and features that enable video editors to take their editing to the next level.
With its real-time performance and support for 4K video, Final Cut Pro X is a popular choice among Mac users and video content creators.
Let's explore the Features, Plugins, Pros Cons, and Pricing of Final Cut Pro X, and then we will give our unbiased review of this video editing tool.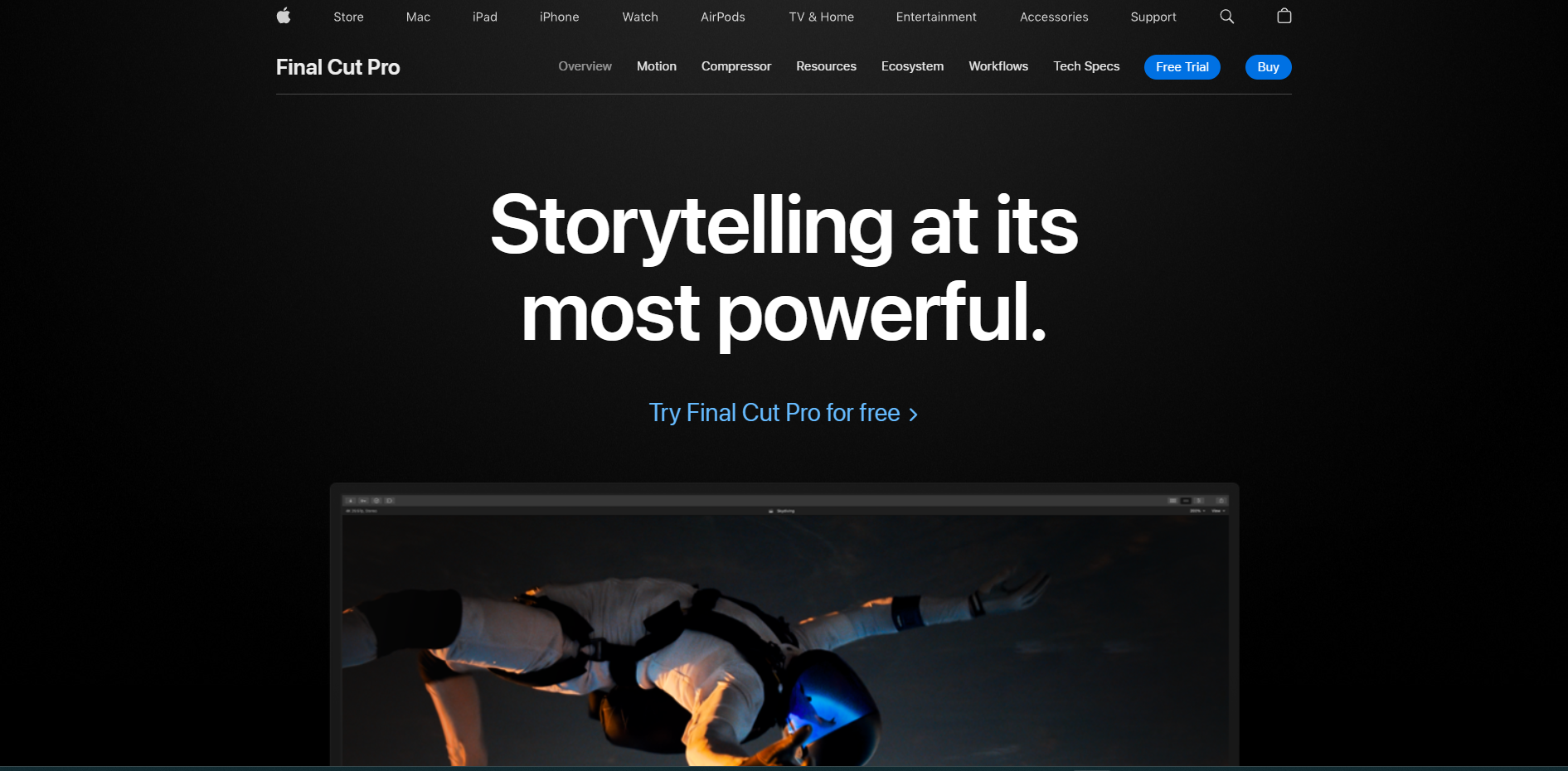 Final Cut Pro X Features
Feature
Description
macOS
It is designed for macOS, providing seamless and optimized editing in Final Cut Pro on Apple computers.
Real-time Performance
Final Cut Pro X uses advanced hardware acceleration and optimization techniques to deliver smooth, real-time playback, even with high-resolution 4K video.
Final Cut Pro for iPad
With a dedicated version for iPad, users can now edit their videos on the go, with the touch interface and powerful capabilities of Apple's tablet.
Built-in Effects
Final Cut Pro X offers a wide range of built-in effects, transitions, titles, and generators to enhance and stylize your video content.
Professional Audio
While editing inside Final Cut Pro, you can access professional audio editing tools, such as audio compression, EQ, and noise reduction, allowing precise control over the audio in your Final Cut Pro projects.
Magnetic Timeline
Final Cut Pro X features a unique magnetic timeline that automatically organizes and connects video and audio clips into a single movable package, making rearranging and modifying your edits easy.
FCPX Plugins
Final Cut ProX plugins are designed to enhance the editing experience and provide additional tools, effects, transitions, and capabilities beyond what is included in the base software.
360° Effects
It offers comprehensive support for editing, importing, exporting,  and applying effects to 360° video content, allowing creators to craft immersive experiences for their viewers.
Color Grading Tools
The software provides powerful color grading tools, including advanced color wheels, HDR video support, and precise control over color correction, empowering editors to achieve their desired visual aesthetics.
Media Asset Management
Final Cut Pro X includes robust media management features, allowing users to organize, tag, and search for video clips efficiently.

Users can identify different types of content, create smart collections that automatically collect content, and manage their media assets effectively.

Machine Learning
Final Cut Pro X incorporates machine learning capabilities to automate tasks and enhance editing.

It can analyze and categorize content, identify people and objects, and offer intelligent clip ranges with metadata for searching or creating Smart Collections.

Motion graphics and effects in real-time
Integrates with Motion, allowing users to create 2D and 3D titles, transitions, and effects.
Optimized for Apple Silicon
Takes advantage of Apple's M1 Max and M1 Ultra chips for improved performance on compatible Mac devices.
Keyframing Interface
Final Cut Pro X replaces the timeline keyframe graph area from Final Cut Pro 7 with the Video Animation Editor for video effects and the Audio Animation Editor for audio effects.
Optimized for Mac Pro and Pro Display XDR
Supports the powerful capabilities of Mac Pro, including multithreading and compatibility with Pro Display XDR.
Minimum System Requirements
It requires macOS 12.6 or later, 

4GB of RAM (8GB recommended for advanced editing), a

Metal-capable graphics card,

1GB of VRAM recommended for high-quality editing,

5.5GB of disk space,

Internet access for certain features (additional fees may apply), and

Blu-ray recorder needed for burning Blu-ray discs.

Optimized ProRes Performance
ProRes performance enables smooth playback and real-time editing, optimized for macOS and the latest Mac computers.

ProRes RAW files are smaller and can fit more footage on storage cards, while the M1 Ultra, M2 Pro, and M2 Max chips enhance ProRes RAW performance.

Discounted Pricing
Apple offers the Pro Apps Bundle for qualifying college students, teachers, and educational institutions.

This bundle includes five professional video and music creation applications, Final Cut Pro and Logic Pro, Motion, Compressor, and MainStage, for $199.99.

Free Trial
You can experience Final Cut Pro for 90 days at no cost.

You can discover the latest version of Final Cut Pro with a complimentary free trial for your Macbook Pro.

Seamless integration with third-party apps
It allows you to access an extensive ecosystem of media asset management, review tools, effects, and graphic templates directly within Final Cut Pro.

You can explore stock media from Shutterstock and APM Music, streamline review and approval with Frame.io, and effortlessly browse and preview numerous text styles using Font Audition without leaving your editing environment.
Final Cut Pro X's Pros and Cons
PROS
Final Cut Pro X offers a user-friendly interface and intuitive workflow, making it accessible for beginners and experienced editors.
The software supports real-time editing, allowing for smooth playback and a seamless editing experience.
Its integration with macOS provides optimized performance and stability.
Final Cut Pro X has robust support for 4K video, enabling high-resolution editing and delivery.
The magnetic timeline feature simplifies the arrangement and organization of video and audio clips into a cohesive timeline.
The extensive collection of built-in effects and motion templates offers creative flexibility and enhances visual storytelling.
With professional audio tools and capabilities, Final Cut Pro X ensures high-quality sound editing and mixing.
CONS
Final Cut Pro X is exclusively available for macOS, limiting its accessibility for users on other operating systems.
While the software provides comprehensive features, it may have a steeper learning curve for beginners than other editing software.
Some advanced features and effects may require additional plugins or third-party tools, adding to the overall cost.
Final Cut Pro X's system requirements may demand powerful hardware configurations, particularly for handling larger projects or working with high-resolution video files.
FCPX Plugins
Final Cut Pro X has additional plugins that you can install to enhance the editing workflow, provide advanced effect tools, add new features, automate tasks, or improve the overall editing experience.
We have compiled a list of some top Final Cut Pro Plugins that can make your video editing more exciting.
Plugin Name
Description
SliceX
Instant shape motion tracking using Mocha's planar tracking engine.

Allows you to create shape masks, apply effects, color correction, and more.

Final Cut Pro Plugins & Templates by Motion Array
Membership-based resource for downloading premium After Effects templates, stock music, stock motion graphics, and stock video elements.
Ripple 3D Drops
Create custom titles with 3D text materials, shadows, reflections, and presets for animation.
Neat Video
Reduces visible noise and grain in footage from various sources.

Available as a plugin for many video editing applications, including Final Cut Pro.

Callouts
Callout title plugins with built-in object tracking for precise motion tracking of titles.
mFilm Look
Apply film-style looks and effects to your footage with just a few clicks.
Loudness Meter
It helps you find your audio's true perceived loudness and prepares it for TV or streaming services release.
mFlare
Add realistic lens flare effects to
Tracker
Use motion tracking to create titles, image live-action footage, and animations that follow moving objects in your frame.
Arctic Whiteness
Final Cut Library Manager that organizes Final Cut Pro X libraries and external media files.
Rampant Design Tools
Packs of effects to add amazing visuals and effects to your videos.
RX 8 Standard
Audio repair plugin for post-production with features like Repair Assistant and Music Rebalance.
360 Degrees
VR video tools for 360° stories, including effects, overlays, and manipulation of 360° content.
Skin Smoother 2
Smooth out unwanted skin details in video footage.
Motion VFX
Templates and plugins for Apple Motion and Final Cut Pro, specializing in visual effects.
Color Finale
Professional color grading toolset for Final Cut Pro X, offering a streamlined workflow and additional tools compared to the standard color tools in Final Cut Pro X.
mObject
Plugin for creating 3D objects and animations within Motion 5 and Final Cut Pro X.
Ghosting Effect Plugin
It is a free plugin that adds effects, transitions, and presets for enhancing video production and photography for social media content creators.
Primatte Keyer
Keying plugin for creating clean and accurate keys, even with challenging backgrounds, in Final Cut Pro X.
Producer's Best Friend
Generates formatted spreadsheet reports about video clips, audio clips, titles, generators, and more in Final Cut Pro X.
DataPop
Final Cut Pro plugins for enhancing video editing with various features and functions.
LUT Utility
Apply 3D LUTs or Look Up Tables to footage, including film print LUTs, in Final Cut Pro X.
mTitle 3D
Pack of stylized 3D titles for Final Cut Pro X and Motion.
3D Perspective Plugin
Manipulate videos and images in 3D space with this plugin.
Final Cut Pro X Pricing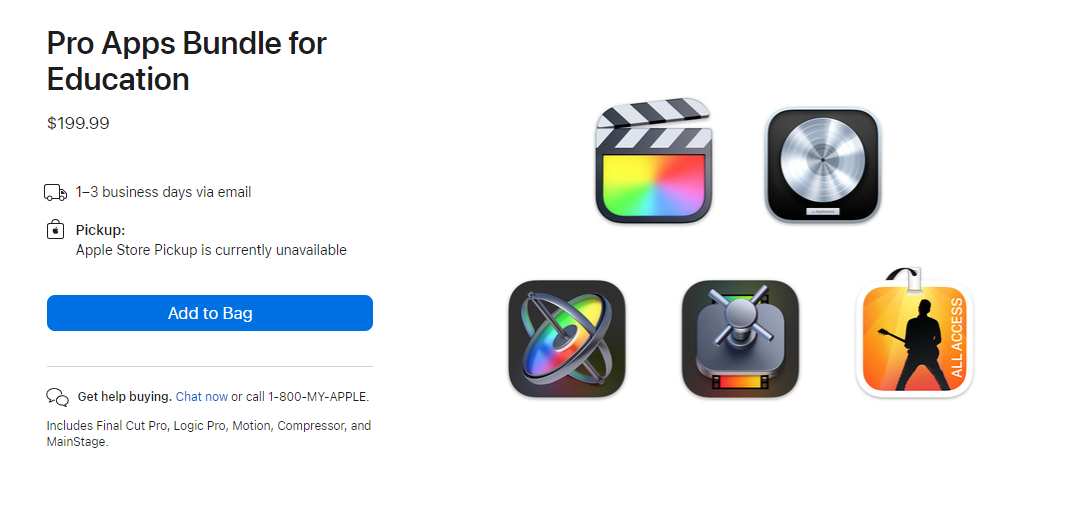 You can download a free 90-day trial of the latest version of Final Cut Pro for your Mac.
1. Pro Apps Bundle (For Qualifying Students and Educators)
It costs $199.99.
3. FCPX Plugins
Available separately from various developers, prices may vary depending on the plugin's functionality.
4. Apple's Subscription Option for iPad
Final Cut Pro and Logic Pro are available for $4.99 per month or $49 per year. It offers access to both apps on the iPad.
Review
1. Intuitive and Efficient Workflow
Final Cut Pro X has a magnetic, trackless timeline that has revolutionized the editing experience.
Cutting and arranging clips becomes a breeze with its straightforward interface, allowing you to quickly assemble your projects.
The organization tools, including libraries, ratings, tagging, and auto analysis for faces and scenes, enhance the efficiency of managing media assets.
2. Versatile and Feature-Rich Editing Capabilities
The software supports 360-degree footage and wide color spaces, opening up immersive storytelling possibilities.
Its multicam support simplifies editing multiple camera angles, making it ideal for projects requiring synchronized footage.
The superior performance ensures smooth editing, even when handling complex projects.
3. Comprehensive Tools and Effects
From 3D titling to an impressive Flow transition that smooths out jump cuts, the software provides various creative tools.
The rich support for 360-degree VR content, updated color grading tools, and compatibility with HDR and HEVC formats empower users to deliver stunning visuals.
Additionally, the availability of third-party plugins expands the creative possibilities even further.
4. Seamless Integration and Exporting Capabilities
Final Cut Pro X seamlessly integrates with other Apple products and services, creating a cohesive ecosystem for content creation.
The ability to edit iPhone Cinematic video mode footage directly within the software streamlines the editing process for mobile content creators.
Moreover, Final Cut Pro X offers flexible export options, allowing users to fine-tune settings and optimize their videos for specific platforms and streaming services.
5. Limitation: Nontraditional Timeline Editing and Exporting Experience
While Final Cut Pro X's magnetic, trackless timeline offers a unique approach to editing, some longtime video producers may find it nontraditional and initially challenging to adapt to.
Additionally, the software's import and export experiences trail behind competitors like Premiere Pro, which may pose inconveniences for users who frequently work with diverse file formats or require advanced customization during the export process.
6. Who may not be the ideal users for Final Cut Pro?
Windows Users: Using Final Cut Pro is only available for macOS and is not compatible with Windows operating systems.
Budget-Conscious Individuals: Final Cut Pro is a professional software with a higher price point, making it less suitable for those on a tight budget.
Traditional Timeline Editors: If you prefer the traditional track-based timeline editing approach, Final Cut Pro's nontraditional trackless timeline may not be the best fit.
Users With Limited Hardware Resources: Final Cut Pro requires a powerful computer system to run smoothly, so those with older or less capable hardware may face performance issues.
Adobe Creative Suite Enthusiasts: If you heavily rely on other Adobe Premiere Pro and its other family applications and require seamless integration between software tools, sticking with Adobe's software ecosystem may be more convenient than switching to Final Cut Pro.
Conclusion
Final Cut Pro X is for both amateurs and professionals. However, it's important to note that the nontraditional timeline editing and limitations in importing and exporting experiences may require some adjustment for longtime video producers.
Despite these limitations, Final Cut Pro X remains an excellent choice for those seeking a robust editing solution that offers both simplicity and professional-grade results.