At a Glance
Echowin is an AI-powered call management system that provides automated call answering and personalized responses to customer queries.
It offers features such as natural language understanding, full visibility into customer interactions, and the ability to handle multiple calls simultaneously.
There is a detailed review of Echwin and a comparative analysis of its alternative AI tools that will enable you to pick the right AI tool for intelligent call management.
Echowin is an AI-powered call management system that provides businesses with automated call answering and conversation capabilities.
It offers a range of features designed to simplify call management, lower expenses, save time, and enhance customer experiences.
It provides a comprehensive solution for handling customer calls and conversations, enabling businesses to enhance operations and manage customer interactions efficiently.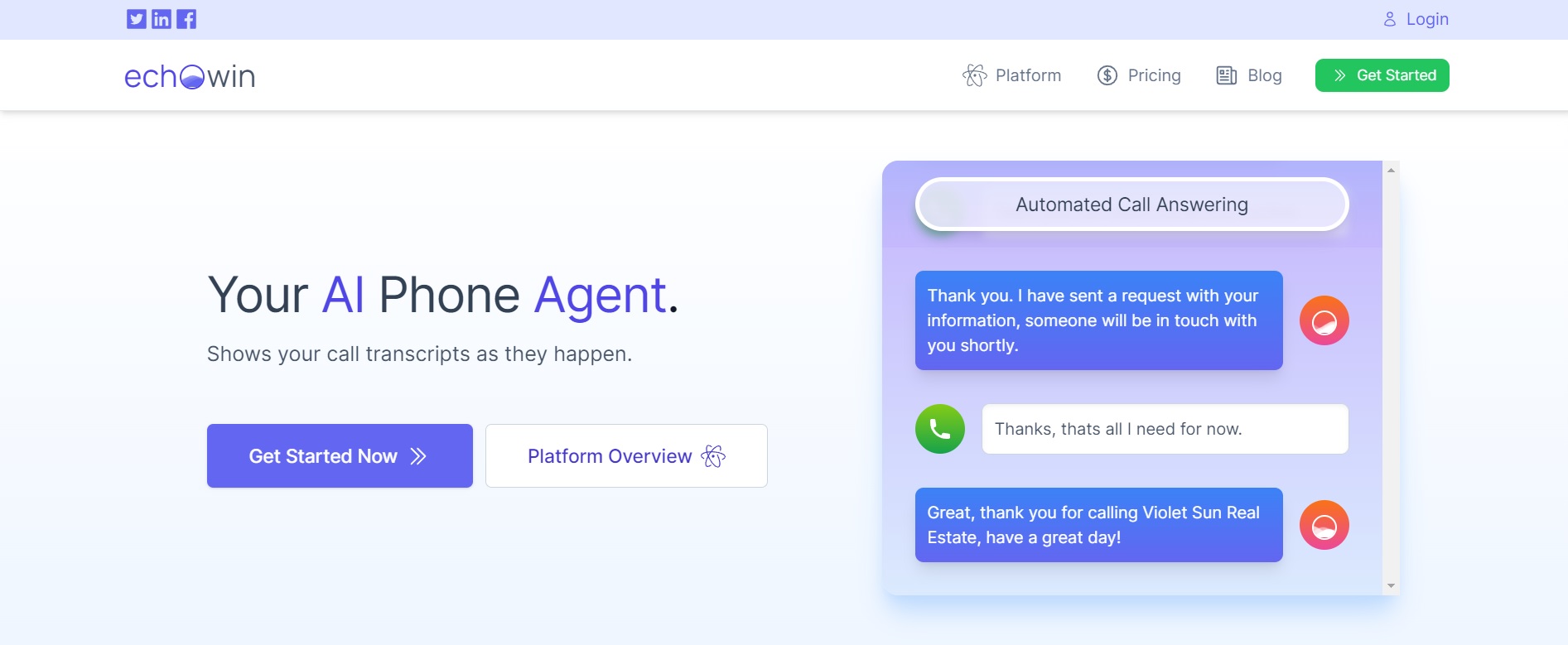 Echowin Key Features
| Features | Description |
| --- | --- |
| Automated Call Answering | Echowin's AI picks up phone calls for your business, allowing you to better use your and your employees' time. |
| No Missed Calls | Echowin can handle multiple calls simultaneously, ensuring your business never misses a potential customer 24/7. |
| Full Natural Language Understanding | The AI understands your business and provides personalized and friendly responses to customer questions without relying on pre-scripted answers. |
| Full Visibility | Visibility of real-time customer interactions helps you make better decisions for your business. |
| Fully Customizable | Echowin can be customized to answer questions, gather leads, provide directions, and perform other tasks specific to your business needs. |
| Trusted By Businesses Everywhere | Used by local business owners, startups, law firms, real estate companies, solo entrepreneurs, and universities. |
| Effortless Call Automation | Echowin's platform is easy to use, with a growing list of skills that can be assigned to your AI agent to handle different use cases. |
| Knowledge Skill | You can input information about your business using freeform text, and the AI interprets and understands it to answer customer questions. |
| Personality and Personalization | The AI agent can learn about your business and adapt accordingly, providing personalized responses for seamless customer experiences. |
| Next-Level Call Management | It offers intelligent call routing, live call transcripts, cloud-based setup, 24/7 availability, parallel call handling, custom business phone numbers, extensibility with skills, call routing options, custom voice selection, and business analytics are all part of Echowin's advanced call management capabilities. |
Echowin Pricing and Plans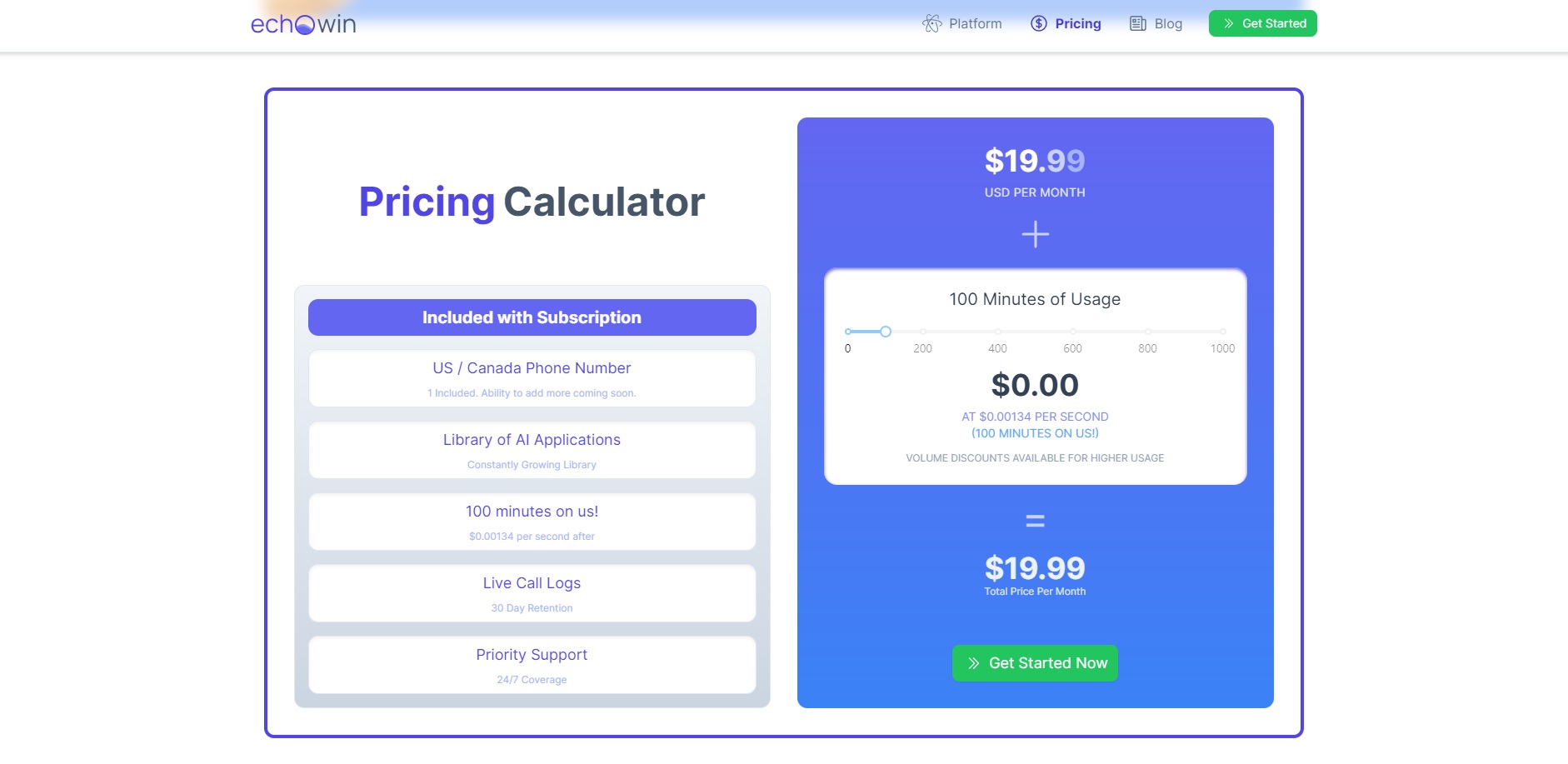 1. Free 100-minute
To help businesses get started, Echowin offers 100 minutes of call usage at no additional cost.
This means businesses can receive calls for up to 100 minutes during the initial usage without incurring additional charges.
Price
Once the limit of 100 free minutes exceeds, any additional call time is billed at a rate of $0.00134 per second.
This ensures that businesses only pay for the actual duration of the calls they receive.
2. Subscription Plans
It includes a calculator for cost estimation, One US/Canada phone number, a growing library of AI applications (add-ons), free 100 minutes included, $0.00134 per second after, live call logs for 30 days, and priority support.
Price
It costs $19.99/month.
Echowin Pros and Cons
PROS
Fully Automated Echowin's AI technology handles phone calls for your business, saving time for you and your employees.
Echowin can handle unlimited calls simultaneously, ensuring no missed opportunities to connect with potential customers.
Echowin goes beyond pre-scripted responses and provides personalized, friendly interactions by understanding your business's unique needs and customer queries.
With Echowin, you gain real-time insights into how customers interact with your business, enabling you to make more informed decisions to enhance customer experience and optimize operations.
CONS
Echowin's effectiveness relies on artificial intelligence, which may have limitations in certain scenarios and not provide the same human touch.
The automated nature of Echowin may lack the personal touch and empathy that human customer service representatives can provide.
Implementing Echowin may require initial setup and integration with existing systems, which can take time and resources.
As with any technology, there is a possibility of technical issues or glitches that may impact the smooth functioning of Echowin.
Echowin Comparison with Alternatives
| Feature | Echowin | Hellocall | Zencall.ai | Elto.ai | Call Connect |
| --- | --- | --- | --- | --- | --- |
| Call Automation | Automate inbound phone calls with AI | Automate inbound and outbound calls with AI | AI secretary handles missed calls, provides information | AI can dial multiple numbers in parallel | Automate inbound and outbound sales calls with AI |
| Transparent Pricing | Simple and transparent pricing structure | Custom pricing | Free Starter plan, paid plans based on call volume | Plans available with different features and pricing | Custom pricing |
| Customizable AI Agent | Customize AI agents with various skills | Create a call bot connected to business tools | AI secretary can be enhanced with unlimited prompts | Proprietary models for faster routing and detection | AI-powered sales assistant handles calls and demos |
| Live Call Transcripts | Real-time call monitoring and transcriptions | Not specified on the website | Access calls and read them at your convenience | Not specified on the website | Detailed email summaries and call logs |
| Cloud-Based System | Quick and easy setup with a cloud-based phone system | Not specified on the website | Access calls and handle them from anywhere | Not specified on the website | Access calls and manage them remotely |
| 24/7 Availability | Available 24/7 for customer calls | Not specified on the website | AI secretary ensures prompt responses at any time | Not specified on the website | AI operates 24/7, making and receiving sales calls consistently |
| Call Routing | Flexibility in call handling and routing | Call overflow and peak management, call transfer | AI secretary can redirect calls to specific persons or service | Calls are routed to available SDRs in milliseconds | Expertly navigate objections and secure valuable demos |
| Customizable Business Phone Number | Choose a custom phone number for your business | Not specified on the website | The free phone number provided for handling missed/incoming calls | Not specified on the website | Not specified on the website |
| Extensible with Skills | Integrate various skills for intelligent functionality | Integration with business tools (CRM, ERP, etc.) | AI secretary can send URL links via text message | Not specified on the website | Create captivating pitches and address objections |
| Business Analytics | Advanced analytics for tracking and analyzing performance | Not specified on the website | Not specified on the website | Enhanced data analytics and reporting features | Generate comprehensive call logs for review |
| Support and Implementation | Not specified on the website | Support throughout call bot implementation | Not specified on the website | Dedicated account manager and priority support | Fill out the form for questions and feedback |
| Monthly Pricing | $19.99/month + additional per-minute charges for extra usage | Not specified on the website | Free Starter plan, Advanced ($49/month), Enterprise ($99/month) | Plans available with different features and pricing | Pricing details are not specified on the website |
Echowin Review
Echowin is a cloud-based phone call management platform that allows businesses to automate inbound phone calls with its AI-powered system.
With a focus on simplicity, transparency, and affordability, Echowin aims to provide businesses with a user-friendly solution that improves customer experience.

1. Transparent Pricing
Echowin stands out in the market with its straightforward pricing plan, offering a monthly subscription fee of $19.99.
This fee includes access to the full range of AI Agent 'Skills' advanced AI capabilities and functionalities.
By registering, you can configure your AI agent and receive calls within minutes, with free 100 minutes monthly of call time.
Customers are charged a reasonable rate of 8 cents per minute for additional minutes.
2. Pricing Calculator
Echowin further enhances transparency by providing a pricing calculator, allowing customers to estimate their monthly costs based on usage.
By entering your email, you can enroll on the waitlist to get a phone number from Echowin's AI-powered call management system and receive calls in minutes.
3. Value Proposition
Echowin offers an exceptional value proposition to its customers at a minimal monthly subscription fee.
For just $19.99, businesses gain access to a powerful AI agent capable of understanding natural language and catering to personalized customer needs.
This level of AI capability is not easily accessible in the current market, where many solutions require dialing numbers and often fail to comprehend customer requests.
Moreover, other market solutions are typically more expensive and have complicated pricing structures.
Echowin offers streamlined customer support by maintaining a commitment to simplicity and affordability.
4. Automating Inbound Phone Calls
Automating incoming calls with AI can be highly beneficial for businesses, especially those that receive a high volume of customer inquiries and support calls.
By utilizing AI-powered call management, businesses can save time, reduce costs, and enhance the overall customer experience.
Echowin provides a step-by-step guide on automating inbound phone calls, starting with identifying the purpose and goals of the calls.
By understanding the desired outcomes, businesses can create an effective call flow that meets their needs and objectives.
5. Creating an Effective Call Flow
An effective call flow is essential for successful inbound phone automation.
Echowin allows businesses to guide inbound phone calls through a customized call flow, ensuring consistency in messaging and customer interactions.
6. Testing and Refining Inbound Phone Calls
Before launching automated inbound phone calls on a larger scale, Echowin recommends testing the system with a small group of customers.
This testing phase allows businesses to identify any issues or areas for improvement, ensuring a smooth and effective implementation.
By gathering customer feedback, businesses can refine their call flow and automation tool, maximizing the benefits of the Echowin platform.
Monitoring and maintenance are also necessary to ensure the system works as intended and meets the desired goals.
7. Analyzing and Optimizing Results
Echowin emphasizes the importance of analyzing the results of inbound phone automation to measure its effectiveness and optimize the approach.
By tracking data such as call completion rates, wait times, and customer feedback, businesses can gain insights into the performance of their call automation system.
This data-driven approach brings insights into customer interactions, enabling businesses to identify areas for improvement, refine their strategies, and enhance their overall operations.
8. Limitations
While the AI system is designed to handle calls efficiently, it may have limitations in certain scenarios.
Complex or highly specific customer inquiries that require human judgment and empathy may be challenging for the AI to address effectively.
Additionally, technical issues or glitches could occasionally impact the system's performance, leading to potential disruptions in call management.
Despite these limitations, Echowin offers automated call handling and real-time insights, providing valuable support for businesses in managing customer interactions.
Echowin Vs. Hellocall
Hellocall — #1 Echowin Alternative 🆚
Let's cut to the chase, Hellocall is the #1 alternative to Echowin.
Hellocall has all the essential and advanced AI Call Automation features compared to Echowin.
(Unlimited — Inbound and Outbound call automation, Customization, Training, and Integration) 🔥
1. Call Automation
Echowin enables inbound call automation using AI.
Hellocall provides inbound and outbound call automation with AI, allowing tasks like reception, appointment scheduling, and call qualification.
2. Customization and Integration
Echowin offers customization options and integration with existing tools.
Hellocall allows the creation of a callbot connected to business tools with seamless integration via APIs.
3. Availability and Support
Echowin's availability and support details are not specified.
Hellocall ensures teams are reachable at any time, in any language, and provides support throughout callbot implementation.
4. Pricing and Plans
Echowin has a monthly subscription with additional per-minute charges.
Hellocall offers free and paid plans with varying call limits and pricing tiers.
5. Call Handling and Routing
Echowin offers flexibility in call handling and routing.
Hellocall manages call overflows and peaks and provides call transfer and routing capabilities.
6. Business Analytics
Echowin provides advanced analytics for call performance analysis.
Hellocall's business analytics information is not specified.
7. Ease of Use and Implementation
Echowin's ease of use and implementation details are not specified.
Hellocall offers quick and easy integration with business tools and supports implementation from script creation to deployment.
Conclusion
Echowin is an AI-powered call management system to streamline customer interactions and business tasks.
By handling customer questions with friendly responses, Echowin ensures that customers get the answers they need while allowing businesses to focus on core operations without worrying about missing calls.
To experience the power of AI-assisted call management, join the waitlist to be among the first to benefit from Echowin's capabilities.
With Echowin, automate call handling and improve response times, ensuring that customer interactions with your business are seamless and efficient.
Rest assured that your call management is in good hands with Echowin.