At a Glance
Audiostrip is an online tool that uses artificial intelligence and deep learning to extract vocals and instruments from music tracks.
As AudioStrip continues to evolve and introduce new features, it has the potential to become an indispensable companion for artists, helping them shape their musical visions with ease and precision.
Whether you opt for the free version or the premium subscription, AudioStrip provides various features to enhance your audio processing capabilities.
AudioStrip is a free online tool used by music producers to split vocals from the backing music without requiring them to have advanced technical expertise.
Its advanced algorithms offer a near-perfect instrumental and vocal isolation experience, making it an invaluable resource for music enthusiasts.
This article discusses AudioStrip's key features, pricing plans, pros & cons, comparison with alternatives, and review so you can make the best decision for your needs.
AudioStrip Key Features
| Feature | Description |
| --- | --- |
| Isolate | Achieve near-perfect instrumental and vocal isolation from music tracks. |
| Batch | Seamlessly isolate vocals and instrumentals from multiple audio files at once. |
| Generate | Utilize AI to generate music based on text prompts. |
| Master | Automatically master your songs using AI for professional sound quality. |
| Highest Quality Algorithms | Benefit from state-of-the-art algorithms for optimal results. |
| Free & Easy to Use | Enjoy a user-friendly interface and straightforward operation. |
| Quick Results | Experience swift isolation and processing of audio files. |
| Isolate Multiple Audio Files at Once | Use AudioStrip Batch to isolate vocals and instrumentals from multiple songs concurrently. |
| New Features Added Regularly | Access continuous updates and improvements for enhanced functionality. |
AudioStrip Pricing Plan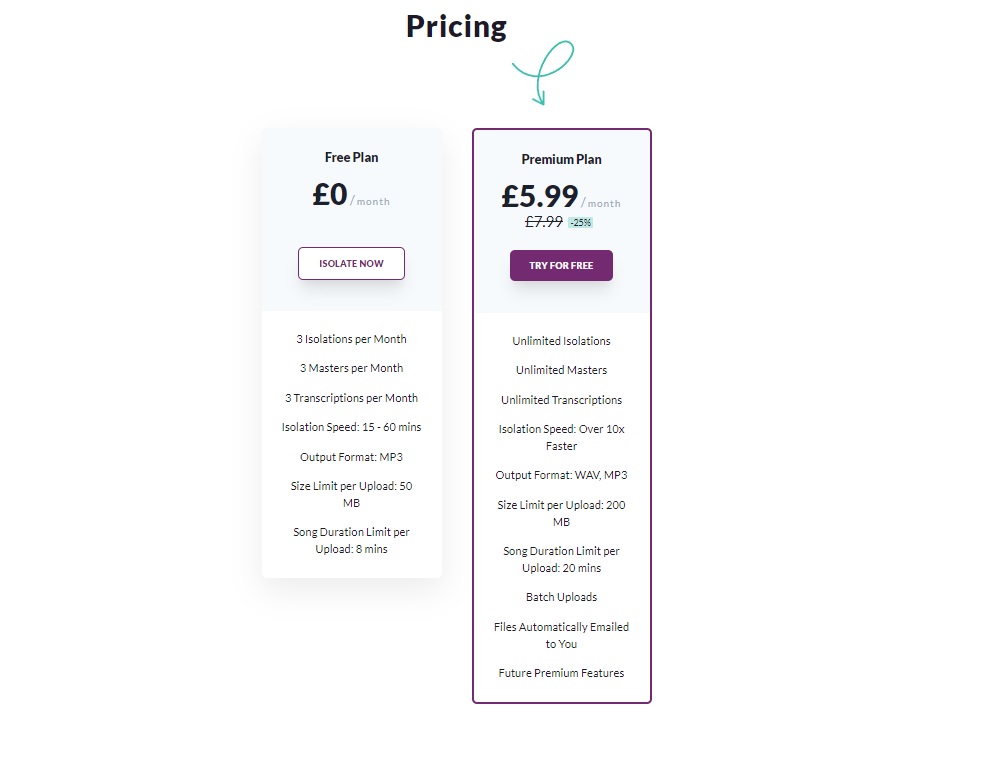 1. Free Plan
Features
It includes three isolations per month,
three masters per month,
three transcriptions per month, an i
solation speed of 15 – 60 mins, o
utput in MP3, a size
limit per upload of up to 50 MB, and a s
ong duration limit per upload of up to 8 mins.
2. Premium 
Features
It includes u
nlimited Isolations, unlimited masters, unlimited transcriptions, isolation speed: over 10x faster output format: WAV, MP3, size limit per upload: 200 MB, song duration limit per upload: 20 mins, batch uploads, files automatically emailed to you, and future Premium features.
Price
AudioStrip Pros And Cons
PROS
Effective vocal and instrumental isolation
User-friendly interface
Quick and efficient results
Offers batch processing
Music generation and AI mastering
New features are regularly added
Provides creative inspiration
Helpful for practicing and remixing
Supports various algorithms
CONS
Limited processing speed in the free plan
Song duration limit in the free plan
Offline availability is not supported
Limited to vocal and instrumental isolation
The premium plan required for advanced features
Audiostrip Comparison With Alternatives
Parameter
AudioStrip
PhonicMind
LALAL.AI
Media.io
Tunebat
Core Competency
Vocal and instrumental isolation, AI-generated music
Online vocal remover, instrumental karaoke, stem production
AI-powered vocal and instrument separation, various tracks
AI-powered vocal remover extracts instrumental/acapella
Vocal and instrumental track separation
Additional Features
Batch isolation, music generation, automatic mastering
Practice singing, playing instruments, stem remixing
Precise stem extraction, a wide range of tracks
Combine audio tracks, convert audio to video
High-quality encoding, AI + Machine Learning
Supported Formats
MP3, WAV
MP3, FLAC, ZIP, Stem.mp4
MP3, OGG, WAV, FLAC, AVI, MP4, MKV, AIFF, AAC
MP3, WAV, OGG, M4A, MP4, MOV, MKV
MP3, WAV, FLAC, and AAC
Free Trial
Yes, with limited features
Yes, with limited features
Yes, with an option to upgrade for more features
Yes, instant vocal removal with an online tool
Yes, With Limited features
Pricing
Premium:

$7.66/month

BASIC: $9.99 (unlimited conversions, one song/10 min)
Lite: $15,

Pro: $35 (50% off),

Plus: $25

Free option available;

Paid plan starts from $9.99

Pro: $9.99/month,

Yearly: $5.99/month (billed yearly)

Offline Availability
No
Yes, through the PhonicMind app
No
No
No
Number of Minutes
Free: 8 minutes,

Premium: 20 minutes

N/A
Lite: 90 minutes,

Pro: 500 minutes,

Plus: 300 minutes

Free: 30 minutes,

Monthly Plan: 60 minutes

Free: 4 minutes,

Pro: 30 minutes,

Upload Size Limit
Free: 50MB

Premium: 200MB

N/A
Up to2GB
Up to 2GB
30MB(Free Plan), 200 MB (Pro plans)
Batch Upload
Only in Paid plan
Only in Paid plan
Only in Paid Plan
Only in Paid plan
Only in Pro
Stem Download
Yes
Yes
Yes
Yes
Yes
Audiostrip Vs. PhonicMind
PhonicMind — #1 Audiostrip AI Alternative 🆚
Let's cut to the chase, PhonicMind is the #1 alternative to Audiostrip ai.
PhonicMind has all the essential and advanced AI Vocal Isolation features compared to Audiostrip AI.
(Unlimited — AI Vocal Isolation, Stems Extraction, Karaoke, Remixing, Community) 🔥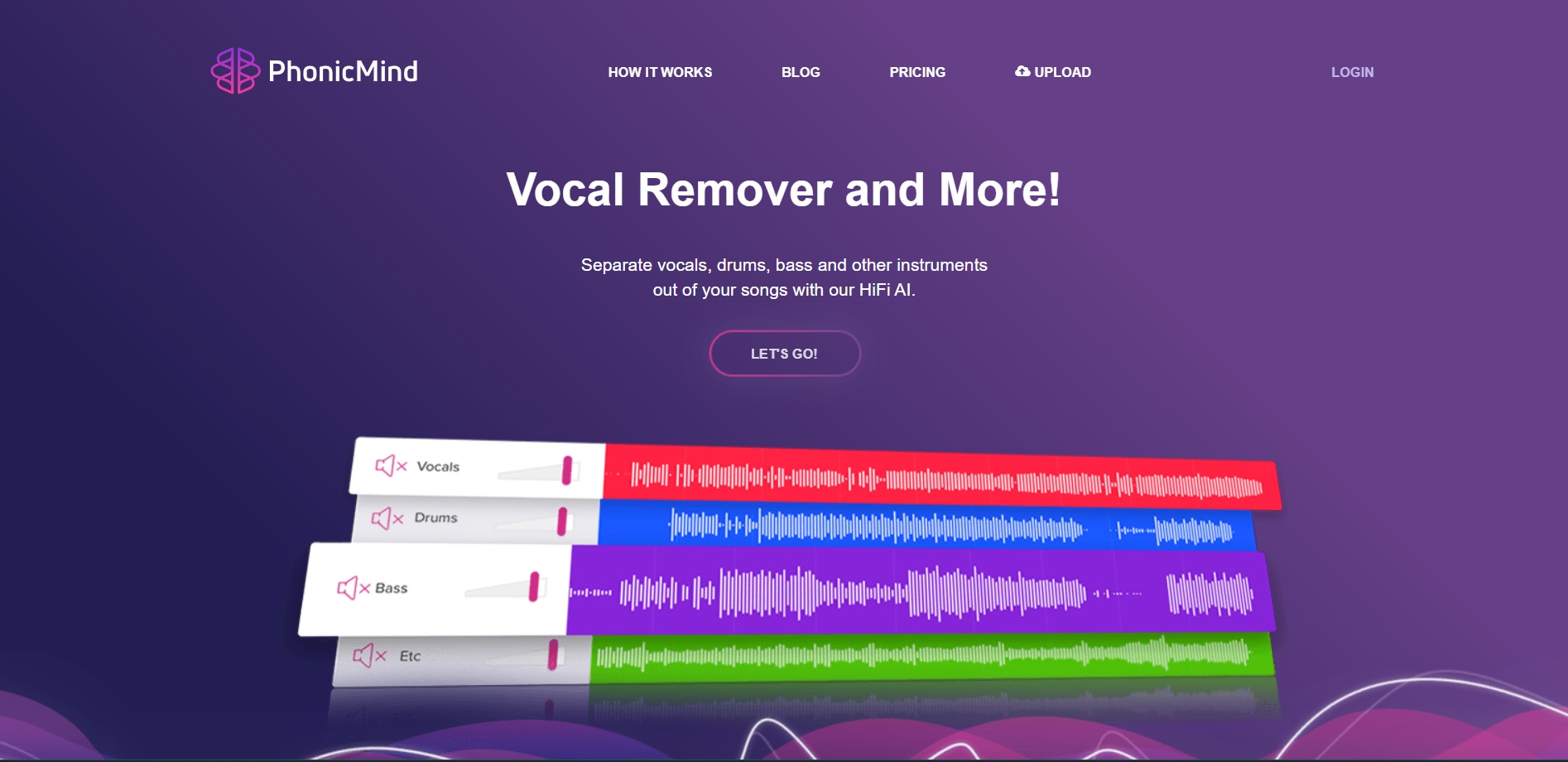 1. Vocal and Instrumental Isolation
PhonicMind is an online tool that uses AI and deep learning to extract vocals from any song.
It employs advanced HiFi AI technology to achieve vocal and instrumental isolation.
Additionally, it generates instrumental karaoke tracks for practicing and performing.
Users can also choose to isolate specific instruments based on their preferences.
AudioStrip specializes in near-perfect instrumental and vocal isolation.
Its primary focus lies in separating vocals from backing music, aiming to provide high-quality results in this specific aspect.
2. Stems Extraction
One of PhonicMind's standout features is its status as the world's first AI-powered online stems maker.
It enables users to extract individual tracks from audio recordings, including vocals, drums, bass, and more, thus providing greater flexibility in music manipulation.
AudioStrip does not explicitly offer stem extraction functionality.
It emphasizes isolating vocals and instrumentals rather than providing separate tracks for each instrument.
3. Music Generation
PhonicMind does not include music generation capabilities.
Its primary focus is on the isolation and manipulation of existing audio tracks.
AudioStrip allows users to generate music using AI, allowing them to create entirely new musical compositions based on their preferences.
4. Automatic Mastering
PhonicMind does not provide an automatic mastering feature.
AudioStrip offers instant AI mastering, a feature that enhances the audio quality of tracks without the need for manual intervention.
5. Karaoke and Practice
PhonicMind has a feature for users to practice singing by providing vocal tracks for accompaniment.
AudioStrip does not offer specific functionalities for karaoke or instrumental practice.
6. Remixing and DJ Use
PhonicMind facilitates remixing and DJ uses through its stem download feature, which allows users to download .stem.mp4 files for use in DJ software or hardware.
AudioStrip does not offer explicit functionalities for remixing or DJ use.
7. Processing Speed
PhonicMind offers different processing speeds based on the selected plan.
The Basic Plan provides a processing speed of 1 song per 10 minutes, while the Pro Plan significantly improves this to 1 song per 1 minute.
AudioStrip's premium feature also boasts processing speeds over ten times faster than the basic speed.
8. File Formats Supported
PhonicMind supports audio formats, including MP3, FLAC, ZIP, and Stem.mp4.
AudioStrip primarily supports audio formats such as MP3 and WAV.
9. Offline Availability
PhonicMind offers an app that allows users to enjoy its services offline, providing convenience for users without a stable internet connection.
AudioStrip does not currently offer offline availability.
10. Batch Processing
PhonicMind does not provide explicit functionality for batch processing.
AudioStrip offers batch isolation, allowing users to simultaneously process and isolate vocals and instrumentals from multiple audio files.
11. Additional Features
PhonicMind offers instrument practice, stem remixing, and individual instrument removal options.
AudioStrip provides features such as music generation and automatic mastering and showcases a "Tune of the Month" feature.
Pricing: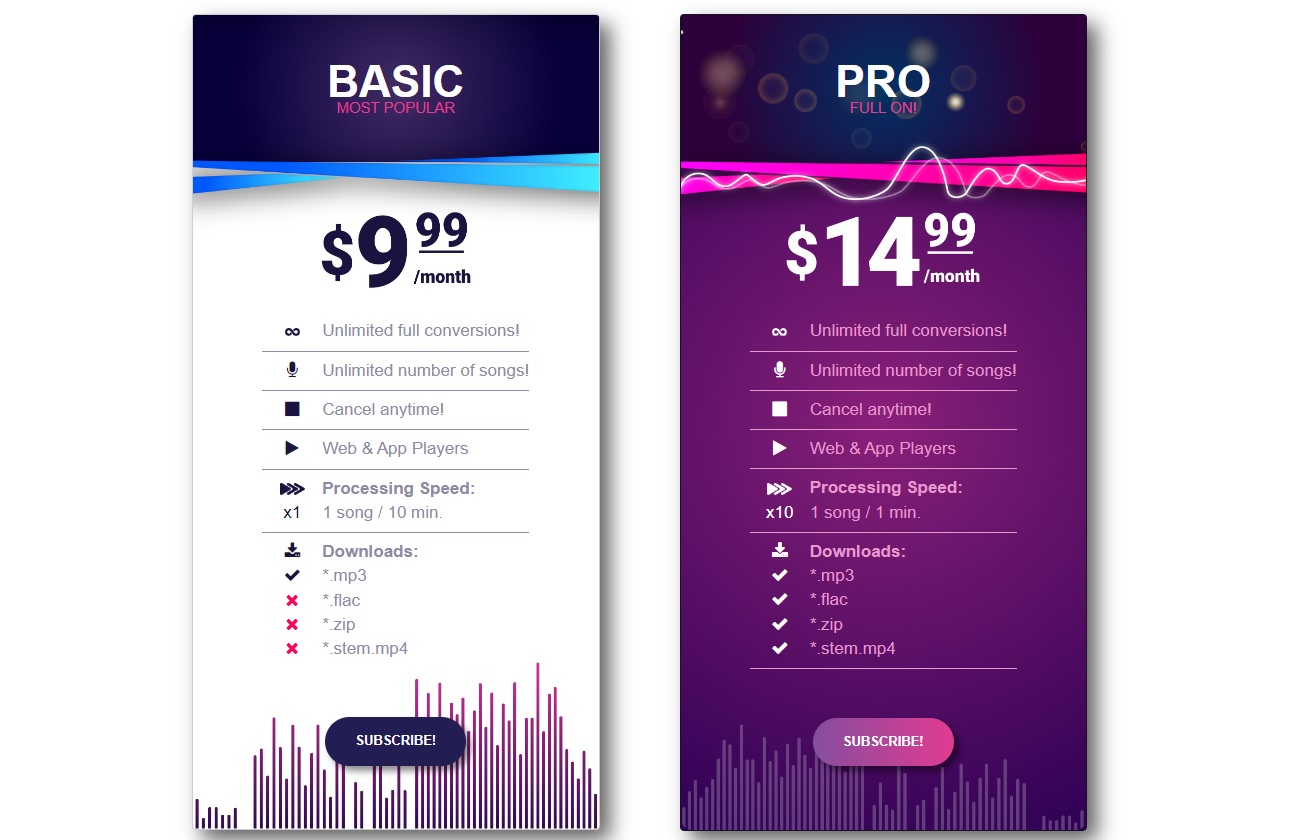 PhonicMind offers different pricing plans, including Basic, Pro, and Plua, with varying benefits. A free plan is also available, offering limited isolations per month.
AudioStrip offers a premium plan with monthly pricing and additional features. A free plan with limited isolations is also provided.
AudioStrip Review
As a music enthusiast and having personally used Audiostrip (only Free Plan with limited features), I witnessed its high-quality audio extraction of vocals and background music from music tracks and its flawless online service.
It took me 10 minutes to extract vocal and instrumental from a 12 MB uploaded audio file with the best results.
But it boasts 10 X faster speed even for batch file processing in its premium plan.
And amazingly, the tool allows users to generate music from text prompts. Intrigued by its versatile AI capabilities, I delved deeper into the workings of the AI tool and found the following benefits and some negligible limitations.
1. Harnessing AI for Musical Creativity
AudioStrip emerges as a groundbreaking tool that empowers users to tap into the potential of advanced AI models for their music production endeavors.
By leveraging the power of AI technology, this platform offers a seamless and user-friendly experience to seasoned music producers and aspiring enthusiasts.
2. A Fusion of Expertise: Splitter and Demucs
At the heart of the AudioStrip experience lies its utilization of the Splitter and Demucs library codes.
This fusion of expertise is intended to make the AI models easier to use, making them accessible even to those without extensive technical knowledge.
3. Precision Perfected: Trained on Vast Musical Datasets
The underlying AI models that power AudioStrip result from meticulous training on extensive music datasets.
This extensive training equips the platform with the ability to achieve impressive levels of precision and accuracy.
4. Simplicity in User Experience
AudioStrip's intuitive interface and streamlined functionality eliminate the complexities typically associated with AI technology.
Whether you're a seasoned producer or a budding enthusiast, the platform ensures that accessing and utilizing AI capabilities becomes straightforward and seamless.
5. Unleashing Creative Potential
Beyond its isolation capabilities, AudioStrip offers a unique feature that caters to artistic inspiration.
Users can extract high-quality acapella from the original tracks as placeholders while waiting for possible official stems and showcasing their ideas.
6. A Confluence of Accessibility and Quality
AudioStrip bridges the gap between advanced AI models and creative expression.
It brings accessibility and quality together, ensuring that users can harness the capabilities of AI technology without being hindered by technical complexities.
7. Limitations
Some negligible limitations are the limitations of its free plan in my personal use case.
Lack of batch processing and a waiting time of 15 minutes to get the extracted vocals and instrumentals that can be overcome by subscribing to the paid plan.
Conclusion
In conclusion, AudioStrip is a promising tool in music production, offering a user-friendly vocal and instrumental isolation platform.
Its efficient AI-powered algorithms provide a valuable resource for musicians and enthusiasts seeking to extract vocals, create instrumentals, and explore new creative avenues.
While it excels in near-perfect isolation, it also presents opportunities for music generation and automatic mastering.
As AudioStrip continues to evolve and introduce new features, it has the potential to become an indispensable companion for artists, helping them shape their musical visions with ease and precision.