At a Glance
This article offers a detailed overview of Alitu, the podcast maker.
Alitu helps you make podcasts without technical expertise, making them stand out among other podcast apps.
With its amazing editing tools like audio cleanup, hosting, recording, and many more features, podcasters can make podcasts without technical expertise.
We have also given a comparative table with other popular podcast tools, a detailed review, and a walkthrough of making podcasts.
Alitu is an all-in-one podcast recording tool that offers podcasters a seamless and user-friendly experience.
With features like unlimited audio recording, AI audio cleanup, and easy editing capabilities, Alitu is a web-based app that simplifies podcast creation.
Additionally, it offers AI-generated transcripts and a royalty-free music library for adding theme music to your podcast episodes.
Here are the Key Features, Pros & Cons, Tool Guide, Comparison with alternatives, and an Unbiased Review of Alitu podcast maker: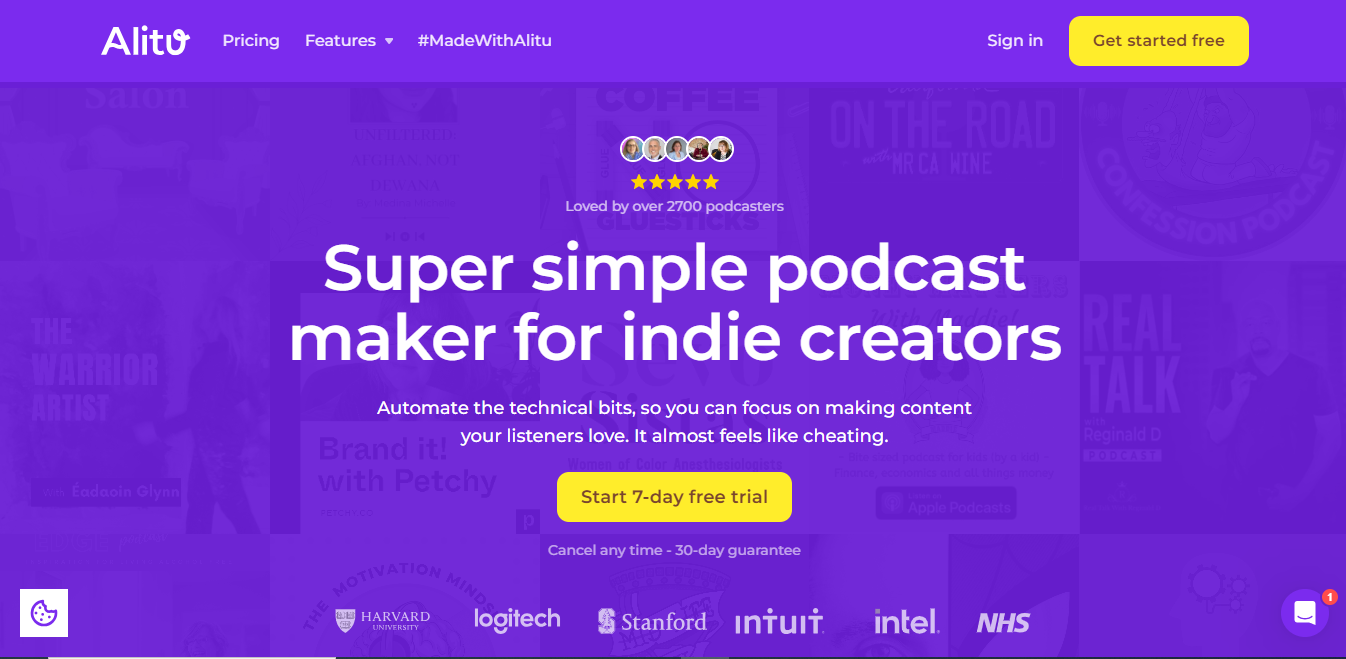 Alitu Key Features
Features
Descriptions
Podcast Recording
This versatile tool allows you to create a podcast by inviting up to 10 guests and recording your show directly into Alitu from your browser.
Podcast Editing
Alitu's episode builder offers a simple-to-use interface, making recording and editing your podcast episodes effortless.

With its drag-and-drop functionality, you can easily build your episodes by arranging audio blocks saved in your Alitu Library.

The tool includes the Alitu Waves editor to highlight and remove mistakes and provides easy navigation and playback speed options.

Podcast Audio Cleanup
Alitu automatically cleans up your audio. Its AI-powered audio cleanup reduces background noise, eliminates hums, removes plosives, and reduces sibilance.

The tool ensures "consistent volume" throughout your episodes and corrects loudness for a "better audio quality" listening experience.

You get to enjoy crisp & clean immersive audio with Alitu's AI audio cleanup, enhancing the audio quality and eliminating background noise.

Easy Podcast Hosting
Alitu serves as a podcast hosting platform that simplifies the publishing process.

It allows you to "upload the files" and publish your episodes with a single click.

You can make your podcast available on popular platforms such as Apple Podcasts and Spotify.

Alitu also provides tools to help you grow your show, including a customizable podcast website and easy-to-understand analytics.

Podcast Transcriptions
It offers fast and accurate transcriptions that are generated in minutes.

These transcriptions are beneficial for making your podcast more accessible, creating promotional content, and exporting to various formats.

Optionally, you can censor profanity in the transcriptions for a more family-friendly presentation.

Alitu also provides text chat for easy backroom communication.

Integration
Alitu integrates with, Buzzsprout, Libsyn, Blueberry, Spreaker, Podbean, and Captivate.
Alitu Podcast Maker Alternatives
| Features | Audacity | Buzzsprout | Alitu | Transistor |
| --- | --- | --- | --- | --- |
| Recording | Record live audio or digitize recordings | Upload audio files | Record directly into the browser | Upload episodes, record with collaborators |
| Export/Import | Import, edit, and combine sound files | Export recordings in multiple formats | Export and convert audio files | Distribute podcasts to various platforms |
| Sound Quality | Supports 16-bit, 24-bit, and 32-bit audio | Advanced podcast statistics | AI audio cleanup and enhancement | Dynamic ad insertion, dynamic show notes |
| Plugins | Support for LADSPA, LV2, Nyquist, VST, Audio Unit | Podcast analytics software | All-in-one podcast maker with editing and hosting | Integrations with email marketing and social media |
| Editing Process | Cut, Copy, Paste, Delete, Undo/Redo | Hosted podcast website, subscriptions | Unlimited audio editing and ID3 tags | Customizable podcast website, an embeddable player |
| Effects | Real-time preview of various effects | Accept recurring payments, publish premium content | Free music library, AI-generated transcripts | Detailed podcast analytics, auto-post to YouTube |
| Accessibility | Keyboard shortcuts for manipulation | Buzzsprout Ads for monetization | Walkthrough onboarding and friendly support | Collaborate with unlimited team members |
| Analysis | Spectrogram view, frequency analysis | Automatic episode optimization, dynamic content | Multiple hosting plans with varying features | Professional podcast website builder |
| Pricing | Completely free and open-source software | Subscription plans start from $12 per month | Subscription plans start from $38 per month | Subscription plans start from $19 per month. |
| Free-Trial | Free Software | Free plans are available, and each paid plan offers a Free Trial. | 7-day Free-Trial available | 14-day Free Trial available |
Alitu Pros & Cons
PROS
Alitu offers a user-friendly interface that is easy to navigate, making it accessible for beginners and those without technical expertise.
Alitu automates noise removal, normalization, and audio cleanup, saving podcasters valuable time and simplifying editing.
Alitu provides hosting services and includes a transcription tool, making it convenient to host and make episodes accessible to a wider audience.
The automation feature keeps edits visible and changeable, facilitating collaboration, especially for solo podcasters or remote teams.
Alitu streamlines the podcasting process, allowing creators to focus on content creation instead of getting bogged down in complex editing procedures.
CONS
Alitu's toolset is tailored towards beginner to intermediate podcasters, so it may not meet the needs of experienced mixers or editors who require more advanced editing capabilities.
Alitu operates as a cloud audio editor, so you need a stable internet connection to access and use the platform. Offline editing may not be possible.
While Alitu offers valuable features, it's important to consider the pricing structure and whether it aligns with your budget and needs since it is pricier than its competitors.
Alitu Walkthrough
Step 1: Recording Your Interview
Schedule a call with your guest and send them an Alitu call recording link.
Start the call and record it using the provided features.
Once the call is done, click 'End Call,' Alitu will clean up the recording and save it in your library.
Step 2: Creating the Episode
Click 'Add an Episode' on the Alitu dashboard and enter the episode details.
Upload your recordings to the episode, including the interview and additional segments.
Rename and organize the files in your library for easy access.
Step 3: Episode Builder for Music & Extra Clips
Alitu episode builder can add intro and outro music and voice tracks and record a voiceover to lay on top.
You can also rearrange clips and add regular segments from your library.
Adjust the length and fade of the music using the provided options.
Add new clips to the timeline using the "+" icon.
Step 4: Editing out Silence & Mistakes
Locate the call recording in the episode builder and click 'Edit.'
Play the clip and identify the sections you want to remove.
Click and drag to select the sections you wish to edit out, such as silence, mistakes, or noises.
Save your edits and return to the episode builder.
Step 5: Publishing Your Episode
Alitu offers a podcast hosting platform, or you can connect to popular hosting sites.
Connect to your preferred hosting platform and preview your episode.
It can take up to 15 minutes, depending on the length of your audio files.
Click the 'Publish' button to publish your episode with just a few clicks.
Additionally:
Download your finished episode or add a new or upload a prerecorded file.
Alitu allows you to download the finalized episode in various formats, such as mp3 or mp4.
You can add fresh or upload prerecorded files to your episode as needed.
Alitu Pricing & Plans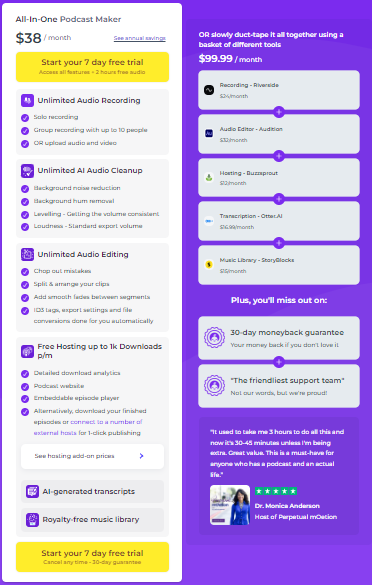 All-In-One Podcast Maker (7-Day Free Trial Available)
Features:
It supports; Unlimited Audio Recording; Solo recording, Group recording with up to 10 people, OR upload audio and video, Unlimited AI Audio Cleanup; Background noise reduction, Background hum removal, Levelling – Getting the volume consistent, Loudness – Standard export volume, Unlimited Audio Editing, Chop out mistakes, Split & arrange your clips, Add smooth fades between segments, ID3 tags, export settings, and file conversions done for you automatically.
Free Hosting up to 1k Downloads p/m, Detailed download analytics, Podcast website, Embeddable episode player, Download your finished episodes or connect to several external hosts for 1-click publishing, See hosting add-on prices, AI-generated transcripts, and a Royalty-free music library.
Price:
It costs $38/month.
Alitu Review
1. For Beginners
Alitu is a podcast editing software that caters to beginners and content creators who want to focus on creating content rather than getting bogged down in complex editing processes.
Making a podcast with Alitu, editing becomes fast and simple, saving podcasters valuable time.
2. One Window Podcasting Solution
One of the standout features of Alitu is its automation capabilities.
All the editing is automated, such as noise removal, normalization, and audio cleanup, making the editing process more efficient, which is particularly beneficial for solo podcasters.
3. Audience Oriented Podcasts
In addition to its editing capabilities, Alitu offers hosting services and features like call recording, chat box communication during group calls, and the ability to merge interview files.
Alitu provides a complete solution for podcasters who want to record, edit, and publish their podcasts seamlessly.
Its hosting services and call recording feature are particularly useful for podcasters who want to grow their audience.
4. Services for Individuals with Hearing Difficulties
Alitu also provides a useful transcription tool, making episodes accessible to people with hearing difficulties.
The software supports popular audio formats like mp3 and mp4 and provides a visual waveform editor for precise editing.
6. Does Not Support Unnecessary Complex Editing That Indie Creators Do Not Need
Alitu is ideal for independent creators seeking a creative process without the burden of unnecessary complexity.
While Alitu is designed to streamline the podcasting process, it may not meet the needs of experienced mixers or editors who require more advanced tools.
The software's toolset is tailored towards beginner to intermediate podcasters and emphasizes simplicity over flexibility.
Buzzsprout — #1 Alitu AI Alternative 🆚
Let's cut to the chase, Buzzsprout is the #1 alternative to Alitu.
Buzzsprout has all the essential and advanced AI Podcast Editing features compared to Alitu.
(Unlimited — Recording, Editing, Transcription, Hosting, Audio Clean Up) 🔥
Alitu Alternative: Buzzsprout
Alitu and Buzzsprout are popular podcasting tools but differ in key aspects.
Alitu offers a comprehensive all-in-one solution with built-in recording (solo & group recording), editing options, and AI audio cleanup, making it ideal for beginners seeking simplicity.
Buzzsprout, on the other hand, focuses on podcast hosting and distribution, providing advanced analytics and integrations with popular podcast apps.
Both tools have their strengths, catering to different needs and preferences in the podcasting realm.