At a Glance
Postwise, Cohesive, Emplifi, VidIq, Ocaya, Lately, Vistasocial, and HubSpot are the Best AI Tools for Social Media that can be game changers for your social media presence.
By incorporating these eight best AI tools for social media in 2023 into your toolkit, you can revolutionize your social media game and drive remarkable results for your marketing endeavors.
We have briefly introduced each tool's key features and pricing plans.
Managing multiple social media accounts effectively has become crucial for businesses and individuals in today's digital landscape. The right marketing tool that uses AI for social media strategies can enhance your marketing efforts.
An all-in-one social media management platform that provides a wide range of features can be a game-changer for your social media presence. In addition, these tools can assist in generating engaging content ideas and creating captivating video content.
In this article, we have compiled a list of AI Tools For Social Media that can help you streamline content management and repurpose your existing content across different social platforms.
We discuss each tool's Key Features and Pricing Plans so that you can find the best tool that aligns with your objectives.
1. Postwise – Best For Viral Tweet Written By AI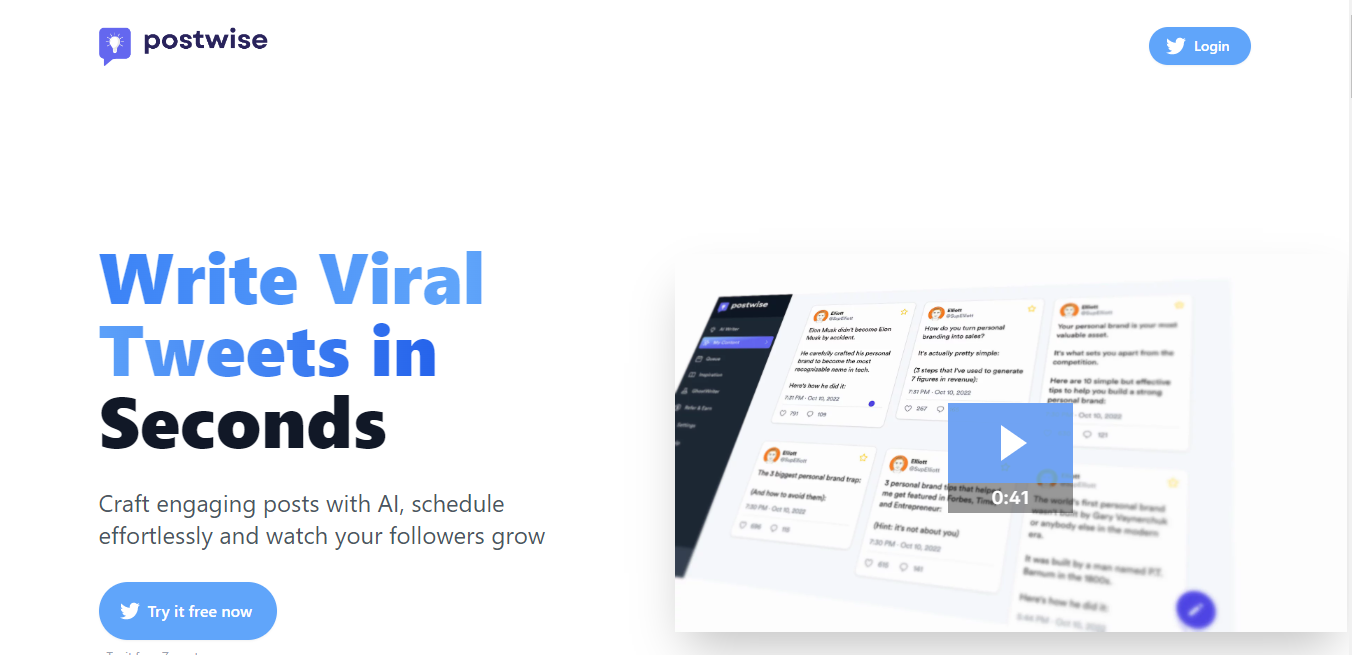 Postwise is designed to help users create engaging social media posts, particularly tweets, that can go viral. With Postwise, you can effortlessly craft compelling writing content, schedule your posts, and publish them on your social media accounts.
Postwise Key Features
Viral Tweets in Seconds
Effortless Scheduling
GrowthTools Suite
Sales Optimization
1. Viral Tweets in Seconds
The AI tweet writer has been trained to write engaging tweets. You can generate captivating tweets in seconds by entering your topic or idea.
2. Effortless Scheduling
Once you've crafted your tweet, you can easily schedule it to be published at optimal times. This ensures that your content reaches a wider audience and maximizes its impact.
3. GrowthTools Suite
The GrowthTools suite is specifically designed to help you grow your follower base. These tools provide strategies and functionalities to boost your followers organically, leading to increased engagement and visibility on social media platforms.
4. Sales Optimization
It has tools to optimize sales, such as plug links, retweeting winning content, and even auto-send direct messages (DMs). These features enable you to drive traffic, promote products, and enhance your monetization efforts.
Postwise Pricing & Plans
1. Basic Plan
Features
It offers all Growth Tools, 400 AI Tweet credits, and six months of scheduling, and you can connect five accounts.
Price
It costs $37/month.
2. Unlimited Plan
Features
It offers everything in the Basic plan, unlimited AI Tweet credits, unlimited scheduling, and unlimited accounts.
Price
It costs $97/month (paid annually).
2. Cohesive – Best For AI Content Creation For Social Media Posts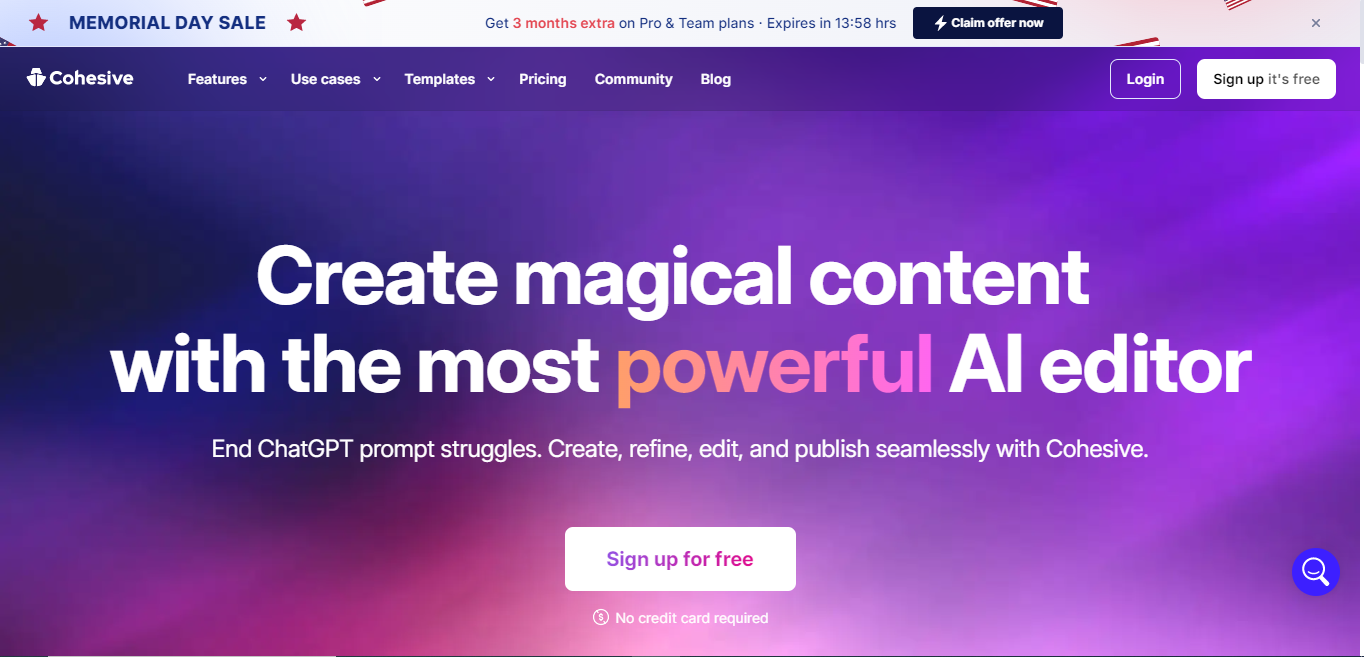 Cohesive allows users to create compelling and engaging social media content to grow their presence and achieve success.
Whether it is blog posts, YouTube scripts, social media captions, or more, Cohesive provides the tools needed to captivate audiences and boost follower counts.
Cohesive Key Features
Full Blog Generator
Script for YouTube Video
Instagram Caption
Tweet Generator
LinkedIn Post
Facebook Post
Marketing Templates
1. Full Blog Generator
Cohesive's Full Blog Generator makes creating SEO-friendly blog posts that drive traffic fabulously easy. With pre-designed templates and AI-powered content generation, users can quickly create engaging blog articles that attract readers and enhance their website's visibility.
2. Script for YouTube Video
It offers a Script Generator to create content for YouTube that helps generate scripts tailored to engage and captivate the audience.
3. Instagram Caption
With Cohesive's Instagram Caption feature, users can effortlessly create catchy and attention-grabbing captions for their Instagram posts. 
4. Tweet Generator
The Tweet Generator feature enables users to write tweets that have the potential to break the internet. By leveraging AI-generated content, users can craft captivating and shareable tweets that resonate with their target audience and boost their social media presence.
5. LinkedIn Post
Cohesive's LinkedIn Post feature helps users compose interesting and professional posts for the LinkedIn platform.
6. Facebook Post
Its Facebook Post feature enables users to write engaging and attention-grabbing posts for the platform. By leveraging AI-generated content suggestions, users can create posts that resonate with their audience and increase their reach on this popular social media platform.
7. Marketing Templates
It provides marketing templates that maximize marketing return on investment (ROI). Users can create high-converting AI content for various marketing channels, including social media marketers, to promote their products or services effectively.
Cohesive Pricing & Plans
1. Starter (Free)
Features
It offers 10,000-word generation monthly, 150+ ready-to-use templates, Collaboration with teammates, and free storage for all created files.
2 Pro
Features
It offers everything in the Starter plan plus unlimited word generation, Collaborate with unlimited viewers, and 24×7 customer support.
Price
It costs $9/month/editor.
3. Team
Features
It offers everything included in the Pro plan plus unlimited words for your team, collaboration with your editors, and priority customer support.
Price
It costs $20/month/flat for five users and $9/month for each additional user.
3. Emplifi – Best For Customer Interaction Across All Your Social Channels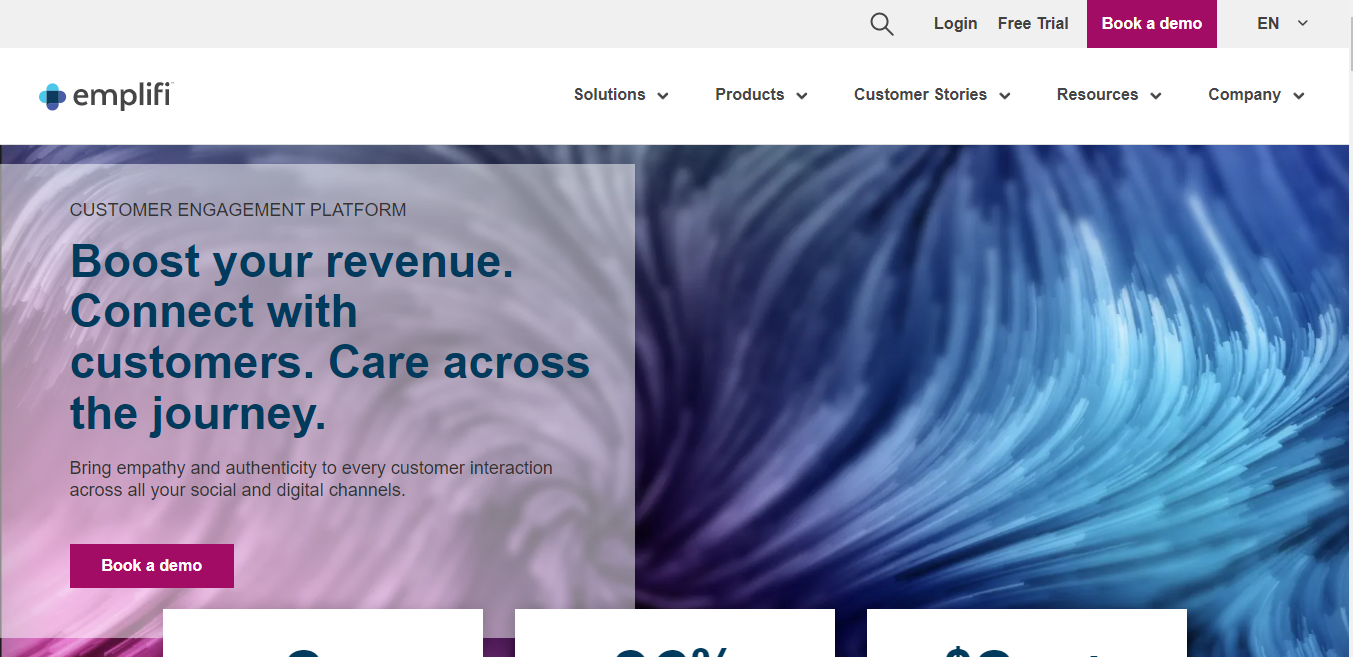 Emplifi offers a range of features and capabilities that help businesses engage with customers, streamline workflows, enhance brand authenticity, and make data-driven decisions in real time.
Emplifi Key Features
Emplifi Social Marketing Cloud
Real-time Insights
End-to-End Social Marketing Cloud
1. Emplifi Social Marketing Cloud
This platform allows you to research, schedule, and publish engaging content across various social media channels from a single intuitive interface. With AI technology, including support from GPT-3, Emplifi enhances publishing efficiency and streamlines your workflows.
2. Real-time Insights
With its advanced analytics capabilities, you can monitor competitors, peers, and trends, gaining valuable consumer sentiment, competitive benchmarks, and brand reputation insights in real-time.
3. End-to-End Social Marketing Cloud
Emplifi provides a comprehensive Social Marketing Cloud solution for modern enterprises. From managing a multi-channel strategy to analyzing trends and optimizing performance, Emplifi's tools enable your brand to amplify meaningful experiences at scale.
Emplifi Pricing & Plan
Emplifi offers a free trial instead of straight-away pricing. In addition, you can book a demo with Emplifi's sales team to get a custom solution for your unique needs. 
4. VidIQ – All-In-one Platform To Grow YouTube Channel To The Next Level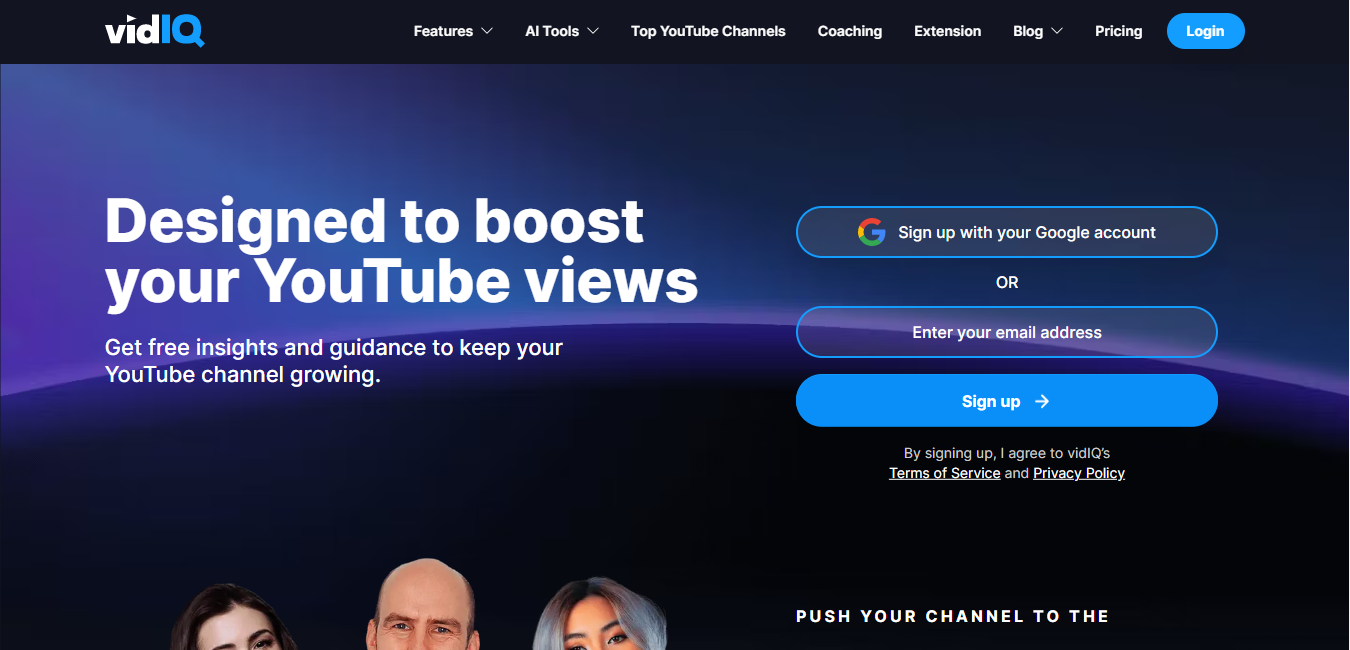 VidIQ is a web-based AI tool for YouTube analytics and optimization. It is an extremely powerful tool for YouTubers to grow their channel and increase their video views. 
VidIQ Top Features
Keyword Research Tool
Daily Ideas with Personalized Prompts
Channel Audit Tool
Competitor Analysis Tool
Compare Views Tool
Thumbnail Generator
1. Keyword Research Tool
Its keyword research tool helps you determine relevant search term suggestions, giving you a competitive edge and helping you to focus your content in front of more viewers
2. Daily Ideas with Personalized Prompts
VidIQ offers personalized inspiration through Daily Ideas to boost growth with personalized prompts for the next video, allowing users to focus efforts on ideas that have forecasted performance.
3. Channel Audit Tool
VidIQ's Channel Audit tool analyzes your YouTube channel and provides detailed insights into what's working and what's not. It gives you a score that reflects your channel's overall health and provides recommendations on taking your channel to the next level.
4. Competitor Analysis Tool
With the Competitors tool, you can gain insights into your competitors' actions to rank highly and attract more viewers and subscribers. 
5. Compare Views Tool
This tool allows you to track the velocity of any video on YouTube and compare it to any other video or channel to get real-time feedback on how your content is performing. 
6. Thumbnail Generator
The Thumbnail Generator is a productivity tool that makes creating eye-catching thumbnails for your videos easy. It has a range of templates and design elements that you can use to create professional-looking thumbnails in minutes.
VidIQ Pricing & Plans
1. Basic
Features
The Basic plan's features include three daily Ideas, three competitor tracking, one rend alert, a video scorecard, and basic video analytics. 
Price
Free
2. Pro
Features
This plan includes everything in the basic plan plus; 10 daily ideas, six competitor tracking, bulk YouTube descriptions, keyword research tool, top tweets for videos, and top trending videos. 
Price
Its price starts at $7.50/month.
3. Boost
Features
This plan includes everything in the Pro plan plus; 50 daily ideas, a vidIQ keyword engine, 20 competitor tracking, SEO title & description recommendations, and thumbnail previews.
Price
Its price starts at $39/month.
4. Max
Features
It has everything included in the Boost plan plus; Live group coaching, unlimited access to previously recorded sessions, and exclusive creator community access.
Price
Its price starts at $79/month.
5. Ocaya – Best For Social Media Management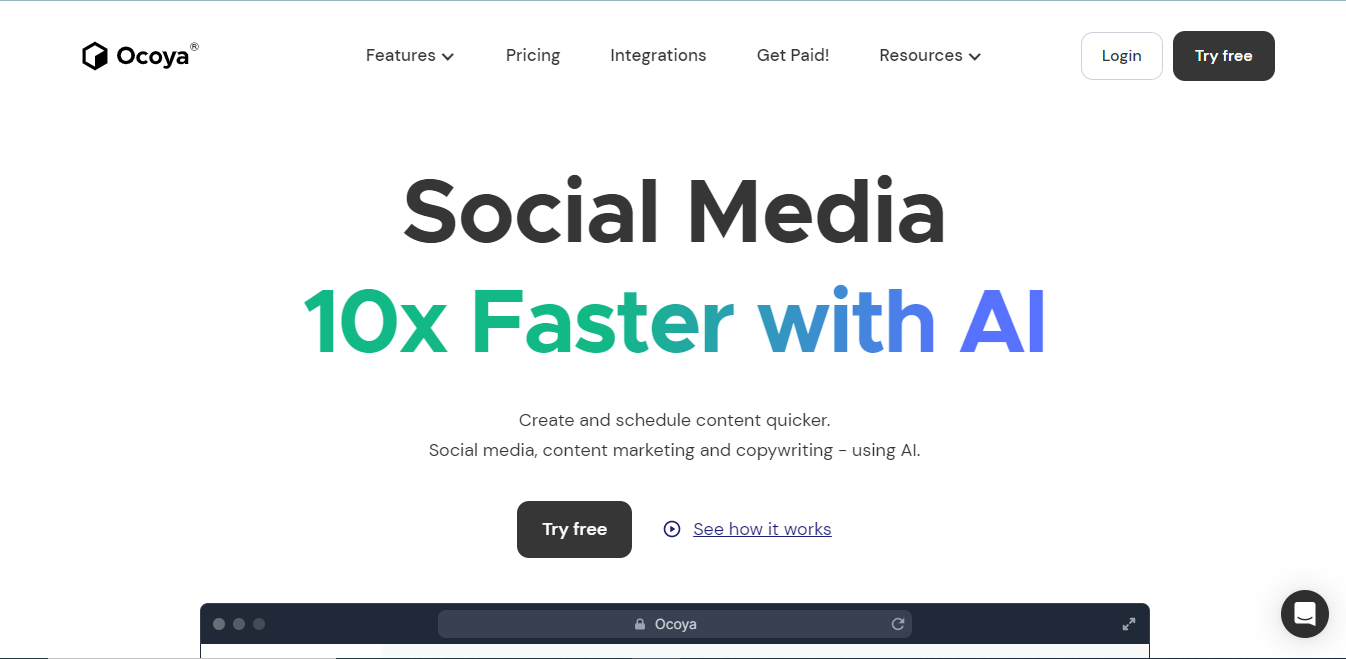 Ocoya helps you manage your social posts and schedule and analyzes content more efficiently. In addition, it offers a range of features and integrations that use AI in your content marketing, content creation, and copywriting.
 Ocoya Key Features
Social Media 10x Faster with AI
AI Writing
Automation
Scheduling
Analytics
Graphics
Hashtags
E-commerce Integration
AI Copywriter
1. Social Media 10x Faster with AI
It boosts productivity and speeds up content creation for social media platforms. Ocoya enables users to create and schedule content quicker than traditional methods by automating certain tasks and providing AI-generated suggestions.
2. AI Writing
Ocoya's AI assistant can generate marketing text to create social media posts or blogs in 26 languages. In addition, it assists users in writing compelling copy for their content, saving time and effort.
3. Automation
Users can set up automatic posting on various social channels, including Facebook, Instagram, Twitter, LinkedIn, TikTok, Pinterest, Google My Business, YouTube, Shopify, WooCommerce, Zapier, Airtable, Canva, and Figma. 
4. Scheduling
The social media manager provides a scheduling feature allowing users to plan and schedule their posts in advance. This feature ensures consistent and timely content delivery across multiple platforms.
5. Analytics
Ocoya provides real-time metrics and analytics to track the performance of social media campaigns. Users can gain insights into engagement, reach, and other key performance indicators to optimize their content strategy.
6. Graphics
Ocoya offers various customizable templates for creating visually appealing images or videos. Users can design professional graphics within the Ocoya dashboard manually or automatically using AI-powered templates.
7. Hashtags
It generates relevant and trending hashtags to maximize the visibility and discoverability of social media posts. Users can access freshly updated hashtags to improve their content's reach.
8. E-commerce Integration
Ocoya supports integration with e-commerce platforms, such as Shopify and WooCommerce. This allows users to seamlessly connect their online shops, create professional graphics for product announcements, and create social media content for promotions in seconds.
9. AI Copywriter
Ocoya's AI-powered copywriting feature generates marketing text, providing users with creative suggestions and ideas for social media posts.
Ocoya Pricing & Plans
1. Bronze Plan
Features
It includes five social profiles, one member, one workspace, and 100 AI credits.
Price
It costs $15/month.
2. Silver Plan
Features
It includes 20 social profiles, 5 team members, five workspaces, 500 AI credits, Copywriting in 28+ languages, and Plugins inside the post editor.
Price
It costs $39/month.
3. Gold Plan
Features
It includes 50 social profiles, 20 team members, 20 workspaces, 1,500 AI credits, Advanced analytics, Branded reports, and a REST API.
Price
It costs $79/month.
4. Diamond Plan
Features
It includes 150 social profiles, 50 team members, Unlimited workspaces, Unlimited AI credits, Advanced analytics, Branded reports, a Terminal, and a REST API.
Price
It costs $159/month.
6. Lately – Best For Driving Higher Social Media Engagement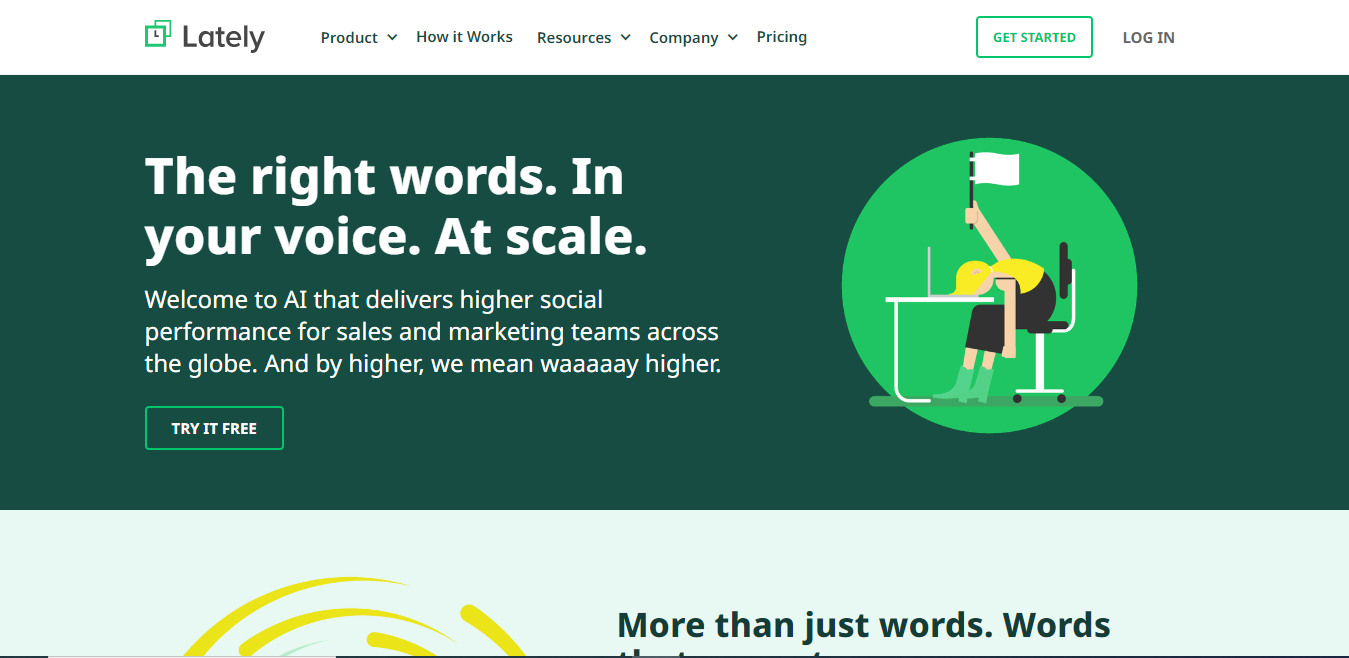 Lately revolutionizes social performance for sales and marketing teams worldwide. It goes beyond mere words, delivering content that converts and drives engagement.
With features designed for content repurposing, social media project management, employee advocacy, and sales enablement syndication, Lately empowers businesses to reach their target audience effectively.
Lately Key Features
Intelligent Content Repurposing
Voice Learning and Personalization
Social Media Performance Optimization
Streamlined Content Management
AI-Driven Insights
1. Intelligent Content Repurposing
It helps transform long-form text, audio, or video content into engaging social media posts. As a result, you can generate compelling content that resonates with your audience and maximizes engagement.
2. Voice Learning and Personalization
Lately.ai learns the unique voice of your brand and applies that style to create social media posts that are authentic and consistent. Maintain your brand identity while delivering content that connects with your audience.
3. Social Media Performance Optimization
Lately's intelligent algorithms pinpoint the content elements that resonate with your target audience, helping you create high-performing social media posts that deliver results.
4. Streamlined Content Management
Lately provides a comprehensive suite of tools to manage your social media content effortlessly. Review and approve posts, add tracking links, and publish across multiple accounts, all within a user-friendly interface.
5. AI-Driven Insights
Its analytics reveal the keywords, phrases, and values that resonate with your brand's messaging, empowering you to refine your social media strategy and drive better engagement.
Lately, Pricing & Plan
1. Starter (Single User & Single Channel) 
Features
It includes AI Generation from Text, Audio, & Video, Prompts, Lately.ai Originals, Article Discovery, Intro & Outro Videos, Captioning, and Transcript Editing.
Price
It costs $99/month.
2. Pro (Single User & Uo To 20 Channels)
Features
It includes everything in the Starter Plan plus; AI Style Transfer and Brand Voice Learning.
Price
It costs $179/month. 
3. Enterprise
Features
It includes everything included in the Pro plan plus; Advanced AI Training, AI-Recommended Keywords Campaign Tags, Competitive Scanner, Custom Tracking Links Word Clouds, Channel Performance, Campaign Performance Single Sign-On, Multiple Account Governance, and VIP Support.
Price
You can contact Lately's sales team to get custom features according to your needs and get custom pricing for them.
7. VistaSocial – Best For Maximizing Brand Presence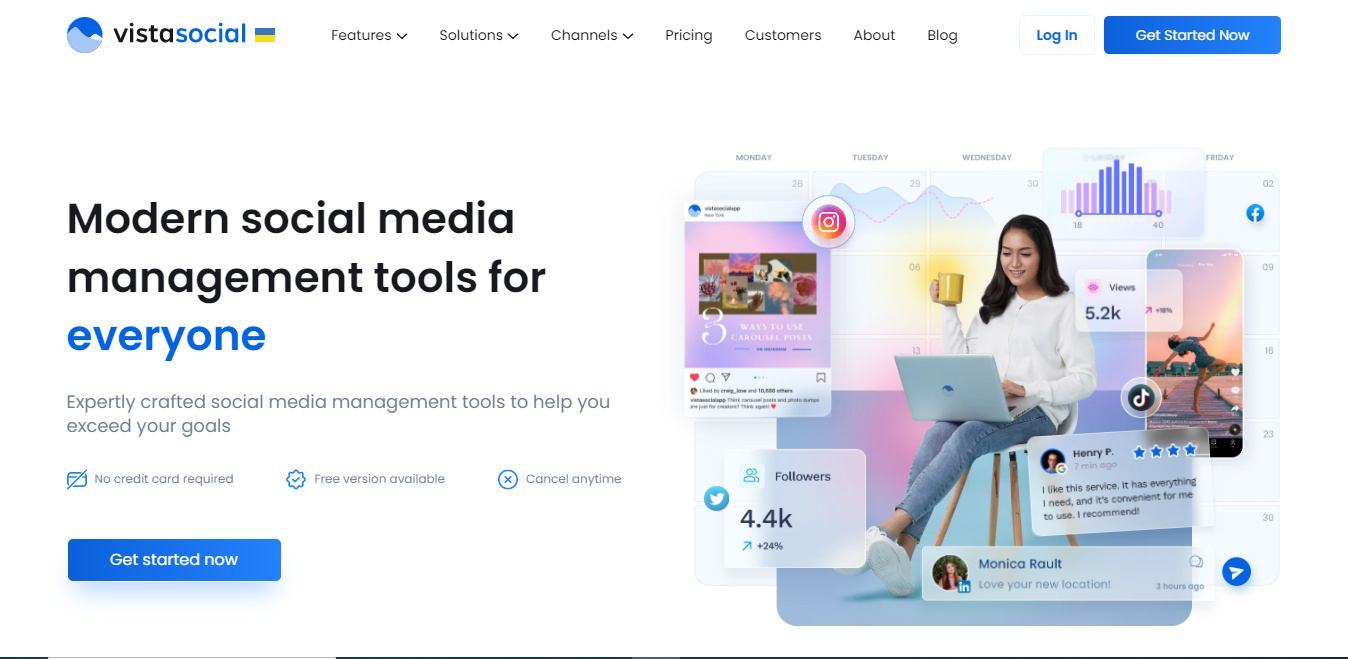 Vistasocial empowers individuals and businesses with modern tools to achieve social media goals. With expertly crafted features powered by ChatGPT, Vistasocial's tools can help to plan, publish, and optimize your content on social accounts across all social pages.
VistaSocial Key Features
Plan and Publish Content
Scaling Engagement
Reporting and Metrics
Social Listening
1. Plan and Publish content
It helps schedule and optimize your social media posts easily to fuel real results and effectively build your brand presence.
2. Scaling engagement
Vistasocial helps scale engagement with your audience. You can stay on top of comments, messages, reviews, and mentions and turn your followers into loyal fans using the platform's powerful engagement tools.
3. Reporting and Metrics
It helps you gain valuable insights into your social media efforts with its simple, intuitive, customizable, and fully automated reporting system. You can quickly understand what's working and what isn't, enabling you to make data-driven decisions.
4. Social Listening
VistaSocial helps you monitor social conversations, extract actionable insights, identify industry gaps, and improve your brand's overall health by understanding and responding to the needs and preferences of your target audience.
VistaSocial Pricing & Plans
1. Free
Features 
It includes 1 User, 3 Profiles, a Calendar view, social media report, and a social inbox.
2. Pro (14-Day Free Trial)
Features
It includes five profiles and three users, Planning & publishing tools, Engagement tools, Listening tools, Review management, and Analytics tools.
Price
It costs $15/month.
3. Pro+ (14-Day Free Trial)
Features
It includes 5 Profiles and Unlimited users, Add as many users to your account as you need, Pro plan features, plus: AI Assistant powered by ChatGPT, Advanced Scheduling, Integrations with Zapier, and Customizations.
Price
It costs $25/month.
8. HubSpot – Best For Centralizing Social Media Activities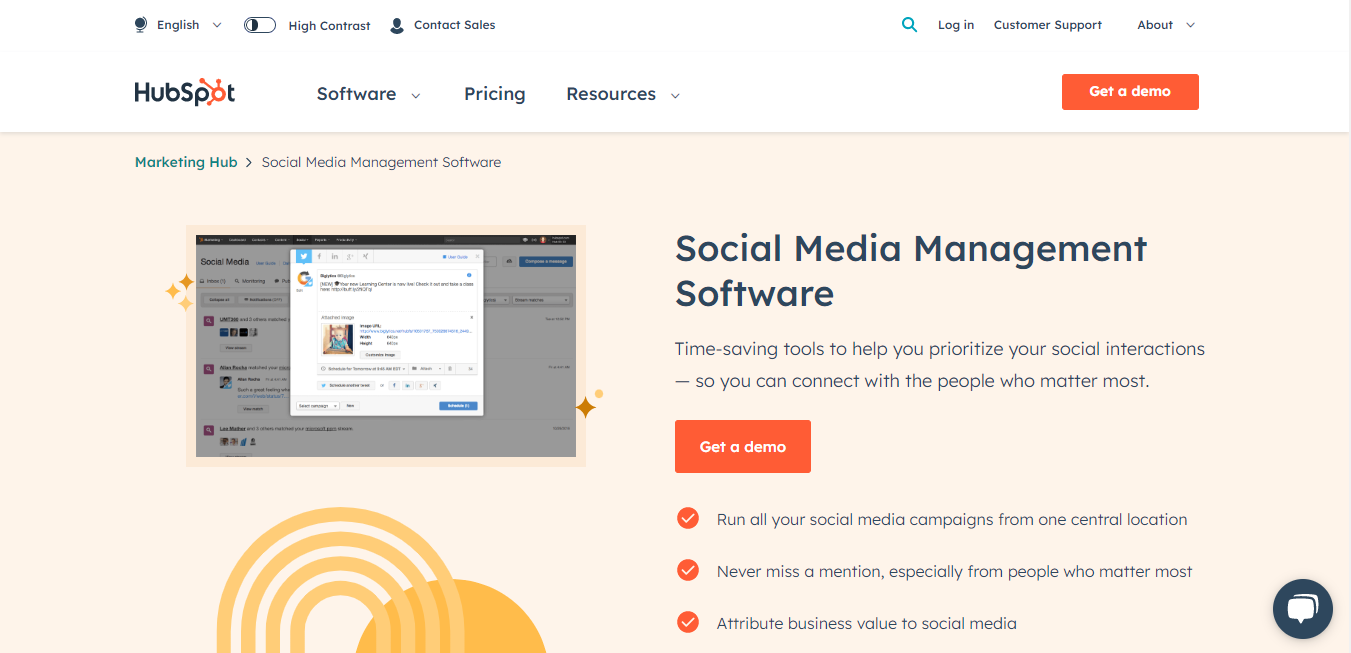 HubSpot offers social media management features like time-saving tools to prioritize social interactions and connect with the most important people in your network.
With HubSpot, you can run all your social media campaigns from one central location, never miss a mention from key individuals, and attribute business value to your social media efforts.
HubSpot Key Features
Centralized Social Media Campaign Management
Connect and Nurture Relationships
Seamless Content Publishing
Social Mention Monitoring
Robust Social Media Reporting
1. Centralized Social Media Campaign Management
HubSpot allows you to streamline your social media activities, making it easier to plan, execute, and measure the success of your campaigns.
2. Connect and Nurture Relationships
Its social media management software enables you to connect with the people who matter most on various social platforms, allowing you to focus on nurturing those relationships effectively.
3. Seamless Content Publishing
You can also connect your social accounts to your blog and automatically share content as it's published. HubSpot provides insights and suggestions on the best times to post, helping you schedule content for maximum audience engagement.
4. Social Mention Monitoring
HubSpot allows you to set up keyword monitoring streams to track specific mentions and trigger email alerts. This helps your sales team stay informed when prospects mention relevant keywords, enabling them to engage promptly.
5. Robust Social Media Reporting
The software provides out-of-the-box social reports that compare the performance of different platforms, campaigns, and publishing times. By integrating with your CRM, HubSpot enables you to track visits, leads, and customers generated through social media.
HubSpot Pricing & Plans
You can contact HubSpot's sales team to get custom features for your unique needs and get custom pricing for them.