At a Glance
Aivo, Smart Copy, Tugan.ai, Rossum, DataRobot, tl;dv, Booth.ai, Looka, Adcreative, and Ameyo are the best AI tools in 2023 that run your business on autopilot, enabling efficient operations, streamlined workflows, and data-driven decision-making.
These tools can improve your business productivity and take care of business operations like content creation, marketing, CRM, transcribing and summarizing meeting notes, etc.  
We have briefly introduced each tool along with top features and pricing plans.
AI solutions have revolutionized businesses' operations, from writing tools that enhance content creation to project management tools that optimize workflows. These tools can automate tasks, improve productivity, and enable businesses to make data-driven decisions.
Whether it's task management software that simplifies project organization or social media monitoring tools that provide valuable insights, AI-powered tools can help businesses unlock their full potential and achieve greater success in the modern business landscape.
We have shortlisted the Best AI tools for Business to care for your business operations. Also, we have highlighted each tool's Key Features and Pricing Plans so you can pick the best one for your business needs.
1. Aivo – For AI-Powered Customer Service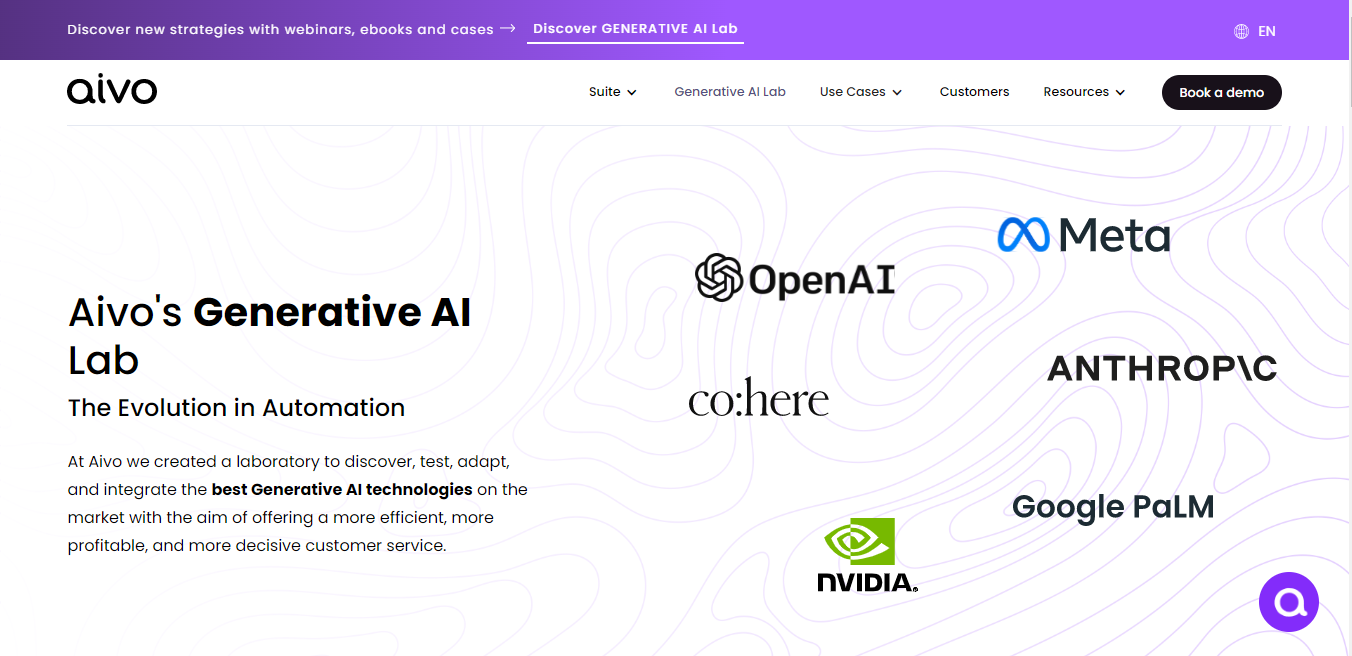 Aivo offers businesses innovative AI tools to transform customer relationship management. Aivo empowers businesses to create automated conversational journeys, deliver personalized experiences, improve customer satisfaction, and streamline business operations.
Aivo Top Features
Automated Conversational Journeys
Generative AI Lab
Knowledge Management
Omnichannel Support
1. Automated Conversational Journeys
Aivo's automation tools can swiftly turn customer conversations into immediate solutions. By leveraging artificial intelligence, businesses can streamline customer interactions, provide quick responses, and offer efficient service experiences.
2. Generative AI Lab
It offers businesses more efficient, profitable, and decisive customer service solutions by continuously exploring, testing, and integrating the best Generative AI technologies.
3. Knowledge Management
Aivo automatically learns from various unstructured sources, such as websites or PDFs, improving response accuracy and generating automatic grouping or tagging of questions. 
4. Omnichannel Support
It allows businesses to engage with customers across multiple channels, including web chat, WhatsApp, Instagram, Facebook Messenger, mobile apps, phone calls, and soon, Twitter and Telegram.
Aivo Pricing & Plans
Contact the Sales Team for pricing details.
2. Smart Copy – For Simplifying Content Creation & Marketing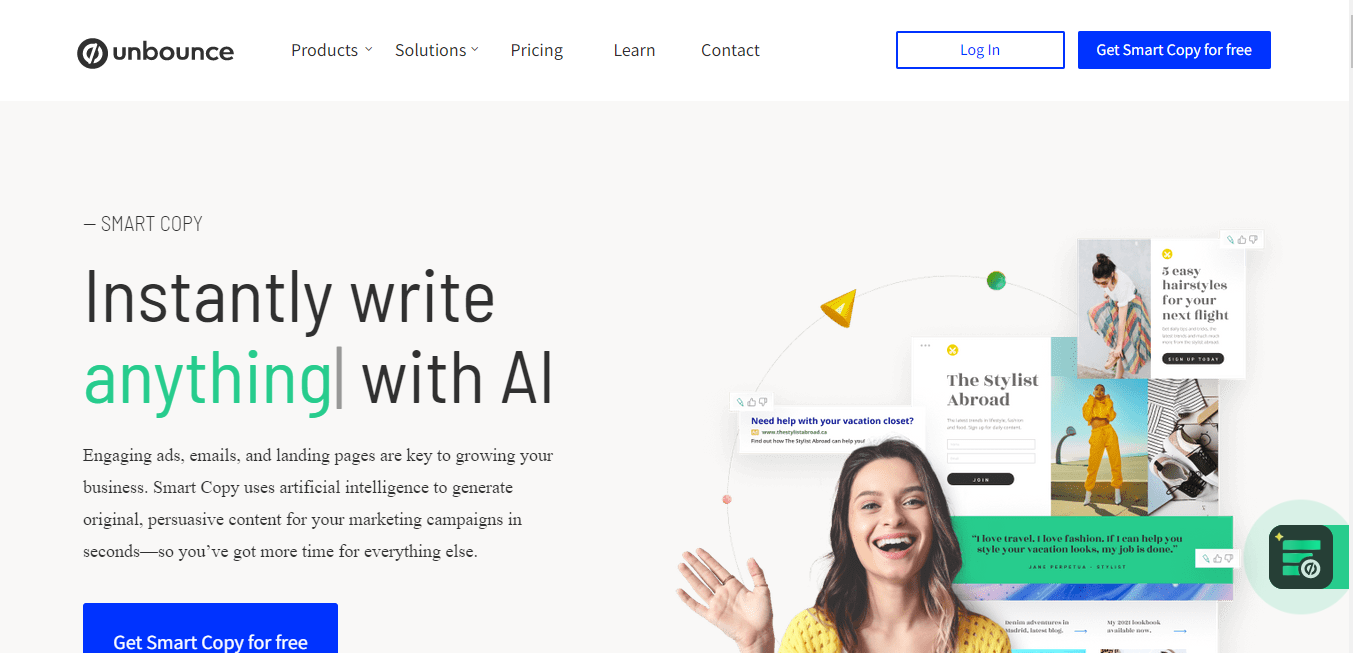 Smart Copy by Unbounce is a powerful AI content creator for business success and improved productivity. It helps businesses of all sizes to effortlessly bring their content to life.
Whether it's creating landing pages, Google Ads, taglines, or product descriptions, Smart Copy streamlines content marketing campaigns, increasing productivity and efficiency. 
Smart Copy Top Features
AI Copywriting
Startups
Enterprise
Agency
Templates
1. AI Copywriting
The AI writing assistant generates human-like and scalable content within minutes. As a result, businesses can create engaging and high-quality content without extensive manual effort by leveraging their AI platform and diverse templates.
2. Startups
For startups, the AI tool offers a single-click solution to hire a content creative AI algorithm. Then, in just minutes, startups can obtain all the copy they need for their brand, enabling them to establish their voice and impact the market.
3. Enterprise
Smart Copy prioritizes privacy and brand safety, providing a platform built from the ground up to ensure the confidentiality and security of generated content. All copy generated is scanned and assigned a brand safety label, ensuring compliance with brand guidelines.
4. Agency
Agencies can leverage AI assistants to scale their creative offerings and impress clients with quick turnaround times for content requests. The tool allows agencies to cater to client needs efficiently and enhance their creative capabilities.
5. Templates
Google Ads: Create Google Ads precisely, meeting specific requirements and layouts for effective advertising campaigns.
Taglines: It helps you create catchy brand slogans and taglines within seconds to captivate the audience and enhance brand recognition.
Landing Pages: Reinvent landing pages by generating limitless variations of new or existing copy, ensuring compelling and engaging user experiences.
Product Descriptions: Generate compelling and informative product descriptions based on descriptive tags, enhancing product visibility and conversions.
Smart Copy Pricing & Plans
There are three plans, including a Free Trial without any credit card.
1. Free Trial
Features
It includes 45+ Templates, 30+ Languages, Chrome Extension, Desktop App, 40 credits/month, and built-in Grammarly. 
2. Essential
Features
It includes everything in the Free Trial, plus 200 credits/month and three projects.
Price
It costs $8/month.
3. Unlimited
Features
It includes everything in the Essential plan plus unlimited credits and projects.
Price
It costs $40/month. 
3. Tugan.ai – For Generating Marketing Content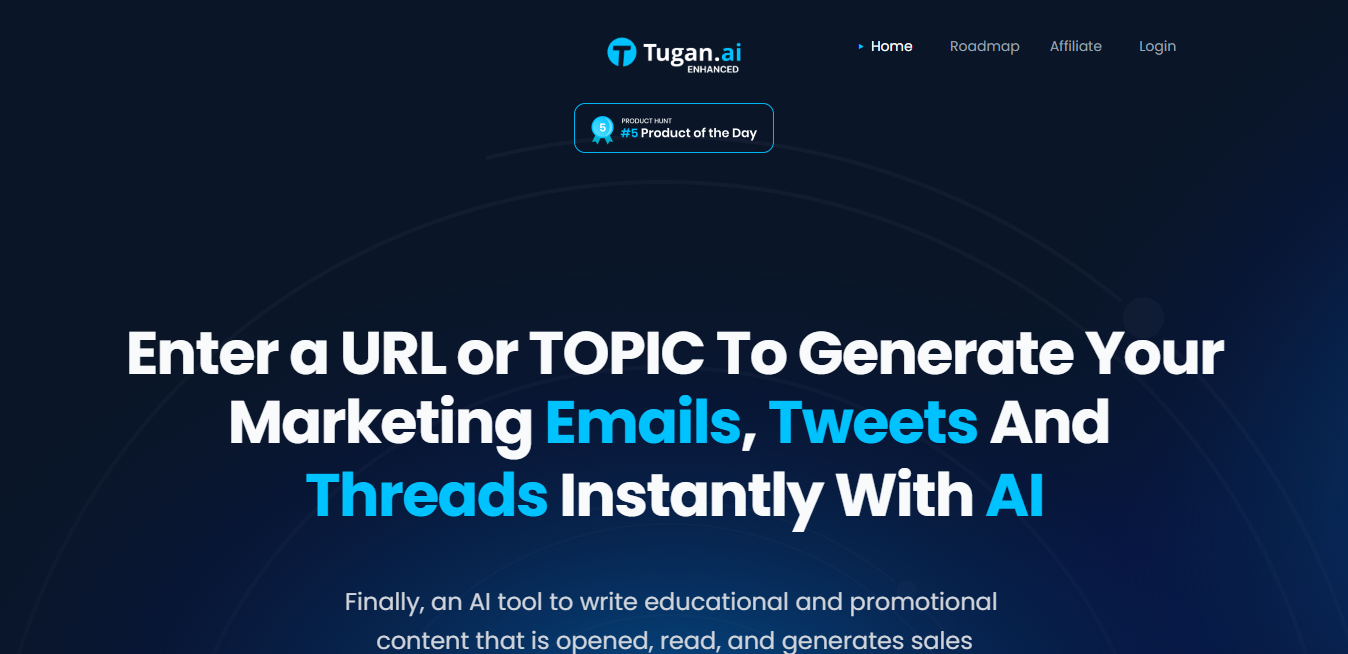 Tugan.ai helps businesses create high-quality marketing content, generate sales, and improve their overall marketing efforts. With its advanced AI capabilities, Tugan.ai aims to provide businesses with an efficient and effective solution for email marketing, tweets, threads, newsletters, ads, and more.
Tugan.ai Top Features
Enter a URL or TOPIC To Generate AI Marketing Content
High-Quality Newsletter Generation
Train Tugan.ai on YOUR Content
High-Quality Ad Generation
Email Sequence Generation
1. Enter a URL or Topic To Generate AI Marketing Content
Tugan.ai allows users to enter a URL or topic and generates social media posts like marketing emails, tweets, and threads using AI technology. 
2. High-Quality Newsletter Generation
It helps businesses generate newsletters with a human touch, making them punchy, humorous, provocative, and engaging. It also allows the creation of long newsletters in the style of platforms like Substack and Beehiiv.
3. Train Tugan.ai on Your Content
By adding Tugan.ai to their email list and Twitter profile, businesses can train the AI to learn their style, tone, subjects, values, and more. This allows Tugan.ai to generate newsletters, sales emails, and tweets that align with the business's branding and preferences.
4. High-Quality Ad Generation
Tugan.ai enables generating of social media content like Facebook and YouTube ads based on a few keywords. This feature helps businesses increase their return on investment (ROI) by easily testing dozens of ads and optimizing their ad campaigns to drive more sales and profits.
5. Email Sequence Generation
This feature streamlines the process of creating email campaigns and helps increase sales by providing a structured and effective approach to email marketing.
6. Business Coach
Tugan.ai offers business coaching by training its AI on the best available online business content. Users can ask questions or seek advice in the chat, such as discussing problems or sharing ideas.
Tugan.ai Pricing & Plans
A Free Trial is available without any credit card, and you can contact the sales team for further pricing inquiries. 
4. Rossum – For AI Invoice Processing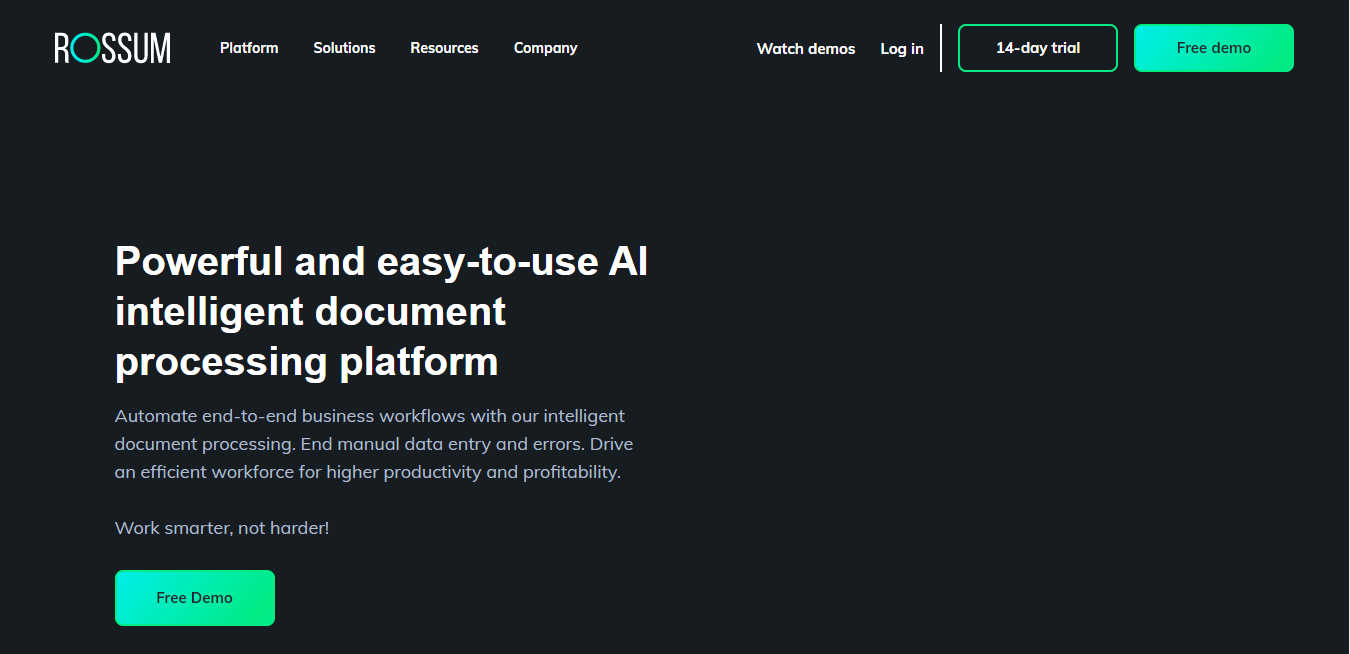 Rossum is a powerful and user-friendly AI intelligent document processing platform that helps businesses automate their end-to-end workflows. Using intelligent document processing, Rossum enables businesses to eliminate manual data entry and errors, resulting in a more efficient workforce, increased productivity, and improved profitability.
Rossum Top Features
Automate Data Capture
Automate Communications
Filtering
Rossum Marketplace
1. Automate Data Capture
Rossum's intelligent document processing technology automates data capture from various documents, reducing errors that can lead to payment charges and penalties. 
2. Automate Communications
Rossum automates communications related to document processing based on business rules. For example, it can send automated notifications to the sender if certain attributes are missing or incorrect.
3. Filtering
Rossum includes a filtering feature that helps businesses identify and filter out spam and unnecessary documents. 
4. Rossum Marketplace
The platform offers the Rossum Marketplace, where businesses can easily access pre-built extensions and integrations to automate their workflows and add new capabilities. 
Rossum Pricing & Plan
A 14-day free trial is available, and you can contact the sales team for further pricing inquiries.
5. DataRobot – For AI Application To Deliver Business Value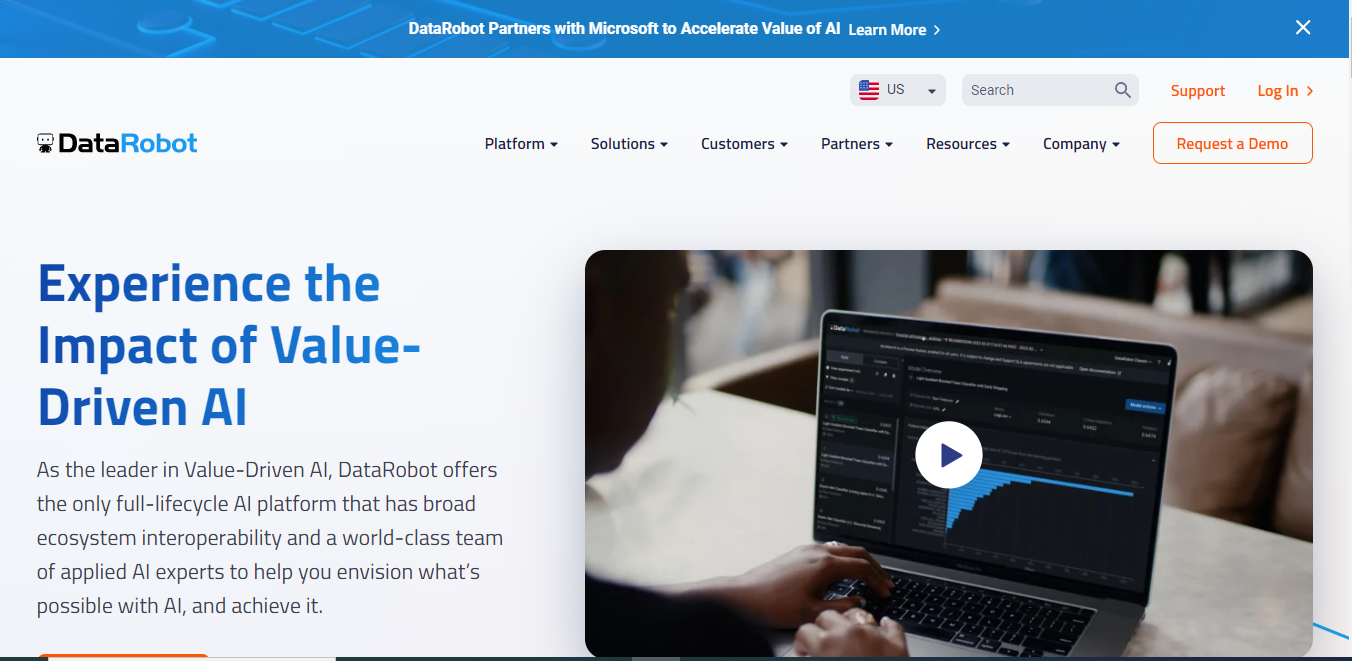 DataRobot is a comprehensive AI platform designed to facilitate the entire lifecycle of AI initiatives for businesses. With its broad ecosystem interoperability and a team of AI experts, DataRobot offers a range of features to ensure the success of AI projects at every step in your business processes.
DataRobot Top Features
ML Experimentation
Prep Modeling Data
ML Production
Validate and Govern Models
Applied AI Expertise
Monitor and Measure ROI
1. ML Experimentation
DataRobot enables businesses to experiment quickly with multiple machine learning (ML) problem framings. It helps identify key drivers and build precise models that have a real impact on business outcomes.
2. Prep Modeling Data
It allows users to iterate rapidly between data preparation and modeling stages. Users can engineer thousands of features, generate and explore multiple datasets, optimize variables, and automate data clean-up tasks with minimal data movement.
3. ML Production
With DataRobot, businesses have all the tools they need to manage and scale their AI models in one place.
The platform offers a centralized control and command center, allowing users to test, document, deploy, monitor, and govern a diverse portfolio of models in production, regardless of where they are built or deployed.
4. Applied AI Expertise
DataRobot offers guidance from a world-class team of AI experts with deep expertise and broad use case experience.
Businesses can benefit from the knowledge and support of experienced data scientists, AI strategists, and AI engineers throughout their AI projects, leading to faster and more successful outcomes.
5. Monitor and Measure ROI
It provides automated strategies to ensure the performance of production models. It enables users to monitor the health of models hosted in any environment and tracks data drift and accuracy statistics.
DataRobot Pricing & Plans
Contact DataRobot sales team for pricing inquiries according to your requirements.
6. tl;dv – For Transcribing Calls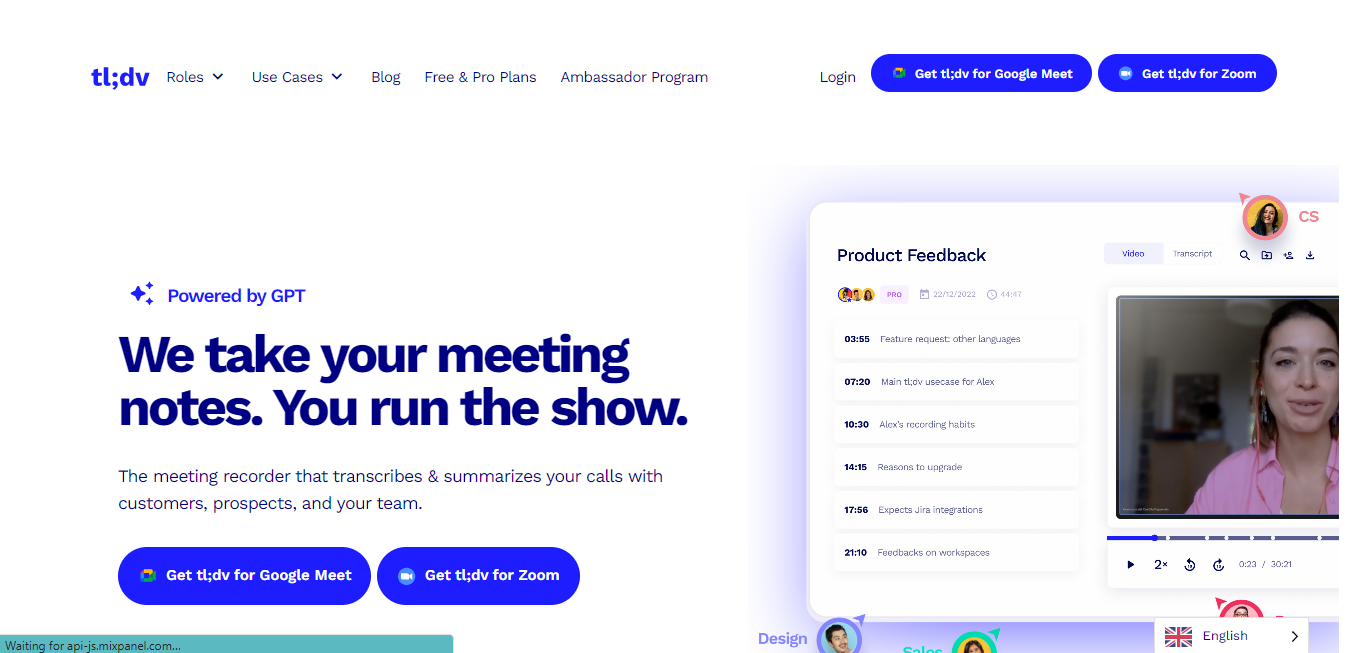 tl;dv (Too Long; Didn't View) is a powerful meeting recording and note-taking platform that aims to streamline and enhance your business meetings.
With the help of AI-powered features, tl;dv automates the transcription and summarization process, making it easier for you to focus on the conversation while capturing key insights.
Its features facilitate effective communication, collaboration, and follow-up actions, ultimately improving business productivity.
TL;dv Top Features
Automatic Recording and Transcription
Multilingual Transcriptions
AI Meeting Note Taker
Bite-sized Customer Clips
Seamless Integration and Automation
Sales Call Recording and Review
Clip Creation and Sharing
1. Automatic Recording and Transcription
Record your Zoom and Google Meet meetings effortlessly using the tl;dv Zoom app or Google Meet Chrome Extension. The platform captures high-quality video and audio recordings instantly accessible in your meeting's library.
2. Multilingual Transcriptions
You will never miss details from customer calls with tl;dv's accurate meeting transcripts. In addition, the platform supports over 20 languages, including German, English, French, Spanish, Japanese, Korean, Portuguese, and more.
3. AI Meeting Note Taker
Stay engaged in the conversation while tl;dv's AI Meeting Note Taker summarizes the key moments of your meetings. With a simple click or shortcut, you can generate instant summaries of the discussion topics, allowing you to focus on the conversation.
4. Bite-Sized Customer Clips
Create powerful and concise meeting insights by easily clipping specific moments from longer calls. These bite-sized clips can be shared with clients, investors, or your team to highlight important discussions or user feedback.
5. Seamless Integration and Automation
tl;dv seamlessly integrates with popular collaboration platforms and CRMs like Notion, Google Docs, Slack, Salesforce, and HubSpot. You can share meeting moments and insights directly with your team, eliminating the need for tab switching and improving workflow efficiency.
6. Sales Call Recording and Review
It allows you to easily record and review sales calls, collaborate effectively with team members, and identify the perfect moments for closing deals.
The AI-generated meeting notes can be synchronized with Salesforce and HubSpot, providing valuable insights for your sales operations.
7. Clip Creation and Sharing
Create short clips from your sales calls to share with prospects and team members or for internal training purposes. These AI video clips help reinforce value propositions and provide context for follow-up discussions.
tl;dv Pricing & Plans
1. Free Forever
Features 
In this plan, you can record unlimited Google Meet & Zoom meetings, transcribe & summarize in 20+ languages, AI summarize meeting moments with one click, Automatic speaker recognition, Slack & email integrations, viewing alerts, and unlimited free members.
2. Pro
Features
It has everything included in the Free Plan plus fully automated AI meeting notes & tags, CRM Integrations (Salesforce & Hubspot), upload audio & video recordings, and more.
Price
It costs $20/month, billed annually.
3. Enterprise
Features
It includes everything in the Pro plan plus Custom Pricing, custom invoicing, and a dedicated customer success manager.
Price
The tl;dv sales team will provide you custom pricing based on the features you need.
7. Booth.ai – Best For Generating Product Images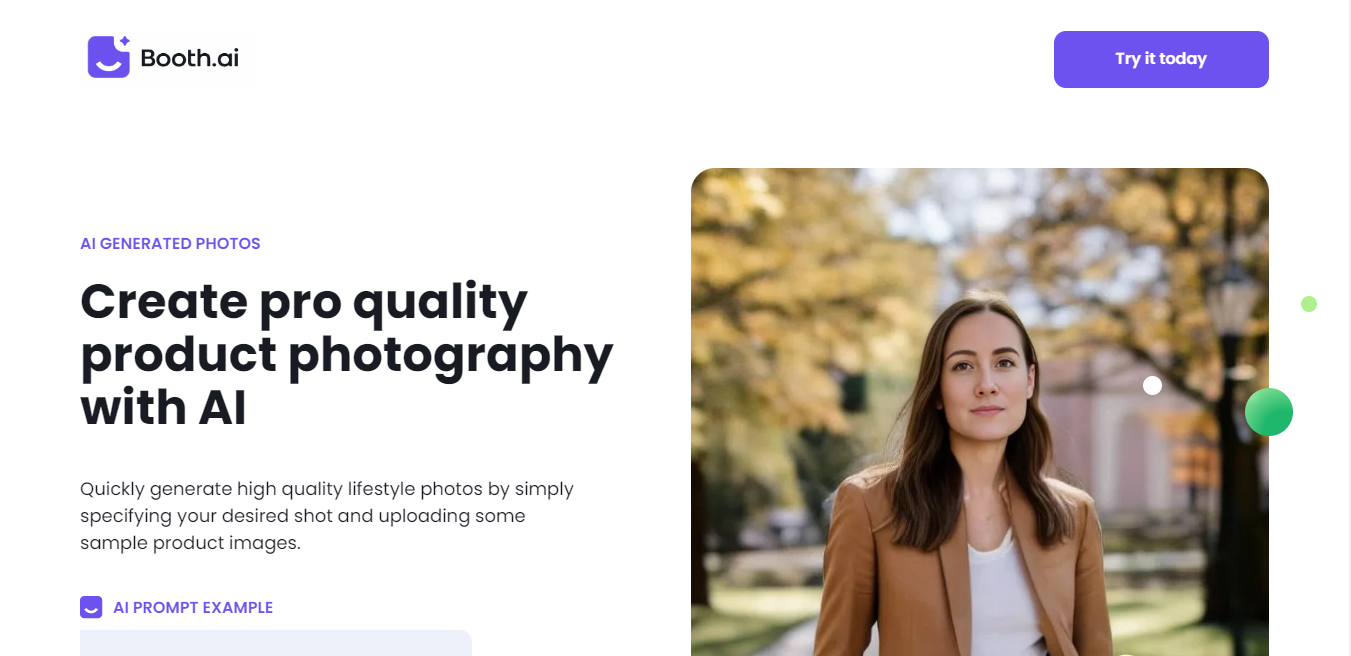 Booth.ai empowers businesses to create compelling product photography with ease.
Its cutting-edge AI streamlines content creation, providing personalized, high-resolution images aligning with your brand identity.
Booth.ai Top Features
AI-Generated Photos
Fast and Easy to Use
High-Resolution Images
Personalized Branding
Streamlined Content Production
1. AI-Generated Photos
It brings your creative vision to life. By providing reference photos and describing your desired outcome, Bootha.ai creates unique, high-quality product images that align with your brand and specific application.
2. Fast and Easy to Use
Booth.ai's intuitive platform makes it accessible to everyone, regardless of their photography expertise. With just three simple steps—uploading reference photos, submitting a text prompt, and receiving images—you can quickly generate engaging product visuals in seconds.
3. High-Resolution Images
It provides high-resolution images in 4K quality, ensuring that the generated photos are ready for use on your website or in your sales and marketing materials.
4. Personalized Branding
The platform allows you to maintain a consistent aesthetics across your product photography, contributing to a cohesive and recognizable brand identity.
5. Streamlined Content Production
The platform eliminates the need for extensive photoshoots and post-processing, saving time and resources while producing high-quality visuals for your business needs.
Booth.ai Pricing & Plan
Contact the Booth.ai sales team for pricing inquiries.
8. Looka – For AI Logo Designing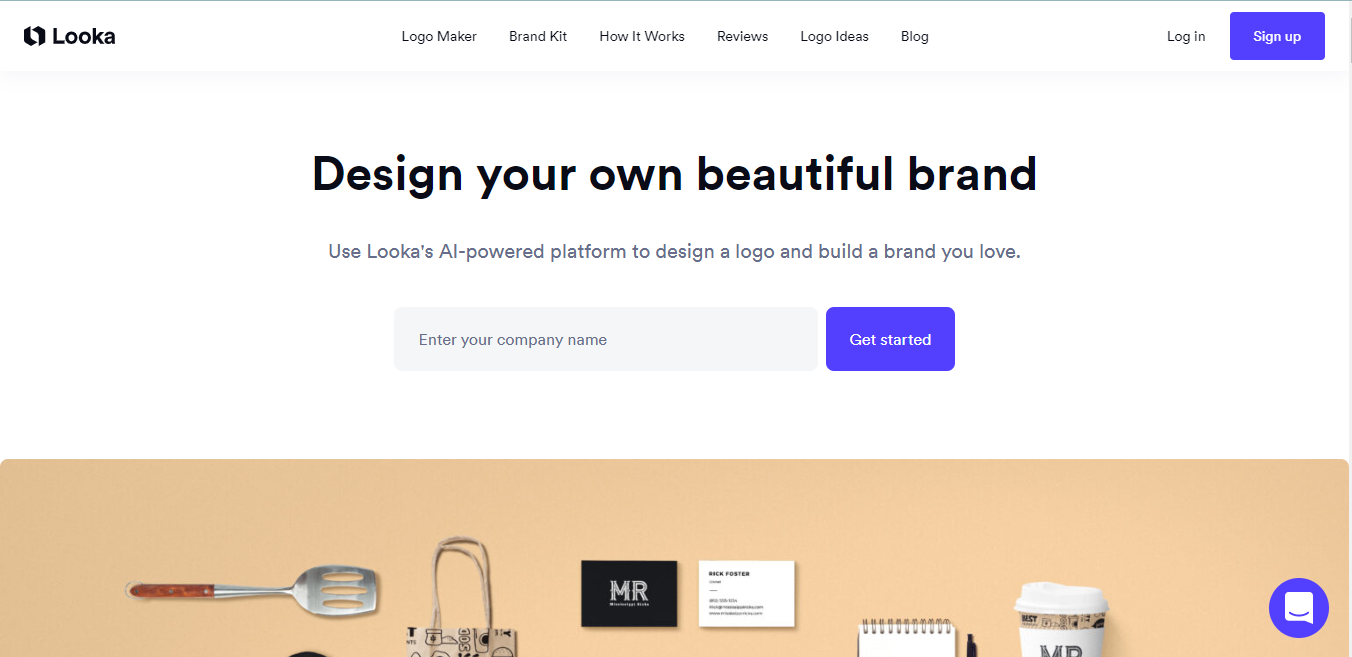 Looka is a user-friendly logo maker that combines your design preferences with the power of Artificial Intelligence to help you create a custom logo for your business.
With just a few clicks and five minutes of your time, Looka empowers you to design a logo that perfectly represents your brand.
Looka Top Features
Easy Logo Creation
Business Card Designs
Social Media Templates
1. Easy Logo Creation
You only need to enter your company's name and industry, and Looka Logo Maker will generate custom logo designs based on your preferences. In addition, you can choose from various logo styles, colors, and symbols.
2. Business Card Designs
You can choose from 20 professional and customizable business card designs to create cohesive branding materials that leave a lasting impression.
3. Social Media Templates
Design perfectly-sized profiles and posts for popular social media platforms like Facebook, Twitter, YouTube, and more. Ensure your brand has a consistent and professional presence across all social channels.
Looka Pricing & Plans
1. Basic Logo Package
Features
It includes one low-res file and one PNG logo file. 
Price
It costs $20 (One-Time Purchase).
2. Premium Logo Package
Features
It includes multiple high-res file types (PNG, EPS, SVG, PDF), color variations (including transparent backgrounds), unlimited post-purchase changes, full ownership, and lifetime technical support.
Price
It costs $65 (One-Time Purchase).
9. AdCreative – For Conversion-Focused Ads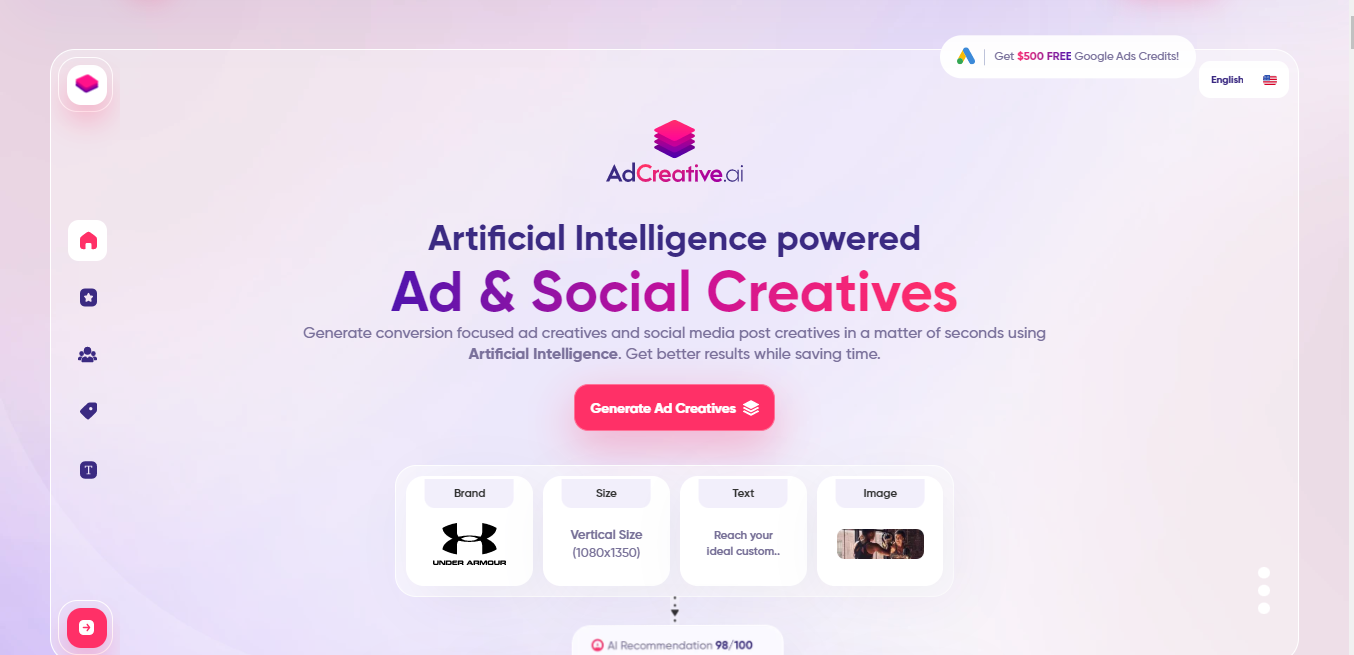 AdCreative allows businesses to generate conversion-focused ads and social media posts in seconds. AdCreative aims to optimize the creative aspect of digital marketing, enabling businesses to achieve better results while saving time.
AdCreative Top Features
Generate Ad Creatives
Generate Texts & Headlines
Creative Insights
Generate Social Creatives
1. Generate Ad Creatives
With AdCreative's AI technology, businesses can quickly generate conversion-focused ads while staying on brand. In addition, automating the design process allows businesses to test more creatives and decrease the time spent on manual design tasks. 
2. Generate Texts & Headlines
It can generate sales-focused texts and headlines tailored to the advertising platform. By providing information about the target audience, businesses can receive AI-generated copy that focuses on the target audience's pain points and is optimized for maximum impact.
3. Creative Insights
It provides valuable insights into the performance of ads in your ad accounts. The AI tool can analyze best-performing creatives and gain inspiration from their success, which makes it social media management tool. Moreover, AI learns from your data to deliver even more personalized and effective results in the future.
4. Generate Social Creatives
AdCreative's AI can also generate engagement-focused social media posts for platforms like Facebook, Instagram, LinkedIn, Pinterest, Twitter, and more. 
AdCreative Pricing & Plans
1. Starter
Features
There are ten credits, one brand, unlimited generations, unlimited free stock images, text generator AI, creative insights, and one user.
Price
It costs $21/month.
2. Premium
Features
It includes everything in the Starter Plan plus; 25 credits, two brands, and two users.
Price
It costs $44/month.
3. Ultimate
Features
It includes everything in the Premium plan plus; 50 credits and two brands.
Price
It costs $74/month.
4. Scale Up
Features
It includes everything in the Ultimate plan plus; 100 credits and four users.
Price
It costs $111/month.
10. Ameyo – For Conversational AI Chatbots
Ameyo provides businesses with powerful chatbot development and management tools.
With a low-code conversation flow editor and a range of features, Ameyo empowers businesses to create customized chatbots powered by AI, deliver seamless omnichannel experiences, and leverage powerful natural language processing (NLP) capabilities.
Ameyo Top Features
Low-Code Conversation Flow Editor
Omnichannel Availability
Powerful NLP
Intent Modeling
Multilingual Support
Knowledge Base Lookup
1. Low-Code Conversation Flow Editor
Ameyo offers an intuitive visual flow editor that allows businesses to create, run, and deploy AI chatbot workflows without coding.
2. Omnichannel Availability
Ameyo enables businesses to develop conversational experiences across multiple communication channels, including the web, phone, WhatsApp, Telegram, and Alexa. 
3. Powerful NLP
By incorporating powerful NLP capabilities, Ameyo enables chatbots to understand user intents and entities.
Businesses can review NLU (Natural Language Understanding) results and provide real-time feedback, allowing bots to comprehend customer interactions, even in vernacular languages.
4. Intent Modeling
Ameyo enables business users to build highly accurate and reliable intent models based on standard customer interactions.
5. Multilingual Support
Ameyo chatbot supports over 100+ languages, including Bahasa, English, Arabic, Hindi, and more. Businesses can engage with customers in their preferred languages.
6. Knowledge Base Lookup
Ameyo chatbot can instantly search its knowledge base to provide personalized customer responses. It can retrieve information from structured knowledge bases and web pages and even perform Google searches. 
Ameyo Pricing & Plans
Contact the Sales Team for pricing inquiries.