At a Glance
VIC.AI, Indy, Docyt, Truewind, and Booke AI, are the five best AI tools for accounting that use AI to streamline your financial management processes and bring valuable insights to make informed decisions.
We have briefly introduced each tool along with key features and pricing plans. 
The advent of artificial intelligence (AI) has revolutionized the world of accounting, transforming the way businesses manage their finances.
From the reconciliation of bank and credit transactions to automating data entry to generating income and financial statements in a fraction of the time, AI technology helps businesses and accountants alike.
This article will explore the 5 Best AI Tools for Accounting in 2023, which transformed the accounting industry, making it less expensive and time-consuming than traditional accountants while enhancing efficiency and accuracy.
We will also discuss each tool's Key Features and Pricing Plan so that you can choose the right tool for your unique accounting needs.
1. VIC.AI – Best For Automating Accounts Payable Processes & Data Predictions

VIC.AI uses machine learning algorithms to automate accounting and accounts payable systems, which are often manual and error-prone.
This tool is trained on hundreds of millions of invoice data, making it easier for accountants to extract relevant information accurately without relying on templates or memorization.
VIC.AI Key Features
High Accuracy
Advanced Line Item Extraction
Duplicate Detection
Integration Capabilities
Real-time Insights
AI Data Predictions
1. High Accuracy
VIC.AI's algorithms achieve an impressive accuracy rate of 97-99%. This reliability ensures accurate processing and reduces the risk of human error.
2. Advanced Line Item Extraction
It can handle relevant data from an invoice with hundreds of line items, making it a distinctive strength. It can identify and code line item information, such as class, occupation, location, and even recognize and code VAT and other taxes 20 times faster than traditional software.
3. Duplicate Detection
VIC.AI automatically detects duplicate invoices within any document it processes. It marks duplicates with a red indicator, preventing double payments.
4. Integration Capabilities
VIC.AI is actively expanding its integrations, including popular ERP systems like SAP. They provide an open API, allowing seamless integration with various workflows and enabling ingestion of master data and supplemental information.
5. Real-time Insights
VIC.AI normalizes and analyzes costs using AI and statistical analysis to provide real-time financial insights. They offer benchmark data and suggest cost optimization strategies, empowering businesses with actionable information and making more informed decisions.
6. AI Data Predictions
VIC.AI has a team of skilled AI engineers dedicated years to developing state-of-the-art solutions. Their expertise empowers finance teams and guides them on the AI journey, providing data-driven predictions and insights.
VIC.AI Pricing & Plans
Instead of pricing plans, VIC.AI offers a demo to better ascertain your requirements and suggest a plan accordingly.
2. Indy – Best AI Accounting Software For Self-Employed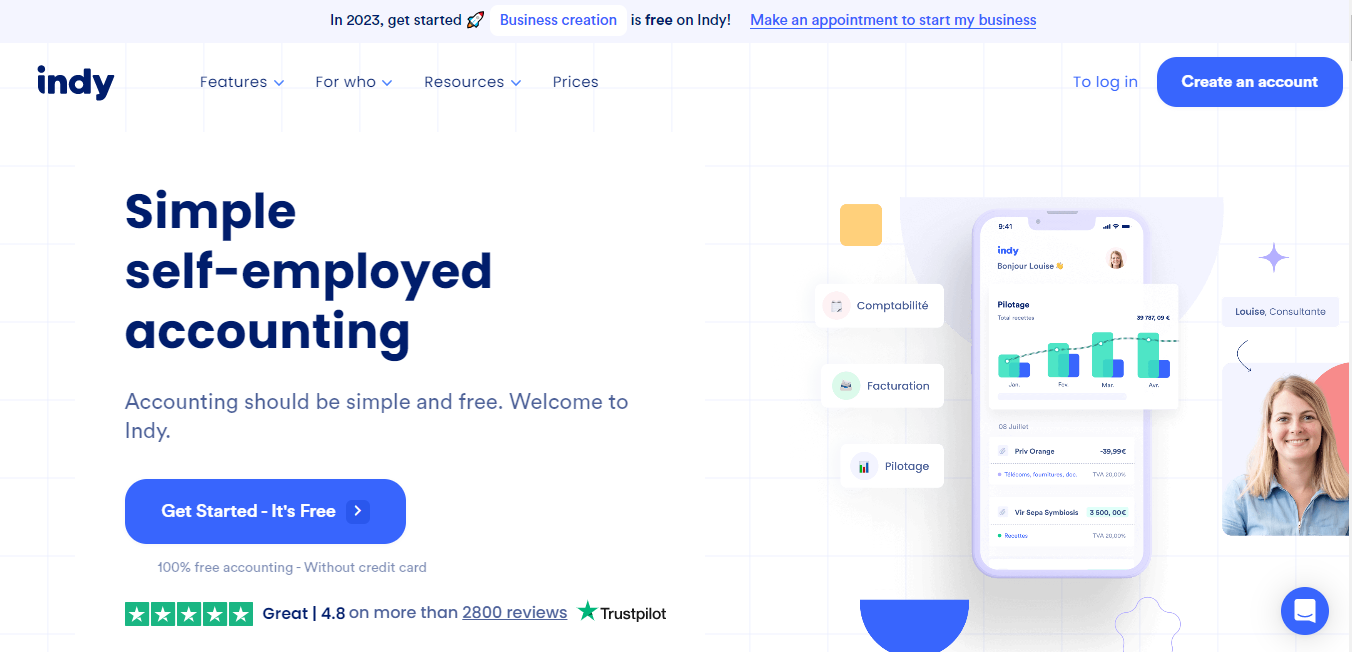 Indy is an online accounting software specifically designed for self-employed individuals, offering a simplified and error-free approach to managing business finances.
With its intuitive interface and automated features, Indy streamlines accounting processes, tedious bookkeeping tasks, synchronization with bank accounts, and tax declaration procedures.
Indy Key Features
Simple and Intuitive Interface
All-Inclusive Services
Automated Accounting
Seamless Tax Return Submission
1. Simple and Intuitive Interface
Indy provides a user-friendly experience with no typing or complex calculations required. The platform is designed to make accounting tasks easy and accessible for freelance professionals.
2. All-Inclusive Services
Indy goes beyond accounting and offers comprehensive services, including business creation assistance, accounting management, and tax declarations.
It covers various legal forms, tax regimes, and creation aids and guides specialized advisors.
3. Automated Accounting
By synchronizing your bank account, Indy automates the accounting process. As a result, you can easily invoice customers, manage expense reports, and handle other financial tasks.
4. Seamless Tax Return Submission
Once the user validates, Indy automatically uploads the tax return to the Association de Gestion Approved (AGA) or directly to the tax authorities based on the scheme.
Users also have the option to download and send the tax return to their preferred organization.
Indy Pricing & Plans
1. Business Creation
Features
It offers support in choosing your plan (micro / real), Advice from specialists on creating a Sole Proprietorship, Aid for changing the tax regime (moving to real costs), Business start-up follow-up, and Customer support by phone, live chat, and email.
Price
It is free.
2. Accounting
Features
It offers Zero entry thanks to bank synchronization, Real-time management of your activity, Intelligent transaction categorization, VAT auto-detection, Management of expense reports by simple photo, and Unlimited and 100% customizable quotes and invoices.
Price
It is also a free plan
3. Accounting & Declarations
Features
It includes all the features of the Accounting offer, Tax return, Declaration 2035, VAT declaration, Other mandatory declarations: DSFU, CFE, DAS2, 2042-C-PRO, Tele-transmission of the tax package to taxes or the AGM, and Full support from ultra-responsive specialist advisors.
Price 
It costs 20€ /month.
3. Docyt – Best For Real-Time Bookkeeping Tasks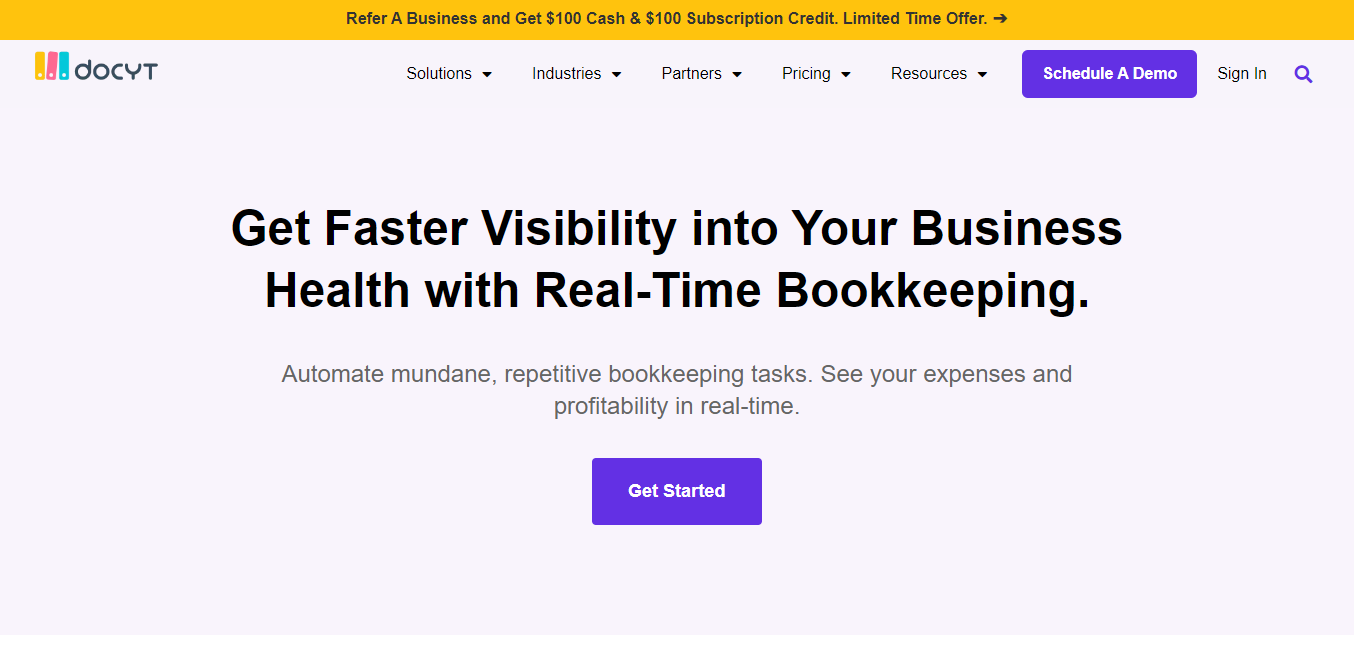 Docyt is a powerful accounting and bookkeeping software that uses artificial intelligence technology to automate mundane bookkeeping tasks and provide real-time visibility into business expenses, revenue, and profitability.
With its sophisticated AI capabilities, Docyt learns about your business and automates back-office tasks, allowing you to focus on growing it.
Docyt Key Features
Real-Time Financial Insights
Automated Back Office
Integration with QuickBooks and Other ERP Systems
Bookkeeping Automation
Simplified Bank Reconciliation
Bill Pay
Collaborative and Remote Access
1. Real-Time Financial Insights
With Docyt, you can access real-time financial insights into your business health, including expenses, revenue, and profitability.
This makes it easier for businesses to make informed decisions and stay on top of their financial performance.
2. Automated Back Office
Docyt automates tedious bookkeeping tasks, empowering your management team and providing on-the-spot visibility into your overall financial health.
Live reporting and insights help you stay informed, make strategic decisions, and reduce the cost and complexity of bookkeeping.
3. Integration with QuickBooks and Other ERP Systems
Whether you're using QuickBooks or another Enterprise Resource Planning (ERP) system, Docyt seamlessly integrates with these platforms.
It automates spend management and accounting workflows, saving you time and effort associated with bookkeeping.
4. Bookkeeping Automation
Docyt's automation and AI technology handle the coding of transactions, journal entries, and bank and credit card account reconciliation in QuickBooks.
5. Simplified Bank Reconciliation
It simplifies the process of closing the books by offering continuous bank reconciliation. This helps catch expense and revenue mistakes early, identify fraudulent activity, and maintain up-to-date books for tax purposes.
6. Bill Pay
With Docyt's cloud-based platform, you can easily manage bill payments. Multiple team members can collaborate remotely, upload invoices, approve bills, and make payments.
Docyt also supports different payment methods, including ACH and check payments.
7. Collaborative and Remote Access
With Docyt's cloud-based platform, you and your team can collaborate, access work, and share real-time financial insights internally or with your clients from anywhere, anytime.
Docyt Pricing & Plans
You can contact the Dtocyt sales team for pricing inquiries.
4. Truewind – Best For AI-Powered Bookkeeping & Finance for Start-ups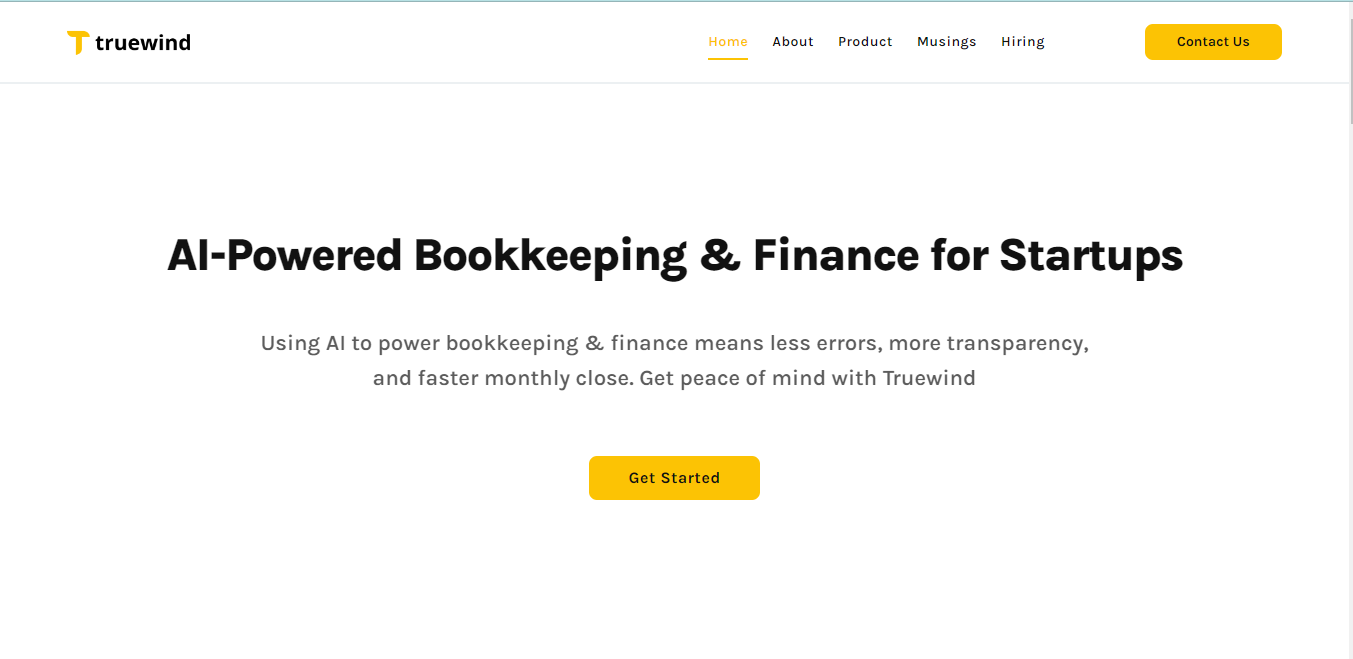 Truewind streamlines accounting processes and provides valuable financial insights. By capturing the unique business context of each user, Truewind aims to deliver accurate and transparent financial services. 
Truewind Key Features
Integration With Bank Account
AI-Enabled Invoice and Contract Management
Automated Accounting Process
Business Context
AI-Powered Interpretation
1. Integration With Bank Account
Truewind seamlessly connects with your bank account, eliminating the need for manual monthly reports. It automatically pulls bank transactions, making it incredibly easy for you.
2. AI-Enabled Invoice and Contract Management
AI software allows you to upload invoices and contracts that may not immediately affect your cash flow forecasting but impact your financial processes.
3. Automated Accounting Process
Truewind's system reads contracts, invoices, and bank memos to automate the tagging of transactions. This puts your financial data and accounting processes on autopilot.
4. Business Context
Truewind allows you to provide the necessary context for your business activities using plain and simple English. This helps your accountant understand the unique aspects of your business.
5. AI-Powered Interpretation
AI-powered interpretation of business context Accounting requires context, and Truewind uses AI to interpret the business context provided by users.
Truewind Pricing & Plans
You can contact Truewind's sales interpretation inquiries. Interpretation 
5. Booke AI – Best For Fixing Uncategorized Transactions and Coding Errors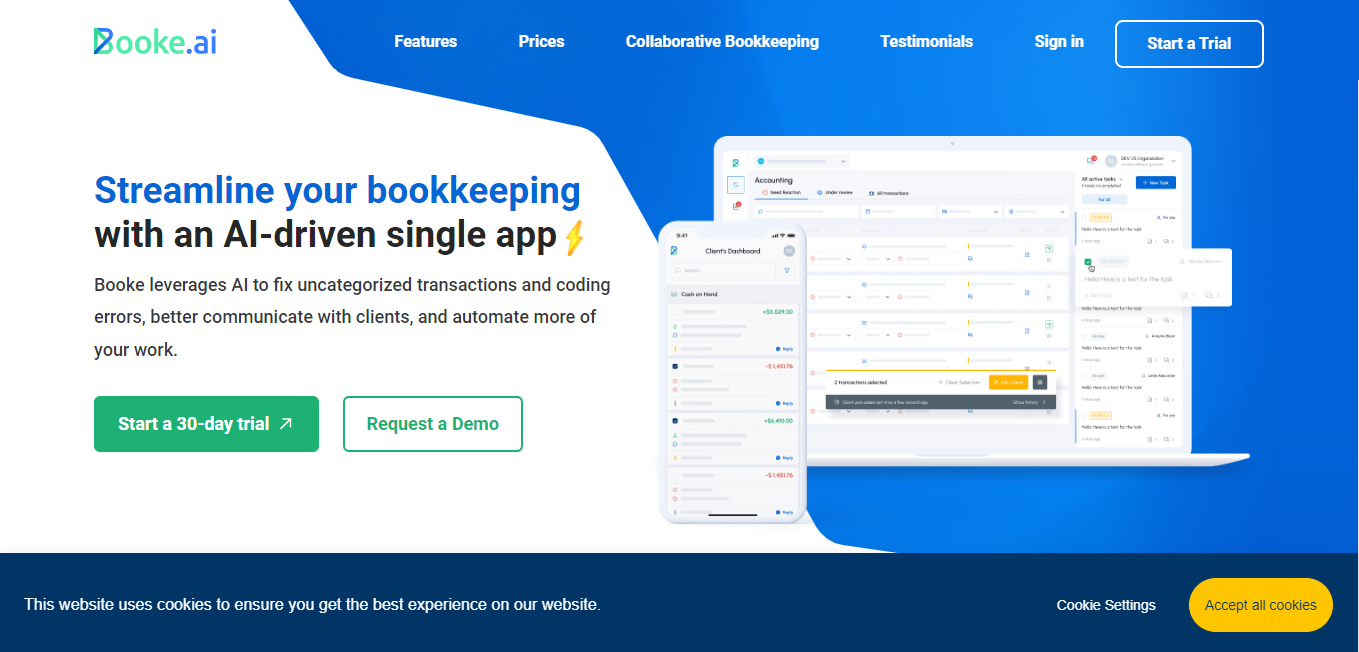 Booke AI uses automation and artificial intelligence to streamline your bookkeeping processes.
With its AI-driven features, Booke helps fix uncategorized transactions and coding errors, enhances client communication, and automates various tasks, making your month-end close effortless. 
Booke AI Key Features
AI Automation for Effortless Month-end Close
Super Accurate Books with Error Detection
Eliminate Back-and-Forth Communication with Client Portal
AI-driven Categorization
Intelligent AI-Assistant
Red and Yellow Warnings
Inconsistencies and Error Detection
Bulk Upload Documents
1. AI Automation for Effortless Month-end Close
Experience increased efficiency and reduced stress with Booke's AI-powered automation. It effortlessly resolves uncategorized transactions and coding errors, ensuring accurate and error-free books.
2. Super Accurate Books with Error Detection
Booke's advanced error detection technology allows you to easily find and fix errors in your bookkeeping.
3. Eliminate Back-and-Forth Communication with Client Portal
Booke's user-friendly client portal streamlines collaboration with your clients.
4. AI-Driven categorization
Booke learns from your categorization patterns and becomes more accurate and reliable. Booke automates most of the work for you, saving you time on manual categorization.
5. Intelligent AI-Assistant
You will receive intelligent assistance with reconciliation, featuring history checks and suggested options which will help you make informed decisions and ensure accurate financial reconciliations.
6. Red and Yellow Warnings
Booke provides warnings for possible mistakes and offers alternative categorization options. It alerts you to potential errors, helping you maintain data accuracy and integrity.
7. Inconsistencies and Error Detection
Booke helps you easily detect and resolve book discrepancies with its automatic rules. It intelligently screens transactions, categorizes inconsistencies, and guides you in fixing them.
8. Bulk Upload Documents
Booke AI streamlines the process, eliminating the need for manual one-by-one uploads and saving time by uploading multiple documents in bulk with just a few clicks.
Booke AI Pricing & Plans
1. Smart
Features
It offers a Client Portal, Reconciliation AI assistant, Month-end close, Task management, Unlimited transactions, Unlimited users, and Encrypted file storage.
Price
It costs $9/client/month.
2. Premium
Features
It offers everything included in the Smart plan plus; RPA Browser extension for Xero & QuickBooks Online, Bank statements processing, Invoice, receipt OCR AI, Email inbox for documents, Dropbox & Google Drive import, and White-label.
Price
It costs $18/client/month.
3. Enterprise
Features
It offers everything included in the Premium plan plus; AI-driven Robotic Process Automation, ChatGPT trained for bookkeeping, ChatGPT email inbox assistant, and Bank feeds integration.
Price
You can contact Booke's Sales Team to get custom features and pricing.